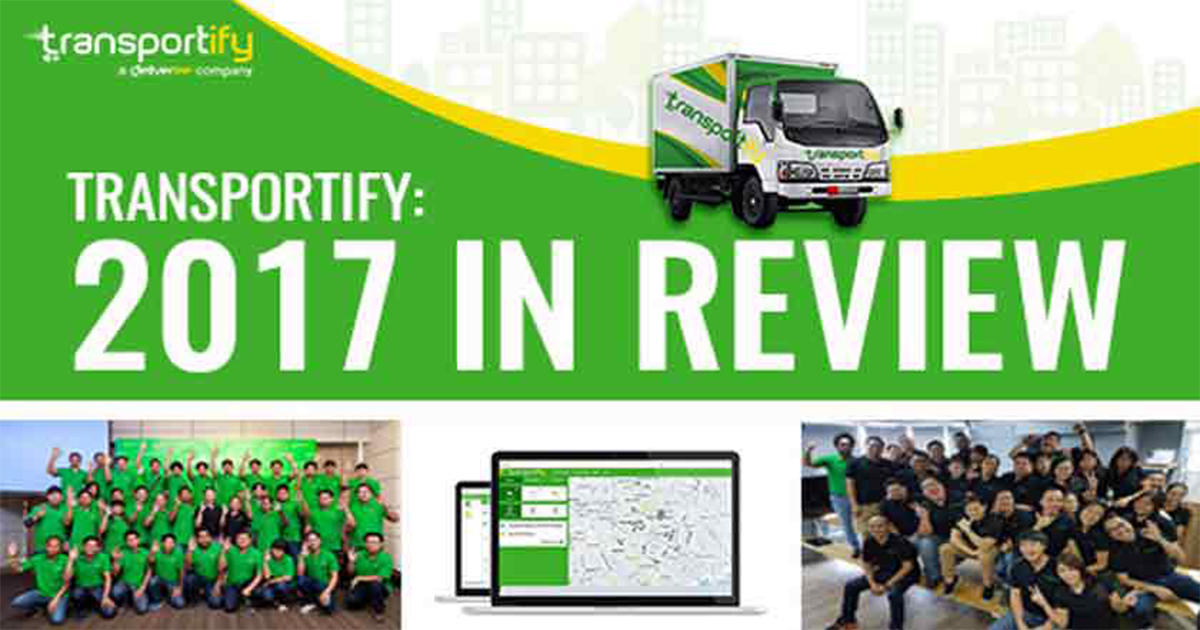 From reaching over 25,000 activated delivery Transporters to launching new service areas, Transportify Philippines has accomplished several milestones since 2017. Check below the year-by-year Transportify review of the most significant achievements and plans for the coming 2020 to ensure that Transportify will continue to be the best third-party logistics in Manila.
What are the things Transportify accomplished for logistics in Manila for the past years?
1Helped Businesses Grow
After we launched our Business Program, more and more small-to-medium enterprises (SMEs) continue to hire Transportify as their professional arm for ground logistics in Manila. Even bigger enterprises like furniture and appliances stores have enlisted Transportify's delivery & logistics services. The business program offered tailor-suited logistics support to different industries, allowing them to grow their business at a lower cost. The best part is that companies are free to sign-up for the Business Program at any time. Check out the table below the full benefits when you apply to Transportify for business delivery.
Business Program
Services
Program Features
Live Support

Open 24/7

Prepay

Available

Postpay with Monthly Invoicing

Available

Destinations

A total of 16 destinations can be added in every booking

COD/POD
COD + POD
2.50% of invoice
Min of 80 PHP
(Flat Fee/Booking)
POD Only
80 PHP for ≤ 3 destinations
160 PHP for ≤ 10 destinations
200 PHP for ≤ 15 destinations
Insurance and Warranty

Up to 3 million PHP coverage from OONA Insurance

Nationwide Service Area

Available




Interisland and Same Day Trucking in Luzon, Visayas, and Mindanao

Business Web Dashboard

Team Account Management Customized Reports
2Secured $14.5M Funding
During the Series A Funding Round of Transportify Philippines' (Deliveree) fundraising event last October 2017, the Southeast Asian logistics company secured a total of $14.5M from new and current investors. The funding was led by Gobi Partners and included other investors such as Inspire Ventures, Ardent Capital, PSA Unboxed, and Asia Summit Capital.
The accomplished amount of funding serves as proof of the investors' confidence in Transportify's future, as well as an opportunity to improve Deliveree services all across Southeast Asia.
3Launched a New App Dashboard
Over the years, both the Transportify delivery mobile app and web app improved with a new application dashboard. The dashboard improvement includes both User Interface and User Experience changes. The new-look showcases an added menu on the header, a new booking system, and new ways to view the transaction and booking history. The new dashboard design aims to make the web and mobile app more convenient to use for all kinds of clients.
4Offered Fixed Rate Provincial Deliveries
Transportify understands the importance of expansion for businesses to grow, but deliveries outside Metro Manila can be expensive; that's why launched the Fixed Price Route service, offering an all-in fixed rate when transporting goods to key areas in Luzon. The Fixed Price Route service is a unique offering no other providers of logistics in Manila offers.
5Launched The 10-W Wing Van
Intending to cover all industries, Transportify launched the 10-Wheeler Wing Van, the largest vehicle to be offered by a marketplace app for logistics in Manila. Clients can now deliver up to 15 tons cargo that's up to 32 ft long to anywhere in Luzon at an affordable rate.
6Launched Pampanga and Baguio As New Service Areas
To further empower SMEs, we opened Pampanga and Baguio as part of our new pick-up zones to level the playing field for budding businesses in the Northern Luzon. We are giving them a 40% cheaper alternative accompanied by an advanced-tech service to fulfill their logistics in Manila, Pampanga, and Baguio up to the rest of Luzon.
What are we going to do next year?
Our year-end Transportify review doesn't end here as we'll continue to provide better services. Transportify Philippines' heads are already foreseeing the business expansions that they will be doing to make use of the $14.5M funding they have earned. With the said funding, they are now even more confident to finalize business decisions. Clients can expect a new addition of cities in Transportify's service areas and launching more products and services. The logistics company is also aiming to reach out to more and broader enterprises for business partnerships, both locally and internationally.
As of press time, the on-demand delivery app hopes for the best as it welcomes 2020. Transportify cannot wait to reveal what it has in store for its clients and driver-partners in the coming year! Watch out for the next Transportify review with all the latest innovations in logistics.
Before we look forward to the next year, let's give the Transportify review an introspective look at how these changes affect the logistics services in the Philippines and the small-medium enterprises (SMEs) that use the service. Every new feature s added to Transportify was instrumental in improving the logistics experience of the web and app users. A lot happened in 2019, and before the year is over, you might gain insight into how you can ride this wave until the next.
What does the year-end Transportify review mean for logistics in Manila?
The Transportify review shows that there is more to be done with logistics in Manila, and it will happen fast. For users who have been with Transportify in the beginning, they can see how every new feature and expansion was done in the effort to improve the service to the Filipino public. The acquired funding will only further that agenda by allowing greater reach and services to be provided for in the future.
We cannot predict the changes other logistics providers in Manila will do in 2020. We can, however, guarantee that there will always be a service available that is convenient, affordable, and capable of being a partner for businesses of all shapes and sizes. There will be no shortage of delivery services offered to SMEs looking to expand.
This 2019 has been a great year for Transportify and its partners in the business program. The hard work that paved the way for these achievements will continue to seek out ways to improve logistic services in Manila. Let Transportify be a part of another growth-filled year this 2022.
How can you make the most out of this year?
The slow crawl to the end of the year can feel like you haven't done much, but like this year-end Transportify review, it shows that you might have done more than you thought of initially. It can also reveal that there are opportunities you can ride that you can proceed with the next year. Not all business decisions need to be aggressive. You can take the next month to understand what makes Transportify review's features significant milestones in logistics in Manila.
You can consider scoping out Transportify's new service areas, business program, and 10-W van. There are many ways to expand your business without committing to a full-fledged system change. No need to create a delivery system and team test the waters with a third-party logistics provider and see how deliveries can play a role in 2020.
The best way for you to find out which feature is for you on the Transportify review is to look at your long term goal. Creating a stronger foothold means increasing your presence, the business program is your best bet to increase relevance with the account manager who can help you strategize an approach to improve your logistic services in Manila. Expanding to new territory, on the other hand, would benefit from the competitive yet affordable rates for provincial deliveries and the new service areas. Businesses with a niche, like Baguio with strawberries and Pampanga with baked goods and furniture, thrive in markets where competition is sparse. Moving to new territories might be an excellent way to identify how to expand your brand to a non-local market.
There are many ways you can make the most out of this year, Transportify's expansion can be taken as an invitation to make a move as well. Or, at the very least, you can test logistic services in Manila.
Frequently Asked Questions:
Is logistics in Manila a thriving industry?

🚚 In more recent studies, it has been stated that logistics in manila is continuing to rise. With companies continuing to evolve and innovate to keep up with the growing demand in automation, analytics, and high-end technology this provides both individuals and businesses to get their goods faster, more flexible, and at very low delivery costs. App based companies like Transportify are continuing to lead the innovation by constantly improving their app for their customers.
How good has been a Transportify review?
🚚Since launching their operations in 2016. Transportify review has been really well received. Most of the reviews and comments about them show how they value their customers and work toward ensuring that each and every booking made on their platform are done in a high quality standard. Check out their reviews from their app stores, social media, and Google.