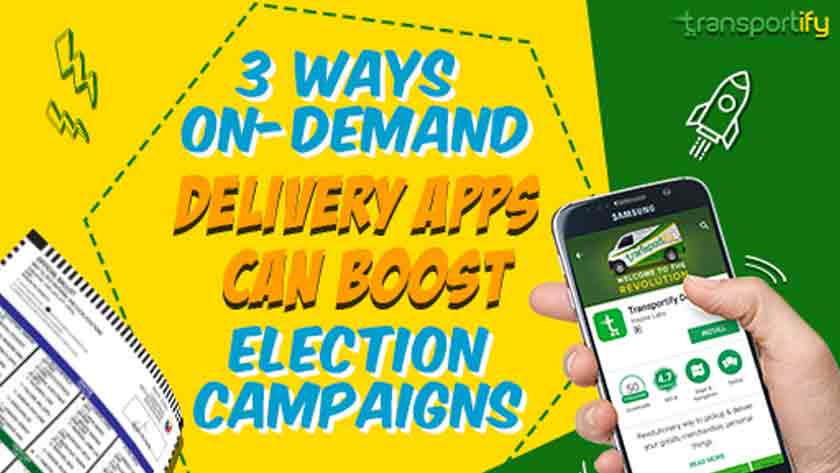 The Philippine barangay elections are coming and the candidates are surely more than eager to show their enthusiasm during the campaigns. The hassle and bustle of the campaign season is sometimes too much to handle—imagine all the stress a candidate will experience just to have a decent campaign.
Still, there is a way to make the oh-so-stressful campaigns easier and more cost-efficient: by using Transportify on-demand delivery app. If you cannot believe it, here are samples of how the said on-demand delivery app can help election candidates in their campaign.
#1 By Saving Your Time
On-demand delivery apps like Transportify are very accessible and easy to use. Just download the mobile app and install it on your smartphone and you have a logistics service provider right in your pockets. On-demand delivery apps allow you to book delivery of your campaign materials online with the use of your phone in just a few minutes.
All you have to do is select the delivery route, pick a delivery vehicle, and set the delivery schedule. All these can happen with just a few clicks on your phone. If you are a candidate or a campaign manager, you do not have to leave your campaign tasks to get the tarpaulin, campaign uniforms, and campaign souvenirs you ordered.
#2 By Providing Faster Delivery Services
Other than having an app that is both accessible and easy to use, Transportify also has a fast courier service that many of its avid users are familiar with. In fact, our delivery services are so fast that we can do same-day deliveries. Same-day deliveries, also called express delivery or express package, are delivery transactions that are completed on the same day that the booking request was made.
If you used to experience and suffer the consequences of delayed campaign materials delivery, you are in for a change when you use the services of Transportify freight logistics company. We know how important punctuality is when it comes to long events like campaigns. Additionally, it is our company custom to value our client's time. You can find client reviews and testimonials commending the speed of our services.
#3 By Giving Worry-free Logistics Services
Election campaigns are already stressful, and we at Transportify know that. That is why our delivery prices are not just one of the most affordable courier rates in the Philippines, but also one of the safest and most secure. We do not want you to worry about your campaign materials' safety during your campaign.
The built-in Track and Trace Feature in our delivery app allows our customers to monitor the approximate real-time location of the Transportify vehicle carrying their package. In this way, you can track the whereabouts of your campaign materials while you are busy doing other important campaign tasks. You will also be notified if transaction has successfully arrived at the destination to distribute your campaign shirts, campaign fans, campaign ballers, and other campaign giveaways!
Make the best out of your campaign budget with the Transportify on-demand delivery app!