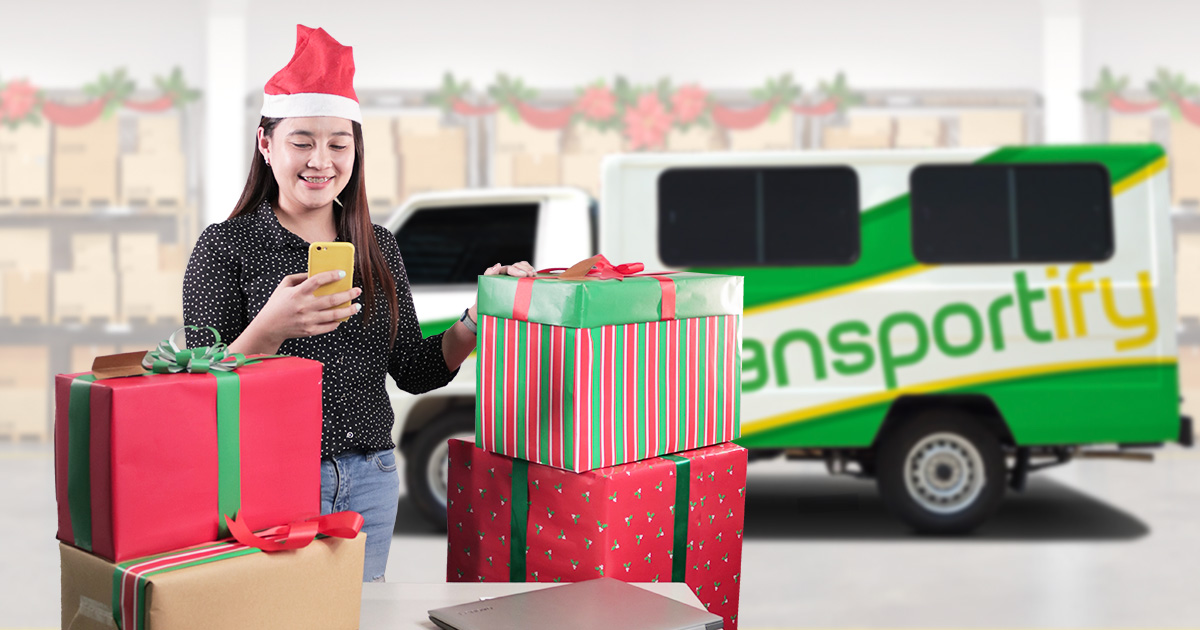 Still not done with Christmas gift delivery? Good thing Transportify can deliver a wide variety of Christmas gifts from small parcels to large appliances. Wondering if you can send your gift through our express same-day delivery services? No problem! Here is a list of Christmas gifts we accept for delivery in the Philippines.
Here are some of the most popular gifts that may bring joy to your Christmas feast. Explore each item and see how Transportify can help you handle your Christmas gift delivery needs this holiday season.
Popular Gifts this Christmas Season
1Grocery Baskets
Giving away grocery baskets is one of the most practical gifts as food is one of the basic needs of individuals and families. Besides, you do not have to worry about the perishable goods in the grocery baskets as you can rely on our express delivery service app. Grocery baskets are best purchased at any SM Store. It gives assurance that all products inside the basket are high quality and safety.
Since most of these grocery baskets are heavy and bulky, you may have them delivered by SM Store using Transportify Economy to L300 Van delivery vehicle option. This will surely give you big savings and less hassle versus delivering these baskets by yourself. Your family and friends will surely be happy that their Christmas gift delivery is handled with the best quality service.
2Home Appliances
Transportify can handle large LED SmartTVs, refrigerators, gas stove-ovens, washing machines, and other huge appliances when you plan to give it to someone this Christmas. Our delivery trucks can accommodate devices as high as 205cm and as long as 280cm. If these appliances come from Abenson or SM Appliance Center Stores, there is an available option to deliver them using Transportify.
We suggest that you book either L300 or Closed Van Vehicles to have extra space in securing your raffle items, especially those that require special handling. Transportify rates for these types of vehicles are now more affordable than ever before. You'll surely save a lot of money for your home appliance delivery.
If you are wondering about our vehicle pricing for Christmas gift delivery in the Philippines, you may refer to our table below:
Vehicle Type
Cargo Dimension
Capacity
Starting Price
Vehicle Type
Capacity
Starting Price

Economy (Sedan/Hatchback)

L: 3.5 ft
W: 2 ft
H: 2.5 ft

200 kg

₱120

Economy Extra Space (SUV/MPV)

L: 5 ft
W: 3.2 ft
H: 2.8 ft

300 kg

₱140

L300/Van

L: 7 ft
W: 4 ft
H: 4 ft

1000 kg

₱430

Small Pickup
L: 5 ft
W: 5 ft
H: Open

1000 kg

₱310

Closed Van (4W)

L: 10 ft
W: 6 ft
H: 6 ft

2000 kg

₱1800

Closed Van Extra Space (6W)

L: 14 ft
W: 6 ft
H: 6 ft

2000 kg

₱2100
3Cosmetic Packs
Skincare is life. People nowadays are becoming more sensitive when it comes to their appearance. So cosmetic boxes and pouches containing customized body and facial soap as Christmas gifts are becoming a new trend. Some cosmetic packs even include other cosmetic products that must be kept at room temperature. To protect them from heat, Transportify's sedan for delivery is the best choice. Shiseido is one of the business clients of Transportify that enjoys on-demand delivery service for their retail customers. Your cosmetic packs and boxes will be safe with our Economy and L300 vehicles for small scale delivery in the Philippines. With its safety features and reasonable price, you can ensure that the quality of your cosmetics will not be compromised during Christmas gift delivery.
4Smartphones
People will appreciate smartphones as a gift this Christmas, especially to give them a strong connection with technology. Many gadget shops are starting to patronize on-demand deliveries for their products. It offers convenience to both the seller and customer in handling the delivery of their products.
If you are looking for a provider that provides safe and convenient same-day delivery, you may choose to book an economy option of Transportify. Apart from its unique features, it gives assurance that your smartphones are being handled with care to make it to your loved one this Christmas.
5Cakes
Ah, yes. Cakes. What gift could be sweeter than cakes and cupcakes? Nowadays, package senders need not worry about shipping food delivery. Our drivers are trained to deliver cakes and cupcakes carefully. As we all know, cakes and pastries are always part of the feast during Noche Buena.
To give more convenience to their customers, pastry shops like Conti's Specialty Foods offer delivery options via food delivery service like Transportify. We all know that cakes should always be handled with care. You may book the Economy vehicle option to ensure that your cake delivery will not encounter any problem while in transit to its destination.
6Flowers
Flowers are beautiful gifts that should be kept fresh during the transport or else they will wither. Our economy vehicle option can give comfort and protection to your gift as if it was a person, making Transportify an expert in flower delivery in the Philippines.
Flower Shops like Petalier and Flowerstore.ph are now offering same-day flower delivery options using the Transportify economy or L300 vehicle option. Since Flowers are delicate items, they require special handling during delivery. Choose a vehicle that will not ruin the quality of the items while maintaining a reasonable price point.
More Christmas Gifts for your Loved Ones
7Wine
Are you sending an item as fragile as a wine bottle? No worries! Our same-day Christmas gift delivery service feature includes taking extra care of glassware and breakable items while still delivering them on time.
Since wine bottles are fragile, you may choose to have it delivered with our Economy vehicle option. Your friends or colleagues can enjoy it without encountering any problems from being stuck in the warehouse since we offer express delivery in the Philippines that is best for immediate needs.
8Furniture
Filipinos sometimes gift furniture during the Christmas season, especially nuptial sponsors (ninong at ninang sa kasal) of newlywed couples. It has been part of the tradition as most Filipinos prefer to receive valuable things from their loved ones. Good thing that Transportify's vans and trucks can handle furniture like dining tables and TV racks.
If you are ordering furniture from HooLi Furniture or other leading sources of high-quality furniture, you may book depending on the size of the furniture you will transport. We suggest that you choose either L300 to Closed Van Option to cater to your immediate furniture delivery or moving needs. This is a big help, especially if you are in a tight spot looking for a provider that offers excellent service at an affordable price. You may also explore extra services for these vehicles like extra helper, extra wait time, and an additional destination to bring more comfort to your deliveries.
9Sound System
Filipinos love music, and it is not surprising for people to give a sound system like a videoke or karaoke system or equipment for a music recording studio if they can afford it. For sound system equipment, which is too big for sedan cars and too small for trucks, you can count on our L300 vans.
Our L300 Option is the right vehicle for medium-sized loads. Its cheap pricing is best for individual customers and client businesses who wish to save money on their delivery needs.
10Christmas Shirts
Planning an office Christmas party or a huge family reunion where everyone is wearing identical shirts? If you need assistance in picking up shirts from a shop, our on-demand delivery app can help you with the load.
We suggest that you transport your Christmas shirts delivery using our Economy Option, especially if it is an inside the city delivery in the Philippines. This is mainly to help you bring your items quickly and efficiently as possible while getting savings from delivery fees.
11Laptop Computer
Laptops can make a great gift. It is the right choice across all occasions from birthdays, anniversaries, and holiday season. A laptop is undoubtedly a big help, especially to young professionals and students who spend most of their time using these kinds of devices for everyday living. If you are looking for the right laptop provider, you may try to explore appliance and gadget stores like Abenson, SM Appliances, which also offers gadgets in their product menu.
Transportify can handle your deliveries from these merchants. To keep your items safe, we suggest that you book with an economy vehicle that can serve across mainland Luzon and Cebu areas for express delivery services.
12Fresh Lechon
Of course, we want your holidays to be perfect. We know that the majority of Filipino Christmas and New Year parties will not be complete without a fresh lechon. Our Christmas gift delivery in the Philippines can help you transport the fresh lechon you bought from the store to its destination.
In the past, most customers prefer to have their lechon picked up from the store. But now, things have changed. They already use on-demand delivery providers to ease the hassle and enjoy their Christmas feasts and gatherings. Lechon clients like Rico's Lechon are now offering express delivery of their product to the customer's doorstep. If you are wondering about the right vehicle to book for deliveries, we suggest that you use our Economy or L300 vehicle option to deliver your fresh lechon. It saves time and money on your side, which you may use in other important things for your convenience.
Transport your Christmas Gifts with Transportify
We sure hope that this list helped you keep informed on what Christmas gifts you can send through our Christmas gift delivery services, and may it help you have a happy holiday season. Our service is focused on bringing joy to our customers through high-quality deliveries and low cost. To download our application and start booking for delivery in the Philippines, you may scan the QR code or click the icons below:
| | | |
| --- | --- | --- |
| | or | |
If you'd like to explore more about our service offerings, you may visit our website and see how we can transform your delivery experience with on-demand logistics. Let Transportify handle your Christmas gift delivery.
Frequently Asked Questions:
Who is the best provider for gift delivery in the Philippines?
? The best provider for gift delivery in the Philippines depends on the type of Christmas gifts you plan to send to your loved ones. If you are sending small gift parcels, you may try using Lalamove or Grab Express. But if you have large and bulky items for Christmas deliveries, you may book with Transportify. Our Christmas logistics fleet is ready to serve your needs anywhere in Luzon and Cebu.
How can Transportify help to ease the hassle of Christmas gift delivery?
? Handling your deliveries by yourself is very exhausting on your part. With the Christmas gift delivery services of Transportify, you can save more time and bring more joy to your loved ones and colleagues this holiday season. You need to download and explore the application and start sending your gifts in an instant.