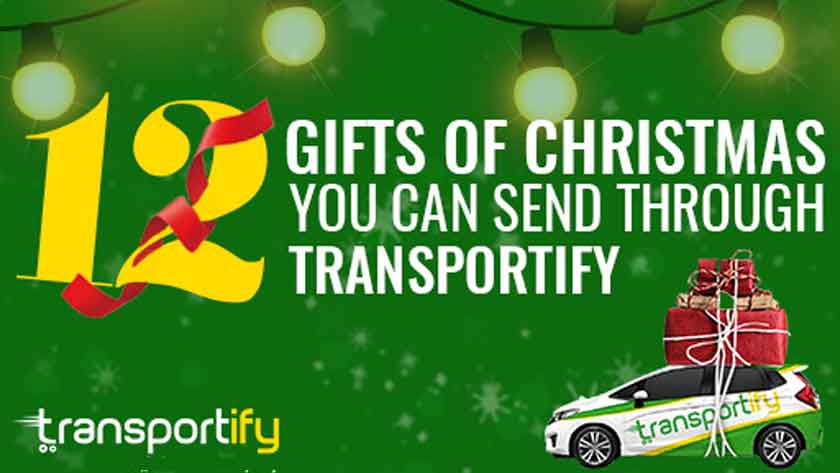 Still not done with sending gifts for the holidays? Good thing Transportify can deliver a wide variety of Christmas gifts from small parcels to large appliances. Wondering if you can send your gift through our courier and delivery services? No problem! Here is a list of Christmas gifts we accept for delivery.
#1 Grocery Baskets
Recommended fleet: Economy Option to L300 Option
Giving away grocery baskets are by far one of the most practical gifts as food is one of the basic needs of individuals and families. Besides, you do not have to worry about the perishable goods in the grocery baskets as you can rely on our fast courier service.
#2 Raffle Prizes
Recommended fleet: Closed Van Option
Transportify can definitely handle large plasma SmartTVs, refrigerators, gas stove-ovens, washing machines, and other huge appliances your company is giving away as raffle promos during the Christmas party! Our delivery trucks can accommodate appliances as high as 205cm and as long as 280cm.
#3 Cosmetic Packs
Recommended fleet: Economy Option
Sending cosmetic box and pouches containing customized body and facial soap as Christmas gifts is becoming a new trend. Some cosmetic packs even include other cosmetic products that must be kept at room temperature. To protect them from heat, Transportify's sedan for delivery is the best choice.
#4 Teddy Bears
Recommended fleet: Economy Option
Keeping fluffy gifts like large teddy bears and stuffed animals is not easy unless they are wrapped in a protective cover. Fortunately, Transportify offers pickup and deliver courier services so you can have the gift picked up at the store and delivered to your loved one safe and sound.
#5 Cakes
Recommended fleet: Economy Option
Ah, yes. Cakes. What gift could be sweeter than cakes and cupcakes? Nowadays, package senders need not worry about the shipping food delivery. Our drivers are trained to deliver cakes and cupcakes carefully.
#6 Flowers
Recommended fleet: Economy Option
Flowers are beautiful gifts that should be kept fresh during the transport or else they will wither. Our economy option can give comfort and protection to your gift as if it was a person, making Transportify an expert in flower delivery.
#7 Wine
Recommended fleet: Economy Option
Sending an item as fragile as a wine bottle? No worries! Our same-day delivery parcel service feature incudes taking extra care of glassware and breakable items while still being able to deliver them on time.
#8 Furniture
Recommended fleet: L300 to Closed Van Option
Filipinos sometimes gift furniture during the Christmas season, especially nuptial sponsors (ninong at ninang sa kasal) of newlywed couples. Good thing that Transportify's vans and trucks can handle furniture like dining tables and TV racks.
#9 Sound System
Recommended fleet: L300 Option
Filipinos love music and it is not surprising for people to gift sound system like a videoke or karaoke system, or equipment for a music recording studio if they can afford it. For sound system equipment which is too big for sedan cars and too small for trucks, you can count on our L300 vans.
#10 Christmas Shirts
Recommended fleet: Economy Option
Planning an office Christmas party or a huge family reunion where everyone is wearing identical shirts? If you need assistance in picking up shirts from a shop, our on-demand delivery app can help you with the load.
#11 Large Dolls and dollhouses
Recommended fleet: Economy Option
Yes, we accept toy deliveries even if they are life-sized dolls and large doll-houses that little girls would love. We also accept other large toys like large robots and rocking horse for children.
#12 Fresh Lechon
Recommended fleet: Economy Option
Of course, we want your holidays to be perfect. We know that majority of Filipino Christmas and New Year parties will not be complete without a fresh lechon. Our pickup and deliver courier services can help you transport the fresh lechon you bought from the the store to its destination.
We sure hope that this list helped you keep informed on what Christmas gifts you can send through our logistics services and may it help you have a happy holiday season!