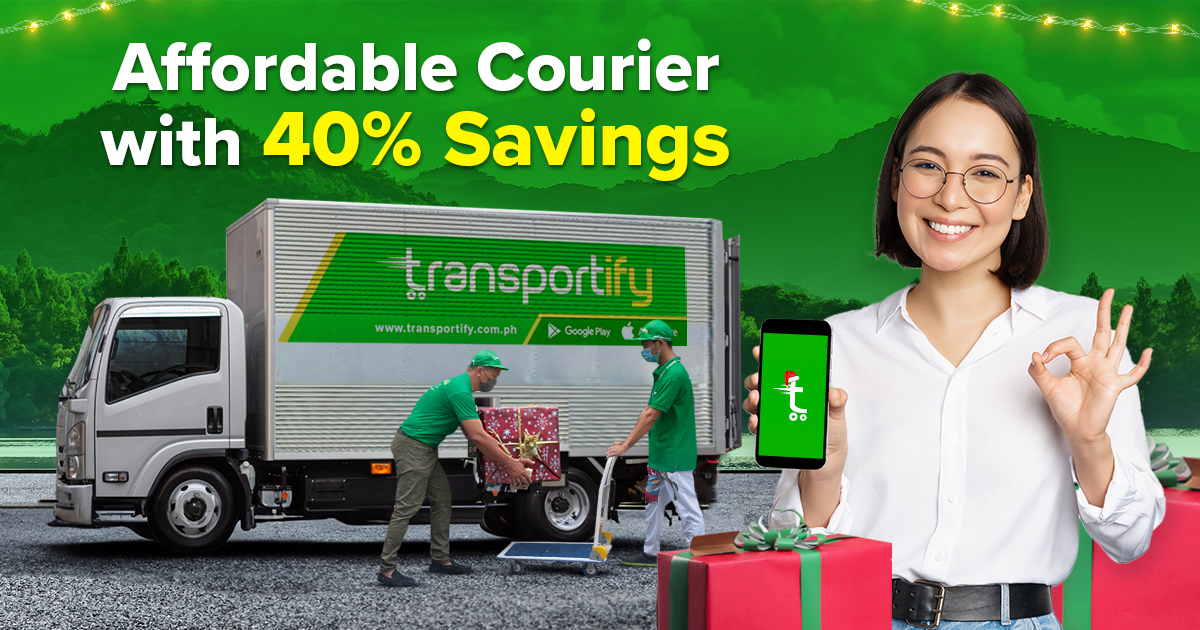 The current demand for same day delivery vans is getting more growth than ever. More customers are availing these vans for their business and personal use. On-demand logistics are now in place to become your go-to affordable courier and delivery provider. Transportify, an on-demand tech-logistics company, provided affordable courier and closed van rental for your logistics requirements. Don't believe us? Try out our price wizard to see how affordable our delivery service is. Compute how much you'll save from using our closed van rental and inland delivery services in Luzon, Visayas, and Mindanao. Get along this article to know more about the services we offer.
How Can Affordable Courier Service Help in Business Expansion?
If you have existing plans to expand your business to other key locations in Luzon, Transportify can be your affordable courier and closed van rental provider. Our service area covers key cities and destinations anywhere in Luzon, Cebu, Panay, Negros, Davao, GenSan, and Cagayan De Oro. We have a variety of available vehicles in our fleet that can satisfy the need for different business and personal requirements. Transportify will help you plan your expansion by reaching more destinations with the best service quality.
Are you excited to know how much you'll save from our L300 / closed van rental for same-day intracity delivery? Here are the steps to calculate the price of our services. Please choose the area of pickup, next to the vehicle you'll need, lastly, select from our current service area where you'll be dropping off your cargo and voila! The price calculator will show the fixed price you'll pay for your delivery.
The available vehicles customers can book are either the L300 / Vans or the 4W and 6W closed van. L300 or Vans can load up to 1000kg while the 4W and 6W closed van can from 2000 kg to 4000 kg.
Our delivery price is dependent on the location of the pickup and destination which is why we are dubbed to be an affordable courier for provincial transportation. You can check out the table below for the dimensions and payload capacity of our closed van.
Vehicle Type
Base Price


(Metro Manila)

Base Price


(Everywhere Else in Luzon)

Base Price


(Visayas/Mindanao)

6w Fwd Truck


18 x 6 x 7 ft




7000kg

4850 PHP
4850 PHP
4850 PHP
Closed Van
Extra Load 4000kg


10 to 14 x 6 x 6 ft




4000kg

2700 PHP
2550 PHP
2550 PHP
Closed Van
Extra Load 3000kg


10 to 14 x 6 x 6 ft




3000kg

2400 PHP
2120 PHP
1950 PHP
Closed Van
Regular 2000kg


10 to 14 x 6 x 6 ft




2000kg

1800 PHP
1450 PHP
1450 PHP
SEE ALSO:
Reliable Closed Van Rental for Business Deliveries
Failing to plan is planning to fail. Businesses should always have a concrete plan for their distribution processes. Customers nowadays prefer to receive their packages in an instant most especially with those using e-commerce as their primary shopping service. Choosing the right logistics provider should be one of the company's top priorities, as can be reflected in its image and branding.
Now that you know we're not kidding when we say affordable courier, you may download the app now to start taking advantage of our service. Once the Transportify app is downloaded, first select the vehicle you need, once selected, you can now choose the pickup and drop-offs covered by our services. After that, you can schedule your booking by choosing from immediate, scheduled, or full-day.
Our rates for delivery services are already inclusive of the following:
Delivery truck of your choice
You may choose freely on the vehicle type or class that will fit the needs of your business. Our vehicles can offer services from small packages or cargo to large items and bulk deliveries. They will soon be available in other places in the Philippines. Besides the quality we provide, we also have the most affordable courier services and delivery rates across our vehicle selection.
Specialized Help by Driver to assist your goods
Our drivers are uniquely trained to assist the customers in their deliveries. If you require additional assistance on your closed van rental, you may choose to add extra helpers to your booking. This will ease the hassle of loading and unloading your items with additional security handling.
Live Tracking of the current location and ETA of your delivery
Every customer can track their booking using our state-of-the-art GPS tracking system. This provides real-time data on the status and location of your closed van rental. It will also provide a precise ETA for the receiver of the item.
Commercial Goods Insurance for any accident that may incur
Your goods are safe with us. We offer insurance for every booking. It covers all the aspects of the delivery. This assures that the booker can receive a certain amount if found that there is damage to the package during the delivery.
Full-Service Loading and Unloading
We offer full-service delivery across our fleet. Our closed van rental driver-partners will handle your packages from loading from the pickup location to unloading on the delivery destination. It is in our best interest to provide you with excellent service.
Free Toll and Parking
Our rates are all-inclusive. We give customers the most affordable courier delivery rates to help them boost their network as a business.
Full-Service Pickup and Delivery
Customers may choose to have a full pick up and delivery for their cargo or parcel. Our closed van rental service driver-partners will handle all the processes and ensure that they are delivered safely and secured to their destination.
24/7 Customer Service
Our customer service hotlines and chat support are open 24/7 to cater to our customer's queries and concerns. We value the feedback we receive from our customers to improve our services further.
All these services are available when you book with us. With Transportify being your delivery provider, everything is possible.
Partner with Transportify
Businesses may now enjoy different perks availing of our Transportify Corporate Account for Business partnership. This enables your company to avail services like Monthly Post Pay, Goods Insurance worth P3 Million, Prepay Option, Process Mapping, Custom SOP and Equipment, and Dedicated Fleet. We also offer document return and COD options to our business partners. It gives them instant access to the delivery receipts and documents that are essential for business delivery tracking.
If your company is interested in becoming a partner, you may take a glance read our business program and reach out to our business agents. We also have a dedicated page for you to calculate the price of your delivery within the Metro Areas.
You can contact us to know more about our services or check our news and blogs for the latest news about Transportify.
Download the Transportify app now by scanning the QR code below or simply clicking on the button.
| | | |
| --- | --- | --- |
| | or | |
Frequently Asked Questions:
Where can I find the most affordable courier with the best quality service?
🚚 Most courier services have fixed rates on their delivery services. The price depends on the dimensions and weight of the package that you are sending. If your business is looking for the most affordable courier services, you may try using our Transportify app. Our services are 40% cheaper than the current market rate. We also offer same-day and express delivery services for essential items.
What is the best closed van rental service partner in the Philippines?
🚚 Depending on your location and business requirements, there are plenty of companies available to be your logistics provider. But today, customers are also considering accessibility to be one of the primary conditions to become the best provider. Transportify is an example of a logistics marketplace that offers closed van rental, courier services, same-day delivery services that are all available in one click. We are revolutionizing the logistics industry by using modern technology.