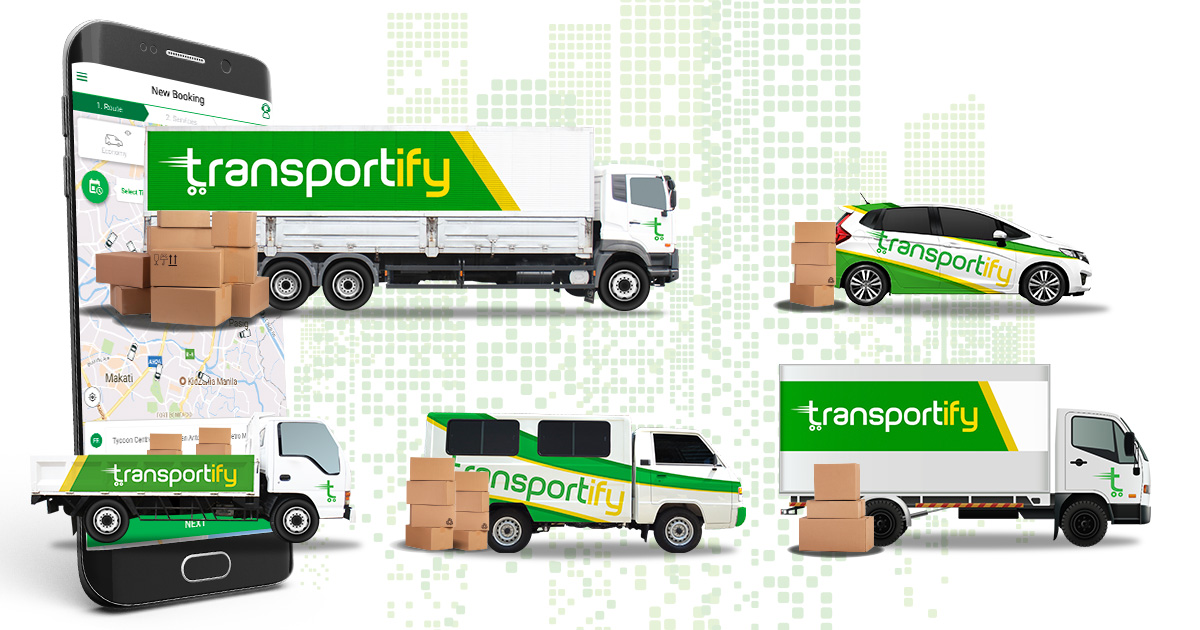 At last, you found us! Transportify is a logistics and trucking company that is the home of the famous green delivery sticker, and we called it as Transportify decals. If you have seen our green sticker on the streets and highways of the Philippines, you know that our award-winning flexible and affordable goods transport and logistics services are available in that area for you or your business. You can feel the ease of sending goods anywhere using our mobile and web app, too! Get started today by clicking the button below.
Trucking Services Available in Transportify
What is behind the green delivery sticker that we're so well known for? Transportify as a trucking company is the Philippines' favorite way to transport goods, merchandise, and cargo just about anywhere at the most affordable prices possible. You may choose from our massive fleet of vehicles that start with closed van trucks, 10 wheel trucks, and go down to sedan or hatchbacks with everything in-between.
Below is the table of our fleet and base price:
Vehicle Type
Dimensions/
Weight Limits
Base Price


(Metro Manila)

Base Price


(Outside Metro Manila)

Base Price


(Visayas/Mindanao)

Wing Van 

32 to 40 x 7.8 x 7.8 ft




12000kg to 28000kg

7500 PHP

6500 PHP

6500 PHP

6w Fwd Truck

18 x 6 x 7 ft




7000kg

4850 PHP

4850 PHP

4850 PHP

Closed Van

10 to 14 x 6 x 6 ft




2000kg to 4000kg

1800 PHP

1450 PHP

1450 PHP

Open Truck

10 to 21 x 6 ft x open




2000kg and 7000kg

2300 PHP

1950 PHP

N/A

L300/Van

8 x 4.5 x 4.5 ft




1000kg

430 PHP

330 PHP

310 PHP

Small Pickup

5 x 5 ft x open




1000kg

310 PHP

250 PHP

220 PHP

Light Van

5.5 x 3.8 x 3.8 ft




600kg

250 PHP

192 PHP

225 PHP

MPV/SUV

5 x 3.2 x 2.8 ft




200kg

160 PHP

130 PHP

140 PHP

Sedan

3.5 x 2 x 2.5 ft




200kg

140 PHP

110 PHP

120 PHP
When you book with Transportify as your trucking company partner, you can always rely on full-service experience. For the standard price, you get an all-in packaged price that includes the vehicle with a professional driver, fuel, loading, and unloading. No extra fuel or service fees. This is what our green t sticker stands for.
Why Transportify Decals for 10 Wheel Trucking Company is An Effective Branding?
Branding is essential to any business, and the right marketing strategy can make a massive difference between a hit success and a failure. The key to a good marketing strategy is to get your business name and brand in front of many audiences as possible. So, what's the best way to do that? Put the business name on any of the company's vehicles.
Just like what we did in our vehicles, we put transportify decals in all of our 10 wheel trucks to create brand awareness. Putting decals on cars just like our Transportify decals, helps our customers to identify our trucking company.
One of the reasons why many logistics company remains in the dungeon because they don't have any branded vehicles. When we say branded vehicles like a branded 10 wheel truck, it is where your logo, slogan, and services are present in the decals. Having decals on a company's vehicle helps a business to have an instant marketing campaign on wheels.
Moreover, vehicle branding by using stickers, decals, and on-vehicle billboards, is a valuable marketing technique for business to consumers businesses. Just like what we did with our 10 wheel truck, we put Transportify decals on it to introduce our services to more audiences.
Also, it helps us to create a trend for local consumers who become familiar with our business with only seeing our 10 wheel truck and other company vehicle driving through local areas.
That's why whatever your business is, decals in the form of magnets, stickers, etc. can be used as an inexpensive mobile advertisement to promote services or campaigns to current and potential customers.
Check out below the reasons why Transportify decals is an effecting branding for a trucking company.
1Professional and Attractive
We indeed live in a world full of gimmicks, especially when it comes to marketing and decals. Starting from the essential family stick figure to more significant designs. Even still, a custom and personalized decals can make a company stand out among its competitors. Just like our Transportify decals for our 10 wheel truck, we choose to be different.
Creating attractive and professional-looking decals can make us shine from the other trucking company. As possible as we can, we keep our Transportify decals neat and straightforward. We choose green as our primary color for our decals. It's one of the best services we can offer to our clients and business partners. Unlike other logistics and trucking company, they use a plain-looking vehicle for their 10 wheel truck and other cargo shipment vehicles.
But if you choose us as your trucking company partner, you can ensure that all of your goods and cargos are safe with us. Because our staff and drivers are wearing the brand, we create the reputation we build through our customer's trust.
Moreover, our Transportify decals are eye-catching, trendy, and attractive marketing slogan. Even our primary services are listed in the decals. Of course, our professional looking logo is taking the spotlight.
2Our Decals Captures Attention
Having a decal to a company's vehicle is an excellent way to gain and grab attention, as we did in our vehicles, we made sure that all of our vehicles have the same Transportify decals. You see, there are tons of people every day using transportation, and these people have the potential to see this decal on the road. Also, these people could be one of the potential customers that needed a trucking company service.
If a trucking company has no branding at all, then there's a probability that fewer people will know about their services. Besides, branding the trucking company's 10 wheel truck and other delivery vehicles can help to generate more sales to the business.
There's a massive chance that those people who get stuck from the traffic will take note of our trucking company services. That's why our Transportify decals is an essential part of our business that helps us attract more customers and reach more audiences.
SEE ALSO
3Transportify Decals Creates Familiarity
It's a well-known truth that most customers and potential clients prefer to do their business with a trucking company they are familiar with. So whether we're just roaming around the city, or we're out for delivery needs – there's one thing we can be proud of –signage which helps us to connect to our customers and potential clients.
Seeing our vehicle locally helps people become familiar with us as a trucking company that offers different kinds of vehicles such as 10 wheel truck, closed vans, trailers, and small delivery vehicles such as sedan, MPV/SUV, or L300. It helps us to promote our brand effortlessly; also, it helps us to introduce our brand to those people who are not yet aware of our services.
Also, if people have heard about or seen our brand on the road, then there's an enormous probability that they are likely to choose us against our competitors.
4Our Decals Helps Build Trust
Surveys, statistics, and several studies have shown that businesses that focus more on the local market perform better when the branding is visible in the local area. One of the best examples is our Transportify decals. It helps us create a professional image for our 10 wheel truck, and help us in building trust with our customers.
Trust plays an essential role in a customer's buying decision. Creating brand awareness helps our company to establish a reliable and reputable brand in the eyes of many. Also, our Transportify decals serve as proof that we are professional and legit business, not to mention the fact that parking in a different kind of establishment displays our brand to the local neighborhood.
5Decals are Authoritative
People's instinct is to trust authorities, even when they don't need to. When a person sees decal in a 10 wheel truck, they will immediately assume that a company is well-established and professional.
Seeing the decals in a 10 wheel truck, they will likely respect the company and will love to know what you're offering. The more authority a decal can provide, the better. Decals help our company to create our authority while on the road because it is a professional representation of our company and the services we provide to our customers.
| | | |
| --- | --- | --- |
| | or | |
Frequently Asked Questions:
What is the current trend in trucking companies?
🚗 In 2020, logistics and trucking companies are now heavily influenced by e-commerce. Most orders are now done online or through the use of mobile phones. Amazon is one great example of how it quickly adapted to the advancement of technology. For trucking companies, some apps are slowly revolutionizing the process of hiring delivery services. Transportify is an excellent example of a radical change in the trucking industry. Connecting drivers and customers through a mobile app, eased transactions, and made deliveries more efficient. Future trends in the trucking industry may involve bigger vehicles or fixed price route delivery methods.
Is Transportify decal a requirement for being a driver-partner?
🚗 Transportify decal are stickers printed on cars to identify them as driver-partners of the company. It is not a requirement for driver-partners, but doing so has its benefits. Although there is a small sticker that is required to be placed at the back of vehicles. The main reason for decals is that the company wants to help its customers identify their assigned drivers for better deliveries. The sense of security also plays a factor in that customers will trust their driver-partners.