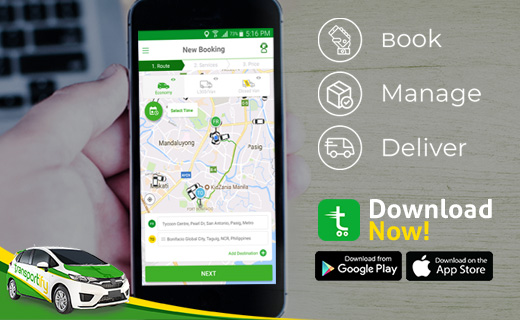 The revolution that will change the logistics industry in the Philippines has come! Transportify delivery comes as a web and mobile app—a great leap from the traditional courier service providers existing locally.
What is Transportify App?
The Transportify App is a delivery mobile app designed as a platform for package senders to find the nearest delivery drivers and vehicles that best match their delivery needs.
Where can I download it?

Downloading the Transportify App is easy! Just go to the AppStore if you are using an iPhone or go to the Google PlayStore if you are using an Android phone. Simply search for the Transportify App and download and install! You can also access the web version of the app through this link: Transportify Webapp
How can I use it?
Now that you have the Transportify App installed, you can use it for Transportify local same-day delivery requests! That is right—you can send packages on the same day of the transaction! Simply open the app and enter your desired pickup and drop-off destinations, select the type of delivery vehicle you need for your package, and schedule the pickup preference to no less than 60 minutes after you made the booking or preschedule up to 2 weeks in advance. The Transportify App will then match you with a Transportify driver partner within your area. The driver partner will arrive at the pickup point to fetch your package and deliver it to the drop-off destination you selected.
What else can it do?
More than matching you with the right delivery driver and vehicle with just a few taps and clicks, the Transportify App also provides its users with security. Transportify has a track and trace app feature so the package senders and receivers can monitor in real time the location of the delivery vehicle carrying the package. We are also very transparent with our pricing as Transportify Philippines shows its courier rates. Moreover, small-to-medium entrepreneurs can enroll their businesses in our Business Program if they need Transportify as their third-party delivery partner in the Philippines.
For more information on how to download and use our app, just visit our website to talk to our customer service representatives!