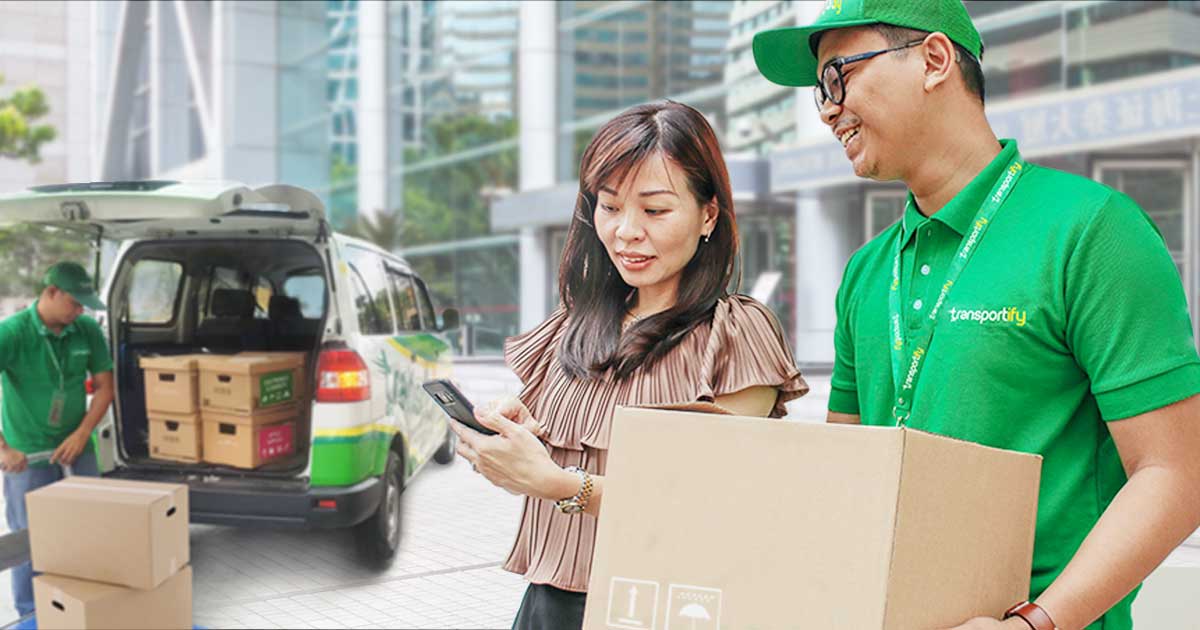 Back in the day, people would have to bring their packages to their local courier service centers and wait for hours in line just to get their items delivered. Imagine bringing a bulky and heavy package from home to the courier center; people who have private cars might have a slight advantage on the situation, but those who do not have one have to endure carrying their package from home by public transportation. same day delivery courier in the Philippines were unheard of.
Out with the old, in with the new
Fortunately, the times and things have changed as they should be—old problems were given new-found solutions, and old systems encountered respective revolutions. And for the inconvenient delivery system in the Philippines, comes Transportify's same day delivery app that's redefining courier delivery service. Simply follow their booking steps, and Transportify will do the rest.
No more carrying packages out to courier service centers! Transportify can pick up your parcel or package right at your doorstep. No more waiting for hours in line! Booking can be done in minutes via the Transportify web or mobile app. No more worrying where your package is and wondering why it has not arrived yet! The Transportify app lets you track your package in real time and gives you an instant notification once it has reached its destination. No more counting days after sending your package! Because Transportify is the same day delivery courier in the Philippines.
Back then, logistics vans and trucks have to be full before they start delivering. This is one of the main reasons packages—even small parcels—take a lot of time reaching their destination. So Transportify decided to make a difference in package delivery.
Instead of wasting time parked on garages, some of their vehicles roam the roads of Mega Manila and Pampanga (included some provinces in North and South Luzon) delivering and picking up packages while also waiting for incoming booking transactions. This method is a good way to utilize most of the allowable time in a day while maximizing productivity. Because of this, Transportify enables same day delivery to possible nearby customers.
Transportify to the rescue
Forgot an important document at home that you need for a work meeting, but your housemate cannot leave the house unattended? No need to panic. Transportify can handle express delivery!
You can simply tell your housemate at home to use the Transportify app and book your document for delivery to your office as fast as possible. Transportify can deal with urgent same day delivery courier needs as long as it's no less than 60 minutes. Using Transportify can save the day—your house is safe, your document is safe, and your meeting presentation is safe.
Urgent deliveries do not only apply to individuals. Transportify has helped other businesses get out of sticky situations with their same day delivery service.
| Delivery via Economy | Standard Rate | Full Day Rate |
| --- | --- | --- |
| Manila | ₱190 + ₱20/km | ₱1,800 |
| Pampanga | ₱170 + ₱20/km | ₱1,700 |
No more waiting
Customers usually have to wait for a couple of days or more before they can enjoy using the furniture or appliance they purchased if they do not have a car or a vehicle big enough to take their purchased item with them. They would have to wait until the store can deliver the furniture or appliance at their doorstep and it's already considered "express delivery" when it arrives within the week. Worse, unexpected circumstances could make the delivery delay last for more days.
That was then, and this is now: Now, there's Transportify's mobile app to that buyers can use to see if there's a nearby Transportify vehicle capable of picking up their purchased item from the store they are in and deliver it home immediately. Instead of waiting for days for your furniture or appliance to arrive, Transportify can help you have a go at your washing machine or LED TV as soon as you got home from buying them. Express delivery indeed!
Redefining the word "Express"
Reliable, convenient, affordable—and most of all, fast. Transportify is flexible enough to adapt to the needs of a post-modern fast-paced society. The word "express" used to be something that courier services attached to their names even if their fastest delivery time took them more than a day to deliver packages. Transportify did not attach the word "express" to its name—instead, Transportify performed what the word meant.