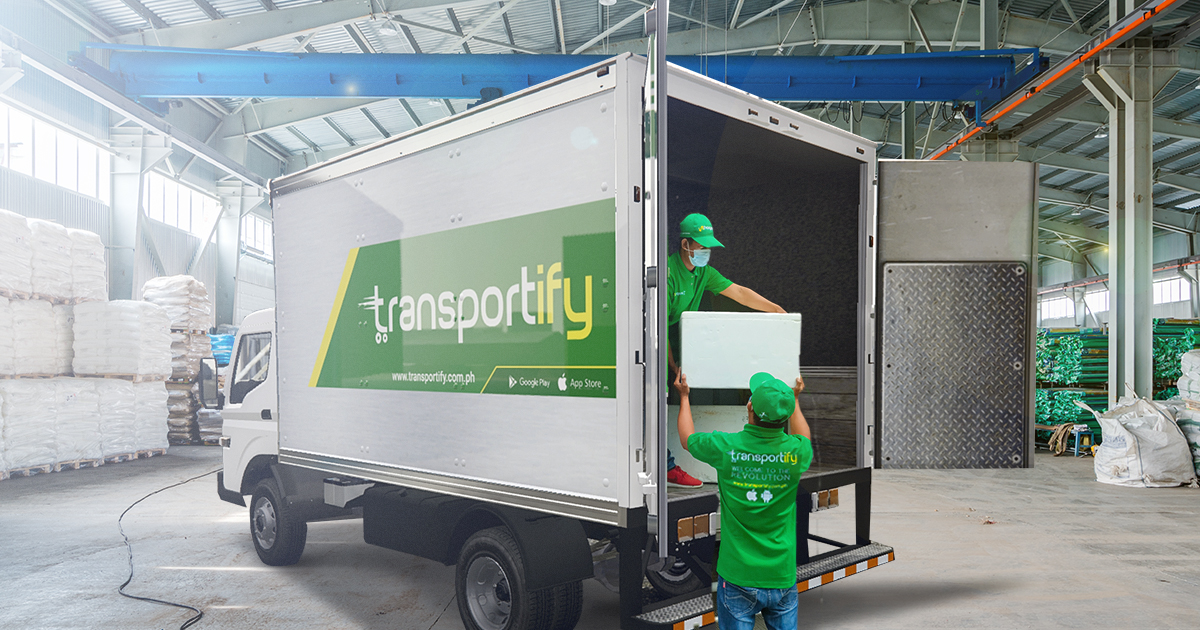 Did you see him? Was his green uniform as green as the Green Lantern? Was this green driver faster than a speeding bullet? No, it's not a comic book hero you saw, it's one of the Transportify's thousands of famous green delivery truck drivers who fearlessly ensure your goods and cargo arrive quickly and safely to their destination.
Book your deliveries, check our rates or get in touch with us by clicking the buttons below.
Transportify, as one of the best forwarders in the Philippines, has over 12,000 green delivery trucks and vehicles across the Philippines, providing goods and cargo delivery from our wildly popular mobile and web apps. Our most prominent markets for our famous green delivery drivers are the cities in Mega Manila and Pampanga along with other cities in Luzon, such as Baguio City, Dagupan City, Tarlac, Subic, Cabanatuan, Lucena, San Pablo, Lipa, and Batangas City. If your location is not mentioned, don't worry, our service area covers all of Luzon for intracity delivery and destinations have expanded to key cities in Visayas and Mindanao via interisland delivery.
When you spot a green delivery driver wearing his Transportify green uniform in your area, you know that Transportify, as one of the best forwarders in the Philippines, is actively serving businesses in your neighborhood. Feel free to book from our logistics app for same-day booking or even up to two weeks in advance. Our drivers with a green transportify uniform will not be late!
Why do our drivers wear a green delivery uniform? Each green driver represents Transportify's renowned Green Promise to treat customer's goods with the care and concern as if they were their own. Now you know that our green Transportify's uniform or green delivery uniform has a lot more meaning behind it than you might have thought.
Check our rates and price at the table below:
Vehicle Type
Dimensions/
Weight Limits
Base Price


(Metro Manila)

Base Price


(Outside Metro Manila)

Base Price


(Visayas/Mindanao)

Wing Van 

32 to 40 x 7.8 x 7.8 ft




12000kg to 28000kg

7500 PHP

6500 PHP

6500 PHP

6w Fwd Truck

18 x 6 x 7 ft




7000kg

4850 PHP

4850 PHP

4850 PHP
Closed Van

10 to 14 x 6 x 6 ft




2000kg to 4000kg

1800 PHP

1450 PHP

1450 PHP

Open Truck

10 to 21 x 6 ft x open




2000kg and 7000kg

2300 PHP

1950 PHP

N/A

Mini Dump Truck

10 x 6 ft x open




2000kg

1500 PHP

1200 PHP

N/A

L300/Van

8 x 4.5 x 4.5 ft




1000kg

430 PHP

330 PHP

310 PHP

Small Pickup

5 x 5 ft x open




1000kg

310 PHP

250 PHP

220 PHP

Light Van

5.5 x 3.8 x 3.8 ft




600kg

250 PHP

192 PHP

225 PHP

MPV/SUV

5 x 3.2 x 2.8 ft




200kg

160 PHP

130 PHP

140 PHP

Sedan

3.5 x 2 x 2.5 ft




200kg

140 PHP

110 PHP

120 PHP
Why Forwarders in Philippine Logistics Should Wear Uniforms?
It's a basic concept that most of us ignore – the thought of using jeans at work is unlikeable. However, many companies still don't consider the benefits of having a uniform from both brand awareness and professional standpoint.
Transportify as one the best forwarders in the Philippines and a well-known company in the industry of Philippine logistics, we use uniforms for our employees and drivers. Check out the reasons why wearing a uniform is essential for forwarders in the Philippines.
1Brand Awareness
Ensuring the company's branding is the frontline of your customer's mind that builds a connection which the consumer can recognize with, as well as to remember. Wearing a uniform is a brilliant idea for the company's awareness, strong marketing strategy, and advertising.
Just like we did to our employees and drivers, not only is it good for our brand to be recognized by other people, it is also helpful for the employees to look more professional. Unlike with the other forwarders in the Philippines, they are wearing civilians, which makes them look like a stranger to customers.
One more thing, since we are a Philippine logistics company, it is a form of additional security for our customers since we only deployed staff and drivers who are always wearing our uniform. If there's a fraud, our customers can quickly identify our employees through our uniforms.
2Sense of Unity
Staff, who wear similarly creates a sense of unity and solidarity, which builds an atmosphere where teamwork is valued, and performance is perfectly enhanced. Moreover, uniforms also destroy the barriers hierarchy. Instead, uniforms promote a goal that "we're all in this together."
Moreover, it is complimenting for the eyes of our customers who will see our staff outside. They can easily recognize our brand through our uniforms. That way, we leave a mark to their mind that we are Transportify, your best forwarders in the Philippines!
Besides, it creates a sense of being professional as one if employees are wearing a uniform. Not only it'll look neat and reliable, but it also builds a sense of trust towards our customers.
3Improves Customer's Trust
Of course, a Philippine logistics company that wears a uniform for their forwarders and employees creates an instant connection of trust to our services. The aspect of trust is highlighted through brand-recognition, which allows customers to engage easily with our services.
Moreover, wearing uniforms while providing our services to our customers, it gives them the security that we are trustworthy, which is true. We value our customers more than what you can expect; our priority is to serve outstanding delivery and logistics services that every business and individuals deserve to receive.
Unlike with the other Philippine logistics companies who doesn't wear a uniform, customers need to be extra vigilant. Because usually, offenders use this opportunity to trick and scam receiver about the packages they need to receive.
Here in Transportify, as one of the best forwarders in the Philippines doesn't want this to happen, that's why we choose to have uniforms so our partner-drivers will not have the reason to explain unnecessary things to our customers.
4Simplicity
If a Philippine logistics company has a uniform policy, it removes all the headaches that can be caused by following a dress code. Dress codes are a hassle, especially for employees who don't want to get dress up. It is also subjective and can create tension between both employees and management.
However, by implementing uniforms, everyone wears the same dress every day, which lessen the room for conflict. Just like what we did here in Transportify as one of the best forwarders in the Philippines, we allow our employees and drivers to wear our green uniform as a symbol of unity in the management.
Moreover, the uniform represents our company. So, as possible as we can, we want our employees to look neat and straightforward, especially when facing our customers. Besides, our employees don't need to think about the dress they need to wear for office hours. Not only it helps our business, but it also supports our employees for their convenience.
5Makes Us Stand Out
With wearing our green uniforms, it can make our employees stand out against our competitors. As a Philippine logistics company, it isn't straightforward to obtain the authority within the community. There are tons of forwarders in the Philippines, and competing with these Philippine logistics giants is a tough thing to do. That's why wearing a uniform can separate our identity from them.
Moreover, each employee that wears our green uniform becomes the brand ambassador and representative of our services. So, if you see a person wearing a green uniform with "Transportify" written on their clothes, it's not Green Lantern; it's only us! Your logistics partner towards success.
6Consistent Appearance
When a particular Philippine logistics company employees all wear a similar uniform, it builds a unified and strong image for the whole company. Employees and drivers can be identified easily. Also, it's a key factor for a business situation where customers can know who works there when they need support or assistance.
The uniforms build a professional appearance and create a standard for the customers to see. It also promotes unity, diversity, and strong management among the staff. It's like killing two birds with one stone.
7Advertising
Our green uniforms provide more company exposure, especially that our logo is present on the shirt. Employees and drivers who stop by the parking lot, establishments, and other places in the local area who wear a green uniform create a free walking advertisement for the company.
Because of that, our uniforms become part of the company's branding and marketing strategy. Residents can quickly identify us and associate our employees with our brand. Also, our attires draw in new customers or remind our current customers to stay and avail of our Philippine logistics services.
So, whenever you see a person wearing a green uniform with our proud logo on it, they're our heroes who provide outstanding and high-quality Philippine logistics services to our customers, which makes us, Transportify, as one of the best forwarders in the Philippines!
| | | |
| --- | --- | --- |
| | or | |
Frequently Asked Questions:
What is the current status of Philippine logistics?
?The current state of Philippine logistics remains competitive. Established companies continue to dominate the household brand for deliveries. LBC is still the trusted express courier service that can reach everywhere in the country. There's also Maersk and Yusen logistics that handles cargo for import. While for the past years, startups are shaking the logistics industry with new and smart solutions. Transportify is one of the newcomers that connects customers to drivers for same-day deliveries. They are continuously growing with increasing the variety of vehicles.
Is Transportify considered as a freight forwarder?
?Transportify is a logistics company that connects customers to drivers using a mobile app. Although they do not own any of the vehicles, the simplicity of using the app makes it an efficient freight forwarder. Their service is available in Luzon for intracity delivery and to key cities in Visayas and Mindanao via interisland delivery. They are also known for providing deliveries with vehicles like SUVs and MPVs up to larger vehicles such as open trucks and wing vans.