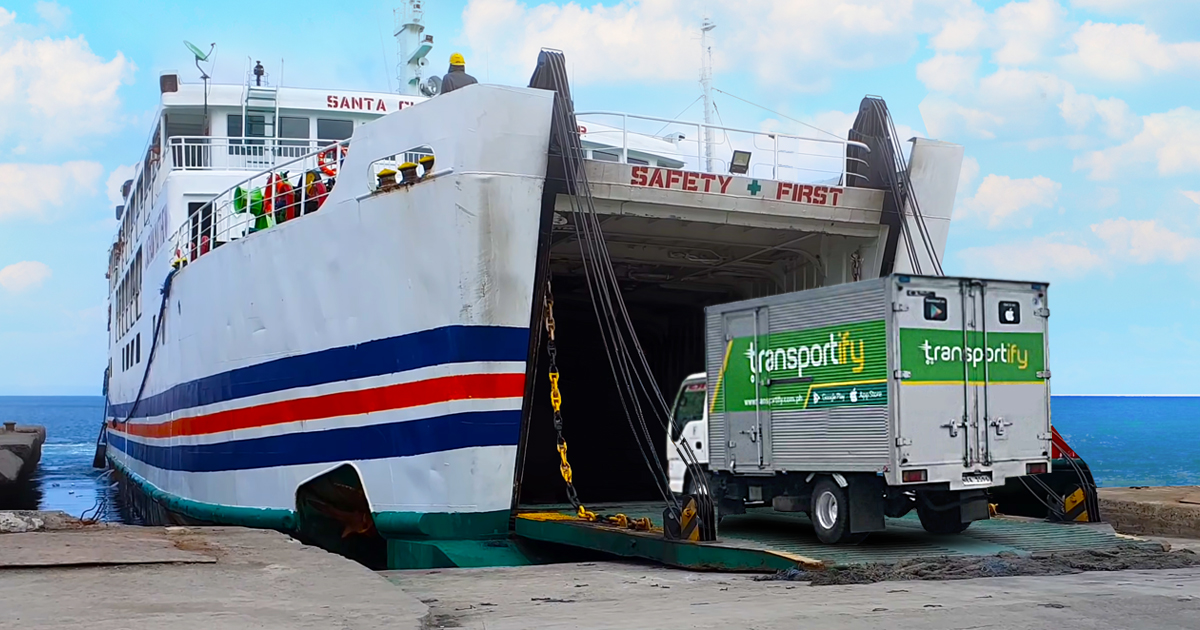 Interisland transport can be a costly activity for business deliveries outside mainland Luzon. Interisland connects two modes of freight forwarder services, which are land and sea. Such an arrangement may appear complex in operations and expense, but there is a way to make it otherwise. Transportify is a freight forwarder services provider that makes interisland deliveries faster and more accessible through an app.
We leverage RORO in the Philippines to give you the most affordable interisland trucking service in the logistics market. Check our latest quote in the buttons below.
What Is the Importance of RORO in the Philippines?
Before we go along with the article, let us first identify how the RORO (roll on, roll off) system works. According to Philippine Ports Authority, RORO shipping entails driving a vehicle into the RORO ship and driving it out once it has arrived at the destination port.
RORO System connected primary islands in the Philippines
The Philippines has a complex geographical setting, being an archipelago. The distance between bodies of water created challenges for cargo transport. These challenges led to the development of the RORO system in the Philippines in 2003, in which then the primary goal was to connect Luzon, Visayas, and Mindanao through a series of roads and ports. The developed system abled land freight to expand and explore multimodal transport using RORO in the Philippines.
Boosted opportunities for the logistics industry
Now, what is its importance to businesses? Multimodal transport created opportunities for businesses to reach a broader set of clientele from other islands. More than that, RORO in the Philippines provides a logistical advantage. It simplifies operations and reduces manual movement of cargo from one vehicle to another. Such arrangement results in a faster, safer, and more cost-efficient process due to the elimination of load-handling steps and the need for machinery like cranes for lifting.
While having in-house operations for interisland delivery can be an option, it can also be more beneficial for you to hire a third party logistics. By doing this, you can reduce or reallocate the supposed resources for vehicles, labor, and management to other operational needs. If you are expanding your operations to new places, you can hire a third party logistics first to test the waters for you. After all, third party logistics for freight forwarder services are more flexible to operations and changing demands.
Indeed, interisland delivery is now more manageable thanks to the RORO system. It can get better with Transportify's freight forwarder services. We want it to be more accessible and straightforward for our users, which is why we made interisland delivery available on our on-demand app. Need a delivery from Luzon to Cebu? Transportify can help you with that with our 10w Wing Van, 6w Fwd Truck, Closed Van, and L300 always ready to transport your goods. Here is a table of our most popular routes for interisland trucking:
SEE ALSO:
Interisland Freight Forwarder Services for Business
In the Philippines, finding cost-effective and credible interisland shipping services for businesses is essential. Hiring a freight forwarder services provider like Transportify can be a stepping stone towards more efficient shipment management. Freight forwarders can benefit your company by leveraging their logistical expertise, industry experience, and network of partnerships. A close working relationship with a freight forwarder services provider has the potential to simplify your operations, lower your shipping costs, and reduce the amount of time you spend managing your supply chain. This part of the article will give you a list of advantages you can expect from a freight forwarder services provider like Transportify.
1Service flexibility
Transportify is flexible to provide freight forwarding services to businesses from different industries. We are best for bulk deliveries of retails products, office equipment, home fixtures and appliances, cosmetics and beauty, construction supplies, heavy materials, and perishable goods. We also support Fast Moving Consumer Goods (FMCG) companies operating in Luzon who need fast and reliable bulk delivery to cities in Visayas and Mindanao.
2Wide Area Coverage
A freight forwarder services provider should support your deliveries to a wide area in the Philippines. The interisland trucking service of Transportify has a wide service area to key cities of Visayas and Mindanao. These cities are as follows: Cebu, Davao, Oriental Mindoro, Tacloban, Iloilo, Bacolod, Bohol, Davao, Zamboanga, Cagayan de Oro, General Santos, and more. For Full Truckload (FTL) deliveries from Luzon, businesses and individual bookers can take advantage of these available areas with the best rates in the market.
3RORO Transport Arrangements
Transportify is here to provide you with an end to end interisland delivery. When you book for an interisland service, you do not need to arrange the RORO tickets and schedule because it will be done for you. Transportify partnered with big shipping companies and RORO in the Philippines to provide you with the best deals. Transportify's interisland trucking price already includes the RORO fees, so you won't need to worry about it.
4Easy freight management through the app
Transportify takes pride in its app. Everything that you need to do with your booking can be done through it. Through the app, you can have batch bookings up to more than 10, track your deliveries in real-time via a GPS system, chat with the driver, document the booking with signatures and pictures, and paperless booking management. Since interisland deliveries will use RORO in the Philippines, it is a helpful feature to have GPS tracking. The feature allows bookers to track arrivals, giving them a sense of control and reducing stress while deliveries are in transit.
5Security and Insurance
It's worth noting that Transportify provides goods insurance to all of its customers for every delivery. Transportify can provide up to 3 million worth of insurance for business bookers. We want our customers to feel protected every time because your security and satisfaction are our top priority. Our customer service is 24/7 available to answer if you have other questions about our insurance coverage.
Would You Like to Explore Our Services Further?
Perhaps you are interested or want to clarify some things about our freight forwarding services. You can always contact us through business@transportify.com.ph. Interested businesses can join our
Corporate Account for Business. The program offers a wide variety of benefits such as flexible payment options, goods insurance by OONA Insurance Philippines, process mapping, custom SOP, dedicated fleet, dedicated account manager, and 24/7 customer service.
You can start exploring our app through the QR Code or click the button below:
| | | |
| --- | --- | --- |
| | or | |
Frequently Asked Questions:
Are staff allowed to ride along with interisland delivery using RORO in the Philippines?
🚚 For security reasons, accompanying the delivery by staff is not allowed. The available space in the vehicle is only allowed for the crew. Another reason is that every person that will ride the RORO in the Philippines will be considered a passenger, incurring additional expense. Lastly, due to the current pandemic travel restrictions, only drivers and the helper are allowed to fulfill the booking, and adding staff may cause some complications.
What is the process of payment for Transportify interisland freight forwarding services?
🚚 For business bookers, we offer the option for prepay or post-paid payment. On the other hand, payment may be by credit card, bank transfer, or cash for individual bookers. Before the booking, we require a deposit of 30% of the booking value to your Transportify wallet.