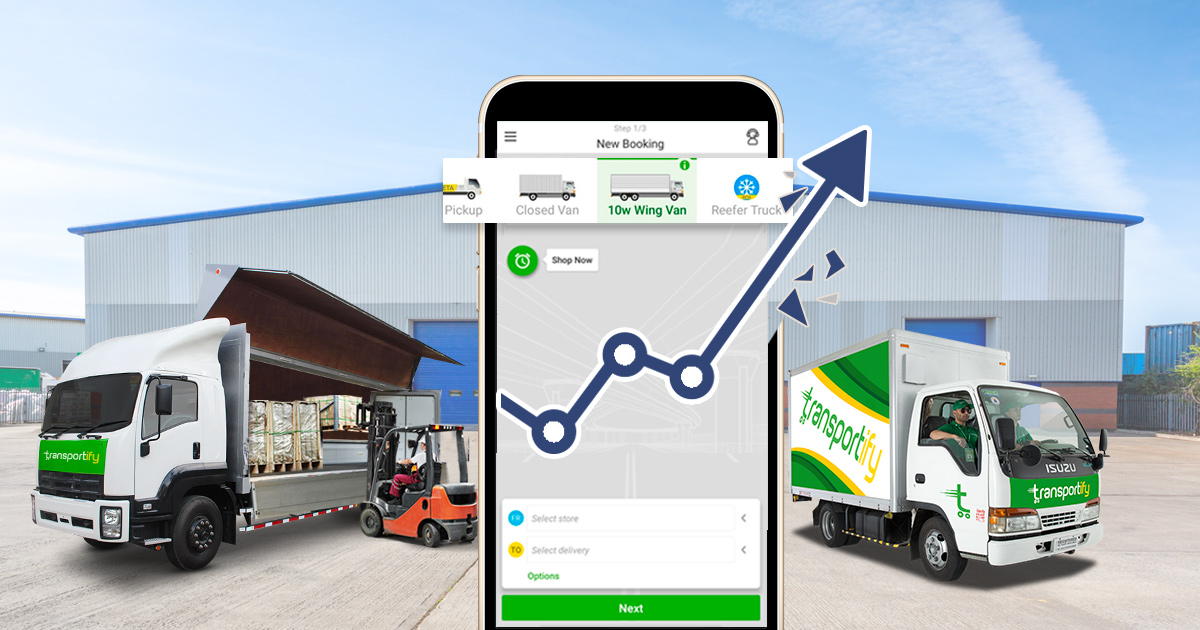 The e-Commerce and logistics companies' fates are now joined in this ever-expanding digital era where online shopping surges and same-day delivery services are in higher demand. It's an exciting time for these companies as eCommerce logistics' forecasts are looking exceptionally bright, which can only mean a higher demand for quality logistics services to ensure rapid delivery and a higher standard of service. 
It's good news all around, but certain aspects of this news are especially exciting. 
For example, eCommerce logistics' influence and impact on a country's economy have never been as huge or significant as it is today. This is because the logistics industry, by its very nature, inspires competitiveness. The job creation and economic growth that comes off logistics are staggering as more and more logistics firms and freight companies are fighting to deliver the fastest and most efficient service available. Transportify, for example, is an app-based freight company that delivers excellent service to its clients. You can check out our available our rates below.
Vehicle Type
Cargo Dimension
Capacity
Starting Price
Vehicle Type
Cargo Dimension
Capacity
Price Starts at

Economy (Sedan/Hatchback)

L: 3.5 ft
W: 2 ft
H: 2.5 ft

200 kg

₱120 (Metro Manila)
₱90 (Other Areas)

Light Van
L: 5.5 ft
W: 3.8 ft
H: 3.8 ft

600 kg


₱250 (Metro Manila)
₱192 (Other Areas)


L300/Van

L: 7 ft
W: 4 ft
H: 4 ft

1000 kg

₱430 (Metro Manila)
₱330 (Other Areas)

Small Pickup
L: 5 ft
W: 5 ft
H: Open

1000 kg

₱310 (Metro Manila)
₱250 (Other Areas)

Closed Van

L: 10 ft
W: 6 ft
H: 6 ft

2000 kg

₱1800 (Metro Manila)
₱1450 (Other Areas)

6w Fwd Truck

L: 18 ft
W: 6 ft
H: 7 ft
7000 kg
₱4850

10w Wing Van (32ft)

L: 32 ft
W: 7.8 ft
H: 7.8 ft

15000 kg

₱7500

Wing Van (40ft)
L: 40 ft
W: 7.8 ft
H: 7.8 ft
28000 kg
₱10500 (Metro Manila)
₱9500 (Other Areas)

Pickup Truck

L: 10 ft
W: 6 ft
H: Open
2000 kg
₱2300 (Metro Manila)
₱1950 (Other Areas)

Long Pickup Truck

L: 18 ft
W: 6 ft
H: Open
7000 kg
₱4850



Mini Dump Truck

L: 10 ft
W: 6 ft
H: Open
3500 kg
₱1500 (Metro Manila)
₱1200 (Other Areas)

What Are the Developments in Freight Companies?
Significant innovation is needed as demand increases. Freight companies are competing to deliver the next technological advancement and raise the bar that little bit higher. 
One of the most notable changes in recent years is the digitization of logistics companies to keep up with such high demand. This means collecting high-quality and actionable data, analyzing it to find issues and discrepancies in their workflow, and then implementing the necessary changes to overcome and prevent such problems from persisting. 
In this article, we're going to focus on the logistics industry in the Philippines and the current changes that we are experiencing on the freight companies' services due to the surge in demand inspired by eCommerce companies. 
The freight forwarding market
In the Philippines, 21.1% of the transporting storage establishments are, indeed, logistics companies. This is mostly dominated by road freight forwarding, which is an essentiality for national distribution. This industry is projected to continue to dominate the Philippines' logistics market under the government's BBB program ("Build, Build, Build"). 
H2: Another variable that greatly affected the development of freight companies is the expansion of major industries in our country, which includes manufacturing, retail, wholesale, construction, agricultural commodities, and mining. These sectors have a significant fair share in the extraordinary growth in freight companies and eCommerce. Opening various logistics hubs and the application of new technologies drew attention to this advancement. 
As we progress on this drastic change in our country's logistics practices, Transportify, as a continuously improving tech-logistics company, brings a new approach to eCommerce logistics. Our company is inclined to satisfy the accelerating growth in the eCommerce logistics industry. The on-demand logistics services we offer is 40% cheaper than other freight companies. With this, eCommerce and online shopping businesses will have a significant reduction in their operational costs. Our advanced logistics solution powered by our sophisticated mobile and web technologies will be your smartest move.
The warehousing market
Another huge chunk of the eCommerce logistics' market is warehousing. Naturally, the Philippines is one of the most convenient docking locations for supply routes in the region due to its strategic location on the Pacific Ocean's edge, conveniently connecting it to many import & export markets and various countries across the world. 
The strong economic growth will boost the presence of freight companies in the Philippines. The most significant contributors to the warehousing market are retail & industrial warehousing, with eCommerce logistics fast approaching domination. The increase in consumer spending provides the growth of these sectors and thereby affecting the market positively. 
Express delivery
The express delivery market and freight services are expected to reach 68.2 billion by 2023 (same-day delivery or up to 3 days' delivery period). This directly results from the staggering impact that the e-Commerce and online shopping industry has had on the global logistics market. 
Since demand for same-day deliveries and eCommerce logistics increases, more and more companies are exploring the side of express services. Transportify is one of the best providers to express deliveries and freight services in the Philippines. More businesses may now deliver their items in an instant and are ensured that it is safely transported to their destinations.
SEE ALSO
What is the Status of Ecommerce Logistics in the Philippines?
We have experienced vast expansion of the e-commerce industry in the Philippines for several reasons, primarily using advanced mobile apps and banking solutions, which has subsequently made it easier for consumers to place online orders, fuelled by the ever-growing eCommerce logistics industry and establishment of new logistics and freight companies. 
The Philippine's transportation system has undergone some rapid and awe-inspiring changes over recent years as part of the BBB program, completing 9,845 km of roads, rehabilitating, or building 2,709 bridges, and six railway projects which are under construction or rehabilitation. That, coupled with the existing 821 seaports and 80 active airports, paves the way for continued growth, particularly as the Covid-19 pandemic subsides. 
The majority of the companies are shifting their focus on online platforms to cope with the Philippine market change. There is indeed a significant impact on the flow of goods within the region from these established Build Build Build government projects. ECommerce companies can now connect more businesses to their customers with their improved function. More partners are exploring Transportify Corporate Account for Business.

It has been projected that the logistics industry is in its growth stage for the Philippines. The government's improvements in our nation's infrastructures have positively impacted logistics and freight companies and the e-commerce industry on their operations to meet our growing population's consumption requirements. 
Incredible opportunities for logistics & warehousing companies
The future is indeed looking promising for eCommerce logistics companies & warehousing industry, given the economic growth that the Philippines has experienced lately. That and its active participation in global trade via specific specialized sectors result in a rising middle class and a more excellent distribution of wealth. 
As e-Commerce continues to grow, and freight companies continue to streamline their operations, the logistics industry can only expect to grow. 
There is much need to digitize logistics if they expect to keep up with the increase in demand. Harness data, an action that provides information, and exceptional results. 
If you'd like to know more about what changes the eCommerce logistics industry is currently experiencing and how it can be of great benefit to your business (especially if you are in e-Commerce business and experience rapid growth), then please do not hesitate to contact Transportify today. 
| | | |
| --- | --- | --- |
| | or | |
Frequently Asked Questions:
How does eCommerce logistics affect the growth of freight companies?
? Ecommerce logistics significantly affects the demand and growth of freight companies because of the increased consumption requirements of the growing population. It is also because of the improved accessibility of the internet primarily with mobile applications and banking solutions, which has subsequently made it easier for consumers to place online orders, fuelled by the ever-growing logistics industry and establishment of an improved logistics network. Transportify is one of the logistics companies that offer e-commerce partners options in delivering their products and packages. 
What is the advantage of having a partnership with freight companies for e-commerce needs? 
? One of the advantages of having a partnership with freight companies when you are an eCommerce business is increasing your market accessibility. You'll have a smooth flow of handling your logistic network and reducing material handling errors, especially for bulk packages or items. There are a variety of logistics providers out in the market. If you prefer to have a motorcycle to handle your bags, Lalamove or Grab Express can do that. If your items are perishable, bulk, and require proper handling, you should use Transportify. Our fleet is tailor-fit to handle these business requirements.