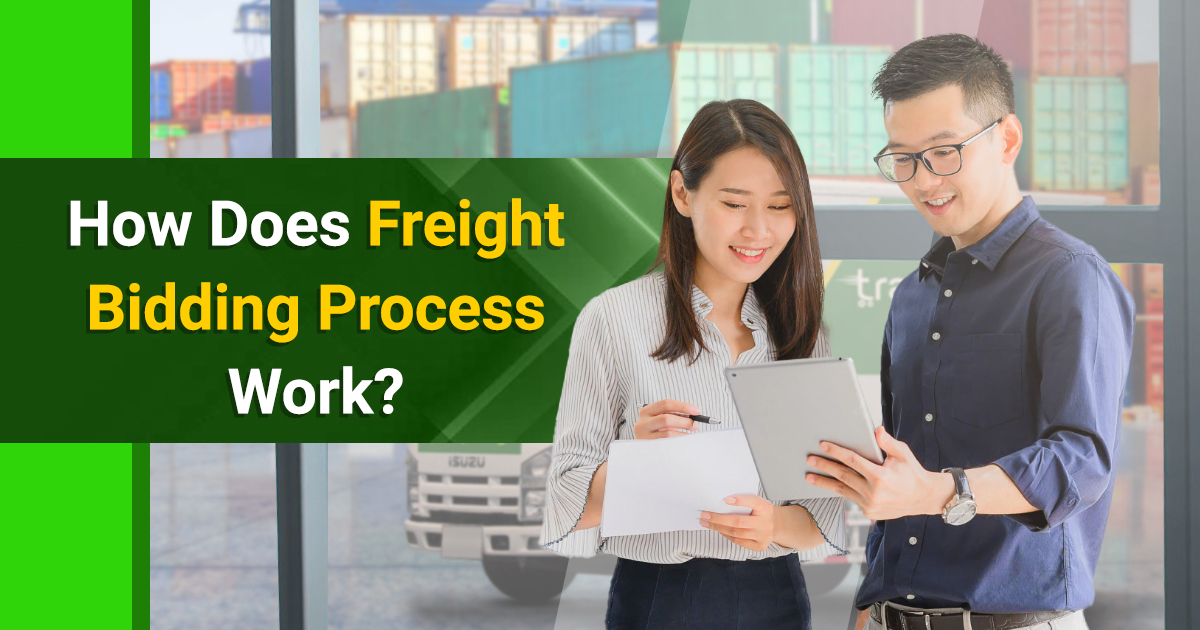 For logistics managers, freight bidding is essential to managing transportation costs. But what is freight bidding, and how does it work? This article will give you an overview of the freight bidding process and tips on how to do it better.
Freight bidding season can be a source of anxiety, even for the most experienced transportation professionals. We understand the complexity and frustration that freight bidding can cause.
The good news is that freight bidding does not have to be a complicated task! Instead, it can be an enjoyable experience for all parties involved, where everyone benefits from its outcomes.
What Happens in Freight Bidding?
Freight bidding is the process by which companies can initiate or renew their business relationship with a trucker by submitting a Request For Quotation (RFQ). It's an efficient way for shippers to find the best-paying, most attractive loads and for carriers to bid on them. The freight bidding process begins when shippers post their load on an online load board or freight bidding platform. Trucking providers then browse these sites and submit bids for the load they're interested in hauling. Once all the RFQs are in, the shipper can review them and select the best one that best meets their needs.
The shipper drafts a proposal or "bid" that outlines the type of partnership they would like to have with the company. Then, if either side expresses interest, negotiations will begin. To do freight bidding effectively, you must calculate freight costs, assemble quotes from multiple providers, and assess your freight demands.
Overall, freight bidding is an effective way for companies to establish relationships with reliable carriers who can provide quality service at competitive rates.
How Long Is the Process of Freight Bidding?
The freight bidding process can take a few weeks to several months. It depends on the complexity of the project, and the number of bids received. One way to ensure you get the most out of your freight bidding process is to be strategic. Consider pricing, service levels, transit times, and capacity when selecting carriers. Additionally, be sure that you know your requirements before beginning the bidding process. That is a crucial step so that you can concentrate on choosing the best logistics provider.
Why Is Freight Bidding Process Important?
The freight bidding process is important so businesses can get the best shipping rates and services. The process compares different offers, and freight bidding helps them find the most cost-effective and reliable option for their shipping needs.
An efficient freight bidding system eases communication for shippers. Businesses must recognize the importance of freight bidding as these processes can majorly impact their bottom line. Suppliers bid on jobs rather than waiting for dispatchers' instructions, resulting in faster delivery times.
Benefits of Freight Bidding Process To Business and Truck Providers
Freight bidding provides an ideal solution to controlling freight rates and mutually benefits all parties. Let us explain why by continue reading below.
A Win-Win Situation
Freight bidding provides the perfect platform for a conversation between two parties and ensures everyone's needs are met. This allows shippers and suppliers to reach an agreement that benefits all involved.
Foster Healthy Competition Among Suppliers
Freight bidding fosters healthy competition among trucking suppliers because it allows them to get the best rates for their services on a level playing field. With freight bidding, all participating companies have the same access to available loads and can compete in real-time with others for each project. This means no one has the edge over any other when competing for favorable shipping contracts.
Tips You Should Do When Negotiating During Freight Bidding
Negotiate Rates with Multiple Supplier
Logistics managers and key stakeholders should prioritize the time to negotiate rates with various suppliers to maximize their organization's budget. This allows small and large freight companies to identify the most cost-effective option that fits their shipping requirements.
Leverage Technology
Logistics teams can use historical data and trends to bid freight by leveraging technology. With this data, companies can bid more intelligently for services and pick the provider with the most cost-effective option.
Evaluate Total Cost of Service
Logistics managers should factor in the entire price of ownership when selecting a trucking service provider. These are fuel surcharges, insurance premiums, handling charges, and other associated costs.
Consider Sustainability
Logistics managers must consider the sustainability of their freight bidding process for long-term success. To reduce their carbon footprint and positively impact the environment, they should find shipping companies that utilize green initiatives like electric vehicles, renewable fuels, reduced packaging materials, and effective route optimization processes.
Avoid Unnecessary Expenses
Logistics managers should exercise caution when signing long-term contracts with high charges or extraneous add-ons. These costs may be optional for the success of their supply chain operations.
Take Advantage of Special Offers
Logistics teams should proactively seek out savings opportunities such as special carrier offers. When the opportunity arises, they ought to take full advantage of it to maximize their transport budget and minimize overall expenses.
In conclusion, freight bidding is crucial to modern supply chain operations. It allows shippers and logistics providers to achieve cost savings. In addition, businesses can benefit from advantageous shipping agreements and establish a fruitful long-term relationship with trucking suppliers by considering the points above when developing a bidding strategy.
Invite Transportify To A Freight Bidding For Your Logistics Needs
Transportify is a leading high-tech logistics company in the Philippines. The company has supported business trucking operations of corporations and SMEs since 2016. Transportify's app enables logistics managers and dispatchers to maintain the highest levels of professionalism while meeting delivery deadlines quickly and affordably.
We have corporate accounts for businesses that need our logistics support, whether for same-day or nationwide delivery. We process RFPs and RFQs for companies to present our end-to-end logistics services at an economical price.
Here's how you can inquire about Transportify's business program.
Business Program
Services
Program Features
Live Support

Open 24/7

Prepay

Available

Postpay with Monthly Invoicing

Available

Destinations

A total of 16 destinations can be added in every booking

COD/POD
COD + POD
2.50% of invoice
Min of 80 PHP
(Flat Fee/Booking)
POD Only
80 PHP for ≤ 3 destinations
160 PHP for ≤ 10 destinations
200 PHP for ≤ 15 destinations
Insurance and Warranty

Up to 3 million PHP coverage from OONA Insurance

Nationwide Service Area

Available




Interisland and Same Day Trucking in Luzon, Visayas, and Mindanao

Business Web Dashboard

Team Account Management Customized Reports
SEE ALSO
Outsource Your Logistics For Long-Term Success
Logistics outsourcing is a practical option for companies. This is particularly true for those with a limited budget. Outsourcing the physical transportation of goods and materials allows businesses to reduce costly overhead expenses, enhance efficiency, boost flexibility, and free up resources for other projects.
As globalization continues to drive demand for advanced shipping solutions, leveraging the expertise of experienced logistics providers is becoming a key success factor for many organizations.
| | | |
| --- | --- | --- |
| | or | |
Frequently Asked Questions:
What are the two types of bidding?
🚚 When bidding for goods and services, there are two primary types: sealed bids and open auctions. Sealed bids involve submitting a written offer that is kept confidential; these bids are then opened simultaneously and compared against one another. On the other hand, open auctions involve open competition between bidders. These may occur in person or online. In an open auction, each bidder can see what others are offering. Whichever bid offers the best value will typically win out in either situation.
How do freight brokers find shippers?
🚚 Freight brokers find shippers through various methods, including networking and attending events. In addition, brokers use online tools and databases to identify shippers seeking shipping services. This way, they can leverage their contacts within the industry to gain access to a wider pool of potential customers.