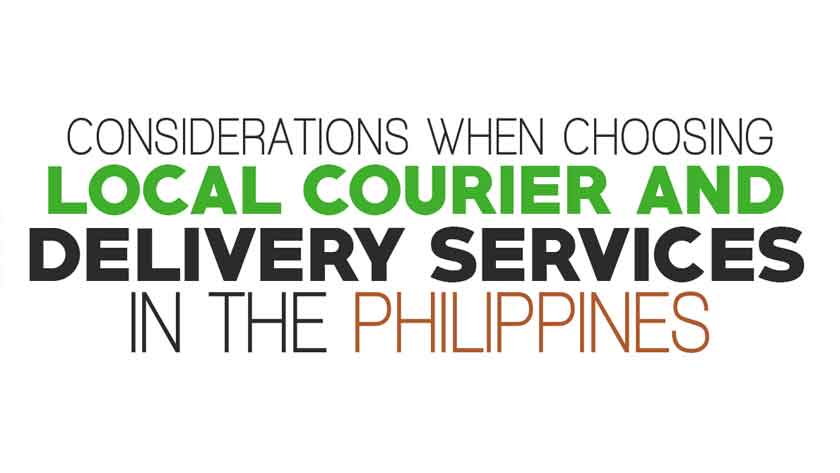 The qualities and capabilities of local courier and delivery services can play a huge factor in determining their success or failure. Determining factors come in different forms: the manner they deliver (how fast or slow), their affordability, the delivery areas that they cater to, cars, motorbikes, closed vans for delivery or trucks, among others.
In the Philippines, businesses are mostly situated in highly populated urban areas. This is also where most heavy road traffic is experienced on a daily basis – affecting businesses, appointments, meetings, etc.
It is, then, essential to know how to choose the most efficient local courier and delivery services in the country. To give you a guide, here are the important considerations you should know.
Delivery Service Type
Be it small or extra large parcels, the courier or delivery service provider you are to choose must be able to cater to your delivery size needs. You would not want your receiver to receive a damaged item, just because your service provider does not have the vehicle type that can accommodate your needs.
Delivery Areas Allowed
Whether you're someone who needs to deliver packages to your loved ones, or you're into a business that delivers products in certain parts of the Philippines, it is always important to choose a courier and delivery service provider that has the ability to transport packages in your desired delivery area.
While most service providers can still deliver outside of their standard service areas, there would be certain fares you would have to pay, called surcharge. This is where affordability comes in.
Service Affordability
Courier and delivery services in the Philippines require you to pay surcharges for deliveries that are not within the standard service area, but what can make one stand out from the other is its surcharge price difference from the others.
Moreover, an efficient delivery service provider is one that lets you pay for what you just used, with no hidden fees or senseless extra charges.
Speed of Delivery
How fast or slow a local courier or delivery service provider can transport your packages is also important when choosing your provider. There would always be parcels that need to be delivered in a rush, so you should know the ones that can give you just the right solution.
Tracking and Security
An effective courier and delivery service provider can ensure that your packages are being delivered on time, without hassle, and is secured. When choosing your provider, choose one that does not leave your packages unattended and also lets you track, trace, and monitor them, from pick up to delivery.
Ease of Doing Business
Transporting your packages in a timely manner is good, but what can make this better is the ease of doing business with your local courier or delivery services partner. Before deciding to go with one, ask yourself: How can I contact them? Do I have to personally book deliveries? How do I know that my packages have arrived at the location? Can they give me any proof that the packages have been delivered?
Have a local courier or delivery service partner that makes everything easier. This makes you accomplish more tasks in less time (most effective if you're into business).
Given all these determining factors and more, choosing a transport company to deliver your packages becomes much easier. Transportify, a local courier and delivery services provider in the Philippines, best qualifies with these considerations. Use our courier delivery app and see the difference.