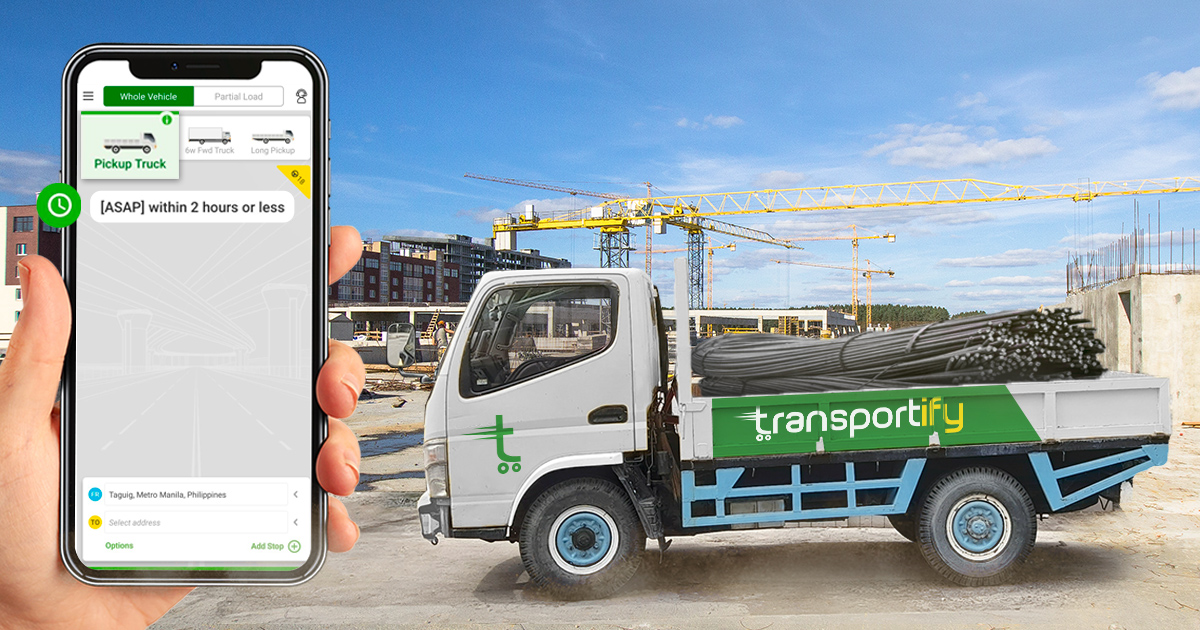 The construction sector is an integral part of the Philippine economy, which generates a large quantity of money. In fact, during the 4th quarter of 2020 alone, the construction industry accounted for roughly 336 Billion. The massive numbers can be attributed to the "Build Build Build" program introduced by the Philippine government back in 2016. However, the recent COVID-19 pandemic has significantly impacted its progress, resulting in contractions to the total construction expenditures by private and public firms in 2020.
As the world slowly gets a grasp of the pandemic, it's time to look forward to what the Philippines' construction industry will look like in 2023 and the years to come.
This page will look at some of the exciting changes within the construction industry, particularly in relation to last-mile and on demand construction material delivery services. But first, here are some quick statistics about the construction sector in the Philippines:
Value-added generated from the construction sector: 336.19 Billion
Fixed capital formation value of the Philippine construction sector: 607.87 Billion
As you can see, some exciting growth is taking place, and with our help, you can take your construction business to even greater heights.
What Is Last Mile Delivery in Relation to the Construction Industry?
During the '70s and '80s, a model of manufacturing was introduced called "just-in-time" (JIT). JIT model refers to a process in which items would be created to meet current demand, rather than a surplus before they have been purchased. This process transformed how businesses approached economic efficiency when building consumer and industrial products.
Today, general contractors, home builders, and developers seek new ways to innovate and unlock transformational economic benefits by optimizing their supply chain. At this point is where the last-mile and on demand construction material delivery app comes into play.
Last-mile delivery refers to the final steps of a delivery process. The process starts from the equipment manufacturer/materials distributor to the end-user, usually the contractor on a construction site. And although it sounds simple enough, last-mile delivery is rather complicated and creates many challenges for the construction industry.
Last-mile logistics focuses on local logistics carriers to deliver products as quickly and cheaply as possible, emphasizing efficiency and creating a full-service experience for customers.
But what does this mean for you and your business? And what can Transportify do to help you streamline this aspect of your business's supply chain? Here are Transportify's trucks for on demand construction material delivery:
Vehicle Type
Dimensions/
Weight Limits
Base Price


(Metro Manila)

Base Price


(Outside Metro Manila)

Base Price


(Visayas/Mindanao)

Wing Van 

32 to 40 x 7.8 x 7.8 ft




12000kg to 28000kg

7500 PHP

6500 PHP

6500 PHP

6w Fwd Truck

18 x 6 x 7 ft




7000kg

4850 PHP

4850 PHP

4850 PHP
Closed Van

10 to 14 x 6 x 6 ft




2000kg to 4000kg

1800 PHP

1450 PHP

1450 PHP

Open Truck

10 to 21 x 6 ft x open




2000kg and 7000kg

2300 PHP

1950 PHP

N/A

Mini Dump Truck

10 x 6 ft x open




2000kg

1500 PHP

1200 PHP

N/A

L300/Van

8 x 4.5 x 4.5 ft




1000kg

430 PHP

330 PHP

310 PHP

Small Pickup

5 x 5 ft x open




1000kg

310 PHP

250 PHP

220 PHP

Light Van

5.5 x 3.8 x 3.8 ft




600kg

250 PHP

192 PHP

225 PHP

MPV/SUV

5 x 3.2 x 2.8 ft




200kg

160 PHP

130 PHP

140 PHP

Sedan

3.5 x 2 x 2.5 ft




200kg

140 PHP

110 PHP

120 PHP
So, what can you do to improve your last-mile delivery as a construction company? First, let's take a look at some of how Transportify is optimizing the last-mile and on demand construction material delivery app process:
Technological advancement
In order to make the last mile delivery as smooth as possible in the construction sector, we are updating the last-mile delivery ecosystem for all of our clients. With new technological innovations integrated into the core of every process in the supply chain, our clients are gaining a serious competitive advantage.
We optimize our clients ' delivery processes with our on demand construction material delivery app. The utilization of the app provides impressive accuracy and efficiency by employing cloud-based services, vehicle GEO tracking, GPS smart route optimization, and electronic delivery confirmation. This results in reduced fuel costs, faster delivery times, and, most important of all: an improved customer experience.
Optimizing the user experience
Whether the user is a merchant, builder, or driver, we treat all of our clients with care. In this ever-evolving digital age, people's expectations are constantly growing – expecting the very best digital tools and seamless applications with online payment options and tracking notifications to boot. Here at Transportify, exceeding those expectations is what we do. We offer one of the most accessible and efficient user experiences for construction materials delivery app.
Improved analytics and data reporting
We are firm believers in the immense value that analytics and data can provide a business. With last-mile delivery, we are focusing on taking all transactional records, delivery data from individual routes, and movement data from delivery vehicles, to develop an even more effective last-mile delivery process. With every transaction comes more valuable and actionable data that can provide greater insights and trends for your convenience.
Just-in-time delivery services
As fulfillment timetables are changing, the demand for real-time visibility in the supply chain is becoming more important. The fact is that the costs of keeping construction materials on-site are increasing.
In some cases, having too many materials on-site can be dangerous, causing unnecessary risk factors. Thus, the demand for receiving just-in-time delivery on materials on an as-needed basis is on the rise.
At Transportify, with our ever-growing network of delivery drivers using state-of-the-art routing technology, we can get your construction materials on-site just in time. This means no more delays and a reduction in your overall costs.
A greater focus on customer service
Last-mile logistics is a huge challenge because the final leg of the journey includes interacting with the consumer or tradespeople on a construction site. This is why we emphasize the proper handling of all products delivered.
Our drivers are highly trained and will ensure that your materials and goods' delivery process and unloading are handled as smoothly as possible. From moving goods from A to B to online technical support, you can always use our on demand construction materials delivery app. Our processes are streamlined and geared towards an easier and cheaper experience that serves you.
SEE ALSO:
Save Time and Money by Outsourcing Your Logistics Requirements
When running a construction business, you have a million and one things to contend with. The last thing you should have to worry about is things like last-mile delivery. When it comes to getting all of the required materials to your construction projects on time, you can rely on Transportify to get the job done right.
You see, rather than build a fleet of delivery vehicles yourself (which comes with a wide variety of additional costs and responsibilities), you can leverage ours instead. By outsourcing these logistics requirements to a reputable third-party like Transportify, you can focus your time and money on more important aspects of the business, such as project and site management.
On Demand Construction Material Delivery App of Transportify
At Transportify, we have spent a number of years developing and growing our infrastructure and have an impressive fleet of vehicles, in a wide variety of sizes and capacities, for your benefit. We constantly strive and innovate with new technological advancements, automation, and digitization.
So, rather than having to stay ahead of the curve and remain up-to-date with the latest software and technology to keep your last-mile delivery and overall supply chain running as smoothly as possible, you can rely on us to take care of it for you.
Understandably, putting your delivery requirements in the hands of a third party can be daunting, mainly when you are working to tight deadlines and have demanding clients who expect nothing but perfection. This is why we invest much of our time and money in training our employees, implementing the latest technologies, and ultimately raising the bar for on demand construction material delivery.
Is this something that you would like to explore further? You can always contact customer service for more information or email us at business@transportify.com.ph. We are confident that we can help you reduce the costs involved with your delivery requirements while ultimately making it run even more efficiently.
| | | |
| --- | --- | --- |
| | or | |
Frequently Asked Questions:
What is the fastest time a construction truck can arrive at the pick-up destination?
🔨 The fastest time can be within 2 hours. This option is available for Pick up Trucks under the 'Quick' time type. If you need a rush transport of your construction material from the store to the site, you can use Transportify's on demand delivery app for that. If you are a business and you are looking for a logistics provider for your last mile delivery of supplies, Transportify is your most cost-effective option.
Why is it important to have last mile operations for construction supplies?
🔨 Last mile delivery operations are important regardless of industry because it is in this phase that your products are delivered to their customers.  In relation to the construction industry, it is not all the time customers have their own vehicles to do the transport. It is important to give options for delivery to boost customer experience and provide more convenience.