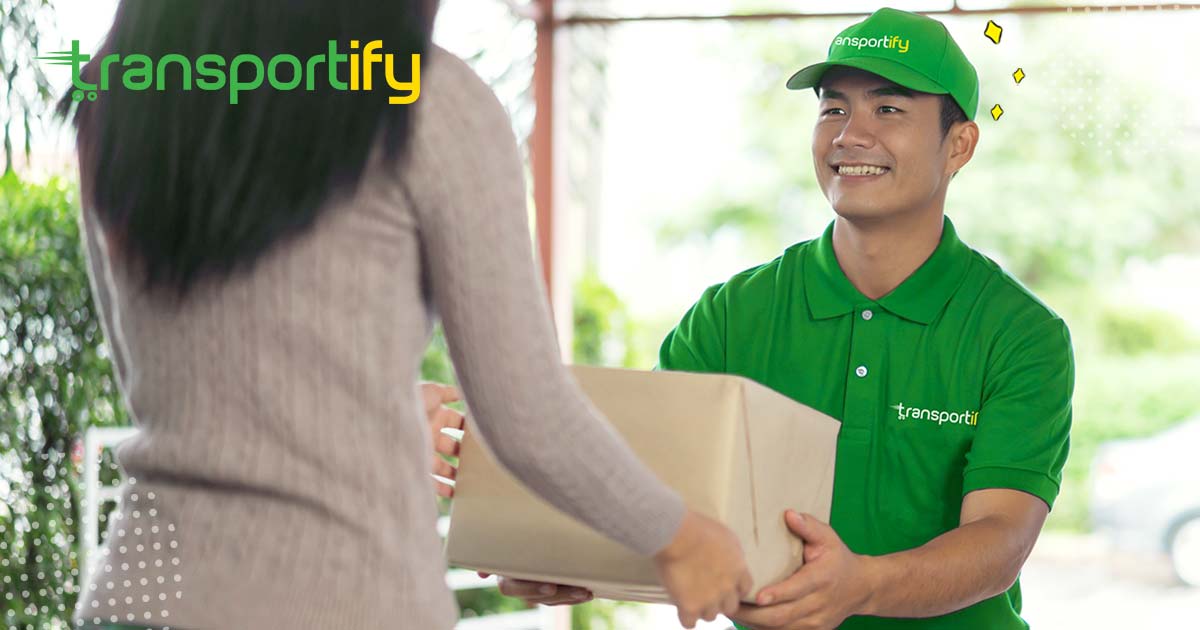 One of the most disheartening things that can happen is finding out that someone has stolen a package that was waiting for you. It's frustrating, but there are definitely steps that you can take from preventing it. If it already happened once and you want to ensure that it will never happen to you again. Or, if you've heard about it happening to other people and you'd like to keep your goods protected, then here's what you need to do this 2023:
1Schedule your package delivery accurately.
One of the biggest benefits of working with Transportify is the fact that we can make all of our online delivery service with impressive accuracy. If there's a particular time when you know you're going to be at home and able to receive a delivery, then you should schedule it and ensure that you're definitely there.
2Add delivery instructions.
If you have a busy schedule with work and you're certain that you won't be able to be around to receive the package delivery, then you should leave some instructions. You should contact the driver to instruct how you want to get your package or ask a friend to come and pick it up for you. This way might give a bit of work, however, it's much safer than being left on your doorstep. This is one of many safety measures you can implement.
3Track your package delivery.
To ensure that your package is going where it should be heading and will arrive at the right time, it is important to be able to monitor where your delivery is this 2023. Using an online delivery service provider that has a real-time GPS tracking feature provides added security to your package delivery in Manila and other areas.
4Leave package with a neighbor.
This isn't the best advice if you don't get on very well with your neighbors on either side. However, you should have someone living in your proximity that you can rely on to take care of the package delivery in your absence. In that case, you can leave instructions such as: "If delivery cannot be made, please leave the package with house number 98 or 100." You can also include their contact details on the note.
5Install a security system.
You can invest in a security camera system on your property so that potential burglars can clearly see that they will be caught on camera if they make an attempt to grab your package. This is often enough to deter people; however, it's not always guaranteed. Our advice would be to invest in a smart security system (which comes with a wealth of other benefits).
As a cheaper alternative, you can choose to send your package via Transportify online delivery Philippines. If you're looking for a safe and reliable online delivery Philippines service provider with affordable package delivery rates, then you need not look any further than Transportify!
Fleet
Price starts at
Size
10w  Wing Van
P7,500
L: 32 ft x W: 7.8 ft x H: 7.8 ft
Long Pickup Truck
P4,850
L: 18 ft x W: 6 ft x H: Open
6w Fwd Truck
P4,850
L: 18 ft x W: 6 ft x H: 7 ft
Mini Dump Truck
P1,500 (Metro Manila)
P1,200 (Other areas)
L: 10 ft x W: 6 ft x H: Open

Closed Van
P1,800 (Metro Manila)
P1,450 (Other Areas)

+ P300
L: 10 ft x W: 6 ft x H: 6 ft

with extra space (6W)
L: 14 ft x W: 6 ft x H: 6 ft


Pickup Truck
P1,800(Metro Manila)
P1,450 (Other Areas)

+P400

L: 10 ft x W: 6 ft x H: Open

with extra space

L: 14 ft x W: 6 ft x H: Open

L300/Van
P430 (Metro Manila)
P330 (Other Areas)
L: 7 ft x W: 4 ft x H: 4 ft

Economy
P120 (Metro Manila)
P90 (Other Areas)

+P20

L: 3.5 ft x W: 2 ft x H: 2.5 ft

with extra space (SUV/MPV)

L: 5 ft x W: 3.2 ft x H: 2.8 ft
SEE ALSO:
What to Do If Your Package Has Been Stolen?
After reading the above steps on how you can prevent your packages from getting stolen, there will be some circumstances that it will really happen to you. So, what will you do if your package has been stolen in an online delivery service?
Nearly two in three recipients have had a package or deliveries stolen from their doorway, according to a survey from e-commerce customers by a particular website. And when the holidays are just around the corner, the so-called "thieves" who will steal these packages are now getting started.
If you are not fortunate enough to have your items stolen right at the front of your door, here are the following precautions you need to do.
1Track Your Orders
Here in Transportify, you can track and trace your shipping through its mobile application. From there, you can have real-time information about your orders while en route.
If you suspect that your package was really stolen, the first thing you need to do is to remain calm so that you can have better judgment. Once you're calm, check your order confirmation through your email for the tracking information. For other couriers, you can check it through their mobile application.
Usually, in online delivery Philippines services, you will receive a piece of information that includes the tracking number, vehicle plate number, and the name of the driver. From the given information, you can track your order's shipping status through the app or via phone.
Generally, it is normal for shipments to get delays, because any unforeseen events may happen during the transport, primarily if the orders will be delivered during peak shipping seasons like holidays or Christmas season. The shipping status will be displayed where your items were last registered or time and date on which it was successfully delivered to the recipient's address.
If your item has been recorded as "delivered," proceed to step 2.
2Ask Your Neighbors If They Saw or They Got It for You
One way to check if the item was really delivered is to ask your neighbors. If you saw that the item was listed as "delivered" to the seller's website or online delivery service provider's mobile application, run immediately to your customers.
It may be a bit embarrassing to unleash your frustration on a kind customer support representative from the online delivery service provider, only to realize that the kind lady next door saw your items and took it to prevent the package from getting stolen or get drenched in the rain. Even if you don't see or have your package with you, probably your neighbors might have seen it.
3Contact The Shipper or the Seller
If you bought items or supplies online from a seller, or if someone sent some gifts to you via online delivery Philippines, if you haven't received any package yet, it might give you a hint that probably it was stolen.
If it looks like it was really stolen, call the seller or the sender immediately. Moreover, different retailers may have different processes and policies when it comes to stolen items, but most of the time, you are entitled to a refund.
4Check Your Credit Card If You are Qualified for Purchase Protection
Many credit cards provide purchase protection that you may use to reimburse for stolen items – as long as the order was bought using your credit card and the bank is notified within a specific period. You may check the bank website to know your coverage and if you are entitled to file a claim.
However, not all credit cards offer the same services to their clients. Some credit cards will not protect high-value items that worth over PHP 25,000 up to PHP 50,000. Others may require you to file for a police report before they make an action.
Moreover, credit card purchase protection is sometimes referred to as secondary coverage. Meaning, it will only be activated if you already utilized your primary coverage. For coverage and other lists of protection, call your bank immediately.
To avoid your packages from being stolen, simply follow all the steps written above. Remember, prevention is the best way to avoid these from happening.
Conclusion
We hope that you find this article useful especially when many people are into buying things online. Ultimately, provided that you adopt one (or more) of the five steps listed above, you shouldn't run into any problems. The best thing that you can do is try to be around when your package is delivered. Again, by using Transportify Philippines, the accuracy on online cargo delivery service that we offer is second to none, so this should never be much of an issue for you.
Download the Transportify app now by scanning the QR code below or simply clicking on the button.
| | | |
| --- | --- | --- |
| | or | |
Frequently Asked Questions:
How much do online delivery services charge?
🚚 Online delivery fees vary depending on the size of your packages and the distance from pick-up to drop-off points. For parcel, motorcycle couriers usually cost around ₱200-₱300+. For bigger and bulkier packages that need spacious vehicles like sedan, L300, and trucks, the price starts at ₱120 for the smallest type. You can visit Transportify's website to get an instant quote for your delivery.
Where to get a price comparison of online delivery services in the Philippines?
🚚 There is no dedicated price comparison site for online delivery services in the Philippines yet. The best way to compare prices is to list down your chosen online delivery service providers and collect quotations from them. If you want to request a price quote from Transportify, you can instantly get one on our website.