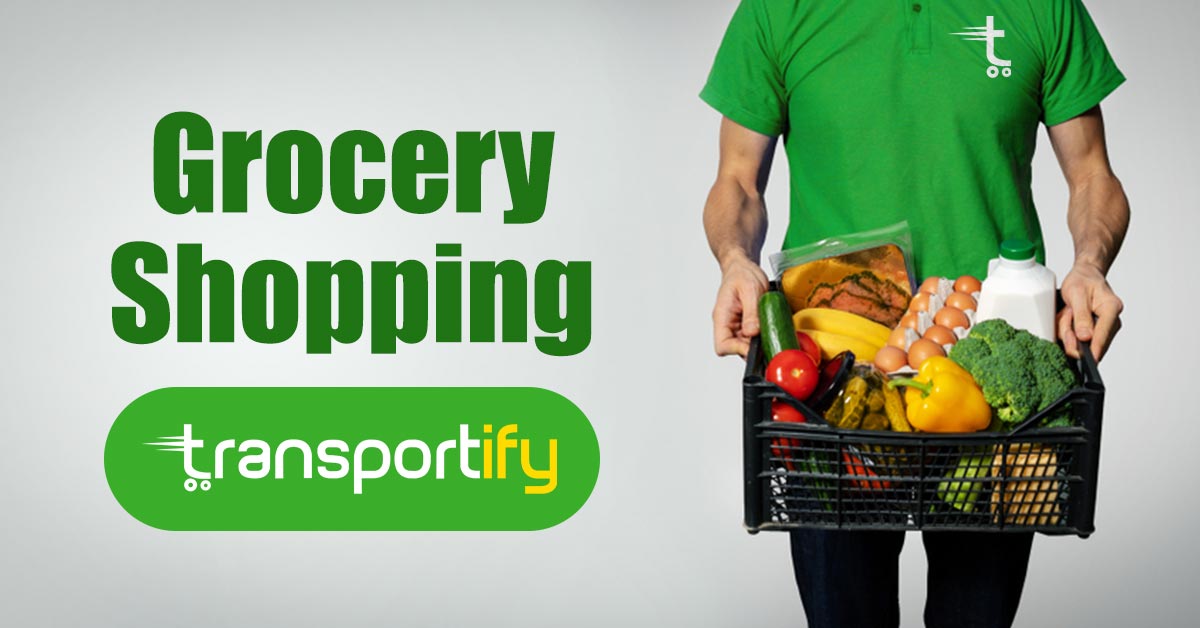 The current situation right now has affected a lot of Filipinos ever since the government implemented the lockdown due to the rampantly spreading COVID19 Corona Virus. People have to contain themselves at home and avoid social contact as an action to stop the spread of the disease. Online Grocery Delivery Service has been essential to a lot of people, especially for those who are currently staying in their homes. Thanks to our technology today, we're now able to get things quickly with just a click of a button.
Transportify has recently launched its new service where customers can create a booking in the app, list down all the items he needs, and our Transporter (Transportify Driver) will take care of the rest. This online grocery delivery service can be customized depending on the wants and needs of a customer.
What are the things you can expect from the Online Grocery Delivery Service?
Get the Goods Right Away
Getting your goods can be a little frustrating, especially when you need the items right away. Some customers use online grocery delivery service to replenish their stocks, but there are downsides to that. There are cases where a customer has no choice but to wait for his order for days, and that's where it gets frustrating.
A customer can create a booking with Transportify and have a dedicated driver on getting his essential needs. Since you have your driver gathering the goods that you requested to be purchased through the app, you can expect the items to be delivered in your drop off location the same day.
Choose the Grocery Store You Want
Groceries are everywhere. Transportify doesn't limit you from getting your groceries that have online grocery delivery service features. Instead, we let you choose your preferred location and have our Transporter buy the goods that you want in the specific supermarket.
Get Anything You Want
Online grocery delivery service has been commonly used primarily with motorcycle delivery in other platforms. Still, one of the most significant limitations to that is the capacity of the vehicle to transport goods when the item gets larger and bulkier—therefore limiting the customers to buy products that can be carried by the small space of a motorcycle.
Transportify is aware that this has been a problem for a lot of consumers in the market. The new Online Grocery Delivery service feature allows customers to get any items they want as long as it fits in the vehicle, along with the budget, they cashed-in their Transportify wallet.
Cashless Transaction
A customer is supposed to fund his (Transportify Wallet) that he will use in his orders through the Transportify App.
Here are five simple steps to use our online grocery delivery service:
1Create your account
2Top up your shopping credits
3Pick any grocery store
4Create your shopping list
5Confirm your order
During the booking process, the customer's coordination is vital while the driver is buying goods at the grocery store. Customers can edit the shopping basket anytime while the driver is still in the location and confirms orders after the driver finishes gathering items from the shopping list. Right after that, the driver proceeds to the checkout counter and delivers the products directly on the customer's doorstep.
Other services offered by Transportify
Besides having the newly launched online grocery delivery service, we also cater to the needs of individuals and businesses that require their goods to be delivered from one location to another. Transporting various types of products is one of the greatest strengths of our company. We can transport goods in small or large quantities, in different locations all over Luzon, and these deliveries can be set 2 weeks before the actual delivery.
Our grocery shopping service is available for the economy vehicle type. Pricing and vehicle information can be found in the table below.
Capacity and Pricing
Rates
Standard Rate
₱190
+ ₱20/km


Dimension
Length: 3.5 ft
Width: 2 ft
Height: 2.5 ft
Capacity
200 kg
Wide Delivery Location Coverage
Our company has recently expanded our delivery pickup coverage that will be favorable to our customers. From our existing pickup service area locations such as the whole Greater Metro Manila, Pampanga and Baguio, customers can now also have their goods picked up in the most parts of Bulacan, Cavite and Laguna area. From these locations, you can either have it delivered within the pickup area itself or to any point in Luzon that is accessible by road.
Flexible Booking Schedule
Different customers have different needs. Therefore, we give our customers plenty of options based on their requirements.
Quick bookings: usually created when customers want their goods to be picked up by our Transporter immediately. There are two options you can choose from when creating a quick booking.
Pickup within 1 hour – When a customer has to send items as soon as possible, this is your perfect option.
Pickup within 2 hours – When a customer wants the delivery confirmed, but the items still have to be prepared and will be ready in a short while, this option will be the better one.
Scheduled bookings are set from 2 hours up to 2 weeks of the desired pickup time. Customers generally use this when planning has to occur first.
For individual customers, Lipat Bahay is the most usual booking they use for scheduled bookings. Moving items from a house to another doesn't happen in an instant. There are a couple of things that have to be done first, such as preparing the items for transport and securing moving permits along with the gate passes.
Logistic business partners, especially the bigger ones, typically have plans when to move their goods from one place to another, and this feature enhances their productivity by planning it ahead of time, with a booking confirmation in our app.
Full-Day Bookings are also a type of scheduled booking that can be set 2 weeks before the pickup date, but the main differences between the two are the hours and the price. The time frame for this type of booking will be a maximum of 12 hours, and the price is fixed and will depend on which vehicle type is selected. Customers typically use this booking type when the drop off locations are uncertain, or they know that the driver will have to wait for long hours while taking this booking. This feature allows the customer to coordinate with the driver and give specific instructions on where he wants the goods dropped off at a particular time.
24/7 Customer Service Support
In a booking, there are particular concerns that a customer might encounter that can't be answered by the app. Our customer service team is ready to assist our valued customers day and night. Just chat us through the app regarding any concerns you are experiencing about your booking. Our team will gladly appreciate any feedback and suggestions regarding a current or completed booking that will help us improve our service.
Live Tracking of Goods
Being able to monitor the progress of a delivery is one of the things a customer is concerned about when having a booking delivery. Transportify app has a live view feature that detects the location of the driver at a given time, through his GPS location. This feature allows our customers to track the progress of a specific ongoing booking, such as your online grocery delivery service.
Frequently Asked Questions:
How do I get track of my grocery delivery?
🛒Aside from the live view feature that detects the location of the driver at a given time, through his GPS location, the Transportify app has also created a feature that allows you to track and even monitor your grocery delivery. Through this feature, you can edit your shopping list and see the changes in real-time in your app. Also, any updates made by your shopper will be notified and seen in your app real-time too.
These updates ensure that customers will be informed immediately if the items on your list are not available in the store. Our well-trained shoppers will then find a viable substitute and indicate its brand, quantity, and actual store price, which will then be updated in your app for your approval. Moreover, if you have any direct and specific instructions to give, you can also communicate well with your shopper through the use of In-App chat. These features prevent common issues like incomplete deliveries and unnecessary changes in your total amount that are commonly encountered due to out of stock items or ordered items that might be unavailable during the shopping.
How do I pay for online grocery delivery?
🛒Online grocery delivery requires different modes of payment. Most of them prefer payment through credit or debit cards and money remittance. While others require a minimum amount for cash-on-delivery payment. For example, Landers Superstore is known for offering and delivering top local and international products for its members. They only accept credit card payments for membership card purchases and cash-on-delivery purchases up to ₱5,000. Another one is Lazada, an online marketplace platform for shopping and selling. Lazada has pioneered cash-on-delivery payments, however, there are still some limits on the products since some are still not available for cash-on-delivery due to their geographical restrictions or out of delivery zone areas. But Lazada also offers other payment options like, through credit card or debit cards, and now through their established Lazada Wallet system.
Since most of the payment methods are through credit cards, while cash-on-delivery has minimum purchase requirements, Transportify takes into account those shoppers that don't have their own credit card or can't reach the purchase requirement for cash-on-delivery. Transportify developed their payment method that will be convenient for all, shoppers just need to cash-in through GCash, transfer it to us and will fund it to your shopping balance with no minimum amount requirement.