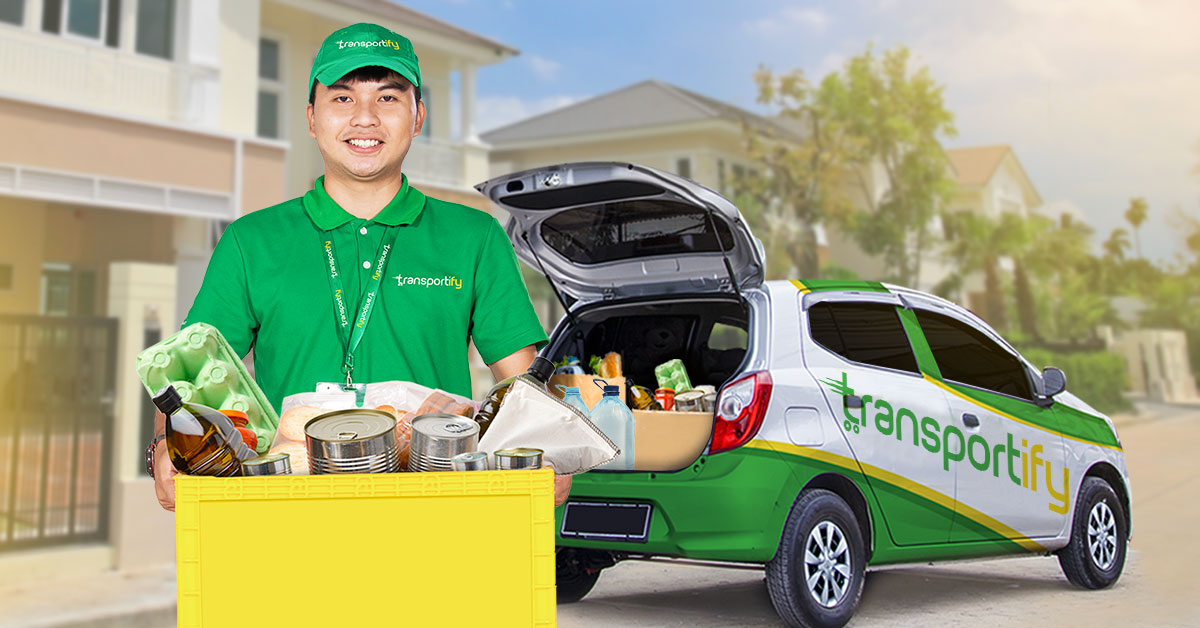 The convenience of online grocery shopping has been around for a while for people who can't make time for their weekly groceries. These services are offered online through grocery websites, social media platforms, and some delivery apps. But suddenly, the value of online grocery shopping service door to door delivery has been realized by many now that the country is under enhanced community quarantine due to the COVID-19 pandemic.
Although the government has ensured that receiving of goods will not be hampered and operations of establishment and groceries will continue despite the quarantine, many are still concerned about how they will keep their pantry stocked without the worry of leaving their home.
Addressing this concern, we in Transportify features the Online Grocery Shopping Service. It is a new door to door delivery service that allows you to shop in comfort while you're at home.
Transportify Online Grocery Shopping Service
Transportify continues to adapt and improve the quality of its logistics services to provide what the customers need. Here are the advantages of Transportify's new feature:
Save Money
People often think that door to door delivery services are expensive. But contrary to that popular belief, services like door to door delivery are much cheaper. If you're going to estimate your total expenses from commuting to your destination back and forth, charges for services are not that costly.
Transportify offers customers a much more affordable price compared to other online grocery shopping service. To manage your expectations, you can also check and use our price wizard to have an instant quote for your door to door delivery.
Save Time
The main reason for most of the users or customers who use these services is to save their valuable time since most of them have no free time due to a busy schedule. And getting to the store will take a lot of time, also given the fact that you might be caught in heavy traffic and not to mention the time it would also take waiting in the queue. Door to door delivery eliminates the waste of time and hassle of commuting back and forth.
Door to door delivery usually takes days or even weeks, but Transportify's flexibility can cater to your needs any minute of the day. You can make more time to handle your activities and worry less about your grocery needs.
Save Effort
Inconveniences are part of everybody's life. There are many different and complicated levels of usual delivery services. From managing the shipping process, handling, and hire vehicles you are hassled to go through extraneous duties when you just want your groceries delivered to you.
Not to mention natural circumstances that you may encounter. Imagine that you are living miles away from your nearest stores, and you have urgent grocery needs, then it suddenly also starts to rain? You can imagine the worst scenarios that might happen during your simple online grocery shopping, and what are you going to do?
These are just some of the reasons why the door to door delivery is now a necessity. With this service, you don't have to worry about spending both your time and energy. Regardless of the weather, Transportify is dedicated to fulfilling their duties for their customers. You can stay at your home, and we will do the work for you.
Transportify door to door delivery service covers every single aspect for your comfort. No need for a long and complicated process. Just download our app, sign-up, request for the service, and we will take care of your worries!
Choosing the Best Delivery Service for Your Grocery
With so many selections that customers can choose from, what makes Transportify the best choice for your shopping delivery service? Here are some of the additional features that make us stand out from the rest.
1Accessible and Efficient
Aside from being one click away, there are more efficient features the Transportify app offers for your online grocery shopping service.
Choose Your Preferred Store
Transportify allows you to choose your preferred store for your groceries. Our drivers will check it's availability and check other stores if your preferred one is closed. They will inform you immediately and offer you other store options.
Tracking
You can focus on your business and ease your mind without worrying about your grocery and its delivery time since Transportify uses GPS tracking that lets you track your deliveries in real-time on the app.
Keeps Your Record
Keeping your track transactions would not be a problem. The app records all your delivery transactions that you can use for liquidation purposes or just to keep track of your expenses. The app also allows you to view the photos of the receipt to check if there are any problems with the price of the products, or to use it as a preference list for your next online grocery shopping service.
2Secured Delivery
Aside from tracking your deliveries in real-time on the app, there is no need to worry about the security of your items. Our transporters are rigorously trained to perform any kind of deliveries. They handle customers' items like they are their own to ensure it's secured and delivered safely to their customers. We want nothing but for you to experience the best customer service.
3Bigger Cargo Space
Transportify is the first to offer larger vehicles for online grocery shopping service door to door delivery. Most of the online grocery shopping service in the Philippines only offers motorcycles to do the job. But Transportify improves its services by being the first to offer Economy and L300 vehicles to do online grocery shopping service. With a larger cargo hold, customers can accomplish larger deliveries without the need to limit their items. You can check the cargo dimensions and capacity of our vehicles:
Column 1
Column 5
Column 4
Vehicle Type
Cargo Dimension
Capacity

Economy
L: 120 cm
W: 65 cm
H: 80 cm

200 kg


L300/Van
L: 210 cm
W: 125 cm
H: 125 cm

1000 kg
4
Wide Service Area
With the continuous expansion of its service area, Transportify goals to reach all customers that need their quality service. Now, Transportify can do deliveries all across Luzon, from city centers to outer industrial areas.
524/7 Customer Service
Alongside proper communications from Transporters, Transportify has reliable customer service representatives available 24/7 that are ready to assist and entertain any of your questions either regarding the services or any difficulties in your booking.
Transportify Provides The Best
With these convenient and conventional quality services, there is no doubt that Transportify stands out from the rest. We are equipped with the best app features to help and make your experience easier.With a broader coverage area, Transportify assures to reach you to fulfill your deliveries fast, with guaranteed safety at a lower cost. So, if you're looking for the best solution for your needs, then Transportify is here for your fulfillment.
Frequently Asked Questions:
Are there any door to door delivery shopping service that operates through apps?
🛒Several apps offer online grocery shopping services. One of them is Session Groceries, known as online take on the farm to table experience, where consumers can buy fresh fruits and vegetables directly from the farmers. Delivery fee is not yet included in the price and may change depending on your scheduled date. Metromart is also a well-known online grocery app in the country. This app also offers grocery deliveries and delivers items such as pet food, toys, and bakery products. Although the services are convenient, there are still negative reviews regarding the app about poor customer service and problems in updating the status of the order.
Fortunately, Transportify was able to create features that solve most of the other delivery apps' problems. Transportify pricing is fixed and immediately stated in the app to prevent hidden charges. The app also has a reliable customer service available 24/7.
What is the difference between Transportify to other platforms that offer online grocery shopping?
🛒Most of the platforms that offer online grocery shopping encounters problems on the menu choices. A lot of them have a limited list of items offered, and usually, it is likely to sell out fast, especially during times of need. For the same reason, since the products are easy to go out of stock unpredictably, the list on the app is not updated right away. This results in customers receiving incomplete items while paying the exact amount.
To prevent situations like this, Transportify developed the feature to have real-time monitoring. Transporters can quickly notify the customers if an item is not available and what are the other choices by indicating it and the app. With this, customers can assure that all their needs will be delivered entirely right at their doorstep.