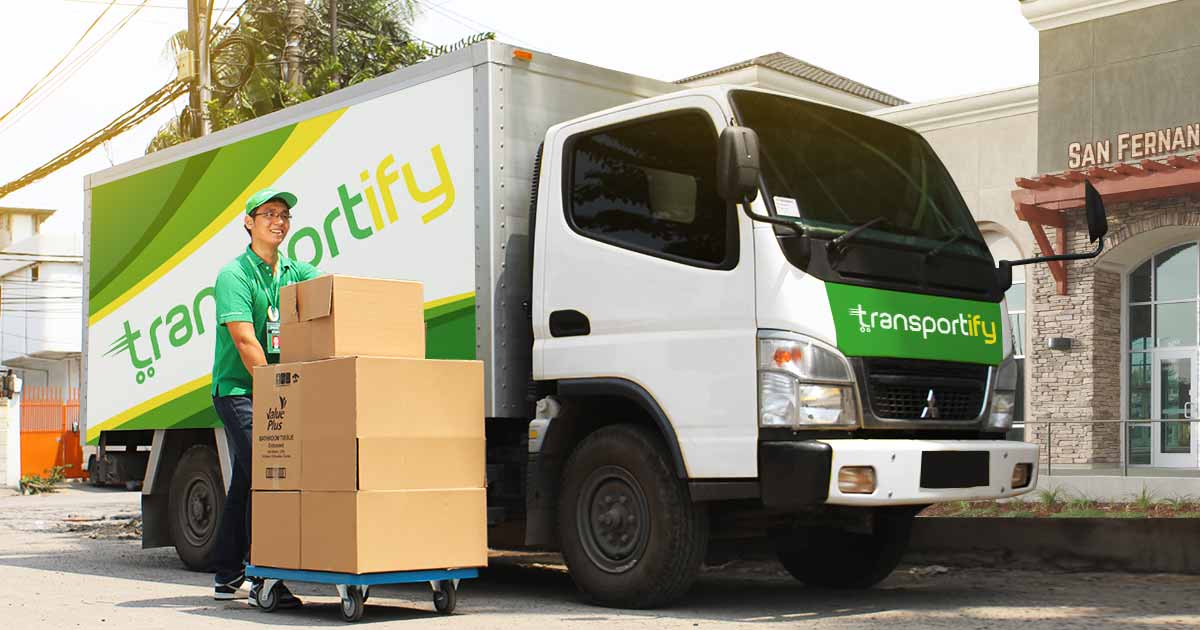 Good news for all Pampanga businesses! Transportify Philippines, Metro Manila's leading and smart logistics solution, provides affordable Closed Van truck service in Pampanga. With this, customers can save big and deliver more using Transportify Closed Van trucks from anywhere in Central Luzon.
Point-to-Point Deliveries From and To Pampanga
Transportify has two options for your logistics needs within the local service area. First, our same day delivery service offers an affordable closed van for rent based on the distance covered from pick-up to the drop-off point.
Our closed van for rent truck has a base rate of PHP 1,450 with only PHP 30 additional per kilometer covered. Customers can add as many as 15 destinations in one booking. Select the "Schedule" timing option on the app and get a closed van truck for rent in Pampanga ready to pick-up and deliver your packages within 3 hours or book up to two weeks in advance.
In contrast with our same day delivery, we offer full day truck service rental at a flat rate. For only P6,000, get 10 hours of truck service rental with unlimited distance within 40 kilometers from the pick-up. The flat rate includes loading and unloading service with one extra helper, the driver's time, and fuel.
Need more time? No worries! You can extend the truck services and closed van for rent at an affordable price. Pay for only P150 per hour in excess of 10 hours of using the vehicle from your pick-up time.
Check rates for your deliveries in Luzon here.
Truck Services From Pampanga to the Rest of Luzon
For city-to-city provincial deliveries, we offer fixed price route service. This allows you to hire a closed van for rent in Pampanga that will deliver your big packages to different locations within a specific area at a fixed price. Check the rates and routes below:
Vehicle Type
Dimensions/
Weight Limits
Base Price


(Metro Manila)

Base Price


(Outside Metro Manila)

Base Price


(Visayas/Mindanao)

Wing Van 

32 to 40 x 7.8 x 7.8 ft




12000kg to 28000kg

7500 PHP

6500 PHP

6500 PHP

6w Fwd Truck

18 x 6 x 7 ft




7000kg

4850 PHP

4850 PHP

4850 PHP
Closed Van

10 to 14 x 6 x 6 ft




2000kg to 4000kg

1800 PHP

1450 PHP

1450 PHP

Open Truck

10 to 21 x 6 ft x open




2000kg and 7000kg

2300 PHP

1950 PHP

N/A

Mini Dump Truck

10 x 6 ft x open




2000kg

1500 PHP

1200 PHP

N/A

L300/Van

8 x 4.5 x 4.5 ft




1000kg

430 PHP

330 PHP

310 PHP

Small Pickup

5 x 5 ft x open




1000kg

310 PHP

250 PHP

220 PHP

Light Van

5.5 x 3.8 x 3.8 ft




600kg

250 PHP

192 PHP

225 PHP

MPV/SUV

5 x 3.2 x 2.8 ft




200kg

160 PHP

130 PHP

140 PHP

Sedan

3.5 x 2 x 2.5 ft




200kg

140 PHP

110 PHP

120 PHP
Our fixed price route includes full package truck service with loading and unloading assistance at the pick-up and drop-off location, tolls and parking fees, POD return service, commercial goods insurance, and 24/7 Customer Service assistance.
Know More About Transportify's Closed Van Truck Rental
A regular closed van for rent truck can accommodate 31 extra-large balikbayan boxes. If you need a bigger vehicle, add extra space to your booking, and we will match you with a larger vehicle. Extra Space is typically a 6-wheeler closed van truck that can fit up to 62 extra-large balikbayan boxes.
When you book our truck service in Pampanga, special help by the driver and one extra helper are already included. You can still add a second helper to get additional help loading and unloading your packages. Get it for only P200 for a fixed price route and scheduled booking, and P400 for the full day closed van for rent truck.
If you're looking for a top-quality truck service rental in Pampanga for your big packages, then you don't need to look any further than Transportify. Contact us today for more information about Transportify's closed van for rent and truck service.
SEE ALSO:
Why Outsource Pampanga Truck Service Operations?
Fortunately, we can get extra hands to help businesses to fulfill their orders from the logistics industry. They are the perfect experts who can complete the work outstandingly and fit your budget.
If you're searching for a reason to outsource your logistics for Pampanga truck service and close van for rent services to a logistics company, we have six reasons; read this article to know more!
Logistics companies are now obtaining popularity among retailers and other big companies in different industries. With the overwhelming demand from customers wanting a smooth online order fulfillment, these companies and retailers decided to join in with logistic companies that can provide a different truck service and close a van for rent to maximize their online selling strategies.
Yes, you can be familiar with this kind of service, however, do you know everything about it? When discussing decisions like hiring a third-party logistics company for your business, many questions need to be answered, including why you should hire them.
These logistics companies have their share of benefits, disclaimers, and factors that you need to be aware of before making a decision and signing the contract.
To better understand, read and analyze everything below and why you need to outsource transportation in Pampanga, especially if you have a large volume of daily, weekly, or even monthly deliveries. For sure, reliable logistics companies can manage and handle all of your shipments smoothly.
Huge Transportation Network Nationwide
In-house supply chains don't have these kinds of resources especially closed vans and other trucking services. Logistics companies are dedicated to giving better and smooth logistics solutions regarding deliveries, especially networks for transportation.
Most logistics companies have the appropriate industry connections, transportation, and couriers who can offer discounted services for bulk and large deliveries. One of the best examples is a close van for rent service. If a logistics company can provide this option to their customers, especially if they have a large volume of deliveries, they can get a huge discount on shipping. Bigger discounts can give bigger profits at the business end.
Saves More Time and Money
Suppose your business or warehouse is located in Pampanga, and you must deliver and transfer your goods and products to different areas in Manila. In that case, it is advisable to look for a solution or option where you can save time and money for your shipping expenses.
When you outsource transportation for your deliveries from a reliable and competent logistics company, you can ensure they do what's best for your business. Most of these logistics companies have transportation management systems, carrier networks, industry expertise, and the ability to do your job and make your delivery process more streamlined.
That's why if you're thinking of outsourcing your transportation from a third-party logistics provider, you can see the huge changes instead of working it out on your own.
Use of Advanced Technology
One of the best benefits you can get from outsourcing your logistics is obtaining the fruitful changes of a third-party logistics provider for having the latest and highly improved use of the technology. Looking at logistics outsourcing examples in large-scale businesses is a piece of big evidence enough to show you how your delivery process becomes more streamlined, organized, and time-bound, and attain a level of expertise when you choose to outsource a logistics company that can provide an advanced technology when it comes to their deliveries.
Here's an example: If you plan to hire a close van for rent service from a logistics company, you don't need to go to their main branch office or make a call to book transportation. You can download their mobile application and book anytime and anywhere you want.
Their partner drivers will go to your destination to pick up your goods and products and deliver them to the intended receiver. Also, you can track the real-time status of your deliveries while in transit.
The reason to outsource transportation is to make the process of your supply-chain management easier, a task for most retailers who don't have the budget, expertise, and scale to facilitate their own in-house logistics department. Hiring a third-party logistics company can help you to become more profitable.
Download the app by scanning the QR code or clicking the buttons below.
| | | |
| --- | --- | --- |
| | or | |
Frequently Asked Questions:
What are excellent trucking services in Pampanga?
🚚 Transportify opened its services in Pampanga in mid-2019. Being able to pick up and deliver in Pampanga unlocked opportunities for car owners and businesses. Transportify has proven a continuously growing industry in Manila and has since provided available deliveries for both individuals and companies. Having a trucking service that is both reliable and accessible is just ideal for any use. Whether it is for personal or business, Transportify is a perfect choice.
What closed van for rent for businesses are recommended in Pampanga?
🚚 Closed trailers are vital for companies that handle deliveries in the country. Pampanga, being a business hub in central Luzon, is an ideal place for any deliveries. The economy in Pampanga is continuously growing, which is visioned as the next big city. It is just right to find closed van services that are tried and tested. Transportify has recently opened its services in Pampanga last May 2019. Since then, its one of the most reliable companies in Pampanga that handles the delivery services of businesses.