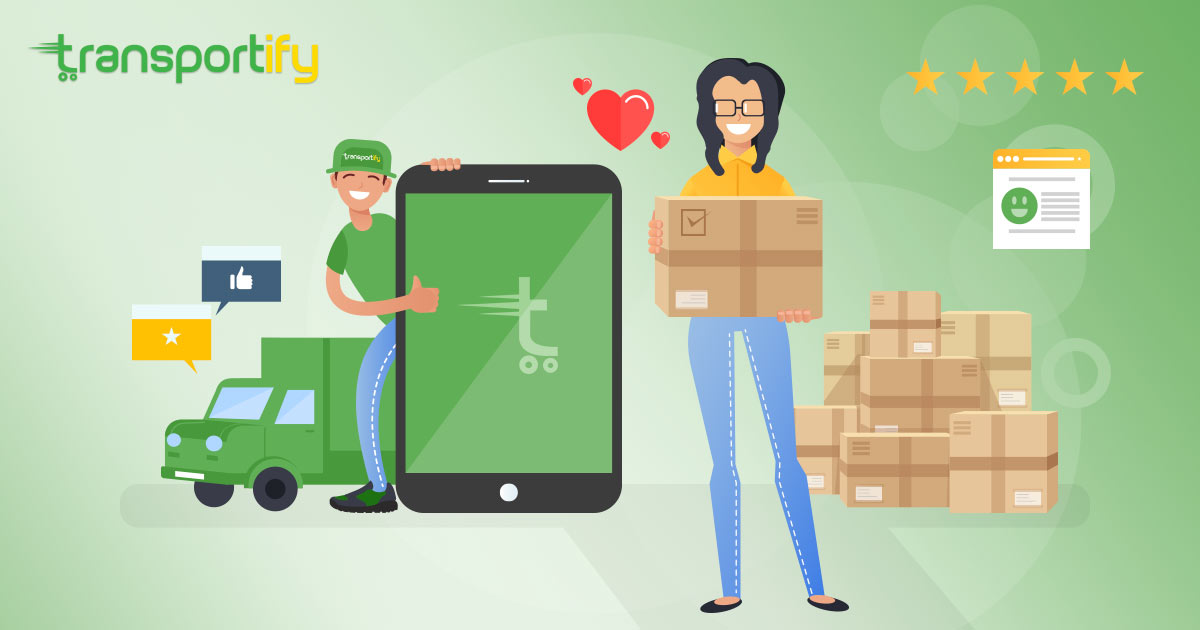 Surviving and thriving in the industry of logistics services in the Philippines is not just about having a reliable distribution system. Other than that, you need to boost your logistics service to attract more loyal customers. You must also be acquiring and securing new business regularly to keep up with your competitors.
That said, what strategies will be implemented to encourage the same customers to do more business with you? Well, it's simple… boost your logistics strategy to produce happy customers if you make that your priority, everything else should fall into place.
Strategies to Handle Your Same Day Delivery
Preparation is the most important thing of all
Preparation involves inventory management. This preparation means that you need to find the best suppliers and ensure that you always have plenty of stock. You can't be advertising on your website and continuously be running out of popular items. Indeed, it can take time to find the right balance based on which items sell the most. But, if you want to retain loyal customers, then you need to be prepared to do same day package service delivery whatever they need, whenever they need it.
Always be open about shipping prices and conditions
Nobody likes surprises, particularly when it comes to money and delay. So, you should always be entirely open & honest about your conditions and prices with regards to shipping packages. This transparency will be the key to securing business. If people know what exactly to expect, then they will appreciate it. One of the biggest causes of frustration with customers is not knowing exactly when to expect their deliveries. So, this means that you should notify customers in advance of any holidays and weather conditions which might cause a delay and the additional fees for extra services like same day delivery service.
Flexibility is key!
Having same day package delivery is vital in a distribution business. Some people who might be in a rush would prefer the fastest way to get their package. As such, it's crucial to offer your customers a wide variety of package delivery options. This level of flexibility is the key to securing repeat business and inspiring customer loyalty. With the availability of app virtually anywhere, a business should take advantage of the different ways you can maximize your reach to your customer. Some customers may prefer having it delivered to their workplace using door to door delivery services.
Be careful when selecting your delivery company
When selecting a logistics service provider or a freight shipping service to help you manage your delivery requirements, you need to be very mindful of who you go for. If you roll with Transportify, for example, we will be able to assist you every step of the way, no matter how small or large your requirements are.
You need to work with a logistics service company that has the infrastructure in place to deal with high demand
Same day delivery services in-app with a GPS tracking feature
Professional and experienced drivers
Has a variety of shipping vehicle options
Same day package delivery service and fast turn-around time for urgent orders
Realistic and affordable pricing
Business Program
Services
Program Features
Live Support

Open 24/7

Prepay

Available

Postpay with Monthly Invoicing

Available

Destinations

A total of 16 destinations can be added in every booking

COD/POD
COD + POD
2.50% of invoice
Min of 80 PHP
(Flat Fee/Booking)
POD Only
80 PHP for ≤ 3 destinations
160 PHP for ≤ 10 destinations
200 PHP for ≤ 15 destinations
Insurance and Warranty

Up to 3 million PHP coverage from OONA Insurance

Nationwide Service Area

Available




Interisland and Same Day Trucking in Luzon, Visayas, and Mindanao

Business Web Dashboard

Team Account Management Customized Reports
These are just a few of the features of working with Transportify. When looking for someone to assist you, ensure that you tick all the other essential factors. The delivery drivers will mainly be the face of your business, interacting with your customers at the last mile. Our drivers will undoubtedly influence whether or not they decide to use your services again.
Consider a positive returns policy
Returns are a nightmare, and there's no denying that. In an ideal world (for logistics and e-commerce companies that is), we wouldn't have to return any packages. The reality is, however, that 89% of shoppers state that they would shop again with a company when they experience a positive return experience.
Try to simplify the experience as much as possible. Yes, you will invariably lose money on returns. That said, you have to speculate to accumulate. This means that in the long run, you'll secure much more business by offering a fair and reasonable returns policy.
Put the customer first, streamline your delivery, and stick to a strict code of conduct, and you'll experience great success. It's all about delivering on expectations and never failing to meet them. Provided that you have a secure and reputable same day delivery service in-app on your side, you should have no issues with doing so.
After you have found your preferred freight shipping service, the next step is to make use of programs that provide you more access to tools that can better your logistics services. Loyalty programs or business programs are things you might be most interested in.
Be a part of a 3PL's Business Program
A business program does not only provide you with discounted prices, given the frequency of using their freight shipping services. Some features are exclusive to members of the business program. Also consider that customers are attracted to same day delivery services. These features depend on the company, but Transportify, a freight shipping service, offers two payment methods that you can choose from to streamline the process. No need to wait for confirmation of payment and x-amount of working days for the arrangement to be processed. There is a prepaid option where you purchase credits that do not expire. You can plan and make your move without running small errands to make it happen.
The business program provides an account manager who is in charge of making sure you will meet your logistic needs. Same day delivery services? Fragile items? Confusing locations? They handle the nitty-gritty details that can cause back up orders. You also have the option to customize your standard operating procedures. The ability to customize your freight shipping services works in your favor. You can have cash on delivery for your merchandise. The cash on delivery feature is necessary for the Philippines since digital banking is still limited. You can plan the routes to take and delivery hours. There is so much you can do with a customized freight shipping service.
The business program also guarantees a fleet of delivery vehicles, drivers, and other delivery personnel. It is comforting to know that even if it is the peak season for delivery, like during multiple e-commerce sales, you can do business as usual without increased rates. You could also pull off a same day delivery service as promotion with that kind of workforce.
The perks of the business program do not only extend to you but your customers as well. By utilizing the tools given, you can extend the ease and comfort to your customers, which increases customer satisfaction.
Provide your customers with an active role in the process
The delivery process on the part of your customer is a passive one. After they make the payment, all they have left to do is wait. Besides providing your customers with a transparent rundown of terms and conditions, their fee breakdown, and conditions of the road—remind them that they have power in this relationship. Power, in this case, can be in the form of knowledge.
Transportify's GPS track and trace allow customers to see where their packages are in transit. From pick-up to drop off, if the customer wants to know where their packages are they can easily access that information on the website or app. If they have concerns there is a 24/7 customer service line dedicated to addressing any concerns they have. There is also a two-way chat feature between the customer and the driver for target issues regarding the package. The track and trace is especially useful for same day delivery service packages because their importance and urgency requires frequent updates. Access to information provides relief on both sides. These features are in place to empower the customer's role in the logistics process. It is a kind of transparency that prevents conflict from miscommunication and fosters trust.
Expand your area of service
Increasing your customer satisfaction means you can cater to their needs wherever they are. There may be customers you overlook when you have a small service area, and freight shipping can change that. Partnering up with a freight shipping service can allow you to expand your reach. Moving your products to interested parties in other cities or provinces can help you develop into unexpected territories. Freight shipping service can be a way for you to get the lay of the land before committing to a physical store.
Truck freight shipping services may be a small part of the broader business model, but it is an integral part of the customer relationship. Combine it with the ability for a same day deliver service, this advantage can put your business in the spotlight. The role of the business does not end until the customer receives the item. The delivery process is still very much something that continually needs to be improved and developed. Same day delivery service, track and trace, and business programs are all features that can help you grow your business by establishing your supply chain and logistics services.
| | | |
| --- | --- | --- |
| | or | |
Frequently Asked Questions:
How does the same day delivery service of Transportify work?
🚚 Transportify is powered by a high tech mobile app that connects you with our driver partners nearest to your vicinity. You can send your deliveries immediately by simply downloading, exploring the app and booking with you preferred vehicle. And having the feature to track and trace your deliveries assures you that you can monitor your orders well. It is as simple as any other booking app. But with Transportify, you can send large packages anywhere in Luzon, Cebu, and Davao.
How long does it take for freight shipping deliveries to arrive?
🚚 Usual freight shipping deliveries arrive 2 to 3 days upon confirmation of the transaction. Some deliveries take more than that due to unforeseen circumstances (e.g., bad weather, natural occurrences). For Transportify, we assure same day delivery from our service areas up to drop off locations to any point by land in Luzon, Cebu, and Davao. With the help of our mobile app and accredited drivers, we offer the most efficient and trusted shipping logistics.