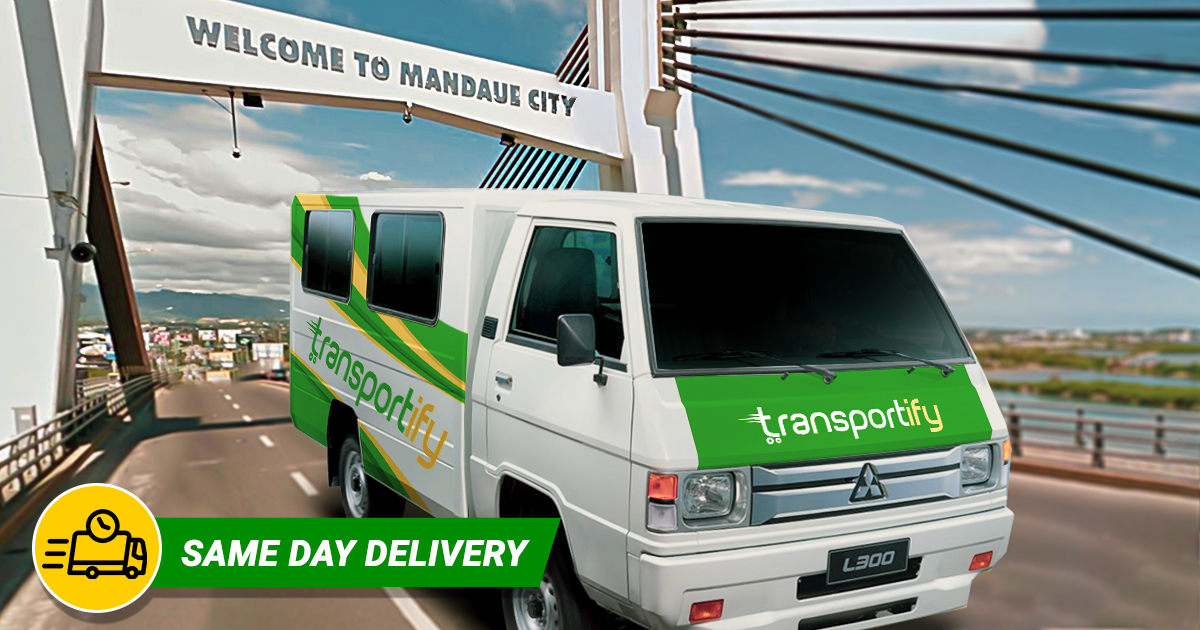 Traditional delivery service means going to the local delivery centers, waiting for hours in line, and leaving your items to be delivered. Deliveries of larger and bulkier items were difficult in the past since there were few options for door-to-door delivery, and fees were often expensive.
The modern logistics industry came up with same day delivery services to offer deliveries faster, beating the limitations of long distances and time. Transportify is one of the first that revolutionized delivery in Luzon with its same day delivery service using sedans, L300s, Closed Vans, and others. Transportify wants to bring the same high-level business logistics service from Metro Manila to Cebu. In the past years, the shift to the online shopping industry has placed an increasing demand for same day delivery services in the Philippines, particularly in Cebu, because of its vibrant economy.
Customers are becoming overwhelmed by the hundreds, if not thousands, of retailers who have chosen to open their stores on various e-commerce websites. Not only do they want to buy a product, but they want to receive it fast. Many e-commerce websites now offer same day delivery in Cebu, which means products must now be delivered as soon as possible.
Why Do Businesses Prefer Same Day Delivery?
As a business owner, you should constantly look for new ways to satisfy your customers. Your top priority is finding innovative ways to improve your dependability and service, which customers always seek. Transportify, over the years, carefully crafted its logistics services to satisfy the delivery needs of modern businesses and their consumers.
Here are Transportify's service features that make it reliable and affordable to its users:
1Flexible booking capabilities
Deliveries can be different every time. There will be days that you will need immediate deliveries, and there are days that you need them to be scheduled. Cebu traffic flow can be heavy at times, and as a person who handles delivery, you must be aware of these rush hours to prepare ahead of time. In this case, a logistics provider offering pre-scheduled and immediate deliveries would greatly help you.
In Transportify, you can find this service on their on-demand logistics app, which you can use to book in advance with your preferred date up to two weeks. Transportify also has immediate deliveries that you can book if you need a vehicle within the next two hours.
The immediate time type is available for vehicles like Sedan, MPV/SUV, L300/Van, Canopy Multicab, and Closed Van. Check here the complete list of on-demand standard vehicles you can book for same day delivery in Cebu:
Vehicle Type
Dimension &
Weight Capacity
Base Price


(Visayas/Mindanao)

Wing Van 

32 to 40 x 7.8 x 7.8 ft




12000kg to 15000kg

6500 PHP

6w Fwd Truck

18 x 6 x 7 ft




7000kg

4850 PHP

Closed Van

10 to 14 x 6 x 6 ft




2000kg to 4000kg

1450 PHP

L300/Van

8 x 4.5 x 4.5 ft




1000kg

310 PHP

Small Pickup

5 x 5 ft x open




1000kg

220 PHP

Light Van

5.5 x 3.8 x 3.8 ft




600kg

225 PHP

MPV/SUV

5 x 3.2 x 2.8 ft




200kg

140 PHP

Sedan

3.5 x 2 x 2.5 ft




200kg

120 PHP
SEE ALSO
2Reasonable rates
Delivery can be quite costly, especially if you will do it on your own by running an in-house fleet. Like other business owners, you want a cost-effective strategy regarding these expenses to save you more money in the long run. Understandably, you will choose a more affordable alternative for your same day delivery in Cebu. However, not all cheaper options can be effective solutions. Sometimes, it can cause trouble between you and the customers, and you do not want that.
To avoid this, you must be keen to find a business logistics service and trucking provider for your delivery in Cebu that offers reasonable rates with a good track record of excellent service. Transportify has been providing same day delivery service to businesses since it started operations in the Philippines because it remains to offer the most affordable rates in the market.
The on-demand logistics company's excellent service to its customers created a good track record good enough for the Cebuano consumers to accept it in the province as well warmly. Remember, your chosen logistics provider for your delivery in Cebu will be an extension of your business service, choose a provider that will best satisfy your customer's expectations.
Overcome Logistics Challenges in Cebu
Aside from finding the right provider for same day delivery in Cebu, there are other logistical challenges that you, as a business owner, must be aware of.
In this part of the article, we will identify some of the key problems holding back Cebu in recent years regarding logistics and what Transportify is doing to overcome them.
Ecommerce in the province of Cebu is undoubtedly thriving—especially now that many people are turning toward convenient online shopping solutions. But, as rapidly as the e-commerce industry grows, more logistical challenges seem to be presenting themselves in Cebu and the Philippines.
Transportify has been working tirelessly to innovate and improve the overall status of the logistics industry across the Philippines, one for customers to expect and competitors to aspire to. Let us take a closer look at some of the biggest challenges the Philippines and a highly developed province like Cebu experience today:
Inconsistent regulations
One of the main reasons for the Philippine logistics sector's inefficiency is inconsistent regulations. A clear example of this is the freight cargo situation that has been going on in the country's ports.
Two key players influence port regulations in the Philippines: The Cebu Ports and the Philippine Ports Authority. As there has been a lack of competition for so long, it would be fair to say that it leads to inconsistent rules. Without a larger regulatory influence, it's not uncommon for prices to rise. This creates confusion leading to even longer waits before docking can be made possible.
High shipping costs
Another thing that can hold back logistics practices is excessively high shipping costs. These costs are fronted by the customer, discouraging them from returning for more and increasing their spending habits.
As said earlier in this article, inconsistencies arise in the shipping cost when there is an absence of a larger authority to monitor all of the goods coming in and out of ports. Again, a percentage of those costs are picked up by the customers. This will lead to a lot of customers canceling their orders before checkout. In other words, it hurts everyone.
Transportify takes pride in being fair and transparent with its shipping costs. They continue to streamline and automate their services with technological innovation, lowering costs and providing more customer savings.
They achieve this with service features like:
Same day delivery in Cebu for last mile delivery

More efficient delivery driver allocation 

Business oriented extra services
Business Program
Services
Program Features
Live Support

Open 24/7

Prepay

Available

Postpay with Monthly Invoicing

Available

Destinations

A total of 16 destinations can be added in every booking

COD/POD
COD + POD
2.50% of invoice
Min of 80 PHP
(Flat Fee/Booking)
POD Only
80 PHP for ≤ 3 destinations
160 PHP for ≤ 10 destinations
200 PHP for ≤ 15 destinations
Insurance and Warranty

Up to 3 million PHP coverage from OONA Insurance

Nationwide Service Area

Available




Interisland and Same Day Trucking in Luzon, Visayas, and Mindanao

Business Web Dashboard

Team Account Management Customized Reports
Deliver As Soon As Possible With Transportify
There is still work left to address these challenges, but one thing is for certain: things are on the up for the logistics industry in the Philippines. Yes, there are many hurdles (not to mention the various extreme weather events, such as Typhoons and flooding). Still, ultimately, Transportify is working towards providing a much more efficient logistics solution to address these pressing challenges with flexible and high-tech solutions to support it.
| | | |
| --- | --- | --- |
| | or | |
Frequently Asked Questions:
Why is the same day delivery of Transportify affordable compared to others?
🏝️ The pricing will be determined by what you enter into their app. They do not charge you for unnecessary costs or insurance, which is common when booking with traditional logistics providers. Their standard service also includes a driver, fuel, loading and unloading within 15 meters from the vehicle, and insurance coverage for every booking. The service package they have along with their proactive customer service makes them a worth it affordable logistics provider.
Can Transportify accept cashless payments during deliveries?
🏝️ Yes. Transportify has three options for its users who wish to pay cashless. They have online bank transfer, credit/debit, and GCash payments directly to the driver's account. The mentioned options are mainly applicable for individual customers, if you choose to enroll in Corporate Account for Business, you can have the option for postpaid or prepay.