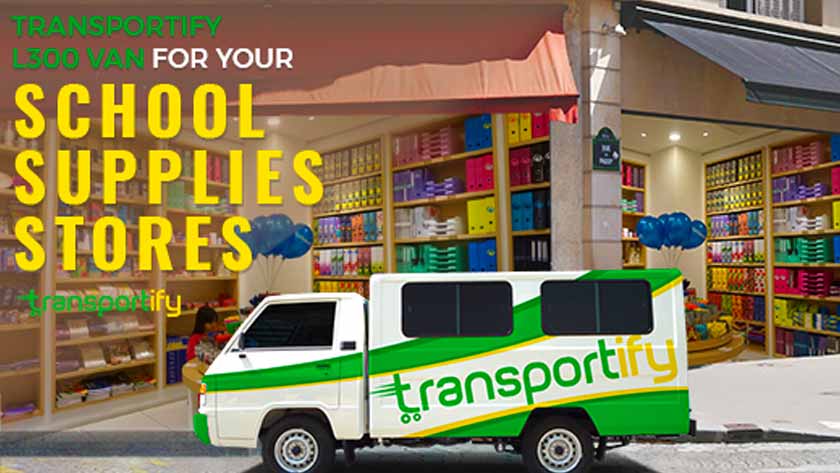 Small to medium-scale school supply stores are undeniably taking the stage in small towns and cities. Back then, the Philippines is only familiar to very few leading names in the school supplies store trade. But now, small-to-medium entrepreneurs or SMEs are taking initiative in establishing their own little school supplies business, especially within areas that are a bit far from local major shopping malls.
Undeniably, businesses like school supplies stores, albeit small-scale, needs a delivery vehicle to transfer goods from the supplier to the store, or from the store to a storage area for unsold seasonal goods.
In the Philippines, store owners in small towns often buy their own delivery vehicle—like private cars and pickup trucks—to transfer goods from one place to another. Even businesses like school supplies stores sometimes do the same. However, buying private cars for delivering your goods is not very practical. Store owners will actually spend less if they hire a third-party delivery partner here in the Philippines than buy a car or pickup truck to transport their products. Buying a car or pickup truck is not cheap, and you have to continuously spend money for the vehicle's upkeep and fuel expenses after paying the full price. We do understand, however, that SMEs are wary of finding a third-party logistics partner with expensive fleet and pricing offer, and this drives them away from considering looking for a business partner. It is a good thing that Transportify Philippines is very transparent about their pricing, with a customizable delivery service that business owners can adjust according to their budget.
Moreover, when it comes to delivering school supplies, Transportify L300 van for delivery is a good choice. It is big enough to accommodate bulks of notebooks, paper rims, boxes of pens, art supplies, and more as it can contain a total volume of 3.3m3. It is also strong enough to carry up to 1,000 kg of school supplies. With its sliding windows and built-in suspension, it can protect the products from rain and road bumps.
Availing a Transportify L300 van for delivery by enrolling under the Business Program also gives you
on-demand delivery app privileges that ordinary users cannot access. You can monitor the history of your business deliveries with complete vehicle and driver partner details. Your goods will also be subjected to Insurance/Warranty Policy and other Business Program benefits.
Transportify Philippines believes that local small-to-medium enterprises that do not have a budget as big as major businesses have the right to a quality logistics service provider.