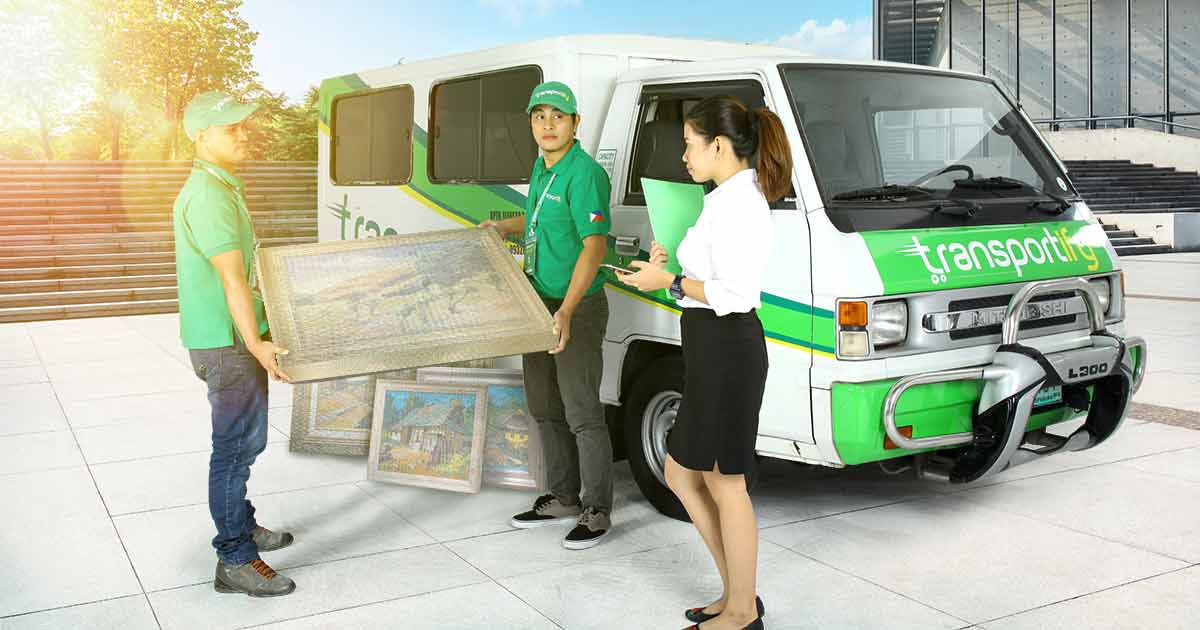 From being treated as second-class citizens to having the right to vote and go to school and work, women are finally breaking the glass ceiling perpetuated by the largely patriarchal society. Furthermore, with the latest turn of the century and the continuous endeavor to spread awareness on gender equality, as well as women empowerment, more women around the world successfully have their careers in entrepreneurship despite the systemic barriers of discrimination still present.
Find A Delivery Service Partner In The Metro
An example of such is Joanna Liza, one of the owners of The Attic Gallery, who decided to fortify their artwork delivery service with Transportify. The Attic Gallery focuses on promoting the Filipino art industry. They are strategically conducting their art shows and exhibitions in prestigious hotel lobbies and common areas, which usually cater to foreign tourists and people in business. It was a smart move because most galleries tend to place their exhibits in malls due to the vast visitors traffic every day.
By placing their gallery in hotels, on the other hand, they are hitting two birds with one stone: selling and shipping painting works of local artists at the right place, at the right price, as well as showcasing the talents of our artists on an international avenue.
Before they trusted the shipping of painting orders with Transportify, The Attic Gallery had problems in finding the best express delivery service that will prevent damage while expediting transportation. This is why when they started with Transportify, they couldn't help but notice all the positive changes it brought to their gallery. They saved as much as 8% in their expenses on shipping painting orders while getting better and faster service on a one-to-one basis for their consignments. They also swear that Transportify is the best artwork delivery service, thanks to the extra services it offers, such as the option for scheduled delivery, getting additional helpers, and the extended after-sales support.
Business Program
Services
Program Features
Live Support

Open 24/7

Prepay

Available

Postpay with Monthly Invoicing

Available

Destinations

A total of 16 destinations can be added in every booking

COD/POD
COD + POD
2.50% of invoice
Min of 80 PHP
(Flat Fee/Booking)
POD Only
80 PHP for ≤ 3 destinations
160 PHP for ≤ 10 destinations
200 PHP for ≤ 15 destinations
Insurance and Warranty

Up to 3 million PHP coverage from OONA Insurance

Nationwide Service Area

Available




Interisland and Same Day Trucking in Luzon, Visayas, and Mindanao

Business Web Dashboard

Team Account Management Customized Reports
"Others would require our end-user to pick it up from the gate or car, but Transportify extended it to hauling it to where the customer wants," Joanna testifies.
Joanna Liza is only one of many women entrepreneurs who has successfully broken the stigma that women are "incapable" and "not suited" of having their own business just because, well, they're women. A living proof that anybody could enter whatever field they want to and not limit by basing on gender and societal expectations. They become the game changers not only in the art industry but in the area of business as a whole.
Transportify is nothing but proud to be the women's choice and serving more and more women like them — catalysts of change for this country. In addition to helping Filipino entrepreneurs move their business with ease.
How Couriers With Artwork Delivery Service Help the Art Profession in Shipping Painting
In the Philippines, one of the growing industries in the art profession. With the help of social media, more and more Filipinos have come to appreciate artworks, and as such, artworks have become a source of income.
There are many challenges that people engaged in the selling of artworks face every day. Marketing their products is one of the significant problems in the industry. Besides, the process of shipping painting takes extra precaution.
For this reason, an artwork delivery service is one of the best delivery systems that art entrepreneurs should use. Local courier companies like Transportify can help boost the sales of the art profession. Here are several reasons why Transportify became the women's choice and how shipping shipping painting is made more comfortable with a domestic courier company.
Deliver artworks quickly
Just like any other online product, most consumers prefer to have their orders delivered right into their doorstep as soon as possible. Studies show that more than 25% of online shoppers would cancel an order if the shop does not provide a fast delivery service. It just goes to show how important it is to have an efficient delivery system when selling products.
For a premium artwork delivery service, Transportify provides a 24/7 delivery service in tons of locations. Shipping painting just got more accessible with its mobile application, which you can download right into your smartphones. Transportify gives the retailer a chance to boost their sales by providing a same-day artwork delivery service.
Careful artwork handling
An artwork's selling point is its physical aesthetic feature, which means that a courier entrusted for shipping painting must know how to take care of such a delicate material. While retailers should provide security measures to protect the arts, such as wrapping it in bubble wrap or thick boxes, an excellent artwork delivery service providers in the market would also know how to transport the painting safely.
Such expertise is provided by Transportify, an excellent courier service provider. Not only are its vehicles suitable for shipping painting, its drivers and extra handlers would also take good care of the artwork as long as it is in their hands. You would not have to worry about delivering paintings, whether it is fragile or nor, because Transportify, a leading courier service provider, is the best known for delivering artworks.
Extra-support system
Most local courier services only provide a driver to do an artwork delivery. Still, with Transportify, you can avail of extra services, such as having the delivery scheduled beforehand as well as a request to have an additional helper.
One of the challenges of shipping painting is when it is massive in size, and it requires a helping hand. Typically, most sellers would opt to deliver the items personally, but to continue such would be impractical and can waste valuable.
For this reason, Transportify provides an artwork delivery system that caters to the unique needs of shipping painting. If your customer wants to receive the art at a specific time, you can always opt for our scheduled delivery option. Also, if the artwork is heavy or more massive than a person could handle, you can request for extra helpers to carry and take care of the product.
Affordability
More than anything else, a local courier service like Transportify is very affordable when it comes to providing their expertise in delivering paintings. You would not have to pay any retention transportation services because you will only pay for delivery fees when you need it. Not only will you get to save extra expenses, but you will also be able to relax because there is no more need to deliver the artworks personally.
Use the Services of Transportify for Your Artworks
Transportify truly caters to the different types of industries, one of which is the artwork industry. As the artwork arena is slowly thriving to be a booming industry, it is inevitable that, at some point, it will become one of the leaders of economic activity in the Philippines. Transportify helps small to medium entrepreneurs by providing an artwork delivery service that is convenient, affordable, and efficient.
So, if you, a friend, or a loved one, are into selling artworks, then use the services of a premium artwork delivery service provider like Transportify to make sure that your paintings are delivered in a safe condition. The application can be downloaded in the Play Store for Android users and the App Store for iPhone users. Transportify's services are also available in different areas of mainland Luzon, Cebu, and Davao market will significantly expand.
What are you waiting for? Download the women's choice application now and make your artwork business profitable.
| | | |
| --- | --- | --- |
| | or | |
Frequently Asked Questions:
Who is the best company for shipping painting?
🚚 Depending on where you'll be shipping your painting. UPS is a famous courier company that offers global artwork delivery. If you need a local delivery company you can book Transportify, a mobile and web app that offers different vehicles to deliver your paintings safely to any point in Luzon, Cebu, and Davao at an affordable rate. Click to know more.
What are the advantages of having a trusted partner in artwork delivery service? 
🚚 Since paintings and artworks are fragile, it requires extra care when it comes to transportation. You should have a trusted partner for delivery. The artwork delivery must be fast, safe and well-insured. In Transportify, you are sure about these things. Our fleet is trained in handling different types of parcel including those that are fragile and expensive. We also have a track and trace feature to check the real time status of artwork delivery.  Your masterpiece is taken care by our driver-partners and will arrive at its destination safely.