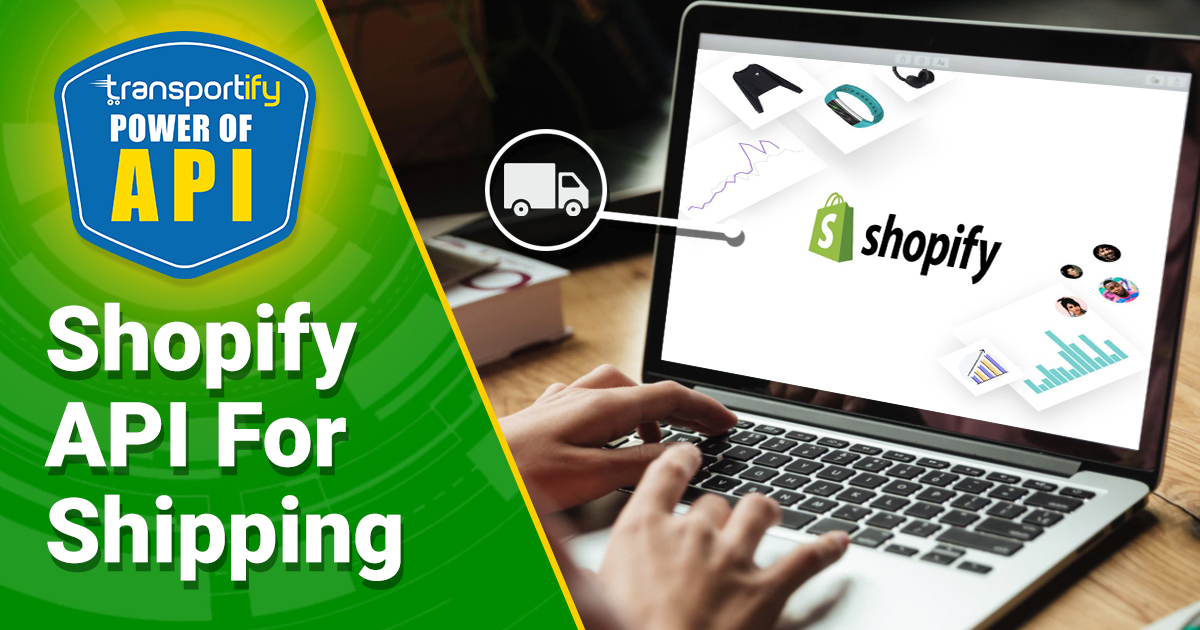 Shopify is a type of software that allows anyone to set up their own online store and sell their products, using a straightforward subscription-based method. Those who own Shopify stores are also able to sell using a physical 'bricks & mortar' location using Shopify POS (a point-of-sale app with accompanying hardware). For those with a Shopify account and a physical presence, their inventory and stock can be synced up and managed from one single account on any device, giving you the ultimate flexibility.
If we are to dive a little deeper, Shopify isn't a singular product. There's more to this software than a store builder and a tool to help you sell your products online. Shopify is a commerce platform that provides the less tech-savvy people with a means of launching their business and begins selling to customers, as quickly as possible, wherever they may be.
What Is Shopify API?
API (or application programming interface), is an intermediary software that enables multiple applications to communicate. In other words, an delivery service API will allow your product to connect with other products without having to worry about how they're being implemented. As this software integrates various components of an application into your existing architecture, it allows businesses and IT teams to work together in a more streamlined fashion.
Shopify APIs can be used for multiple purposes. It all depends on what you are trying to achieve. In this case, if you want Transportify to handle all of your logistics requirements, Shopify API for shipping would be used to collaborate between both parties and set up clear communication, thus allowing perfect synchronicity.
How Does Shopify API for Shipping Work?
Shopify API for shipping allows various software providers to access the data collected from Shopify stores and use it for their purposes. For example, using it to improve last-mile delivery.
API supports XML and JSON while working with other types of HHTP methods such as GET, POST, PUT, and DELETE.
API can also work with various methods such as Category, Customer, Order, Product, and so on. Each method has its purposes and can be used for various properties when collecting data and leveraging it for business insights.
Shopify continuously updates API. SaaS (software as a service) app providers who want to work with Shopify data must be aware of that and stay on top of the changes, monitoring the most up-to-date and relevant versions. Otherwise, an API connection will no longer be reliable.
In other words, Shopify API for shipping software is forever on the move. While it can provide some exceptionally valuable business insights, you must have a capable team running the back end to keep you up to date.
What Is Meant by Shopify API Integration?
Shopify API for shipping integration refers to the process of using any SaaS app with this particular platform. This is crucial for any software providers who want to gear their services to online retailers who choose Shopify to sell their goods online.
Without having a reliable Shopify API for shipping integration, software providers will not be able to help e-commerce store owners to better organize and automate their processes. For example, at Transportify, we utilize Shopify API for shipping software with our clients to better streamline the logistics process. First, we must build the connection between our logistics solutions. Otherwise, we will be unable to filter orders by their relevant parameters, create new shipments, and update order statuses.
Fix The Last Mile Problem
"Last-mile delivery" refers to the final leg of the supply chain, which is almost always the least efficient. The last mile delivery often comprises 53% of the total cost to move goods from warehouse to consumer. This is now referred to as "the last mile problem."
If you are an e-commerce retailer and you want to streamline the last mile delivery for your business, integrating with Transportify is a viable option that we would highly recommend. We can help you tighten your last-mile delivery, save a significant amount of money, and boost the overall efficiency of your logistics – thus bolstering brand image and customer loyalty. Let's take a closer look.
Why Choose To Integrate With Transportify?
Now that you have more of an idea of what Shopify API for shipping is and how it works, why choose to integrate with Transportify? How can we bring value to your e-commerce business?
Here's everything you need to know:
Save up on shipping
The Transportify app can help you save significant money on your shipping and logistics requirements. These savings can be re-directed into your business to facilitate further growth.
Send products faster
The app will enable you to send your products to your customers faster and more efficiently. This is something that will help with your expansion while also retaining your customers.
Have more control
The app will provide you with greater control over your logistics processes. For example: controlling the prices and delivery speeds to your customers. You can also choose whether you send orders directly to Transportify from your store or automatically book a delivery vehicle after each order is confirmed. You can combine orders to save even more money.
Give your customers live tracking
You will also gain a live-tracking function that allows you and your customers to track deliveries in transit. This can help improve the overall efficiency of your deliveries and empower your customers to better time their movements (i.e., ensure that they are at home when the delivery is due to arrive).
Access to our large fleet
Gain access to over 40k + delivery vehicles of all shapes and sizes. There will always be someone around to make your deliveries on time.
Vehicle Type
Dimensions/
Weight Limits
Base Price


(Metro Manila)

Base Price


(Outside Metro Manila)

Base Price


(Visayas/Mindanao)

Wing Van 

32 to 40 x 7.8 x 7.8 ft




12000kg to 28000kg

7500 PHP

6500 PHP

6500 PHP

6w Fwd Truck

18 x 6 x 7 ft




7000kg

4850 PHP

4850 PHP

N/A

Closed Van

10 to 14 x 6 x 6 ft




2000kg to 4000kg

1800 PHP

1450 PHP

1450 PHP

Open Truck

10 to 21 x 6 ft x open




2000kg and 7000kg

2300 PHP

1950 PHP

N/A

Mini Dump Truck

10 x 6 ft x open




2000kg

1500 PHP

1200 PHP

N/A

L300/Van

8 x 4.5 x 4.5 ft




1000kg

430 PHP

330 PHP

310 PHP

Small Pickup

5 x 5 ft x open




1000kg

310 PHP

250 PHP

220 PHP

Light Van

5.5 x 3.8 x 3.8 ft




600kg

250 PHP

192 PHP

225 PHP

MPV/SUV

5 x 3.2 x 2.8 ft




200kg

160 PHP

130 PHP

140 PHP

Sedan

3.5 x 2 x 2.5 ft




200kg

140 PHP

110 PHP

120 PHP
Professionally uniformed service
All of our delivery drivers arrive at the location wearing uniforms and presentable. We pride ourselves on providing a professional and friendly service, so you can rest assured that your brand image is in good hands with us.
24/7 customer support (for you and your customers)
We will become an extension of your business. You and your customers can contact our customer support team 24/7 for your convenience.
Inclusive goods insurance
When Transportify delivers your products, you will automatically receive goods insurance. This means that if it the highly unlikely that anything is damaged or lost in transit, you'll be completely covered.
Monthly post-pay:
You can pay at the end of each month rather than for each transaction. There are so many benefits to working with us. If you want to take full advantage of a cost-saving logistics service that will save you significant time and effort, then you need not look any further. Take your business to the next level with Transportify.
SEE ALSO:
How Do You Integrate Shopify API With Transportify?
You will find a thorough step-by-step setup guide when you download the app. It is so easy to do, and you can live within hours. In any case, here's a quick look at how connecting with Transportify works:
Step 1 – Go to Shopify App Store
Step 2 – Search for Deliveree Shipping Solution (Parent of Transportify
Step 3 – Click Add App
Step 4 – Login to Transportify Account
Step 5 – Enter API details provided by Transportify (in the web app)
Step 6 – Set up shipping settings
Step 7 – Let the system manage orders and improve efficiency
| Steps | Description |
| --- | --- |
| Pre-Built Add Ons: | We provide our plugins as pre-built add-ons that let you include Transportify to your eCommerce site in less than 15 minutes. |
| Fully Automated: | The booking procedure is entirely automated after Transportify has been selected as the delivery option. |
| Automatically Dispatched: | Your order will be picked up and taken to the customer by a delivery vehicle on your company's behalf. |
Conclusion
Shopify API is an intermediary software that enables multiple applications to communicate. The Transportify benefits are: Save up to 30% on shipping, faster deliveries, greater control, live tracking, fleet access, professional and friendly service, 24/7 support, free goods insurance, monthly post-pay options, and more. The set-up process is simple.
We hope that this article has been helpful to you. If you want to learn more about Transportify and our Shopify API integration, please do not hesitate to contact us today. Our 24/7 customer support service will happily talk you through everything you need to know.
| | | |
| --- | --- | --- |
| | or | |
Frequently Asked Questions:
What is Shopify API?
🚛 Shopify API is a platform that allows developers to create applications and integrations for Shopify stores. It enables developers to interact with Shopify's platform using their credentials, enabling access to data from Shopify merchants using the API. The Shopify API has several features that make it unique, including the ability to retrieve data from Shopify merchants using the API, create and manage applications and integrations for Shopify stores, and use Shopify's platform to manage your own eCommerce business.
How to fix the last-mile delivery problem?
🚛 There's no one-size-fits-all answer to this question, as the best way to fix last-mile delivery problems will vary depending on the situation. However, some tips on improving last-mile delivery include reviewing your delivery process, identifying potential bottlenecks, and optimizing your packaging and shipping materials, using technology to your advantage, such as GPS tracking and real-time visibility into your delivery network.