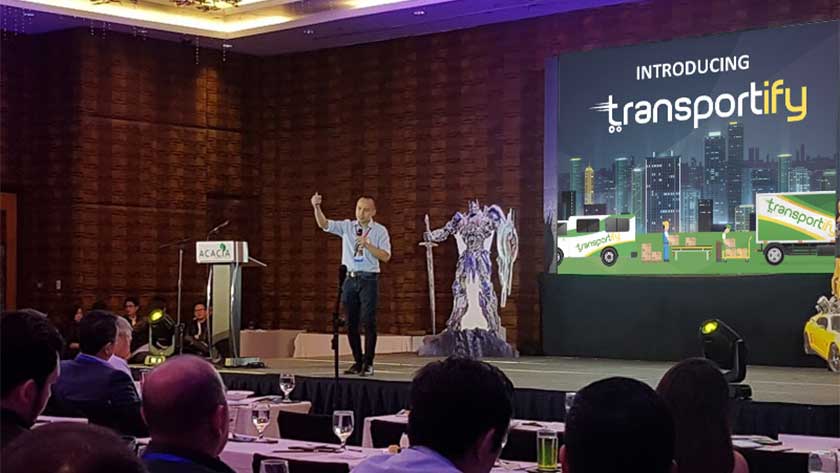 Transportify Philippines' Head of Operations Paulo Bengson was one of the speakers for the 2017 Innovations Day of San Miguel Yamamura Packaging Corporation (SMYPC), held last November 17 at the Acacia Hotel in Alabang, Muntinlupa, Metro Manila. This year's Innovations Day had a theme titled TRANSFORMERS:  Driving Change, Transforming Lives.
Bengson's talk was titled Innovating to Survive: Sharing economy technology finding its place in logistics. The topic focused on effective strategies in operating businesses. The seminar started with an introduction about Transportify and the on-demand delivery app's history, mission and vision, and basic features, before proceeding to discuss how Transportify strategically overcome the challenges it usually faces, inspiring the audiences.
SMYPC invited Transportify Philippines as the logistics service provider "is already making waves for taking the first  step in reinventing  delivery  in the country and  a blessing to our MSMEs […] We believe that [Transportify] can  help us nurture a culture of innovation in the [SMYPC] company."
It is such an honor for a big corporation to recognize Transportify's efforts to revolutionize the country's logistics industry through effective local same-day delivery, track package features, and by being a reliable third-party logistics or 3PL partner to entrepreneurs.
Aside from Bengson, the 2017 Innovations Day also featured seminars and speeches conducted by other young, inspiring individuals from different fields who were able to create products, inventions, and innovative works that are worthy of recognition even if they are not related to the packaging industry.
Innovations Day is an annual one-day company event now on its fourth year. The event usually gathers speakers who can discuss new innovations packaging technology, as well as people who made breakthroughs in other industries. This year's event was attended by the SMYPC's key personnel, the Company President, Business Managers, Plant Managers, Technical Staff, Finance, Procurement and Sales and Marketing Group, along with an estimated total of 200 audiences.
SMYPC is an international packaging solutions provider based in the Philippines. They provide a wide range of quality products from glass, to plastics, to metal, and more across the globe. SMYPC is a joint venture of San Miguel Corporation and Nihon Yamamura Glass Co., Ltd.