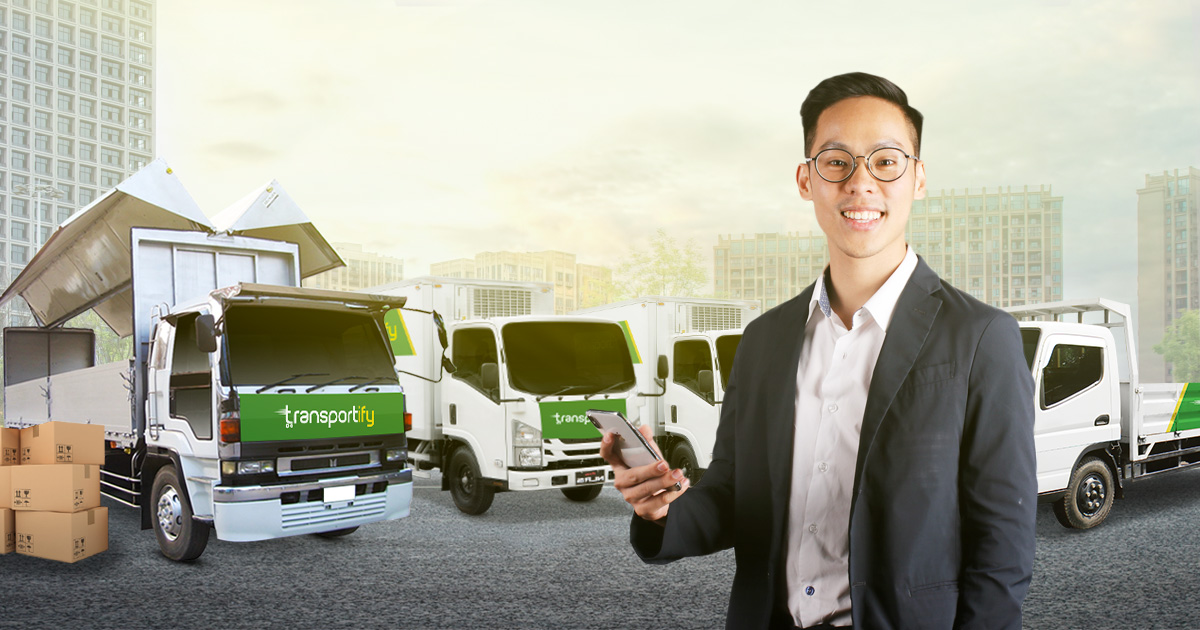 This 2023, businesses have to be at the top of their game when it comes to satisfying customer requirements. Besides offering the best product, they have to keep customers happy with excellent delivery services. Oftentimes, these customers would want their purchased items to be delivered on time and without any damages. In order to achieve this, large trucks are used to support the supply chain business operations of a company. Transportify, an app based truck company has a wide range of vehicles and affordable rates to support your trucking needs. Get a price check now for your deliveries.
In a world where things move at a fast pace, the new buzz words for buyers and sellers now include terms such as "same day delivery" or "fast cargo services." People want to get things right away in order to make the most of their precious time. In the business side, companies also want to receive their purchase order from their suppliers quickly. Whether these may be raw materials for manufacturing companies or new stock of food items for fast moving consumer goods (FMCG), these business establishments expect a quick delivery.
But in order to achieve the ideal setup of a quick and easy delivery, the supply chain business operation is crucial for any company. This operation is crucial because it supports the entire structure of your business from acquiring the raw materials up to delivering the finished product to your clients. Large trucks are often used to enable the transportation of materials from place to place and these vehicles can be availed with Transportify, a leading truck company with affordable rates and excellent service. Check our table below for the 2023 rates of our large trucks.
| Vehicle Type | Cargo Dimension | Capacity | Price Starts at |
| --- | --- | --- | --- |
| Vehicle Type | Cargo Dimension | Capacity | Price Starts at |
| Pickup Truck | L: 10 ft x W: 6 ft x H: Open | 2000 kg | ₱1800 |
| Pickup Truck Extra Space | L: 14 ft x W: 6 ft x H: Open | 2000 kg | ₱2200 |
| Closed Van (4W) | L: 10 ft x W: 6 ft x H: 6 ft | 2000 kg | ₱1800 |
| Closed Van Extra Space (6W) | L: 14 ft x W: 6 ft x H: 6 ft | 2000 kg | ₱2100 |
| Long Pickup Truck | L: 18 ft x W: 6 ft x H: Open | 7000 kg | ₱4850 |
| 10w Wing Van | L: 32 ft x W: 7.8 ft x H: 7.8 ft | 15000 kg | ₱7500 |
| Mini Dump Truck | L: 10 ft x W: 6 ft x H: Open | 3500 kg | ₱1500 |
| 6w Fwd Truck | L: 18 ft x W: 6 ft x H: 7 ft | 7000 kg | ₱4850 |
Why is Supply Chain Business Management Crucial?
Supply chain refers to the network of people and businesses that collaborate in order to transform raw materials into finished goods. It spans a wide range of activities from acquiring raw materials, processing them, delivering them to distribution centers or straight to a client's home. Although supply chain business operations are not the only business activity that one needs to be concerned about, it does merit to be at the top of a manager's list of priorities. Without a robust and well-formed supply chain business system, a company will experience plenty of delivery backlogs, delayed purchase order requests, and worse of all, unsatisfied customers.
As mentioned above, the supply chain business operations of a company have an important role to play. How would you expect to deliver customer's orders on time when you received the raw materials late? Therefore, it can not be overstated that supply chain management is crucial to a business because it has the power to reduce costs, improve efficiency and improve customer satisfaction.
Operating Costs Reduction
Just as there are many revenue streams for a business, there are also many sources of costs. There are marketing costs, utility costs, and operating costs to name a few. Costs related to supply chain business operations are inventory costs and transportation costs. With a Supply chain that is well established, operating costs can be greatly reduced. Over the past years, emphasis has been placed on lean manufacturing which underscores the need to reduce waste without sacrificing productivity. Having a well-established supply chain system in place means cutting down on unnecessary processes which add little to no value at all. Proper forecasting techniques are also some cost reduction strategies that come with a good supply chain system. Lastly, a proper supply chain system can greatly reduce transportation costs. With a proper system place, large truck deliveries can be optimized in order to cut booking costs while meeting clients' deadlines.
Improving Efficiency
We all know that delays are usually associated with more costs. And that information is correct. When a shipment of goods is delayed, it entails more storage costs, affects sales and promotion plans, and increases administrative workload. Furthermore, improving efficiency means getting more work done in less time. One of the ways experts improve their supply chain business operations is using technology to streamline processes. Tasks that are repetitive and clerical in nature can be automated using various technology solutions in order to speed things up.
Satisfied Customers, more sales
Lastly, the ultimate goal in any business is to get more customers to patronize them. Strategies used by many companies include giving away freebies, discounts, or gift certificates. While those strategies may succeed, a core requirement in keeping costumes happy is to deliver their goods undamaged and on time. Such an operation is difficult to sustain since consumer demand varies every month. With a well-established supply chain system, you can be confident that customers' deadlines can be met most of the time. It goes without saying that happy customers will most likely buy your products and even recommend them to their families and friends. Thus, a well-defined supply chain system can lead to satisfied customers which could translate to more sales volume.
How Transportify helps your supply chain process
The supply chain encompasses the whole process of procuring raw materials, converting them into finished goods, and warehouse management. However, a crucial part of supply chain management is logistics. In fact, many other supply chain processes are hinged on logistics so much so that if it is not properly managed, delays are inevitable. And this is where a leading truck company like Transportify steps in and can help your business by providing the services of our large trucks for your 2023 deliveries.
We know that each industry has different trucking requirements. Fortunately, this app based truck company has a wide variety of large trucks to accommodate your needs. We have closed vans, open trucks, 10 wheeler wing vans, and mini dump trucks.
Construction
If you are in the construction business, then surely our mini dump truck for your construction materials delivery can help you greatly. Our mini dump truck features an open body which can be raised up thanks to a hydraulic cylinder. Construction materials that can be transported via a mini dump truck include concrete and bricks. Furthermore, a mini dump truck can take care of your construction debris hauling needs. The affordable rates of this truck company can easily translate to savings in the logistics costs for your 2023 construction materials delivery and debris hauling.
Appliance and Office Equipment Companies
According to Statista.com, a market research website, the outlook for appliance companies is bright. By the year 2024, household appliances are expected to hit a total market volume of USD 282 million. The large trucks of Transportify, particularly the closed van, open trucks can do the job of
Delivering appliances to your customer's home. Furthermore, the current pandemic has required most companies to operate under work from home arrangements. This truck company can take care of your office equipment delivery. Our L300 and closed van vehicles can deliver equipment such as computer monitors, CPU, printers and the like from your office to your employee's home.
Wholesalers
Another industry that requires large trucks for their supply chain operations is the wholesale sector. As the name suggests, wholesalers sell goods in large quantities to other retailers. Thus, large quantities of goods need large trucks such as a 10 wheeler wing van. This vehicle is capable of carrying up to 15 tons which makes it ideal for these types of operations.
Scan the QR code below or click on the buttons to download the Transportify app.
| | | |
| --- | --- | --- |
| | or | |
Deliver more with Transportify Business Program
The Transportify Business Program was created with the goal of servicing companies that need large scale logistics solutions. The business program offers features that are made to support the 2023 supply chain business operations of various industries. Some perks of our business program include flexible payment terms, up to 3 million pesos warranty and having your own account manager.
Check out this link to know more about our business program.
Frequently Asked Questions:
What are the usual services that truck companies offer?
✔️ Truck companies offer the use of their vehicles to transport goods from place to place. Oftentimes, this service already includes a driver from the truck company to man the vehicle. Furthermore, trucking companies offer "customizable" services that are tailored to suit the needs of a specific company. Transportify's Business Program offers services and features that can surely satisfy your trucking needs. Some benefits of the business program include warranty of up to 3 million dollars PHP and flexible payment terms.
What are some common supply chain businesses operations?
✔️ Supply chain refers to the entire process of acquiring raw materials, converting them into finished goods and delivering them to customers. Some common supply chain businesses operations include materials management, operations planning, and demand forecasting. However, these activities rely heavily on logistics. For logistics operations, Transportify can provide your business with affordable trucking services.
What are the rates of Transportify's large trucks?
✔️ Transportify offers a wide range of trucks at affordable rates. Open truck has a base price of ₱2700 . The closed van has a base price of ₱ 1800 and a per kilometer rate of  ₱ 45 for the first 60 kilometers. The mini dump truck starts at ₱ 1,500 for Metro Manila pick up points while it is only ₱ 1200 for other areas. The 10 wheeler wing van starts at ₱ 7,500 and has a per kilometer rate of ₱ 85 for the first 60 kilometers.