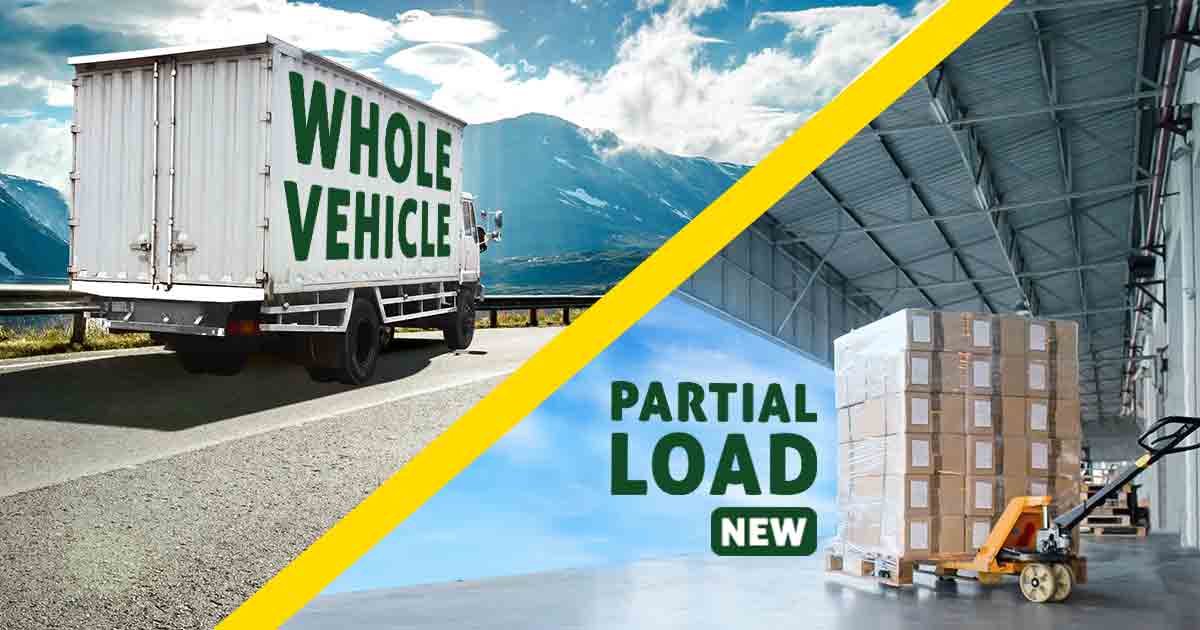 Transportify offers 2 main services which are Whole Vehicle (FTL) and Partial Load (LTL). Choose either service using the selector at the top of our app screen on step 1 of our booking process. Read below for an overview of each service including a table highlighting key differences.
A. Whole Vehicle
FTL = Full Truck Load
Our whole vehicle service allows you to book a vehicle from our wide fleet selection and fill that vehicle's cargo hold up to its stated limit. Key advantages of our whole vehicle service are full control over the loading and cargo hold utilization, availability for on-demand and the same day, full control over routing plan including as many drop-off points as you wish, and generally faster deliveries (because every stop the vehicle makes is for you).
B. Partial Load
LTL = Less Than Truck Load
Our partial load service allows you to send just a load without having to book a whole vehicle. Input in our app the type of goods, dimension, and weight and we'll load your goods along with other client goods going on a similar route to give you the best co-load prices available in the market. The key advantage of our partial load service is highly competitive pricing so long as you can wait for next day pickup, stay flexible regarding your pickup times, and can accept a longer delivery time (because your driver will make stops to drop off other customer's goods as well as yours).
C. Comparison Table (Whole Vehicle vs Partial Load)

| | | |
| --- | --- | --- |
| | Frequently Asked Questions | |
📦

What are the prohibited items in Partial Load?
For food deliveries: We restrict the delivery of food items that can spoil quickly, are not well-packaged, and can be easily damaged when co-loaded with other items.
For frozen products: We restrict the delivery of frozen goods since we can't cater to them due to our vehicles don't have the refrigeration required for frozen goods.
For item deliveries: Just like our whole vehicle booking, there are no item restrictions as long as the item is not illegal and prohibited. For the complete list of prohibited items, click HERE.
📦 What are the weight and dimension restrictions for Partial Load?
The minimum and maximum dimensions allowed for Partial Load are:
Maximum dimension: 854cm x 184cm x 184cm
Maximum weight: 15,000 Kilogram
Minimum dimension: 1cm x 1cm x 1cm
Minimum weight: 1 Kilogram
📦

What additional services can I add to my Partial Load booking?

These are the two free additional services you can add to your Partial Load booking:
Items cannot be stacked: Select this if other goods cannot be stacked over your items or if your items cannot be stacked over each other.
Items must remain upright: Select this if your item must remain upright during the delivery. Typical examples of items that must be shipped upright are refrigerators, TVs, monitors, and washing machines.
📦 Can I choose my desired pick-up time?
Customers cannot select their preferred pick-up time because it is determined by the route. The app will display the estimated arrival time of your driver.
📦 What areas are covered by Partial Load?
Our service covers all locations within mainland Luzon, Panay, Negros, Cebu, Davao, Cagayan De Oro, and General Santos City.
📦How does Partial Load differ from the Whole Vehicle service?
In Partial Load, you only pay for the size, volume, amount, and distance of your goods. For the Whole Vehicle service, you pay the full price of one vehicle based on the required distance.
📦

Is insurance included in all my bookings?

Yes, insurance will be provided for your bookings. To learn more about the coverage, click HERE.
📦 How will I know what vehicle will be used to deliver my items?
Our system will recommend the best vehicle type to carry all of your goods based on the dimension and weight of your items.
📦How will I know when the driver will arrive to pick up my items
When the driver is on his way to you, live tracking and arrival estimates will be available on your app.