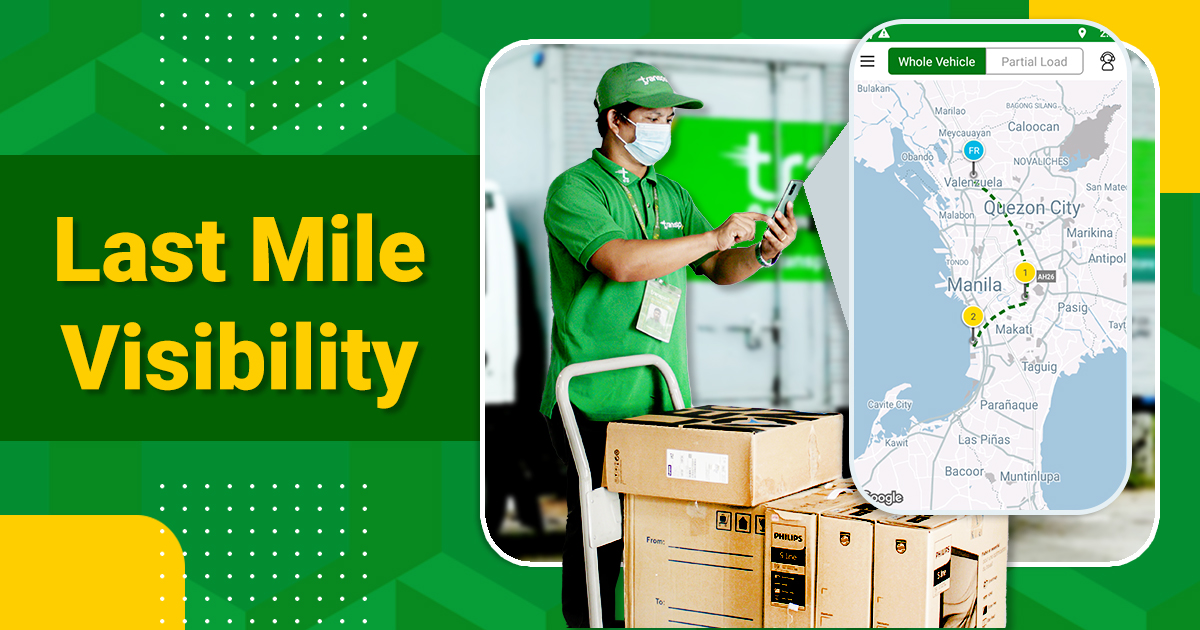 Logistics and supply chain management are two of the world's most complex and ever-changing industries. Keeping products flowing from A to B is critical with so many moving parts. Making a company's supply chain as tight as possible is important for modern businesses. In this article, we will focus on last mile visibility in particular. This has long been one of the most challenging links in the supply chain. We have some exciting solutions at Transportify to help you master last mile delivery. But first, let's take a closer look at last mile delivery. What does it mean?
What Is Last Mile Visibility?
As the name implies, last mile visibility refers to how much information you have access to about a specific order during the final leg of the supply chain.
Businesses need complete visibility across the entire supply chain to thrive in today's marketplace, particularly in the last mile. Visibility allows fleet managers and dispatchers to make smart, well-informed decisions if something unexpected happens. It also allows fleet operators and managers to explore deeper insights into drivers' performances.
If a customer calls your business and asks where an order is, with greater last mile visibility, you can provide quick and concise information – while making any changes to the route as required. Without this kind of visibility, businesses can't offer their customers a superior delivery experience – consumers have come to expect over recent years.
What Is 'The Last Mile Problem'?
Now that you have a clearer understanding of what last mile visibility is, what is the last mile problem? You may have heard the phrase thrown around before, as it is often used in logistics and supply chain management.
In reality, last mile delivery accounts for 53% of the overall cost. So, a package could travel thousands of miles, but generally speaking, the final leg of the journey is the most expensive. This has long plagued the logistics and supply chain management industry and is the bane of e-commerce businesses.
So, what can be done about the last mile problem? Well, having superior last mile visibility with effective distribution management is an excellent place to start.
Why Is Last Mile Visibility So Important?
We believe the last mile delivery visibility is essential to business success. Also, 93% of customers state that they want to keep in the look with increasing visibility throughout the delivery journey, from start to finish.
What Are the Benefits of Increased Visibility?
Furthermore, 47% of customers won't even bother returning to an e-commerce store and placing another order with them if they do not have decent visibility throughout. So, for the simple fact of increasing customer retention alone, improving your last mile delivery visibility is a smart move. But, there's so much more to it than that; by improving the last mile delivery visibility, using premium quality software can yield the following benefits:
1Minimize downtime
By integrating with superior e-commerce shipping software and increasing your last mile visibility, you can reduce the number of unnecessary delays, route diversions, stoppages, and vehicle idling (among other inefficiencies). For example, by using innovative re-routing software, drivers can be updated in real time and offered alternate routes in the event of weather events and traffic accidents that would otherwise hold them up and delay delivery.
2Predictive visibility
Another great advantage offered by modern last mile visibility tools is the power of machine learning and predictive intelligence. In essence, you will be able to know if a delivery is going to be on time, early, or potentially delayed with plenty of notice. With this information, you can easily take correct measures, optimize your routes, and even update customers as necessary.
4Enhanced KPI benchmarking
Improved visibility also provides data tracking advantages, such as the number of on-time deliveries, the consistency of ETA adherence, overall driver productivity, the efficiency of your routine, first-attempt delivery success rates, number of failures, route delays, and so much more. With this robust, actionable data in your hands, you can fine-tune your last mile delivery processes with the utmost efficiency.
5Skyrocketing customer satisfaction
Providing customers with as much visibility into your delivery operations as possible will improve the delivery experience and boost engagement and loyalty. In addition, being as transparent as possible builds trust and demonstrates your willingness to go that extra mile for customer satisfaction.
6Faster deliveries and 'expected time of arrival' adherence
When you eliminate unnecessary delays, delivery turnaround times improve, and you can offer your customers much more accurate expected arrival times. Everybody wins.
7Improved productivity
With this visibility, you can constantly refine and improve your last mile routes to drive faster and more efficient deliveries across the board. There are many advantages to utilizing modern technology, automating where necessary, and improving the overall levels of visibility in your last mile delivery. Last mile delivery companies provide visibility and a wide range of vehicles that shippers can choose from to maximize delivery fulfillment.

Vehicle Type
Dimensions/
Weight Limits
Base Price
(Metro Manila)
Base Price
(Outside Metro Manila)
Base Price
(Visayas/Mindanao)
Wing Van 
32 to 40 x 7.8 x 7.8 ft
12000kg to 28000kg
7500 PHP
6500 PHP
6500 PHP
6w Fwd Truck
18 x 6 x 7 ft
7000kg
4850 PHP
4850 PHP
4850 PHP
Closed Van
10 to 14 x 6 x 6 ft
2000kg to 4000kg
1800 PHP
1450 PHP
1450 PHP
Open Truck
10 to 21 x 6 ft x open
2000kg and 7000kg
2300 PHP
1950 PHP
N/A
Mini Dump Truck
10 x 6 ft x open
2000kg
1500 PHP
1200 PHP
N/A
L300/Van
8 x 4.5 x 4.5 ft
1000kg
430 PHP
330 PHP
310 PHP
Small Pickup
5 x 5 ft x open
1000kg
310 PHP
250 PHP
220 PHP
Light Van
5.5 x 3.8 x 3.8 ft
600kg
250 PHP
192 PHP
225 PHP
MPV/SUV
5 x 3.2 x 2.8 ft
200kg
160 PHP
130 PHP
140 PHP
Sedan
3.5 x 2 x 2.5 ft
200kg
140 PHP
110 PHP
120 PHP
How Can You Make Your Last Mile Deliveries More Efficient?
First, we recommend you research e-commerce shipping applications and see what options are available. The key to optimizing and improving your last mile delivery is plugging into some state-of-the-art software and automating as much of the supply chain as possible.
You may consider partnering with a reputable third-party logistics company that already has these last mile solutions in place. As you would hire an accountant to look after the books, hire a specialist logistics agency to handle the last mile delivery on your behalf.
And that about sums it up: automate, plug into a high-quality e-commerce shipping app and consult the experts. Then, fine-tune your supply chain at every turn, collect as much data as possible, and use that data to make the necessary changes in your processes.
SEE ALSO
How Does Transportify Tackle Last Mile Visibility?
As mentioned earlier in the article, having greater last mile visibility is handy when a customer calls you up and inquires about the current status of their order. Well, Transportify takes it one step further by removing the need for customers to contact you. How? With a state-of-the-art GPS tracking application.
Customers who use Transportify don't need to sit and wonder where their package is because they can track it in real time using our free application. This provides the customer with total visibility, thus alleviating their concerns and providing them with a unique opportunity to plan their time accordingly.
For example: if they can see that the delivery is on its way but perhaps an hour or two away, they can head out confidently to carry out a quick errand, ensuring they can be home on time and ready to receive the order. This level of flexibility increases brand loyalty and customer retention because without offering them a live cam-feed or a seat in the delivery vehicle itself, there is nothing else that you can offer the customer in terms of visibility; it's as transparent as it gets.
When you partner with Transportify, you can keep your customers in the loop throughout the last mile delivery process. But that's not all:
Remain proactive throughout
Communicate any changes both to the customer and the delivery driver
Broadcast any on-demand requests as necessary
Add and respond to last-minute customer requests
Boost efficiency throughout
Trigger follow-ups
Notify partners and report events
Prevent potential delays
Reduce customer anxiety
Have all the necessary information should a customer contact you for an update.
Want To Learn More About Last Mile Delivery Visibility?
If you'd like to explore this further and learn more about how Transportify can help you improve your last mile delivery, thus leveraging a wide variety of benefits, please do not hesitate to contact us today. We happily invite you to a free consultation where one of our friendly experts can answer any questions you may have and walk you through the painless integration process.
| | | |
| --- | --- | --- |
| | or | |
Frequently Asked Questions:
What is last mile visibility?
🚚 Last mile visibility is the ability to track and manage your inventory as it moves from your distribution center to its final destination – whether that's a retail store, customer's home, or another type of point of sale. This inventory management is critical for businesses that rely on just-in-time deliveries, as it allows them to ensure that their products are where they need to be when they need to be there.
What are the benefits of last mile visibility?
🚚 Last mile visibility has many benefits, including reducing costs, improving customer service, and increasing operational efficiency. By having visibility into the status of deliveries, companies can make informed decisions about how to best utilize their resources. This leads to reduced costs and improved customer service. Additionally, last mile visibility can help increase operational efficiency by providing insights into where shipments are being delayed or held up. This information can then be used to optimize delivery routes and schedules. Ultimately, last mile visibility provides a wealth of benefits that can create a competitive advantage for businesses.