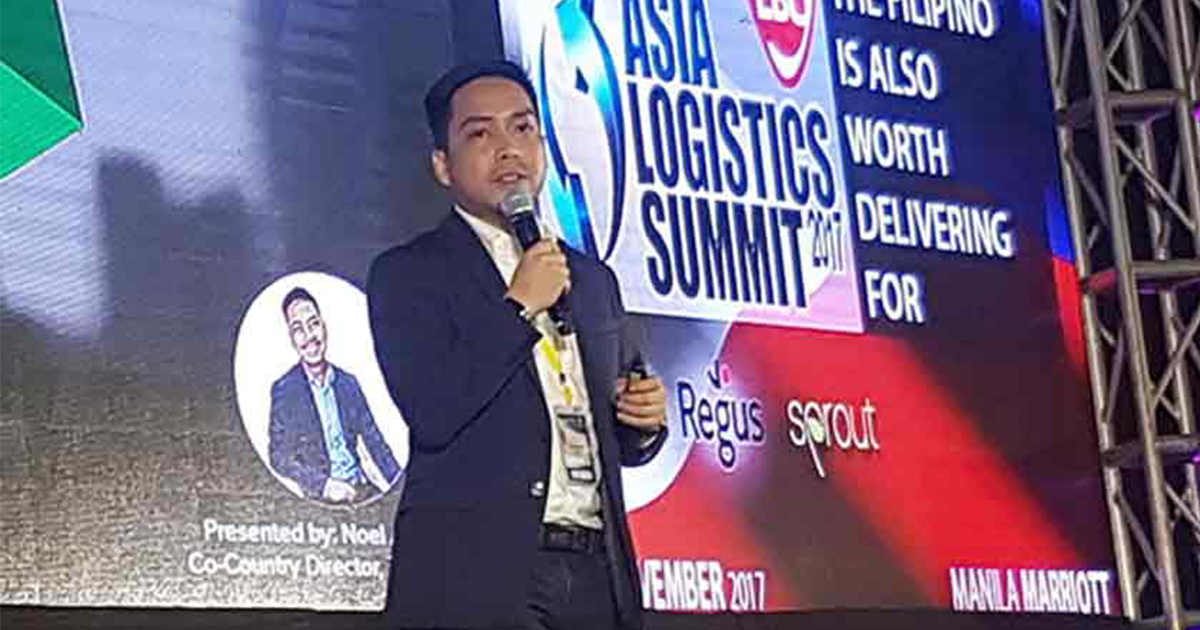 Transportify Philippines' Co-Country Director and Head of Sales and Marketing, Noel Abelardo, was one of the featured presenters at Asia Logistics Summit 2017, the nation's premier logistics industry event. The event was held last November 24, 2017, at the Manila Marriott Hotel in Pasay City, Metro Manila.
In line with the event's core, Abelardo presented a discussion titled Changing Logistics Through Technology. In his talk, Abelardo tackled local 3pl logistics matters and how they affect the country's economy, environment, and social affairs. He also discussed how today's logistics system is more suited for yesterday's customers and went on to talk about the real demands of today's customers, as well as the operational problems that prevent the country's growth. He also included the benefit of Transportify as an on-demand delivery app. Abelardo ended his discussion by emphasizing how technology can be a solution to improve the Philippines' logistic problems.
Aside from Abelardo, other speakers from different logistics solution provider such as LBC, UPS, Airfreight 2100, and many others attended the event. Asia Logistics Summit 2017 brought together the elites of the business world that are changing the supply chain logistics services and management, not just in the Philippines but all across Southeast Asia, to share and present ideas that can help improve the economy.
Asia Logistics Summit 2017 is a full-day event featuring the leaders of the logistics solution industry. The event was presented by LBC Business Solutions and organized by Asia CEO Events. LBC Business Solutions is an air, sea, and land freight logistics solutions provider, while Asia CEO is the organizer of the largest business forums and summits in the Philippines.
Here's a table to give you a quick summary of our rates and pricing:
Vehicle Type
Dimensions/
Weight Limits
Base Price


(Metro Manila)

Base Price


(Outside Metro Manila)

Base Price


(Visayas/Mindanao)

Wing Van 

32 to 40 x 7.8 x 7.8 ft




12000kg to 28000kg

7500 PHP

6500 PHP

6500 PHP

6w Fwd Truck

18 x 6 x 7 ft




7000kg

4850 PHP

4850 PHP

4850 PHP

Closed Van

10 to 14 x 6 x 6 ft




2000kg to 4000kg

1800 PHP

1450 PHP

1450 PHP

Open Truck

10 to 21 x 6 ft x open




2000kg and 7000kg

2300 PHP

1950 PHP

N/A

L300/Van

8 x 4.5 x 4.5 ft




1000kg

430 PHP

330 PHP

310 PHP

Small Pickup

5 x 5 ft x open




1000kg

310 PHP

250 PHP

220 PHP

Light Van

5.5 x 3.8 x 3.8 ft




600kg

250 PHP

192 PHP

225 PHP

MPV/SUV

5 x 3.2 x 2.8 ft




200kg

160 PHP

130 PHP

140 PHP

Sedan

3.5 x 2 x 2.5 ft




200kg

140 PHP

110 PHP

120 PHP
How to Choose a 3PL Logistics Solution Provider
Moving products from one location to another may sound a bit easy; however, it is harder than people may imagine. So, in 2023, here's how you can pick the right logistics solution provider for your business.
If you are looking for a 3pl logistics service provider in the Philippines, you are probably aware of today's topic. Choosing a logistics solution provider in 2023 is not an easy task. Having the correct decision in the right manner will require careful research, extensive number crunching, and thorough consideration.
This is because a modern 3pl logistics company does more than just move goods from one destination to another and make shipment deliveries. A logistics solution provider is responsible for planning, implementing, controlling, and tracking the movement of products and information from destination A to destination B.
The 3pl logistics and trucking company should also be responsible for the safety and security of the goods during the transport. Everything that may happen to the packages during the transit should fall under the responsibility of the third party logistics solution provider.
Reasons You Might Need a 3PL Logistics Provider
Picking the right 3pl logistics company in 2023 is one of the crucial moments for every business. The logistics solution provider you choose will significantly impact the level of customer satisfaction and experience you can get.
Moreover, the cost-effectiveness and efficiency of your whole supply chain will solely depend on the business logistics company that you choose. It is a more prominent 3pl logistics selection criterion for every business.
Several logistics solution companies manage your business's entire supply chain process or a particular part of it, like transportation, tracking software, or warehousing. So, depending on your business needs, you can pick a logistics solution company that handles all logistics functions or select a few.
In the Philippines, the need and demand for logistics solution provider services have risen these past few years since the fusion of eCommerce and online selling. Online sellers have complex and extensive supply chains; that's why they need efficient and reliable logistics solution companies to manage their products' movement to make timely deliveries to their customers.
The aspects of a proper supply chain should include transportation, shipping, storage, product handling, security, tracking, management, distribution, packaging, and, lastly, deliveries. Not only that, but logistics solution companies should also take care of the added corollaries to the supply chain management, such as taxes, licenses, and regulations. Coordinating these functions without exceeding the business budget is an efficient and effective 3pl logistics company.
Lots of Options, But Only One Appropriate Choice
This is why picking the appropriate 3pl logistics partner is a crucial decision. Performing all the mentioned functions in-house can cost you a lot. Most importantly, they are time-consuming, as you will need to hire and maintain your entire logistics department for shipment purposes. With that said, it will be too hard for your business to execute these functions, especially if you're just a start-up or a small business owner with no established players in the market.
This is where outsourcing will play its role. Outsourcing your logistics needs can be supremely beneficial not only for your business but for your employees as well. Many logistics solution provider offers economical and competitive rates as well as giving an efficient and timely service.
There are many options when choosing the appropriate 3pl logistics company for your business. However, you need to know that not all of these logistics solution companies will be the perfect match for you.
Below is the following list of the things you might need to consider in a logistics solution company. You must do it right when planning to outsource your logistics needs to another firm. Remember these factors, and sure, your business will grow further.
SEE ALSO:
Characteristics of Excellent 3PL Logistics Providers
When you select a 3pl logistics company to work with, you want someone who can correctly deliver your products to your customers without mishaps and hassle. Also, they should be able to deliver the packages in perfect condition while upholding the standards and principles of your business.
Your chosen logistics solution provider will become your representative when interacting with your customers, and they must do what's right based on your business standards. Your business's long-term achievement, customer loyalty, and trust will depend heavily on your decision.
The following are some aspects that you need to consider when you set out to select a logistics solution company:
1. Capacity and Coverage
Different companies have different requirements. To make the best decision, you need to understand your needs in this area, the number of goods that must be transported, and the location. You must match your requirements to what the logistics solution company is offering.
2. Customer Service
You also need to know what kind of customer service a logistics firm can provide. This is the essential 3pl logistics criteria because the quality of their customer service will affect your business.
3. Experience and Stability
You must also know their experience when it comes to shipment and deliveries. They should have a proven track record for their success so you can ensure that your business shipping needs are in the right hand.
4. Speed and Reliability
Of course, no customers want to wait longer for their packages to arrive. You should see that a logistics firm is reliable regarding speed and reliability. They should be able to deliver a specific item on time and undamaged.
Mentioned above are some of the most crucial aspects to consider when selecting a logistics company for your business. You must also check the technology these logistics companies use, their area of expertise, and their proven track records. Making the appropriate decision will help keep your customers happy and loyal to your business, so you can be more profitable for years to come.
| | | |
| --- | --- | --- |
| | or | |
Frequently Asked Questions:
Who offers the most affordable logistics service in Metro Manila?
✔️Maersk and Yusen Logistics are some of the leading international logistics players. In Southeast Asia, different services are available to help you with your logistics needs. If you're an SME looking for a cheaper alternative, Transportify is an on-demand logistics app that has a unique pricing matrix that makes it 40% more affordable compared to the traditional logistics companies. And being powered by a high-tech app makes it very easy to use and accessible to virtually anyone.
Who is the best logistics solution provider in the Philippines?
✔️There is no considered the best logistics solution for all services. The best logistics service depends on what type of business it works with the most efficiently. LBC is a known household brand for individual parcel deliveries. Grab Express and Lalamove are courier services that offer small packages and immediate deliveries. Transportify is one of the best logistics solution providers for ground transportation. Its choices of vehicles of various sizes make it an ideal choice for businesses with larger types of equipment. With the help of its tech-based services, this allows them to operate 24/7, 365 days a year.