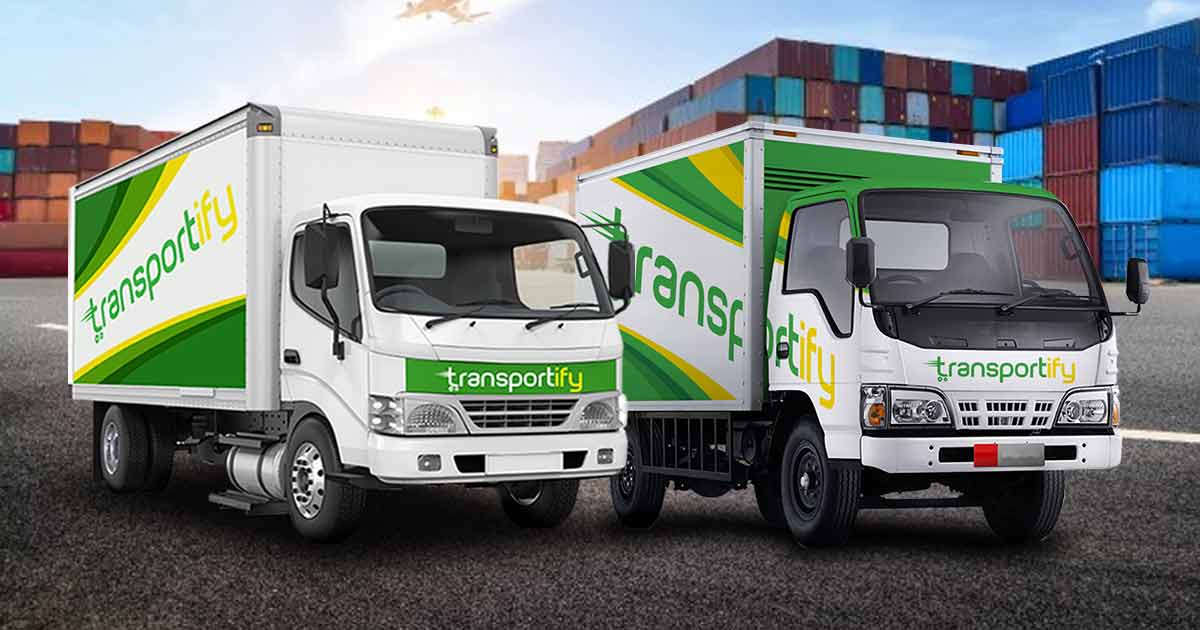 Here at Transportify, we value client awareness about our services, pricing, and vehicles for the best experience. Transparency with our prices builds customer trust, and client awareness helps make transactions more convenient. With these in mind, we aim to inform our current and future clients about one of our largest vehicles available: Our 4 wheeler closed van, and 6 wheeler closed van. Here's a table to give you a quick summary of our delivery closed vans for rent.
Fleet
Base Price
Size
Closed Van
Extra Space
P2,550
L: 280 cm
W: 205 cm
H: 205 cm

Closed Van
P2,150
L: 200 cm
W: 180 cm
H: 175 cm
Want to know about the best closed van for rent? Read below to learn more about our available closed vans for delivery and logistics services.
Elf and Canter
Clients who have frequented our Fleet & Pricing page often see that there are two truck models under the Closed Van Option: Elf and Canter. Although both are available in 4 wheels and 6 wheels, and both have the same maximum capacity, it is important to note that these two Transportify trucks we are offering have slight differences.
According to carused.jp, a Japanese website for Japanese-made cars, Isuzu Elf trucks are powerful but easy to drive with light engine noise. These also have strong and stiff seats. However, Mitsubishi Canter trucks have very durable engines, solid engine noise, and comfortable seats.
Size and Weight
Known for offering huge spaces, the 4 wheeler closed van can carry as many as 31 XL balikbayan boxes (200cm long x 180cm wide x 190cm high x 7m3 volume), which is approximately equivalent to a complete sala set composed of a sofa and a couple of armchairs. They could even withstand a maximum weight of 1700kg. If you need more space, you can also use the Extra Space service to get the 6 wheeler closed van that can accommodate packages equivalent to 62 XL balikbayan boxes (280cm long x 205cm wide x 205cm high x 12m3 volume), enough space for a King Size bed. It also allows up to a maximum weight of 1900kg.
Standard Fare Pricing
Standard fare for our 4 wheeler Closed Van starts at P2150 and an additional P50 per succeeding kilometer. Of course, Extra Services are available. The Add Destination service only costs P100 per additional destination with a limit of 15 destinations. Upgrading to a 6 wheeler closed van costs an additional P400, and you just need to tick the Extra Space Option. One Extra Helper is already provided to help the delivery driver-partner, but if you want to go for a Second Extra Helper, it will cost P200 per destination for 1-2 stops, and P50 per destination for 3-10 stops and free from your 11th-15th stop.
Full-Day Option Pricing
The flat price for renting the Transportify Closed Vans for a full day is P6000. This option covers 10 hours of a day. If you wish to rent the truck for more than 10 hours, there will be a fee of P150 for every hour beyond the given 10 hours. For Extra Helper service, there is already one Extra Helper provided for the driver and availing a Second Extra Helper will cost P400 per helper.
No need to worry about the destination limit, too. We are offering the Full Day Option that grants clients unlimited destinations as long as the destinations are within the Standard Service Area. For destinations outside the Standard Service Area, you may contact our customer support for inquiries.
Benefits
Booking our delivery closed van for rent has a number of benefits. For one, they are very efficient for big and heavy appliances or furniture like two-door refrigerators and four-poster beds. Another benefit is that one extra helper is automatically provided for both Standard Fare and Full Day Options. Truck bans are not much of a hindrance since our delivery driver-partners are trained to find the quickest alternative route possible.
Here at Transportify, we make sure that even our biggest vehicle models from the Closed Van Option can be flexible enough to fulfill our promise in giving the best trucking & delivery services in the Philippines.