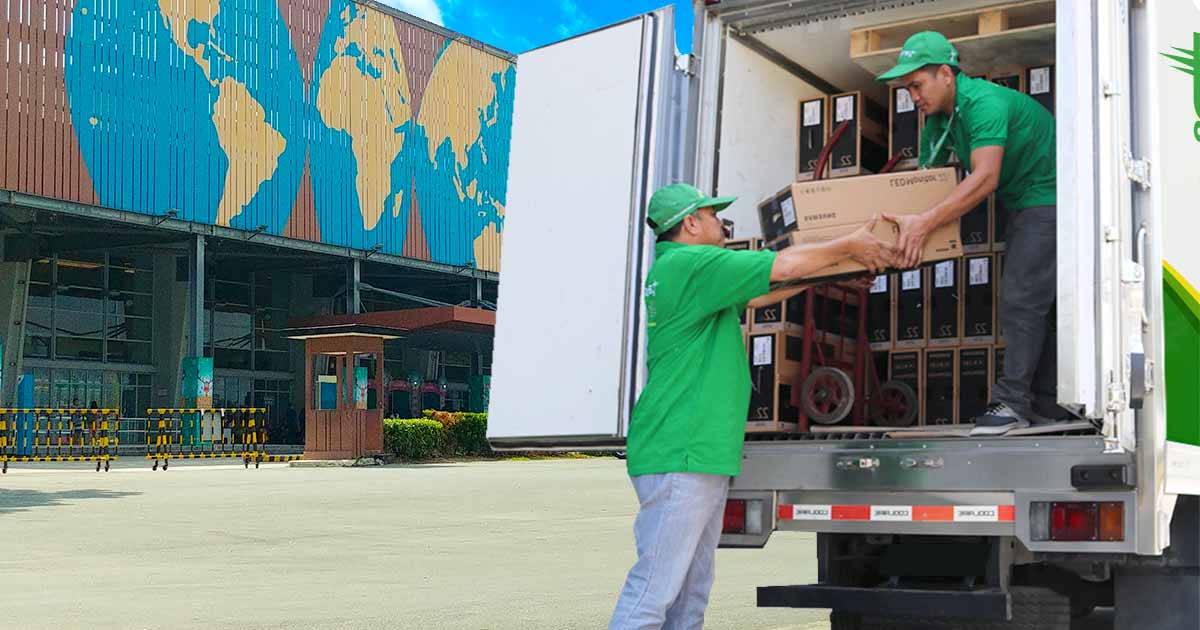 Have you ever experienced having to go to bazaars and events with no idea how to transport goods and booth materials to the venue? This holiday season, worry no more with Transportify's affordable truck rental services and on-demand delivery for 2023.
Event logistics for Christmas bazaars, expos, and conventions require a safe and convenient way of transporting products, catering, booth materials, sound system, and sometimes even large tents. Transportify will cater to your event logistics needs at the lowest cost with our kilometer based or full day pricing. Boasting our affordable truck rental services rates that's unparalleled to traditional truck rental services. Our app has an average of 4.8 rating on the Google Play Store showing much customers love us.
Schedule or Book On The Spot
Unfortunate circumstances happen unexpectedly at the last minute like the unavailability of any company vehicle or any company driver on the day of the event. Unbelievably, For times like these, you can count on Transportify's truck rental services that you can book 24/7. We can accommodate the pickup and drop-off needs as long as the pickup is scheduled no less than 60 minutes after the transaction and there is a Transportify vehicle within your area to help you in all your 2023 events.
Whatever You're Moving, We Got You Covered
Different events and bazaars call for various products, and we all know how all products come in different shapes and sizes. Whether you're eager to showcase and sell your beautiful furniture at the prestigious interior bazaar or sell the latest ready-to-wear clothing line in that infamous summer bazaar, you won't have to worry about your means of transporting your goods for 2023. With Transportify's unbelievably trucking services for hire, you have the option to choose what truck size to rent and allowing you to save more. Pay only on what vehicle you selected and the distance. Never have to contact traditional trucking companies for your event logistics.
Vehicle Type
Dimensions/
Weight Limits
Base Price


(Metro Manila)

Base Price


(Outside Metro Manila)

Base Price


(Visayas/Mindanao)

Wing Van 

32 to 40 x 7.8 x 7.8 ft




12000kg to 28000kg

7500 PHP

6500 PHP

6500 PHP

6w Fwd Truck

18 x 6 x 7 ft




7000kg

4850 PHP

4850 PHP

4850 PHP

Closed Van

10 to 14 x 6 x 6 ft




2000kg to 4000kg

1800 PHP

1450 PHP

1450 PHP

Open Truck

10 to 21 x 6 ft x open




2000kg and 7000kg

2300 PHP

1950 PHP

N/A

L300/Van

8 x 4.5 x 4.5 ft




1000kg

430 PHP

330 PHP

310 PHP

Small Pickup

5 x 5 ft x open




1000kg

310 PHP

250 PHP

220 PHP

Light Van

5.5 x 3.8 x 3.8 ft




600kg

250 PHP

192 PHP

225 PHP

MPV/SUV

5 x 3.2 x 2.8 ft




200kg

160 PHP

130 PHP

140 PHP

Sedan

3.5 x 2 x 2.5 ft




200kg

140 PHP

110 PHP

120 PHP
Transporting Food or Other Delicate Items?
Are you selling cupcakes in bazaars or attending food expos? We can sure handle that! All Transportify's vehicles are enclosed and offer ample space to avoid any damages from outside factors. Unbelievably, our vehicles can keep food products fresh with air-conditioning and protection from sunlight and rain. Lastly, Our delivery driver-partners are trained to transport goods as delicate as food products carefully.
The same goes for flowers; If you need a vehicle to transport your flower and potted plant merchandise to a bazaar venue or a means to deliver flower decorations to a wedding reception, we got your back. Flower delivery is one of Transportify's many areas of expertises. Along with our same-day delivery service, event organizers can trust that Transportify can deliver flowers and other items if a sudden need arises.
Now that you know Transportify and how we've garnered 4.8 ratings this 2023, we'll also share useful tips regarding renting a truck for a special event. You need to consider things before signing a contract to avoid issues on the actual event date. So, are you ready to be informed?
SEE ALSO
What the Things to Consider Before Hiring Truck Rental Services for Event Logistics?
Generally speaking, not all affordable truck rental services are created equally just like a truck rental in Pampanga. Some event logistics can make your moving successful, and others can make it worse and full of hassles. So, to avoid this, you must be fully aware of the things that need to be considered before getting a truck rental service.
As a client, you don't want to waste your money on something that's not worth your time and effort, right? Here in the Philippines, money values are crucial regarding business expenses. As possible as you can, you only want the best for your business and nothing more this 2023.
Especially if you're going to an event showcasing your product, services, and goods to the guest, you want to ensure that all the essential things are in the event place. Because if there are items that were left behind in your warehouse or office, it can affect the overall performance of your business during the event.
1
Find the Right Sized Truck
You don't want to avail of truck rental services that offer a one-sized vehicle for all. Of course, the client's needs may vary depending on the products they sell and the tools they need to bring to an event.
As a client, you don't want to rent a truck that's too small or too big, or else you will see the disappointment in the long run that you may not be able to fit all your belongings. If it is too big, you'll end up paying for the extra space you don't need. Besides, larger trucks are hard to maneuver, so it is highly advisable to choose the truck that will match your size requirements as possible in this 2023.
Also, make sure to jot down all of the belongings you need to bring for the event to give you an idea of what size of truck you need to rent.
2
Call the Truck Rental Service Provider
Once you have settled all your requirements, such as size, jotted down the belongings you need to bring, time, venue, and date, it is now the time to call the rental service provider.
You may enquire about the services they provide and ask about all the possible concerns you have. Ask them questions like:
Are there additional charges for pickup?
Will they provide boxes, labels, safety plastics, and so on? Or do they have additional fees for these?
Knowing these matters will help you decide how to manage your budget effectively and prepare for transport. Also, you can create additional questions and jot them down on paper before calling them. Make sure that all your questions will be addressed and give you a clear explanation so you won't have additional problems during the transfer.
3
Book in Advance
It is not a good idea to book and reserve a truck at the last minute before the event. The earlier you book the truck, the more chances you will get what you need. It is advisable to book as early as one month or a week in advance.
However, it is still okay to book at the last minute, especially here at Transportify, since they can cater to your concerns and provide solutions immediately. But it is always better to book in advance to pick a better truck for your event.
4
Cost and Rates
Truck rental services will consider the size of the truck you want to rent as well as the location and date of the event. The great thing about Transportify is that rates and costs are fixed depending on the location.
We wish you the best of luck in attending or creating such events; hopefully, our tips helped you. And if you need any logistics support, The Transportify app, with an average of 4.8 ratings, is available to you 24/7. We may be an affordable truck rental service app, but our services are top of the line.
| | | |
| --- | --- | --- |
| | or | |
Frequently Asked Questions:
How can I find an affordable truck rental service near me?
🚚 If you're looking for a truck rental in Metro Manila and other areas in Luzon, Visayas, and Mindanao. Transportify has you covered. Transportify has you covered. You can rent our trucks through our web or mobile app at an affordable rate of only P1800 for the base price. Simply download our app using Google Play or Apple App Store and book with your preferred time and vehicle. Our services are available 24/7 365 days a year.

What is the definition of event logistics?
🚚 Event Logistics refers to planning and managing the movement and storage of operations needed in event planning. This includes transmission, storage, and processing of services, materials, and information. If your company is looking for an event logistics provider, you may try Transportify. They have a large fleet for different business requirements at a very affordable price.