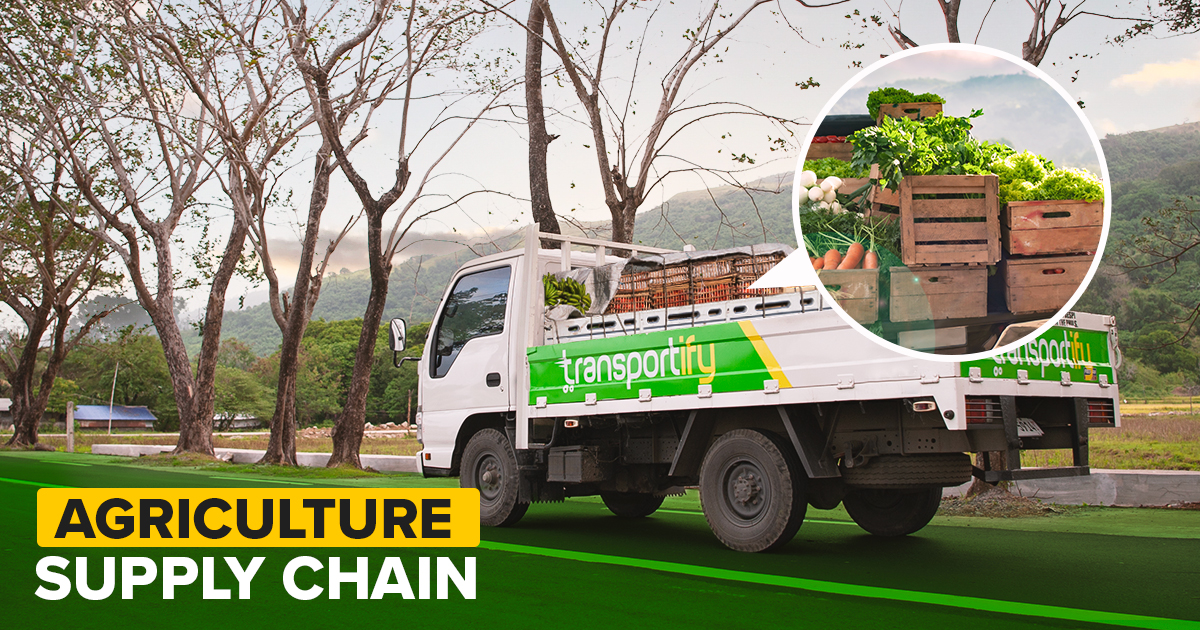 The agricultural supply chain is vital to the Philippine economy because it guarantees food security and promotes rural development. However, there are a number of challenges that can obstruct its growth and sustainability. A recent article by Transportify lists and examines the problems related to the farm-to-table process. These challenges are more significant than we may realize.
What Is Agriculture Supply Chain?
Agriculture supply chain management produces and delivers fruits, vegetables, and animal-based products. It involves farmers, transporters, warehouses, retailers, suppliers, and consumers. It comprises new product development, distribution, finance, marketing, and customer service. Producers, traders, processors, and buyers have structured relationships in a coordinated supply chain.
People's purchasing power has risen globally, particularly in developing countries like India. This has increased consumption of high-value fruits, vegetables, and animal protein. Governments of these emerging economies want to encourage private investment in agricultural marketing infrastructure.
They are making it easier for businesses to enter the market and promoting a coordinated supply chain. For example, some states in India have changed their laws to encourage the creation of private markets, contract farming, and direct marketing. The absence of these schemes in the Philippine market is why our product is expensive.
What Are The Challenges in the Agriculture Supply Chain in the Philippines?
The agriculture supply chain in the Philippines faces significant challenges. These challenges impact the quality and availability of locally-produced food products. The scarcity of fresh and healthful food products and price increases brought on by supply chain inefficiencies are only two issues affecting consumers.
Here are some of the most significant challenges facing the agriculture supply chain in the Philippines and how they can impact consumers:
Inefficient Logistics and Transportation Systems
The Philippines has an inefficient logistics and transportation system, which can cause delays and higher transportation costs. This can reduce the availability and quality of food products, negatively impacting consumers. For example, delayed delivery of fresh produce can result in spoilage and lower-quality products. Additionally, the high transportation costs can make the products more expensive for consumers.
Efficient logistics and transportation are crucial in every stage of the agriculture supply chain in the Philippines. Addressing these challenges is important for the country's agriculture sector's sustainability and development and providing consumers access to fresh and healthy food products.
Limited Access to Finance and Credit Facilities
Smallholder farmers often face restricted access to financing and credit. They are limited in purchasing cutting-edge machinery, tools, and inputs in such a setting. Consumer access to fresh and healthful food products may decline due to lower yields, reduced quality, and lower profitability.
According to a report by PSA, in 2021, the poverty rate among farmers was 30%, slightly lower than the rate of 31.6% in 2018. People living in rural areas and children also had high poverty rates, with 25.7% and 26.4%, respectively. The PSA noted that these groups have more individuals from families with incomes below the poverty line than other groups.
Issues With Product Quality and Safety
Compliance with safety and quality standards is essential to guaranteeing consumer health and safety. Many Filipino farmers, however, struggle to meet these standards. As a result, consumers face health hazards, and the reputation of local food items suffers.
Environmental and Climate Change Concerns
Soil degradation, deforestation, and natural disasters are environmental and climate change issues that can harm the sustainability and quality of food products. As a result, fresh and healthy food options may become less available, which can impact consumers.
According to the Climate Change Knowledge Portal, natural disasters are significantly dangerous in the Philippines. Approximately 60% of the country's land area and 74% of its population are at risk from various hazards, such as floods, cyclones, droughts, earthquakes, tsunamis, and landslides. Over the past 30 years, the Philippines has experienced 565 natural disasters, which have resulted in 70,000 fatalities and $23 billion in damages.
Opportunities In The Agriculture Supply Chain
Value-Adding and Processing
There is a huge potential for creating value-added agricultural items in the nation, given its wealth of natural resources and trained labor. Entrepreneurs could profit from this by producing processed goods with larger profit margins than raw produce, such as dried fruits and vegetables, spreads, and jams.
E-Commerce and Direct-to-Consumer Sales
Selling directly to customers can benefit business owners as online shopping grows popular and consumers demand products made nearby and without chemicals. They can accomplish this without using middlemen by using websites and social media. By doing this, businesses may offer fresher and less expensive products..
Agricultural Technology
Technology is used in precision agriculture to improve farming techniques, including fertilizing and planting. For instance, GPS-guided tractors can be set up only to apply fertilizer where required and plant seeds in precisely measured rows. This saves money and cuts down on waste.
Utilizing sensors and other technology allows for real-time crop, weather, and other variable monitoring in smart farming. Using this knowledge, data-driven decisions may be made regarding the best time to irrigate, fertilize, and harvest crops.
For instance, farmers can employ soil moisture sensors to ensure crops are watered only when necessary. This reduces water use and lowers the chance of overwatering.
Blockchain technology is another example of how technology transforms the agriculture supply chain and enhances traceability and transparency.
Farmers, wholesalers, and retailers can trace items from the farm to the shelf using blockchain technology, assuring their high quality and sustainably produced. This can increase customer confidence and support for organic and local farming techniques.
Logistics and Transportation
The construction of new roads and transportation management systems can help entrepreneurs better manage the movement e of their agricultural products. By making supply chains efficient and dependable, entrepreneurs can ensure that their products are delivered promptly and with lower expenses. This advantage can help them compete more effectively in the market.
The Tarlac-Pangasinan-La Union Expressway (TPLEX) is one example of a new road in the Philippines that can help with quicker deliveries of products. This 88.85-kilometer expressway links the cities of San Fernando in La Union, Urdaneta and Rosario in Pangasinan, and Tarlac province.
Now that the TPLEX is operational, farmers in Tarlac and surrounding provinces may transport their goods to important Northern Luzon cities more efficiently and quickly. As a result, fresh food may be transported to markets and retailers more quickly and with less risk of loss. Additionally, the TPLEX lowers transportation expenses and travel times, enabling business owners to sell their goods for more affordable prices.
Sustainable Agriculture
Entrepreneurs can create companies focusing on sustainable agricultural supply chain methods as consumers prioritize eco-friendly items. Entrepreneurs can differentiate themselves in the market by producing goods that appeal to environmentally concerned consumers using eco-friendly farming techniques and renewable energy sources.
Transportify Your Goods From Farmlands To Market
Transportify is a nationwide logistics app that can help farmers and business owners move their products from farmlands to city markets. Our company provides a variety of services to help you get your products from the farmlands to the markets quickly and safely. We have an array of vehicles, including trucks and vans, to meet your demands.
Vehicle Type
Dimensions/
Weight Limits
Base Price


(Metro Manila)

Base Price


(Outside Metro Manila)

Base Price


(Visayas/Mindanao)

Wing Van 

32 to 40 x 7.8 x 7.8 ft




12000kg to 28000kg

7500 PHP

6500 PHP

6500 PHP

6w Fwd Truck

18 x 6 x 7 ft




7000kg

4850 PHP

4850 PHP

4850 PHP

Closed Van

10 to 14 x 6 x 6 ft




2000kg to 4000kg

1800 PHP

1450 PHP

1450 PHP

Open Truck

10 to 21 x 6 ft x open




2000kg and 7000kg

2300 PHP

1950 PHP

N/A

L300/Van

8 x 4.5 x 4.5 ft




1000kg

430 PHP

330 PHP

310 PHP

Small Pickup

5 x 5 ft x open




1000kg

310 PHP

250 PHP

220 PHP

Light Van

5.5 x 3.8 x 3.8 ft




600kg

250 PHP

192 PHP

225 PHP

MPV/SUV

5 x 3.2 x 2.8 ft




200kg

160 PHP

130 PHP

140 PHP

Sedan

3.5 x 2 x 2.5 ft




200kg

140 PHP

110 PHP

120 PHP
You can book our heavy-duty and high-capacity vehicles like the Open Truck, 6w Fwd Truck, and Wing Van for transporting goods such as rice, animal supplies, produce, and other items to and from the farm.
We understand how critical it is to get your items to their destination in one piece and on schedule. Our app has GPS tracking technology to ensure you have a good experience. Track the progress of the booking while it's in transit and receive timely updates from our drivers. We also have 24-hour customer service in the event of an issue.
| | | |
| --- | --- | --- |
| | or | |
Frequently Asked Questions:
🚚 What is the importance of the agriculture supply chain?
The agricultural supply chain is essential for getting various agricultural goods from producers to consumers. This comprises, among other things, fruits, vegetables, and animal-based products. It makes sure that these goods are sold on the market quickly and fairly.
What are the benefits of using technology in agriculture?
🚚 Farmers now have access to technology to increase their production and profitability. They can eliminate the need for manual work by using robots and drones, saving costs and enhancing output. This technology can also help with better insect management, increasing crop production. In contrast to other nations, the Philippines has not yet adopted it widely.