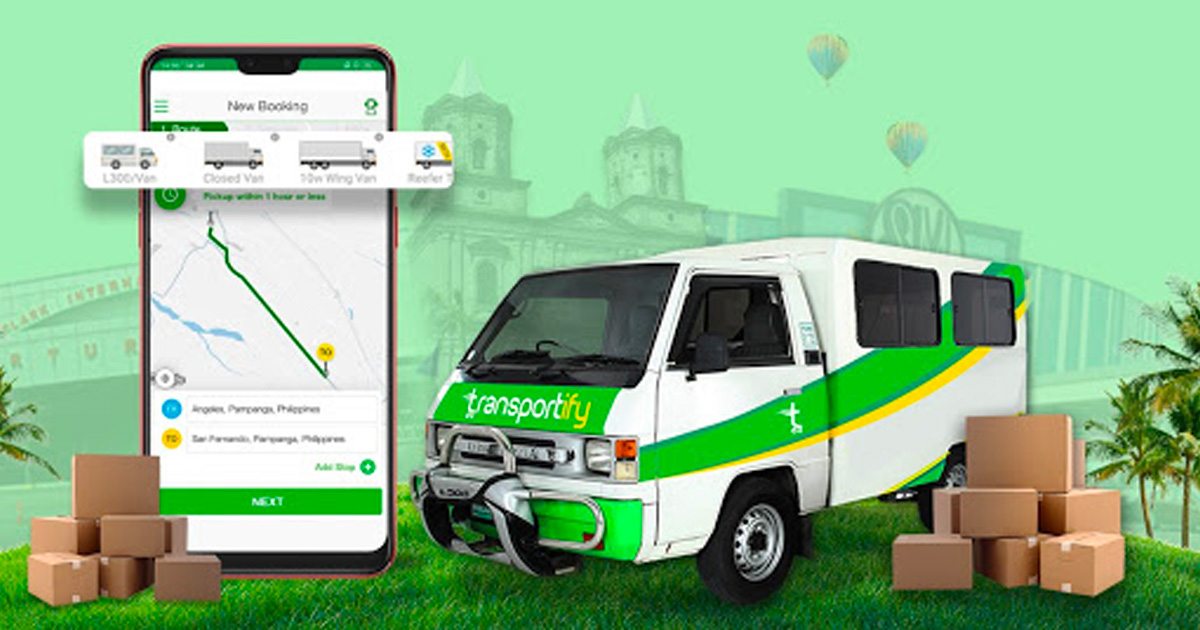 Our mission was to not only provide our customers the fastest, most adorable, and efficient truck rental in Pampanga with our service for truck rental; but to improve the industry as a whole. So far, we have done a brilliant job of this.
But what is it about the way that we operate, which has contributed to our continued success?
1Affordable delivery services
According to the Businesses Inquirer in 2018, logistics costs in the Philippines are among some of the highest in the ASEAN region. Again, this is something that we, at Transportify, are continually striving to alleviate.
As a result of this, we are proud to offer some of the most competitive prices for lipat bahay services and truck rental in Pampanga and the rest of our service area. Check our pricing table below:
Vehicle Type
Dimensions/
Weight Limits
Base Price


(Metro Manila)

Base Price


(Outside Metro Manila)

Base Price


(Visayas/Mindanao)

Wing Van 

32 to 40 x 7.8 x 7.8 ft




12000kg to 28000kg

7500 PHP

6500 PHP

6500 PHP

6w Fwd Truck

18 x 6 x 7 ft




7000kg

4850 PHP

4850 PHP

4850 PHP
Closed Van

10 to 14 x 6 x 6 ft




2000kg to 4000kg

1800 PHP

1450 PHP

1450 PHP

Open Truck

10 to 21 x 6 ft x open




2000kg and 7000kg

2300 PHP

1950 PHP

N/A

Mini Dump Truck

10 x 6 ft x open




2000kg

1500 PHP

1200 PHP

N/A

L300/Van

8 x 4.5 x 4.5 ft




1000kg

430 PHP

330 PHP

310 PHP

Small Pickup

5 x 5 ft x open




1000kg

310 PHP

250 PHP

220 PHP

Light Van

5.5 x 3.8 x 3.8 ft




600kg

250 PHP

192 PHP

225 PHP

MPV/SUV

5 x 3.2 x 2.8 ft




200kg

160 PHP

130 PHP

140 PHP

Sedan

3.5 x 2 x 2.5 ft




200kg

140 PHP

110 PHP

120 PHP
For companies who are looking for a way to cut back as much as possible, we would highly recommend heading over to our business page. There you will find information on how to enroll in our Business Program.
2Fast and efficient
For many years, a high-tech app in Pampanga (and the rest of the Philippines) was not much recognized. This is why we saw an opportunity to raise the bar and start providing high-quality and reliable delivery services through an app for truck rental in Pampanga to our customers.
Our state-of-the-art GPS technology has been a huge contributing factor to deliver items quickly and efficiently (besides our incredible Driver Partners, of course). Our app allows customers to track their drivers and orders in real-time. This was a significant breakthrough for the Philippines and had a massive knock-on effect on the way that businesses operate.
In the past, online delivery and app for truck rental in Pampanga was almost unheard of. Now, we are dominating the industry with the services from Transportify. Customers can easily find a van or truck rental in Pampanga to send their goods faster. With this, businesses can interact with one another more efficiently.
3The nearest drivers respond
Another huge selling point that sets us apart from our competitors is how we assign drivers to specific orders. To maintain such speed and efficiency, we assign the nearest possible drivers to a collection point at any given time.
This means that you get a truck rental in Pampanga ready to pick-up your items and deliver them to your desired destination. Our innovations in this area have a lot to do with why we're performing so well.
4From Baguio to Batangas
At Transportify, we're proud to say that our service area is forever growing. As it stands, we are making fast and efficient deliveries up north in Baguio City, all the way down to Batangas! As we grow, so too will our service area, and more and more people will be able to get car and truck rental from a simple and effective delivery service.
5We're with our customers and clients every step of the way
More and more people are opting to use Transportify as their local logistics company and moving partner for lipat bahay and truck rental in Pampanga because of the high standards of customer service that we provide.
Another high selling point for our services is the fact that we have a 24/7 customer service line, including live chat through our website. This means that our customers can contact us at any given time to check on their orders.
Know more about Transportify App for Truck Rental Pampanga
The logistics industry in the Pampanga is a long way from perfect. However, we're delighted to be a part of the positive progress that we have been experiencing through recent years. If you are interested in exploring our app for truck rental further and experiencing first-hand, why we've been so successful throughout Pampanga, Metro Manila, and Baguio, then contact us today!
Essential Tips to Prepare Your Business for Same Day Delivery Process
Now that you have read the reasons why you need an app for truck rental in Pampanga, the next thing you need to do is to prepare your business to cater to the same day delivery process.
Online shoppers have been demanding recently; many of them prefer the convenience of shipping their products as soon as possible. According to a survey, there are 60% of millennials that expect many businesses to offer and provide same-day delivery.
Not only it is famous for parcels and small packages, but it has also become a trend for business suppliers who need to ship and transport a large number of products. Usually, app for truck rental and delivery service is essential for a business that has clients with physical stores. But more often, the app is needed for a sudden event or supplies that required the usage for a specific time of the day, such as wedding supplies, birthdays, company events, conventions, and so on.
Most of the time, these kinds of events are the one who needs supply. These supplies are essential to fill their empty shelves and stores with lots of products they are selling. Or perhaps, they need the supply to execute successful events, as mentioned earlier. Without the supplies, they won't be able to meet the expectation of their clients for that day.
If you choose a delivery service that can only offer small vehicles for transport, then maybe it is not enough to cater to your needs, especially if you're shipping hundreds or even thousands of products to your clients.
Why Is App for Truck Rental Important?
There are many reasons why a business should need to embrace the method of fast shipping and delivery – and here is the following explanation to prove that.
First and foremost, in today's digital era where everyone depends on the internet like Millennials and Gen Z, have embraced the convenience of same-day delivery method. As the demand continues to increase, the purchasing power and processes also change in the world of the business industry today.
So if you're target audience is Millennials and Gen Z, it is now the right time for you to look for a reliable app for truck rental. According to a survey, there are 50% of online shoppers say that a same-day delivery feature from business makes them, even more, to buy from that shop.
Also, almost 30% of online buyers will be more likely to abandon and ignore a business or supplier if they don't have a same-day shipping feature in their shop. In short, your business should totally embrace and prepare for the age of high-tech app for truck rental in Pampanga. Or else, you will get left behind by your competitors!
Steps to Prepare Your Business for Same Day Delivery Service
Aside from product fulfillment, your business should also deliver product orders within a 24-hour timeframe. So, to help you ease that process, here are some simple tips that you can do to make it easier:
Test Your Business Website: You must check if everything on your website is working correctly and seamlessly. For your customers to make order placements easier and faster, make sure that your website will load quickly as possible. Also, items and product listing should be correctly named. Also, checkout method should push through without any glitches.
Hire a Reliable Logistics Provider: If your business is residing in Pampanga, you should need to pick the best company that offers truck rental in Pampanga that has an outstanding same day delivery process. Besides, your chosen logistics partner is an extension of your business, so no matter what they do, regardless if positive or negative, it will also reflect on your brand reputation, so always choose wisely.
Prepare Your Inventory: As mentioned earlier, most of the time, same-day delivery is perfect for clients with a sudden event; Usually, they are the ones who require the fast delivery of the supplies within a specific time of the day. So to help them fulfill their tasks, your inventory should be prepared all the time. Meaning you should always have on-hand stocks to cater to the needs of your customers. If you have these kinds of supplies on-hand, sure your customers will keep coming back to your shop!
Ready to embrace the age of high-tech app for truck rental in Pampanga? Contact Transportify for more information. Our friendly customer service representatives will assist you with a smile.
Frequently Asked Questions:
Who offers delivery services through an online app in Pampanga?
?For food delivery, you can try the Mangan.ph app, which operates not only in Pampanga but also in other Northern provinces like Bataan and Tarlac. For transporting cargo and moving houses, you can hire a closed van or wing van using the Transportify app for truck rental from any point in Luzon. You can also book other vehicles like sedan, MPV, L300, and van for smaller cargo. Both applications are available on Google Play Store and Apple App Store.
How much does same-day delivery truck rental costs in Pampanga?
?Truck rental rates from traditional logistics range from ₱2,500 and above depending on the cargo weight and trip duration. Same-day delivery has no guarantee because it is subject to the availability of the vehicle. For the Transportify app, the price starts at ₱1,450 and can be booked at least 3 hours before the pick-up time.