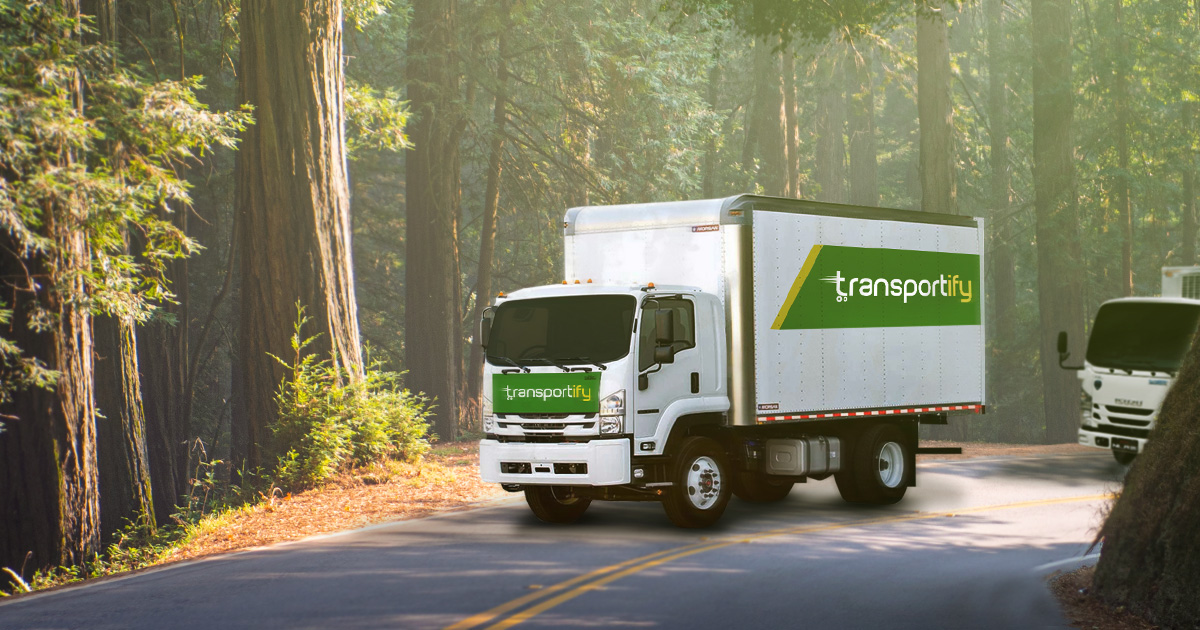 As the local business industry continues to grow because of the efforts of small-to-medium entrepreneurs (SMEs), so does the need for reliable truck rental services and convenient cargo shipping for SMEs to distribute their goods to different provinces, Luzon-wide.
Thus, Transportify logistics company offers SMEs an easy way to reach the distant parts of Luzon so their businesses can grow even more—by extending Transportify's Standard Service Area. A quick solution to this would be to accommodate SME logistics.
Transportify, an on-demand app for truck rental services and other cargo shipping needs, can provide this to you and more. Download the app today.
How Do Truck Rental Services Work?
Before you get too excited about this news, you must know how this provincial truck rental services can be applied to your cargo shipping and delivery requests. The pick-up point must be within the Standard Service Area. Delivery bookings can start from provincial areas outside Mega Manila and its outskirts. This rule applies to all Transportify vehicle types from sedan, MPV/SUV, to L300 vans, to closed van trucks.
For a complete list of our fleet types and rates to our Luzon-wide cargo shipping and truck rental services for SMEs refer to this table below:
Vehicle Type
Dimensions/
Weight Limits
Base Price


(Metro Manila)

Base Price


(Outside Metro Manila)

Base Price


(Visayas/Mindanao)

Wing Van 

32 to 40 x 7.8 x 7.8 ft




12000kg to 28000kg

7500 PHP

6500 PHP

6500 PHP

6w Fwd Truck

18 x 6 x 7 ft




7000kg

4850 PHP

4850 PHP

4850 PHP

Closed Van

10 to 14 x 6 x 6 ft




2000kg to 4000kg

1800 PHP

1450 PHP

1450 PHP

Open Truck

10 to 21 x 6 ft x open




2000kg and 7000kg

2300 PHP

1950 PHP

N/A

L300/Van

8 x 4.5 x 4.5 ft




1000kg

430 PHP

330 PHP

310 PHP

Small Pickup

5 x 5 ft x open




1000kg

310 PHP

250 PHP

220 PHP

Light Van

5.5 x 3.8 x 3.8 ft




600kg

250 PHP

192 PHP

225 PHP

MPV/SUV

5 x 3.2 x 2.8 ft




200kg

160 PHP

130 PHP

140 PHP

Sedan

3.5 x 2 x 2.5 ft




200kg

140 PHP

110 PHP

120 PHP
What about multiple destinations?
For multiple destinations, including far-away provinces in Luzon, Transportify on-demand app for truck rental users must select a pick-up point from Metro Manila. Succeeding destinations can be anywhere in Luzon, but the final drop-off point must be within the Standard Service Area in Mega Manila. Do not worry about the time the distances will cost you if you think your destinations are too far from Manila. Transportify has a Route Optimization Feature, which suggests the fastest and most cost-efficient routes for the delivery vehicle.
Will there be additional payment?
Additional payment will depend on the destination, but Transportify will still live up to its promise of providing affordable cargo shipping through the on-demand truck rental services. We made sure that the final fee will still be budget-friendly despite the additional payment. Transportify will only charge extra payment for pick-ups and destinations outside the Standard Service Area. After all, we are here to provide Filipinos with a sulit delivery service experience.
The logistics revolution will continue as long as there are things to improve the country's logistics industry. Transportify hopes to include more places in the Philippines to its Standard Service Area beyond Luzon-wide coverage in the future. For now, as the need arises, Transportify seeks to provide SMEs with the cargo shipping and truck rental services they need to grow and expand.
What are the Benefits of Cargo Shipping & Truck Rental Services?
Are you one of the business owners who are looking for an alternative way to enhance your online presence and to gain a lot of customers? Of course, you are! You are focusing on tweaking your website, keeping it updated and refreshed every day to make sure that you're generating better traffic.
But most of the time, many business owners tend to forget the very basic fundamental of establishing a good reputation among consumers – and that's the delivery and cargo shipping of products.
Having reliable and fast cargo shipping with your partnered truck rental services provider plays an essential role by keeping your customers happy and loyal to your brand. Today, with the help of the internet, many logistics and delivery provider have already adapted to these changes.
Most of them offer track and trace features on their mobile apps to make assurance with regards to the current insight of their parcels. Some affordable cargo shipping to gain more profits and revenues for your brand.
But the most important thing that you should look for a logistics provider is the quality of their service. Some trucking companies which offer affordable prices can't guarantee quality. Luckily, not all cheap providers give that kind of service. Transportify app also offers affordable prices, but they can ensure the customer's satisfaction.
For them, the most important thing is to bring happiness with both the clients and the client's customer. Also, you must remember that your cargo truck rental services provider is the extension of your business; no matter what services they do regardless if positive and negative, it can affect the reputation of your brand. That's why you must create a wise decision, but with Transportify, everything will be worthy.
If you're curious about the benefits you can get if you use Transportify's truck rental services for your cargo shipping, see them below:
Guaranteed Speedy Delivery
Remember, speedy and on-time cargo shipping is proof of the excellence of your customer service. Customers preferred both the quality of the product they purchase and fast and affordable truck rental services they can get. If a customer receives an item on time, they will become loyal to your brand. The affordable provincial logistics service that can provide you this kind of promise to your customers is definitely worth keeping.
More Savings and Profit
If you hire or partner with a truck rental services company that offers affordable cargo shipping to their customers, you can lessen your business expenses by up to 40%. Moreover, consumers are getting wiser these days, and they prefer to purchase from a seller that gives them free shipping. So, if you shoulder all of your customer's shipping fee, it may cost you higher expenses.
But if you use on-demand truck rental services with quality customer care, you can save thousands of bucks! Plus, customers will be loyal to your brand and will keep coming back for more orders. Sometimes, free shipping is not required, but customers will appreciate it if you can give them at least a 30-50% discount.
Safe and Secure Handling of Packages
Of course, as a business owner, you want your products to be received by your clients in good condition without any damages and cracked inside. However, it can worsen if your chosen truck for rental services provider mishandled your items en route. Even if the damages have happened during the transport, your customer will still believe that you did them, and your brand is not trustworthy when it comes to a high-quality product.
So, always make sure that the items will reach the customer's house on-time and in good condition as much as possible, by choosing the best truck rental services like Transportify for your shop.
Modern Tracking System
The good thing about Transportify, is they offer an outstanding truck rental services through mobile application with advance tech that you can download right to your smartphones. In the app, you can see the current status and insights of your cargo shipping. So you can give assurance to your customers about their shipping.
As a business owner, it is necessary to track the current location of your deliveries to ensure that your clients are getting their orders on time and in good condition. Hence, it helps you a lot if you choose Transportify app that has an efficient and modern tracking system that can give updated information via modern gadgets or communication updates such as phone calls, websites, SMS, and emails.
As a paying customer, you have the right to choose the logistics company you desire to deal with. In the same way, your consumers have the right to select the online store they want to make a purchase.
To establish an excellent brand reputation, you need to hire a trustworthy and reliable truck rental services that can keep up to your promise with your customers. A good logistics partner works like an excellent strategy that can assist you in gaining credibility, expand your market reach, establish your reputation, and grow a successful business.
| | | |
| --- | --- | --- |
| | or | |
Frequently Asked Questions:
Who offers affordable cargo shipping in the Luzon?
🚚For a motorcycle courier, you can book Grab express that would cost around ₱150-₱250. If you need larger vehicles, you can book Transportify, which offers sedans, vans, and trucks with the lowest price starting at ₱120 for the base price +₱20/km.
What app offers affordable truck rental services?
🚚You can find several traditional logistics companies that offer cheap truck rental services in the online marketplace, like Carousell and OLX. You can also try the Transportify app for truck rental services with real-time GPS tracking, which offers 4-wheeler, 6-wheeler trucks, and 10-wheeler wing vans with the lowest price starting at ₱1,800 for the base price.