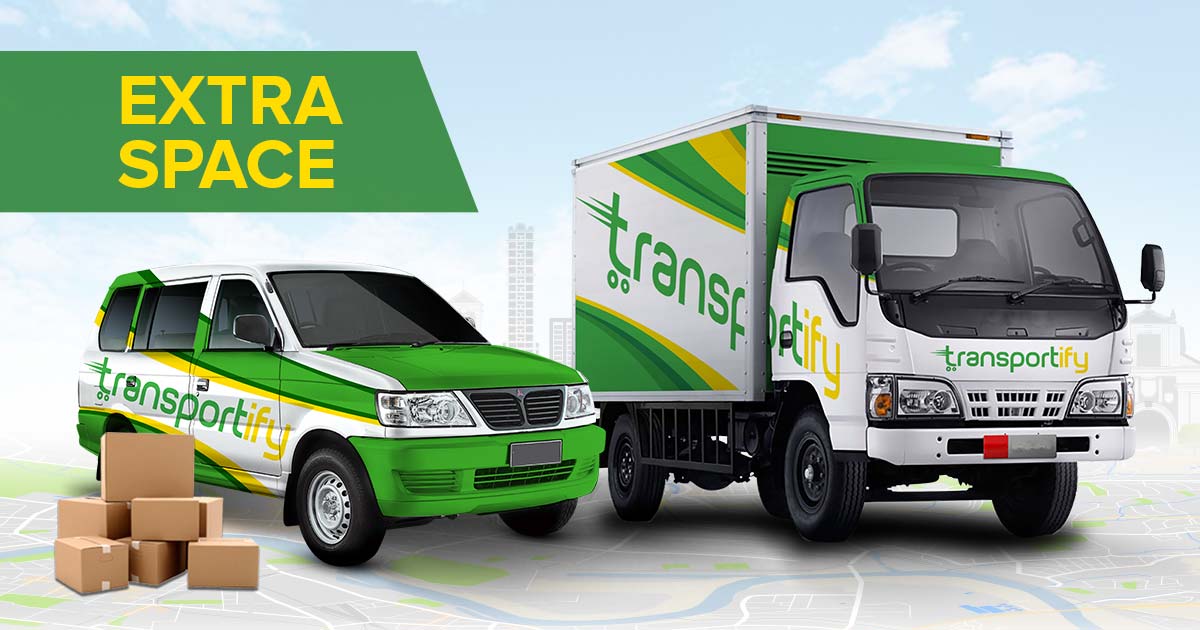 As Manila's smartest third party logistics provider, Transportify gives its valued customers the liberty to decide what specific services they want to include and pay. Through the Transportify app's customization feature, users can monitor and manage their logistics expenses. To further understand the special service features we offer, here is a guide to help you.
Extra Services for Economy Class
Economy Class is comprised of sedan and MPV/SUV cars. As they are not the biggest of the Transportify fleet, Economy Class is often used for smaller and more delicate packages like multi-tiered cakes, flower bouquets, and huge stuffed toys. Sometimes, Transportify clients would like to avail of additional services depending on the truck delivery situation.
Add Destination
Clients may add up to 10 drop-off destinations in one transaction for cargo truck and any deliveries in case he needs to deliver more than one package on the same day. Each additional drop-off destination after the first one is subjected to an additional charge of P40.
Extra Space
Economy Class and Closed Van truck delivery service are the only fleet types that offer an extra space feature. This is for situations when the package/s need a bit more extra space than what the Transportify sedan for delivery service can accommodate, and MPV/SUVs need to be used to transport the packages. If your packages are more than 120cm x 65cm x 80cm in size and 200kg in weight, you can select the extra space service, and our app will immediately match you with an MPV/SUV that can accommodate up to 175cm x 100cm x 85cm in size and 300kg in weight. The extra space service costs a P20 flat fee.
Here's a table to give you a quick summary of our rates and pricing:
Fleet
Base Price
Size
10-W Wing Van
P7,500
L: 32 ft
W: 7.8 ft
H: 7.8 ft
Long Pickup Truck
P4,850
L: 18 ft
W: 6 ft
H: Open
6w Fwd Truck
P4,850
L: 18 ft
W: 6 ft
H: 7 ft
Reefer Truck
P2,700
L: 14 ft
W: 6 ft
H: 6 ft
Mini Dump Truck
P1,500 (Metro Manila)
P1,200 (Other areas)
L: 10 ft
W: 6 ft
H: Open
Closed Van
Extra Space
P2,185
L: 14 ft
W: 6 ft
H: 6 ft

Closed Van
P1,885
L: 10 ft
W: 6 ft
H: 6 ft
Pickup Truck
Extra Space
P2,350
L: 14 ft
W: 6 ft
H: Open

Pickup Truck
P1,950
L: 10 ft
W: 6 ft
H: Open
L300/Van
P440 (Metro Manila)
P365 (Other Areas)
L: 7 ft
W: 4 ft
H: 4 ft
Economy
Extra Space
P150 (Metro Manila)
P130 (Other Areas)
L: 5 ft
W: 3.2 ft
H: 2.8 ft

Economy
P130 (Metro Manila)
P110 (Other Areas)
L: 3.5 ft
W: 2 ft
H: 2.5 ft
Special Help by Driver
If you would instead not lift the package yourself, or would not like your recipients to be bothered with lifting the packages, our trusted Transportify cargo truck delivery driver-partners are at your service. By selecting the Special Help by Driver extra service, our driver-partner will help out in carrying the package in and out of the vehicle. Special Help by Driver extra service costs an additional charge of P60 per destination for the first and second destination, and a fee of P30 per destination for the third up to the tenth destination.
Extra Helper
Extra Helper service is recommended for any or truck delivery requests involving delicate packages like cakes, where the delivery driver would need an extra helping hand to avoid damaging the package. Extra Helper service costs P200 inclusive of two destinations and an additional P50 per added destination.
Extra Services for L300
Transportify's L300 van for delivery also offers extra services and extra space. Our L300 van fleet includes vans other L300. We also provide cargo truck delivery vans such as H100, HiAce, and Urvan. Much bigger than the economy class vehicles, these vans can accommodate packages with a maximum of 210cm x 125cm x 125cm in size and 1000kg in weight and can provide extra space.
Add Destination
For an additional destination for L300 deliveries and truck delivery, the standard fare is P30 per destination, which will be applied after the first destination. Clients may add a maximum of 10 destinations per booking. You can also opt for other vehicles if you need extra space for your deliveries. One of the best examples is a cargo truck that is perfect for large and bulky packages.
Special Help by Driver
Need help in lifting and carrying the packages? Our Transportify truck delivery driver-partner can help you! Just choose the Special Help by Driver when making the transaction on your web or mobile app so our driver will be informed about your preference. The Special Help by Driver extra service will cost an additional P60 per destination for the first two drop-offs, and only P30 for the succeeding other destinations.
Extra Helper
If you think your packages would require two pairs of hands when being carried into and out of the cargo truck delivery van, you can always go for the Extra Helper option. This extra service feature costs P200 inclusive of two destinations and an additional P50 for every succeeding drop-off point.
Extra Services for Closed Van
Cargo truck and closed van trucks and are the biggest among the Transportify fleet. Transportify closed vans for truck delivery have two types of models: Elf truck and Canter cargo truck. Because closed van cargo truck can accommodate a maximum of 31 extra-large balikbayan boxes, they are often used for house-moving and product deliveries. Transportify offers different kinds of truck delivery vehicles to meet your transportation needs. Because here in Transportify, we value our customer's satisfaction.
Add Destination
For closed van cargo truck, the standard fare for Add Destination feature costs P100 for every succeeding drop-off point after the first one. Like Economy Class and L300, additional destinations have a fifteen drop-off limit. You can also opt for our extra space feature if you have a large volume of cargo, and an economy class is not enough for your packages.
Extra Space
If you chose to go for an extra space feature for the Closed Van fleet, Transportify would match you with a larger cargo truck. From a 4-wheeler truck delivery, the client will be matched with a 6-wheeler truck delivery that has a maximum weight capacity of 1,900kg and can accommodate roughly 62 extra-large balikbayan boxes. Our extra space feature costs a P300 flat fee.
Extra Helper
The Extra Helper feature to assist the driver is already included for Closed Van cargo truck transactions. This Extra Helper feature refers to the second Extra Helper that the client might wish to add, so that the Transportify truck delivery driver partner may have two Extra Helpers to assist him in carrying the large and heavy packages.
For more information about the unique services offered by Transportify Philippines, feel free to inquire with our customer service representative.
SEE ALSO:
How to Choose an Excellent Cargo Truck Delivery With Extra Space Delivery Services
When you are planning to hire a third-party logistics company that can offer cargo truck delivery services with extra space, there are tons of essential things that you need to consider. Today, we will discuss these necessary things that you need to do and think, so you can select the most outstanding and reliable logistics company with cargo truck delivery services with extra space feature to meet your delivery needs.
1Do Your Research
If you're new in this industry and you are not yet familiar with the following services a logistics company can offer, the number one step that you need to do is to research. This way, you will have all the necessary information that you need to make a wise decision. You can start by looking for potential logistics companies to work with, which you can narrow down based on their previous client's feedback and complaints if any.
2Ask Around
If you're still undecided, you can ask your family and friends, or the people you trust. You can ask them for a recommendation to narrow down your choices. That way, it can help you to pick the best among the available options you have.
3Contact Your Prospective Logistics Companies
If you've selected a few choices, the next step that you must do is to contact them. Listen to their customer service, jot down any questions you have in your mind, and ask them before you finalize your decision. That way, it will give you all the necessary information that you need before you can finally decide to hire a cargo delivery services provider with an extra space feature.
Ask them about their quotation and the services they can provide so you can have an idea of what to expect from the. If the company is reliable, competent, and trustworthy, you will be able to receive all the necessary information, and they will give it without any hesitation on their end.
Here in Transportify, our customer service representatives will be glad to receive your call and inquires. So, what are you waiting for? Dial our hotline number and start talking with us!
| | | |
| --- | --- | --- |
| | or | |
Frequently Asked Questions:
What service does the cargo truck delivery app offer?
📗 One of the highlighting features of delivery apps is its ease of use. Being to book a cargo truck using a mobile app shows the innovation of technology in the logistics industry. Making the Philippines on the cutting edge of technology. Before, people would have to look for car owners to rent for moving services. These can take days or even weeks of effort to get your items moving. But with a cargo truck delivery app, connecting to a driver with the vehicle you need would only take less than 5 minutes using your mobile phone.
Is there an immediate way to book a truck delivery service in the Philippines?
📗 There are cases where you will need to book cars or vans to transfer items immediately. This used to be a hassle process for both the user and the car owner. But with Transportify, you can book your cars in advance or have them immediately. Transportify has hundreds of economy and van vehicles that are waiting for deliveries to service. Just download the mobile app or use the web app to start booking.