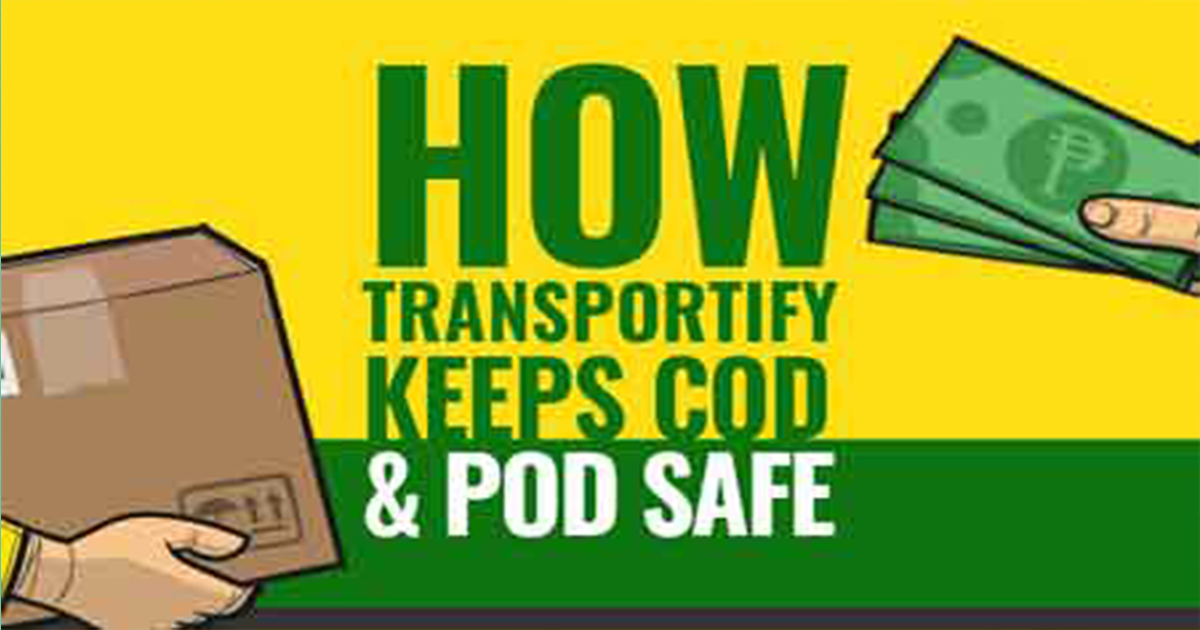 Have you ever wondered how the Transportify cargo delivery company handles that processing of your Cash on Delivery (COD) and Proof of Delivery (POD)? You do not have to wonder and worry anymore! We at Transportify, as one of Manila's best cargo companies in the Philippines, are more than happy to inform our clients how our processes focus on the value of your COD and POD.
1Clarifying information
The first step involves ensuring that everyone, on our end, gathered the correct data. After a Transportify driver-partner accomplished a booking with proof of delivery and cash on delivery service, our dispatch team will call the driver-partner to clarify how much cash on delivery service payment he received and if the payment was in cash or check.
For fleets, prices, and vehicle information, see the table below:
Fleet
Base Price
Size
10-W Wing Van
P8,000
L: 32 ft
W: 7.8 ft
H: 7.8 ft
Long Pickup Truck
P4,850
L: 18 ft
W: 6 ft
H: Open
Reefer Truck
P2,700
L: 14 ft
W: 6 ft
H: 6 ft
Mini Dump Truck
P1,500 (Metro Manila)
P1,200 (Other areas)
L: 10 ft
W: 6 ft
H: Open
Closed Van
Extra Space
P2,350
L: 14 ft
W: 6 ft
H: 6 ft

Closed Van
P1,950
L: 10 ft
W: 6 ft
H: 6 ft
Pickup Truck
Extra Space
P2,250
L: 14 ft
W: 6 ft
H: Open

Pickup Truck
P1,800
L: 10 ft
W: 6 ft
H: Open
L300/Van
P470 (Metro Manila)
P430 (Other Areas)
L: 7 ft
W: 4 ft
H: 4 ft
Economy
Extra Space
P240 (Metro Manila)
P220 (Other Areas)
L: 5 ft
W: 3.2 ft
H: 2.8 ft

Economy
P190 (Metro Manila)
P170 (Other Areas)
L: 3.5 ft
W: 2 ft
H: 2.5 ft
2Finance monitoring
After confirming the amount of cash on delivery service payment the Transportify driver-partner received from our business client's customer, we will input the amount paid in our finance monitoring database. It is important that we have financial records, as Transportify is a reliable third party delivery partner.
3Scheduling remittance
When we have clarified and recorded the correct payment data, the Transportify finance team will then schedule the remittance of cash on delivery service payment. COD remittance schedules are often set from 11 AM to 12 NN and from 6 PM to 7 PM.
4Changing the schedule
If things do not go as planned and the booking involving COD and POD was not completed before 11 AM to 12 NN, the remittance schedule will change, and the cash on delivery service will instead remit from 6 PM to 7 PM. This is because DragonPay has a cut-off at 1 PM.
5Booking completion
For bookings involving COD and POD that were completed past 6 PM, the Transportify finance team will remit the cash on delivery service the next day from 11 AM to 12 NN.
Suppose the quick information we provided on the COD and POD process is not clear for you. In that case, you are more than welcome to contact our customer service representative through our website and relay your inquiries about the Transportify app for delivery service.
The Importance of Cash on Delivery and Proof of Delivery Services in the Philippines
There are 20-25% of consumers who are more willing to pay premiums for an additional service like same-day delivery in today's current delivery industry. Because of this reason, many cargo companies in the Philippines finished the gap between businesses and customer satisfaction by giving outstanding services.
Through technology platforms like an on-demand delivery app that can be accessible in different kinds of modern technology like smartphones, more companies can now offer this kind of service and give more satisfaction when it comes to efficient delivery experience.
Two features have set the bar to the highest level to create a better and satisfying delivery experience and lessen the inconvenience between businesses and consumers. These two are called POD (Proof of Delivery) and COD (Cash on Delivery), which can leverage to go against the continuous on-demand economy in the shipping industry.
POD: What Is It?
POD or Proof of Delivery is a vital component of the shipping or delivery as it acts as an essential acknowledgment to mark that a delivery has been completed.
By using the POD feature, which is commonly available on the Driver app, it gives an assurance that the packages were delivered on its lawful receiver. Moreover, it provides an additional feature to track the current progress of the delivery. It helps both cargo companies and consumers to figure out potential mishaps before it becomes a significant liability.
Proof of Delivery (POD) is a document or acknowledgment receipt of an item. The recipient must sign this document upon receiving the package that indicates the date when the package was delivered to them. A copy of the POD receipt is given to the sender.
Why is POD Essential?
Proof of delivery can save a cargo company in the Philippines additional time and minimize the mishaps between businesses and customers. Today, drivers can get a copy of a customer's signatures, text notes, and photos via the POD feature in the Driver app.
These attachments will sync to the client's and web dashboard orders, making it easier for the operation teams to gather and store necessary information. By giving easy access to Proof of Delivery data, cargo companies can ensure that there are no mishaps and inconveniences between your business and your customers and improve customer service by staying organized.
With the Proof of Delivery feature, many logistics companies can handle last-mile more effectively, efficiently, and lessen the inconveniences throughout the day to keep partner-drivers, operations teams, and customers happy.
COD: What Is It?
Cash on Delivery (COD) or Pay on Delivery is popular these days, especially to retailers and small businesses. It is one of the most well-known payment methods for online shopping in the Philippines. Your customers prefer to see the product first before paying for it, and COD or Cash on Delivery is the key to that demand.
COD or Cash on Delivery is a kind of payment method where the receiver (your customer) makes the necessary payment for the product at the delivery time rather than paying it in advance. If your buyer is not going to pay for the required amount at the delivery time, the product returns to the seller (you and the business) without giving any obligations from the customer.
Here are the following factors why many people prefer cash on delivery payment rather than paying it before the delivery:
Doesn't have access to digital payment options
Doesn't trust the sellers or the business
Fear of damaged and low product quality
Why is COD Essential?
Cash on Delivery or COD payment method is boosting e-commerce in the Philippines. It helps many businesses, especially small and online retailers, to increase their sales with minimal efforts. It is also a popular method for younger generations and millennials who prefer convenience. It is also suitable for customers who don't have credit cards and other payment options for paying for the products.
It is another mode of payment you give to your customers as proof of convenience. You don't need to worry about cash on delivery service proceedings as a seller or business owner. To put it simply, cash on delivery service drives more traffic to e-commerce websites or your shop page, which gives your customers an added sense of security. That's why, as a business owner, you should use this opportunity to your advantage.
Because of today's mobile technology, customers can now choose which payment, like cash on delivery (COD) they prefer and, at the same time, gives them additional security about the proof of delivery (POD). Both COD and POD are essential in the shipping industry to satisfy their customers and to provide outstanding services when it comes to delivery.
Customers can now track individual packages in real-time and confirm deliveries. For logistics cargo companies that offer these services can access necessary information on-the-go and know the shipments' current status, which can result in a smooth delivery experience.
Since most logistics companies are currently dealing with tons of deliveries, records and data must be kept when a particular package is completed. It includes requiring their drivers to get a signature and getting the required information before leaving the recipient's location. This essential information will be sent to the shipping company's server. It will act as a proof in case a customer will claim that the package was not delivered to its intended recipient's location.
Frequently Asked Questions:
How does Cash on delivery service work in a cargo company in the Philippines?
💰 Cash on delivery service in a cargo company in the Philippines works in a similar fashion as with online shops. The receiver can be the one to pay the cash on delivery service when the delivery arrives. At the same time, POD is a common requirement for businesses to have proof of successful delivery. For Transportify, the ghost fleets or the motorcycle team is in charge of delivering the documents as fast as possible. This makes it efficient for both parties as the documents can be received on the same day. This feature changed the game on how logistics services work in the digital age. Transportify is the leading third-party logistics company in South East Asia that revolutionized the delivery industry.
What are the advantages of cash on delivery and proof of delivery services with Transportify?
💰 Most businesses have to deliver their goods to their customers. That is why businesses like Petalier trust Transportify to have their flowers delivered safely. Although they have a physical store, customers opt to avail of the delivery service for convenience. The option for cash on delivery payment makes it efficient for customers who prefer paying through cash. It also increases the feeling of security of the customers to have their delivery first before paying. By availing the proof of delivery services, businesses can track the paperwork for their deliveries. This gives versatility to companies to customize multiple bookings with varying payment and delivery preferences.