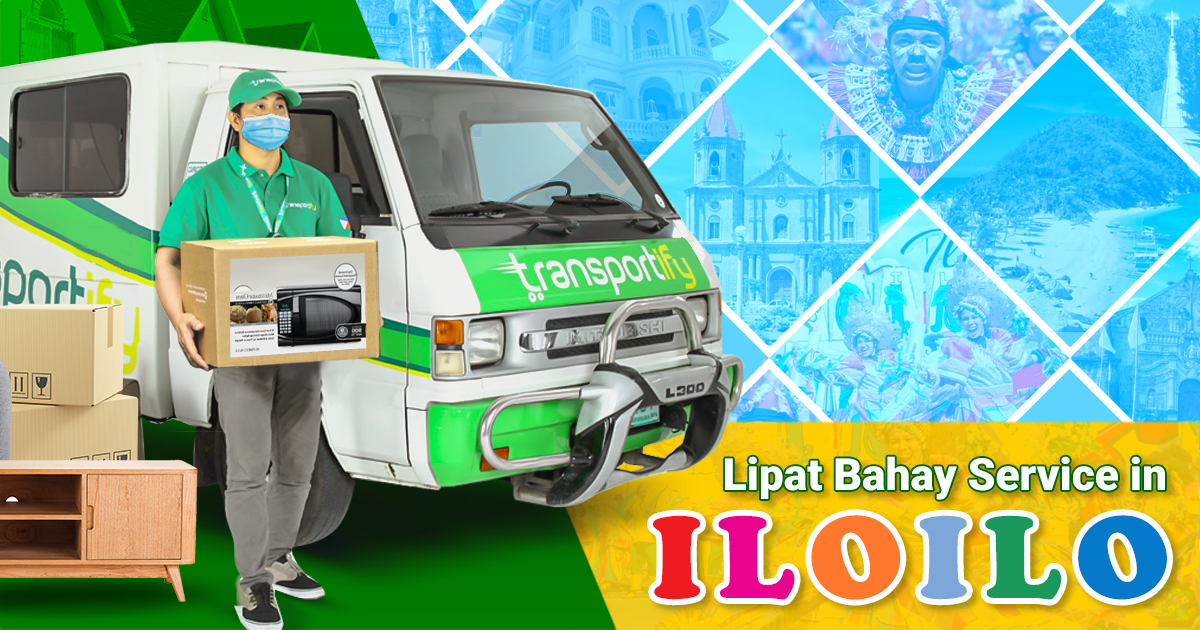 People often relocate for work, education, or other reasons. While some manage to do it on their own, others find it more convenient to book a lipat bahay service. If you're looking for a reliable and cheap lipat bahay Iloilo service, Transportify is here to help. In this article, we'll talk about our truck rental services for cheap lipat bahay Iloilo and how they can benefit you. We'll also enumerate the common challenges that homeowners face when doing a lipat bahay and how our home moving service via app for a truck rental can help them overcome these challenges.
Where To Find Cheap Lipat Bahay Iloilo Service?
House moving services are available in many places, particularly in Iloilo. However, most of these service providers operate traditionally. Meaning you can hire them via call or middleman. These traditional house moving service providers can often be found on social media like Facebook, Carousell, and other mainstream marketplaces online.
Hiring a moving service via chat or call is considered convenient, but do you know that there's a type of house moving service that can offer you more convenience? This is where the app for truck rental comes in. Through this kind of platform you don't have to call, email, or even coordinate with a middleman, instead, you can directly place your booking via the app for truck rental and automatically it will assign you a driver.
Download Transportify App
Transportify aims to provide more convenience to customers wishing to do lipat bahay. Through the app for truck rental, customers can easily determine their preferred time, date, and vehicle as well as other extra services they wish to add to the house moving service. The lengthy process of finding a truck and officially hiring them may take hours or even days before, but under Transportify it can be reduced to minutes. All you need to have is your internet and Transportify account.
WE CAN PROVIDE
Door to door pick up and drop off
Load and unload for each location
Safe transport
GPS tracking of the entire delivery from pick up to drop off
WE CANNOT
Assemble and pack your item
Provide boxes and any packaging

What Makes Transportify Unique for Lipat Bahay Iloilo?
We are app-based.
Transportify is one of the first truck rental and logistics service providers in the Philippines that offer their services through an app. This makes us more convenient compared to our competitors who still operate traditionally.
We are affordable.
Transportify offers its services at a very competitive price without sacrificing quality and service. We believe that everyone should have the opportunity to experience a lipat bahay hassle-free, regardless of budget constraints. While we aim to provide convenience, we also make sure that everything, including our price for cheap lipat bahay Iloilo is just right for you.
Transportify's house moving service packages has a customizable rate depending on your preferred vehicle type and extra services included such as additional helpers which can be added at checkout upon placing your booking via mobile app or desktop website. You will only pay what was quoted in the application interface where you placed your order.
We offer trucks at your fingertips.
Transportify offers a wide range of vehicles for any size of items you need to move. We have sedans, MPVs, light delivery vehicles, and heavy-duty trucks to move your bulkier and heavier house items like furniture, appliances, and fixtures. To know more, here's the list of Transportify vehicles and trucks you can consider when booking for lipat bahay Iloilo via app for truck rental:
Vehicle Type
Dimension &
Weight Capacity
Base Price


(Visayas/Mindanao)

Wing Van 

32 to 40 x 7.8 x 7.8 ft




12000kg to 15000kg

6500 PHP

6w Fwd Truck

18 x 6 x 7 ft




7000kg

4850 PHP

Closed Van

10 to 14 x 6 x 6 ft




2000kg to 4000kg

1450 PHP

L300/Van

8 x 4.5 x 4.5 ft




1000kg

310 PHP

Small Pickup

5 x 5 ft x open




1000kg

220 PHP

Light Van

5.5 x 3.8 x 3.8 ft




600kg

225 PHP

MPV/SUV

5 x 3.2 x 2.8 ft




200kg

140 PHP

Sedan

3.5 x 2 x 2.5 ft




200kg

120 PHP
We are reliable and professional.
With thousands of drivers nationwide, Transportify is able to provide an excellent customer experience with regard to reliability. You can be assured that your belongings will reach your destination safely and on time. Transportify takes driver training seriously which equips them to fulfill bookings dutifully and professionally.
Common Challenges Face When Relocating
Lipat bahay Iloilo is not an easy task. Aside from the hassle of packing everything up and moving it to a new location, there are other challenges that you have to face when relocating.
1

Finding the right vehicle that fits your house items

For one, you need to make sure that all your belongings fit in the truck or van that you're hiring. This can be tricky if you have a lot of furniture and appliances. You may also need to get rid of some items so that you can make room for everything else.
2

Risk of damage and loss

Another challenge is getting your things from point A to point B without anything getting damaged. This is especially difficult if you're moving long-distance. You'll need to make sure that the truck or van is properly packed and secured so that your belongings don't move around during the trip.

This is why it's important to choose a reputable and reliable lipat bahay service like Transportify. We have years of experience in moving people and their belongings safely and securely.
3

Paying for extra costs and services

Finally, you may also need to pay for some extra services such as packing materials or help from professionals. This can add up quickly, so make sure that you factor these costs into your budget when planning your relocation.

SEE ALSO:
How Can Transportify Help Overcome These Challenges?
We can help you transfer your items safely.
Transportify has created a streamlined delivery process for businesses and individuals. The process ensures that documentation and visibility are top-notch. For documentation, the Transportify app will require drivers to upload images of items at both pickup and drop-off. This is to verify and validate that driver was able to go from point to point. Secondly, for visibility, customers can track and trace the exact location of the delivery vehicle. Having this visibility is important since it builds trust in customers knowing that their items are well taken care of.
Your booking comes with insurance coverage for accidents that may happen.
Transportify offers good insurance coverage with no additional fee for bookings that will be created on the platform via app for truck rental. The limit for the coverage will be determined by the vehicle booked. having your items protected is important in case of worst-case scenarios. Transportify offers this security for free and inclusive with the booking every time.
You are only required to pay for the service you placed in the app with no hidden charges.
Since our cheap lipat bahay Iloilo via app for truck rental is customizable, you have the freedom to tailor-fit the service based on your needs and budget. What appears on the app is the exact amount that is due to the driver. Nothing more, nothing less. We do not have hidden charges for other services that you won't be able to use throughout the booking. This characteristic is what sets Transportify apart from other logistics providers. We want our customers to have full control of their bookings, but at the same time still, be able to get their preferred service at an affordable rate declared transparently on the app.
| | | |
| --- | --- | --- |
| | or | |
Frequently Asked Questions:
In what places can Transportify deliver in Iloilo?
🏡 Transportify is now available in areas of Panay and Negros islands. In Iloilo, our drivers can deliver to Estancia, Concepion, Passi, Ajuy, Sara, Roxas, Dumagas, Pontevedra, Panitan, Santa Barbara, Barotac Nuevo, San Rafael, and Dumalag to name a few. Customers will be assured that their house is delivered safely and sound through Transportify.
Until what time can I book for cheap lipat bahay Iloilo via app for truck rental?
🏡 Customers can book anytime because our app is open to accept bookings 24/7 from Mondays to Sundays and including holidays. If you need a scheduled booking, you can place an order up to two weeks in advance. On the other hand, if you need a vehicle in less than two hours or one, you can book immediately.