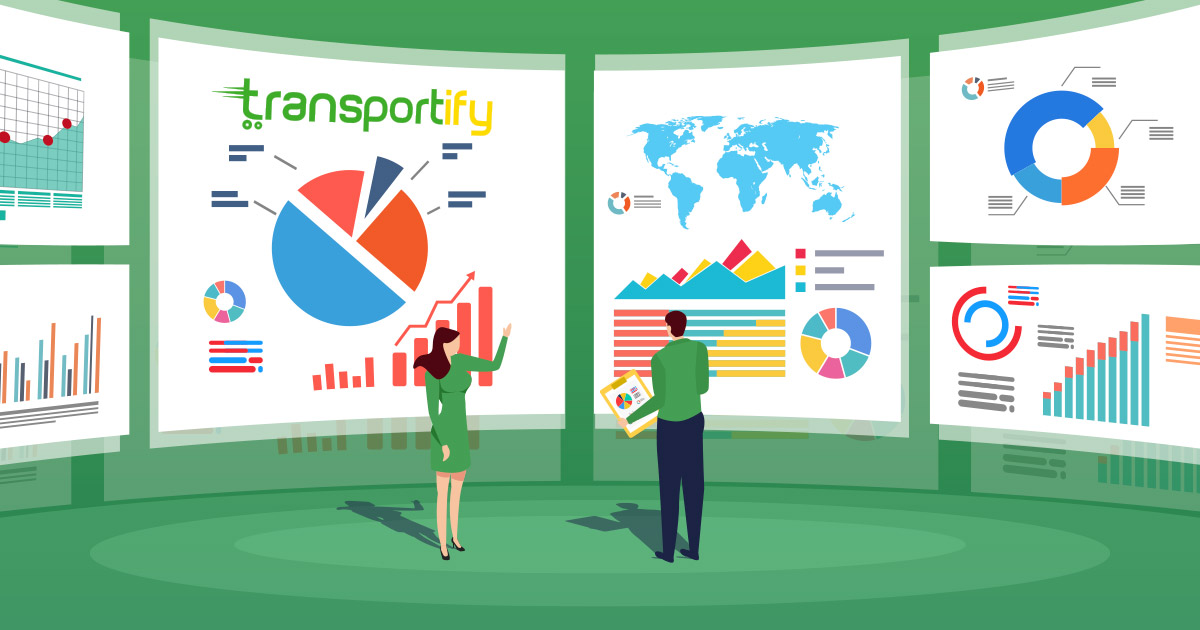 Data is revolutionizing various industries, and logistics is no exception. Naturally, transport services and logistics is already an overly complex and dynamic beast, with a lot of moving parts, so there's no wonder why data is playing such a huge role in helping to improve the overall functionality of the transport services and logistics industry. However, some people value it more than others, which is why we're going to see a big difference in the quality of service between one freight transportation & logistics provider and another.
Unveiling the Potential of Data
For starters, data can be gathered almost anywhere. It's just the matter of choosing the right data and the correct method of analyzing it. Data should contain high quality information about your system for to work effectively in your favor. Advancement in technology in transport services and logistics gives you opportunity to grow as a bulk of data can still be used. Your sources can come from but not limited to:
Business records from operational systems
Traffic and weather data from forecast systems
Satellite information about driving patterns
Population
Financial business forecasts
Advertisement response
Website activities report
Social media
These are just some of the common sources we can gather data from that can help your business get ahead of everyone else. Transportify has managed to utilize these data to provide customers and clients the ideal logistics trucking service needed and innovative technology in transport. In this article, we're going to explore five examples of how data can truly revolutionize your transport services and logistics.
Let's find out:
Enhancing Last Mile Delivery
The last mile of a supply chain tends to be rather inefficient when compared with the rest, costing up to 28% of the whole delivery cost of an item. This is due to a number of obstacles that come with transport services and logistics like:
Larger delivery truck can struggle to reach certain urban areas, slowing down the final delivery.
Often items need to be signed for an if a customer doesn't answer or isn't home, then the item cannot be delivered.
All delivery personnel must endeavour to remain wholeheartedly professional whilst trying not to damage any of the goods in final transit.
Data analysis can help to identify problem areas which need improving. This can be tracked via GPS tracking which is also a great way of ensuring that drivers are taking the optimal routes on every journey. Technology in transport like live tracking of deliveries serves not only assurance for you to where your driver currently is, but also gives us data to record patterns and factors that affect the entire transaction. This allows us to improve our delivery strategies.
Increased Transparency & Reliability
As more and more transportation vehicles and drivers are being tracked, they can provide exceptionally useful data, thus increasing the overall transparency of the service. This is valuable to shippers, delivery personnel, and the customer as well.
This means that if for whatever reason a shipment is running late, delivery company personnels can ensure that there will be no further delays on their end, whilst keeping the customer entirely in the loop with accurate ETAs. Technology in transport services and logistics like Transportify also give high importance about customer satisfaction. Our customers review on every booking is given enough attention so we can track drivers who did well or not and do necessary steps. This allows us to work closely with our driver-partners and to keep in touch with our customers. Improving our last mile delivery services on every booking done.
Optimized Routing
Again, with the tracking and tracing of vehicles and goods, there will be an invaluable stream of data flowing through, helping you to optimise routing with every delivery. This will help to anticipate potential delays and problem areas, allowing you to avoid problem stretches of road which are prone to traffic jams at various times of the day. This data on transport services and logistics can help you to optimise every aspect of the delivery journey, thus bolstering the overall efficiency of your service. Transportify always recommends the fastest route available to the destination, with the help of technology in transport. But we consider factors at play, such as gasoline, roads, tolls, and rush hour. This data is shared from our drivers to our tech team and specially to the clients. This gives them the choice whether to allow drivers to pass through tolls or if it is a scheduled booking, decide on what is the best time to do it. Time in logistics is crucial, we understand that there are cut-offs and schedules to be made. That is why data is treated very carefully in our system.
Sensitive Goods are Delivered with Greater Care
Data can also be a great indicator as to which goods tend to struggle with the delivery process, and which always turn up unscathed. This is especially important with perishable goods. Trucks fitted with temperature sensors can pool data alongside traffic and road work information, allowing drivers to make smarter decisions in order to avoid perishable goods such as ice-cream from melting.
Our app provides you freedom in what vehicle you need and custom services you prefer. Technology in transport aids both drivers and customers with efficient mobile services. Drivers are also shown information of the booking so that he or she may be able to communicate if the cargo to be delivered is suitable for the vehicle you booked. For example, our economy drivers will confirm to you the vehicle that will be used. These examples enable you to adjust booking on the spot. In the event that the cargo you need to be delivered does not fit well with the vehicle you chose. This gives you time to adjust and for our system to find you an alternative.
Automation of Supply Chain
For optimal efficiency within the supply chain, the warehousing systems should be impeccable. What better a way of ensuring that this is the case in your storage facilities than with the tracking, analysis and actioning of quality data collected. Automating many of your processes is the key to ensuring that your warehouses can rotate stock quickly & efficiently, with fewer delays and no instances of running out of a particular item due to high demand. And with just a few taps on your phone, or a few clicks on your computer, you can get a reliable transport services and logistics provider like Transportify. Automation does not automatically mean more costs. Instead it saves you resources on time, energy, and effort into making sure your supply chain is smooth. For a quick reference to all our fleet price and services, you may refer to the table below:
Vehicle Type
Dimensions/
Weight Limits
Base Price


(Metro Manila)

Base Price


(Outside Metro Manila)

Base Price


(Visayas/Mindanao)

Wing Van 

32 to 40 x 7.8 x 7.8 ft




12000kg to 28000kg

7500 PHP

6500 PHP

6500 PHP

6w Fwd Truck

18 x 6 x 7 ft




7000kg

4850 PHP

4850 PHP

4850 PHP

Closed Van

10 to 14 x 6 x 6 ft




2000kg to 4000kg

1800 PHP

1450 PHP

1450 PHP

Open Truck

10 to 21 x 6 ft x open




2000kg and 7000kg

2300 PHP

1950 PHP

N/A

L300/Van

8 x 4.5 x 4.5 ft




1000kg

430 PHP

330 PHP

310 PHP

Small Pickup

5 x 5 ft x open




1000kg

310 PHP

250 PHP

220 PHP

Light Van

5.5 x 3.8 x 3.8 ft




600kg

250 PHP

192 PHP

225 PHP

MPV/SUV

5 x 3.2 x 2.8 ft




200kg

160 PHP

130 PHP

140 PHP

Sedan

3.5 x 2 x 2.5 ft




200kg

140 PHP

110 PHP

120 PHP
Conclusion
There are countless ways in which data can be used to improve the overall functionality of your supply chain. From start to finish, you must ensure that absolutely every aspect of your business is analysed with a fine-toothed-comb. You must be able to keep up with the advancement of technology in transport. Doing so will enable you to stand out from your competitors and continue to deliver an unparalleled level of care and attention.
The future is data!
| | | |
| --- | --- | --- |
| | or | |
Frequently Asked Questions:
How does data technology improve transport services and logistics?
💻 Data helps transport services and logistics companies in a lot of ways. For example, the gps tracking of UPS of every delivery they make helps improve their strategies for factors affecting their service. Such as the time it takes the delivery man to leave the vehicle to drop off the package, or capture the traffic and driving patterns for optimized routing. Here in the Philippines, Transportify uses the same technology in transport to capture data that is essential for improving the application. This makes it convenient for drivers to deliver and for the customers to have the most efficient logistics service they need.
What data is essential for logistics companies?
💻 There are various data available for any logistics companies to utilize. The common goal for any logistics company is to provide the fastest and most efficient deliveries to their customers and clients. Some of these data includes but are not limited to: enterprise data, traffic and weather data, vehicle diagnostics, driving patterns, traffic reports, financial data forecasts, seasonal trends, website response data. These information are crucial in determining the next best strategy any logistics company can make. And any data is considered essential, as long as analysts can maximize and utilize these information fully with the appropriate technology in transport.