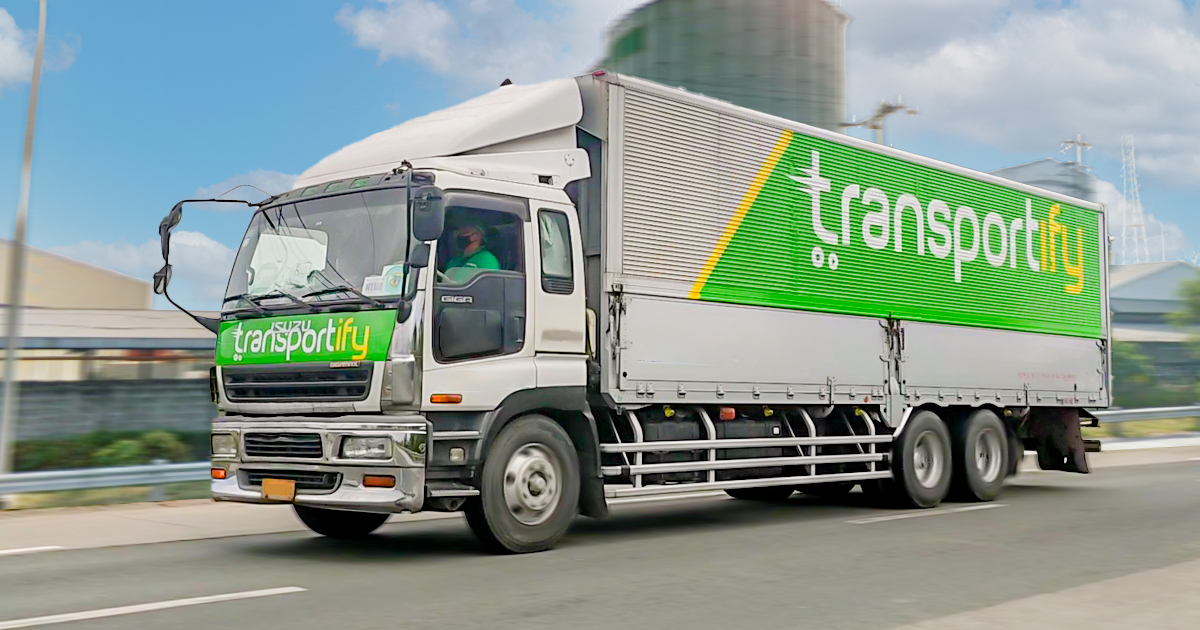 Logistics is making a significant impact on businesses because it adds value to businesses to help them achieve profits. The faster the distribution, the more accelerated their profit will be. Businesses have leveraged 3PLs to outsource logistical tasks to stimulate the adoption of new logistics practices. They aim to advance domestic shipment in the Philippines that won't bust their budget and deliver efficient outcomes. Transportify offers reliable land freight services to companies and SMEs. We strive to equip them with modern, fast, and budget-friendly domestic shipment via a delivery service truck.
What Is the Role of Land Freight in Philippine Domestic Shipment?
Land freight is the transport of goods from point A to point B often via a delivery service truck. According to the Philippines Statistics Authority, manufactured goods contribute 30% to the total numbers of domestic trade in the Philippines during the first half of 2023. Their findings stated that Central Visayas has the highest domestic trade in terms of quantity. This data encompasses the importance of domestic shipment between regions in the Philippines. The majority of these transactions rely on land freight delivery service trucks to transport goods from warehouses to destinations. Land freight also utilizes the Roll on Roll off system to transport goods over bodies of water in the Philippines.
The Roll on Roll off system intends to lower interisland domestic shipment costs by linking RORO shipping routes with land-based national highway networks. With our three main islands in the country, one of the best practices for the movement of goods is land freight and RORO shipping as needed. Transportify studied trends and demand and crafted the interisland service to support domestic shipment throughout mainland Luzon and some cities of Visayas and Mindanao.
Your Benefits From Transportify's Domestic Shipment via Delivery Service Truck
Our broad truck selection on our app
We provide our customers with options because their need is our business. Our broad truck selection ables our business partners to transport the relatively lighter cargo up to their biggest using our 10w Wing Van. You may check below our truck selection:
Vehicle Type
Cargo Dimension
Capacity
Price Starts at
Vehicle Type
Cargo Dimension
Capacity
Price Starts at

Open Truck

L: 10 ft x W: 6 ft x H: Open
L: 14 ft x W: 6 ft x H: Open


2000 kg

₱2300

Long Pickup Truck (7000kg)

L: 18 ft x W: 6 ft x H: Open
L: 21 ft x W: 6 ft x H: Open

7000 kg

₱4990

Closed Van (2000kg)

L: 10 ft x W: 6 ft x H: 6 ft

2000 kg

₱1800

Closed Van (3000kg & 4000kg)

L: 14 ft x W: 6 ft x H: 6 ft

3000 kg, 4000 kg

₱2445

6w Fwd Truck

L: 18 ft x W: 6 ft x H: 7 ft

7000 kg

₱4850

10w Wing Van

L: 32 ft x W: 7.8 ft x H: 7.8 ft

15000 kg

₱7000
Aside from that, Transportify can supply a delivery service truck on demand and directly through our mobile and web application. Truck sourcing can be a hassle at times, but Transportify is your best solution for that. Few clicks anytime and anywhere you are, you can book your desired truck.
Our cost-efficient service
Transportify stands proud of offering the most cost-friendly delivery service truck in the logistics market. Not only that, what makes us efficient are our standard service inclusions. If you hire one of our trucks, the price includes a driver, an extra helper, fuel, and a certain waiting time at each location depends on the vehicle. As the booker, you will also have the liberty to make use of our in-app technology driven features that you can use to practice better fulfillment management. GPS live tracking, complete booking documentation process, and live chat with Customer Service and your driver are all available in our app. You can monitor your delivery in real-time and receive an estimate of arrival at the destination thanks to the GPS live tracking. Our app will serve as a tool for better management because every booking will be documented through the app, including signatures and photos. Bookings and their documentation are in the app, which you can easily access once needed.
Our expertise and experience
Transportify has been providing high-quality domestic shipment services since 2015. We have the expertise in land freight services, and businesses choose to trust us with their cargo every time. Under our profiles are big corporations, FMCGs, SMEs, and others. We aim to help you grow your business by being a 3PL that increases your distribution fulfillment with quality service.
Our wider service area – Luzon, Visayas, and Mindanao
You establish a business in hopes of expansion in the long run. Transportify is a delivery service truck provider for domestic shipment that can assist you with distribution to far reached areas of mainland Luzon, to cities of Visayas and Mindanao like Cebu, Davao, Cagayan De Oro, and more. We have an interisland service that can move your cargo via RORO shipping from Luzon at an affordable and fixed price.
Our business oriented service
Transportify offers a corporate account for business. Under this program, we have flexible payment options for prepaid or post-paid. We give exclusive services for document returns like Cash on Delivery (COD) and Proof of Delivery (POD). We can assist you with process mapping, dedicated fleet, and customer SOPs. Start your way towards a smooth domestic shipment. You may always send your inquiries to business@transportify.com.ph
SEE ALSO:
Reasons Why Businesses Choose Delivery Service Truck
Door to door shipment
Transportify provides door to door delivery service for all of its offerings. This type of service is a favorable deal for customers because it saves them time, money, and effort. First, time because they will not have to bother traveling to the logistics hub to drop off cargo. Second, money because you will not have to use your resources to bring your cargo to the hub. Time and money efficiency are factors as to why you need less effort when you hire for a door to door domestic shipment. All that customers are left to do is wait and watch their cargo being loaded and unloaded at their destinations.
Flexible in time and space
The delivery service truck is best suited for cargo of varying sizes and volumes. Transportify's domestic shipment via land freight guarantees a faster delivery rate than sea freight and can serve the smallest up to heavier cargo. Domestic shipments via land freight are also the safest of all types of freight because they follow a direct and stable process with fewer variables that could cause a delay.
Service customed for your need
Domestic shipment companies like Transportify provide more than just a delivery service truck for Full Truck Load. As a booker, you may choose an option that will best benefit you, either Book Vehicle (FTL) or Send Load (LTL). We offer these services to provide flexible options to businesses, big or small. You can choose our send load service if you need an immediate shipment but cannot fill an entire truck. Our send load service price will be based on your cargo's weight and size. The ability to adapt to a customer's needs is a characteristic of a reliable service provider. Transportify is here to provide you with the best solutions to fit your needs.
| | | |
| --- | --- | --- |
| | or | |
Frequently Asked Questions:
Can I book for a truck hours before my preferred pick-up time?
🚚 Yes. Transportify is an on-demand delivery service truck provider for domestic shipment. We implement lead time for our trucks you need to consider before creating your booking. For our 10W Wing Van, you may book 4 hours in advance. For our 6w Fwd Truck and Long Pickup Truck, you may book 6 hours in advance. For Closed Van and Pickup Truck, you may book immediately 2 hours before the pick-up time.
Do you have a customer service I can contact in case of urgent concerns if I ever book?
🚚 Yes. Transportify is open 24/7 every day, including holidays. We value every booking, which is why we make certain that we are available if you require assistance. You can directly reach Customer Service through the app or call our hotline at 5317 3800. We are also reachable on Facebook. You may look for Transportify Philippines and send us your inquiries anytime.