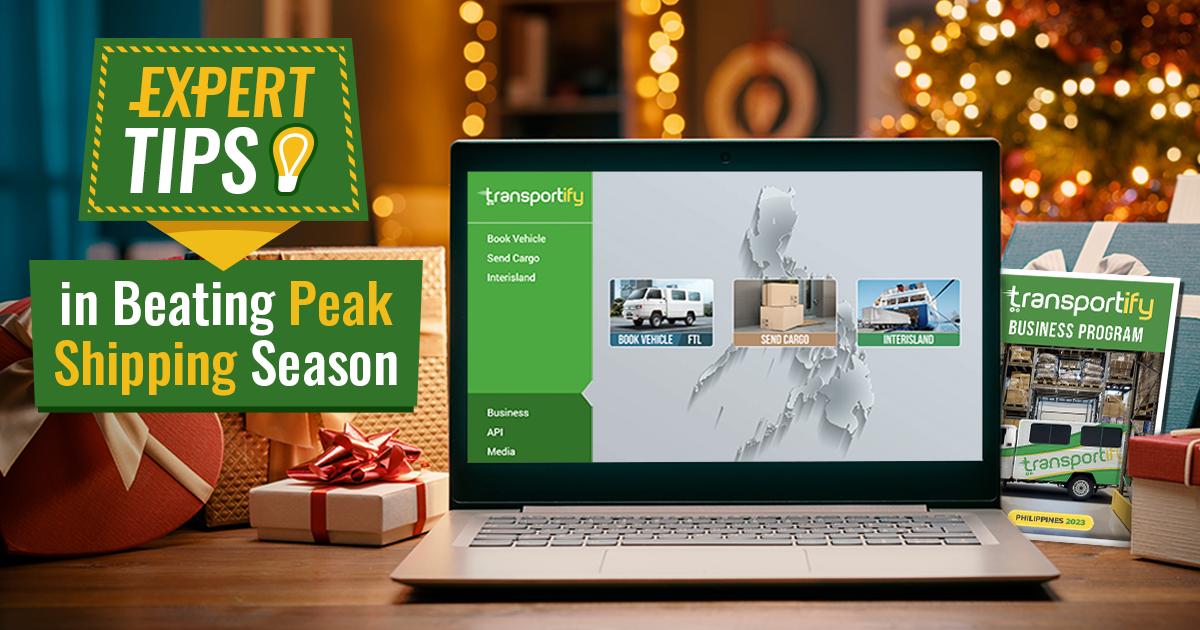 Peak shipping season is a challenging time for businesses. The holiday rush can be unpredictable, and it can be difficult to keep up with the demand. If you are looking for tips on how to beat peak shipping season, you have come to the right place. In this article, we will discuss what peak shipping season is, and we will give you a list of tips that will help you stay ahead of the curve.
When Are The Peak Shipping Season In the Philippines?
Christmas Season: November to Early January
The Christmas season is the busiest time of year for pick-up and delivery services in the Philippines. This is because Filipinos are known for their love of giving gifts, and many people send Christmas packages to their clients, employees, family, friends, and kin.
Chinese New Year: Late January to Early February
Chinese New Year is the most important festival in the Chinese calendar. It is a time for family reunions when many Chinese-owned businesses slow down for a week or more. This can lead to a build-up of orders before the festival and a lull in activity afterward. For shipping companies in the Philippines, this can mean that there is a lot of work to be done for wholesale delivery, especially from Binondo. This can be difficult to manage, but there are some steps that you can take to make sure that your business logistics runs smoothly during the peak season.
Summer Season: March to May
Summer is generally a busy time for most businesses, and the shipping industry is no exception. The Philippines is a tropical country, which means that the weather is hot and humid all year round. However, the summer months (March to May) are particularly challenging due to the increased demand for shipping services during this time.
There are several factors that contribute to the busy nature of the summer shipping season in the Philippines. First, many businesses take advantage of the warmer weather to increase their output. This results in a higher volume of goods being shipped around the country.
Back-to-School Season: June to August
One of the busiest peak shipping seasons in the Philippines is during the back-to-school season. This is because many parents and students are preparing for the new school year, and stores are ramping up their supplies and inventory to prepare for the high demand.
What Should Be Done To Prepare For High Shipping Demand?
Assess your current transportation network
Review your trucking strategy from the previous year to see what needs to be changed for the next busy season. Take note of which strategies worked well and increased capacity, as well as areas that need improvement.
How effectively did your transportation providers meet key performance indicators (KPIs)?
Tracking the quality of your current 3PL and weighing their performance during your non-busy seasons is important to have a good network to ensure the highest quality for your business.
These key performance indicators will help you measure your 3PL's service quality:
Delivery acceptance
Average delivery time
Average delivery cost
Total successful deliveries
The most important thing in the transportation and logistics industry is relationships. You should prioritize and trust the relationships you have with your reliable providers.
There is never a time when we can't improve, and adding strong logistics companies to your network during the off-season is a great way to start. Although you might have a great network of regular providers, it's still important to have reliable backups for emergencies.
As you work to improve your network, it's essential to ditch truck providers who underperform and seek out those that will be dependable. The best way to achieve this goal is by taking advantage of your downtime to vet and add reliable truckers who offer your needed services.
Here is a list of Transportify trucks and vehicles from their driver and trucker networks across the country.
Vehicle Type
Dimensions/
Weight Limits
Base Price
(Metro Manila)
Base Price
(Outside Metro Manila)
Base Price
(Visayas/Mindanao)
Wing Van 
32 to 40 x 7.8 x 7.8 ft
12000kg to 28000kg
7500 PHP
6500 PHP
6500 PHP
6w Fwd Truck
18 x 6 x 7 ft
7000kg
4850 PHP
4850 PHP
4850 PHP
Closed Van
10 to 14 x 6 x 6 ft
2000kg to 4000kg
1800 PHP
1450 PHP
1450 PHP
Open Truck
10 to 21 x 6 ft x open
2000kg and 7000kg
2300 PHP
1950 PHP
N/A
L300/Van
8 x 4.5 x 4.5 ft
1000kg
430 PHP
330 PHP
310 PHP
Small Pickup
5 x 5 ft x open
1000kg
310 PHP
250 PHP
220 PHP
Light Van
5.5 x 3.8 x 3.8 ft
600kg
250 PHP
192 PHP
225 PHP
MPV/SUV
5 x 3.2 x 2.8 ft
200kg
160 PHP
130 PHP
140 PHP
Sedan
3.5 x 2 x 2.5 ft
200kg
140 PHP
110 PHP
120 PHP
Work on Faster Loading Times
It is important to work on faster delivery times during peak season because customers expect their items to arrive quickly. If you can't deliver items in a timely manner, they may go to another store that can.
Here are four ways to load items faster:
Increase the size and capacity of your loading areas
Make it easier for truckers to load their freight
Create systems to store products efficiently
You can add more manpower
Develop Systems to Prevent Miscommunications
When you have several different areas in your transportation supply chain, it is essential to keep open lines of communication to avoid any issues. When communication falls through between shippers and their customers, it often results in wasted time and money. By taking action now, you can avoid these issues later when it matters — during your busiest time of year.
Consider adding real-time communication channels to your transportation systems if you want them to run more smoothly. This could entail having a customer portal that lists expected delivery, pick-up, and in-transit dates. This could be a shared spreadsheet where load details are communicated based on your customers' needs. If you want a successful shipping season, make sure that all stakeholders have delivery visibility into the location of each load throughout the process.
Sharpen Your Expertise
If you want to be successful in logistics and transportation, one of the best things you can do is get educated about it. The more knowledge you have of this market, the less difficult success will be. If you want to stay ahead of the competition, you must be always aiming to improve your skillset and work performance.
Fortunately, there are plenty of conferences and seminars for logistics managers to attend to stay sharp. Attending these events will give you plenty of useful information that can help your business grow when demand starts to increase. When you surround yourself with people who have similar goals and face the same challenges, it becomes much easier to find solutions to problems.
SEE ALSO:
Use the Following Tips to Make Your Peak Season a Success
Creating a solid network, decreasing loading timeframes, furthering your education, and being proactive about communication are all important if you want your next busy season to run smoothly. A company is only as good as its supply chain, if it's weak, its goals will suffer. Find a third party logistics and trucking partner who understands your logistical needs and can help you meet them during high demand seasons.
Here at Transportify, we take pride in our ability to help businesses like yours keep their freight moving no matter the season. As such, we're happy to help you in any way you need as things begin to ramp up.
| | | |
| --- | --- | --- |
| | or | |
Frequently Asked Questions:
When are peak shipping seasons in the Philippines?
🚚 In the Philippines, there are two major peak shipping seasons: Christmas and Summer. The Christmas season is typically from November to early January. This is the busiest time of year for couriers, with people sending gifts to loved ones both in the Philipines. Businesses usually ship goods to other parts of the archipelago during summer because the weather is humid and dry. Maintaining sufficient store supplies is crucial to maximizing potential profits, so logistics must be strategic.
What are the challenges during peak shipping season?
🚚 Some of the challenges that can occur during this time are higher demands, increased traffic congestion at ports and airports, longer wait times for shipments to be processed, and higher prices for shipping services. Additionally, bad weather can cause delays and disruptions. All of these challenges can be costly for businesses if they are not prepared.