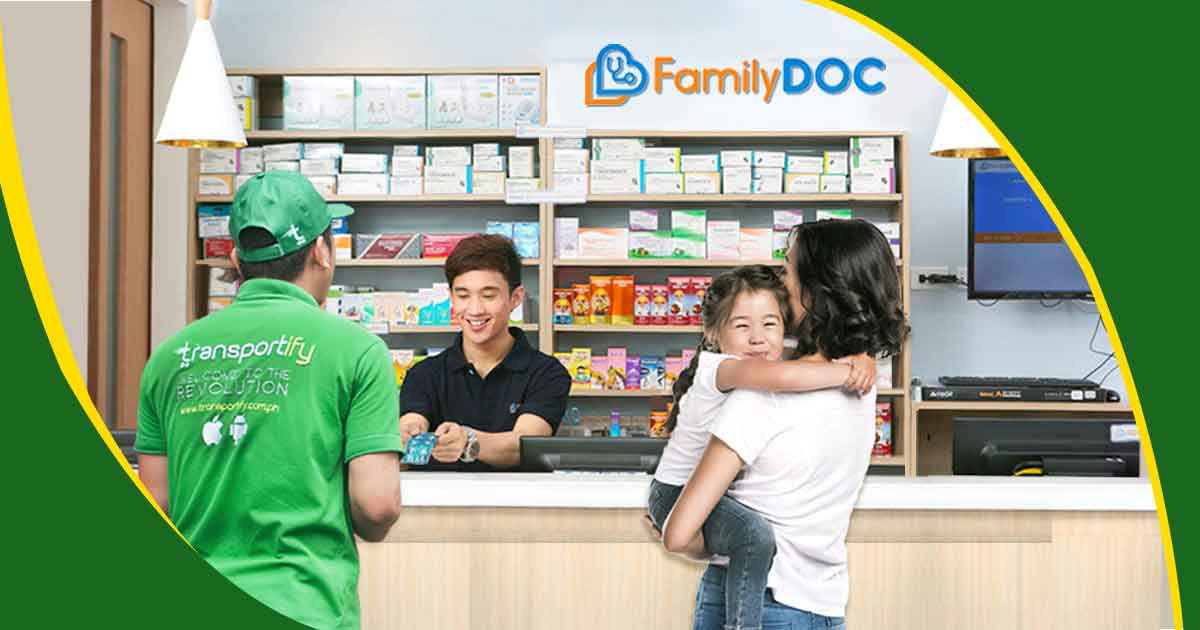 MANILA, PHILIPPINES – Transportify has partnered with FamilyDoc to provide affordable access to primary care services to its drivers. FamilyDoc is a chain of primary care facilities, offering the combined services of a clinic with fulltime in-house doctor, a diagnostic center, and pharmacy all under one roof. With 56 branches as of May 2019 and a target to grow to 100 branches by 2020, FamilyDoc has sufficient network to cover almost all the drivers, operators of Transportify, including their loved ones.
Through this partnership, drivers and operators can purchase through their Driver App FamilyDoc's Unli-Konsulta package for ₱1,500. The package comes with great benefits:
| Column 1 | Column 2 | Column 3 |
| --- | --- | --- |
| | One year unlimited consultations good for 3 people. | |
| Drivers will indicate the details via Driver App and Transportify will process the information with FamilyDoc on behalf of the driver. (1 principal holder & 2 dependents) | | |
| | ₱1,500 points redeemable at any FamilyDoc branches. | |
| Applicable for medicines, consumer goods or diagnostic services (laboratory and imaging services). | | |
| | Get 10% discount on laboratory and imaging services. | |
To make things even better, Transportify and FamilyDoc have simplified the process for drivers:
1Enroll
Using the Transportify driver app, the driver enrolls 3 individuals in the Unli-Konsulta package and pays ₱1,500 from his driver app wallet balance.
2Activate
Wait 1-3 days for an SMS confirmation from FamilyDoc that their Unli-Konsulta package has been activated
3Use
Go to any FamilyDoc branch and start using the Unli-Konsulta package by showing valid ID to FamilyDoc staff. The branch will already have the beneficiary information in the branch's system.
Transportify encourages drivers to use the free doctor consultation for basic health and wellness and even for simple cases like flu (trangkaso), colds/coughs (sipon/ubo), and common infections instead of using emergency rooms in hospitals which could be costly and inconvenient. The driver can then consume ₱1,500 worth for diagnostic services (ie. blood tests, X-Ray, Ultrasound, ECG) offered by FamilyDoc or to buy medicines from the in-house pharmacy which offers both branded and generic drugs.
Delivering is tough work. Drivers are exposed to naturally hazardous elements on the road and in the various delivery locations. The health of their bodies enables drivers to work and provide for themselves and their families. The health of their family give them peace-of-mind. This partnership between Transportify and FamilyDoc allows drivers to begin basic proactive management of family health in an affordable and very accessible manner.
For further details, drivers can refer to the FAQ section in their Transportify Driver App. Transportify strives to support its drivers through strategic partnerships such as this. It is a small way of showing drivers appreciation for their hard work and commitment to reliable service.
✉️ Contact Media
Elijah Gabalda
Media Department
elijah.gabalda@transportify.com.ph
? About Transportify
Transportify operates the largest app-based marketplace logistics platform for delivery vans and trucks in Southeast Asia with operations in Indonesia, Thailand and the Philippines. In other countries, the company is known as "Deliveree".
To know more about Transportify, visit www.transportify.com.ph.
###