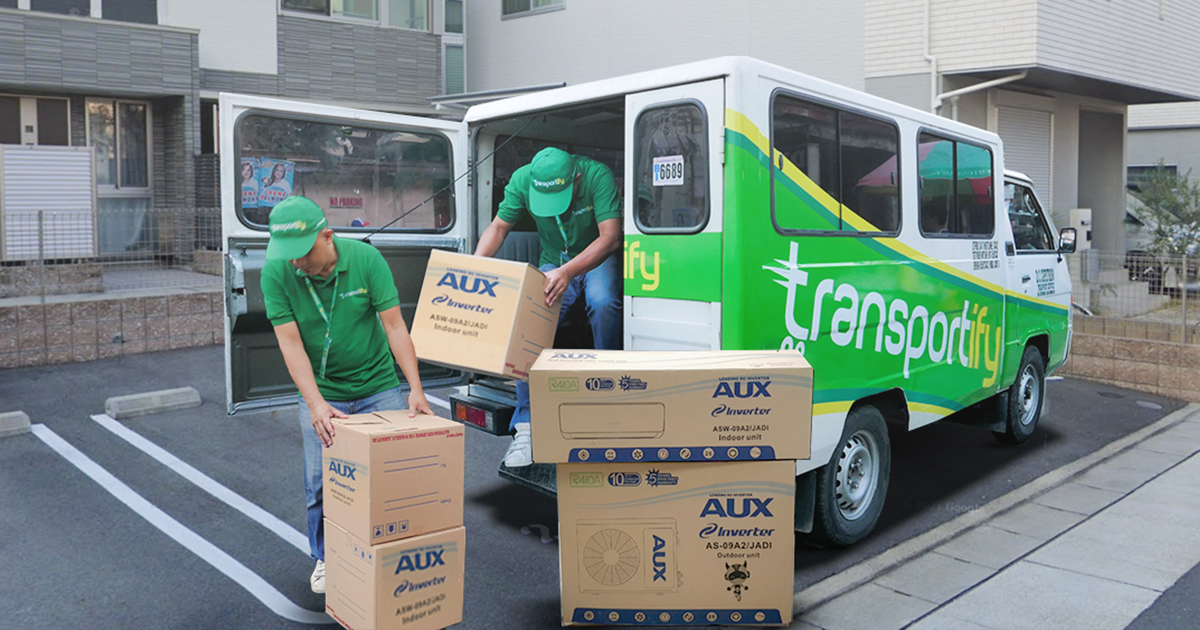 In today's business landscape, goods and products move at such an exhilarating pace that it has given rise to new logistics solutions such as same-day trucking or next-day delivery. But are there fast logistics solutions to large cargo such as furniture and appliances? For those items, there is a quick and easy way to move them around. In this article, we will discuss fast appliance delivery Cebu operations for those businesses that need to move items like refrigerators and television sets from the store to their client's home.
As mentioned above, consumers today want to receive their ordered items right away. This means either same-day or next-day delivery services. For a small retail business, this may be easy to fulfill given that there is a motorbike vehicle to accommodate the delivery. However, it could be very tricky for appliance dealers or distributors since they would require larger vehicles such as a closed van or 10 wheeler wing van to move stocks around.
To meet the growing demand for fast appliance delivery services, a company may need to purchase additional vehicles to fulfill the logistics requirements. But that decision would be very costly and would open up the doors to other challenges in the future, such as having to deal with vehicle breakdown and maintenance issues.
Because of the difficulties of procuring multiple vehicles for delivery operations, many appliance business owners are looking for other ways to fulfill their logistics needs. One way of addressing the issue is by using traditional logistics operators. Under this solution, the appliance company schedules in advance the delivery operations. But in a rapidly growing market such as Cebu, an on-demand logistics service for fast appliance delivery Cebu would better suit the current market demand.
In the section below, we will go over the salient qualities of a fast appliance delivery provider such as Transportify that is more than capable of delivering your television set, refrigerator, and other appliances to anywhere in Cebu.
SEE ALSO
What to Look for in a Fast Appliance Delivery Provider?
As mentioned above, many appliance business owners are looking for alternative ways to fulfill the logistics operations of their business. These logistics operations could be in transporting goods from the supplier to the company's warehouse (first mile), transferring goods from the warehouse to a distribution center (mid mile), and bringing goods from the distribution center to the customer's home (last mile). It is critical in these operations to work with a fast appliance delivery Cebu company that can provide these services.
But what should a business owner look for in a fast appliance delivery provider? The section below goes into the details of the vital qualities or features of a fast appliance delivery provider. It is crucial to understand these characteristics for an appliance dealer to select the best one that will benefit their business.
The table below shows the available vehicle types for deliveries in Cebu.
Vehicle Type
Dimension &
Weight Capacity
Base Price


(Visayas/Mindanao)

Wing Van 

32 to 40 x 7.8 x 7.8 ft




12000kg to 15000kg

6500 PHP

6w Fwd Truck

18 x 6 x 7 ft




7000kg

4850 PHP

Closed Van

10 to 14 x 6 x 6 ft




2000kg to 4000kg

1450 PHP

L300/Van

8 x 4.5 x 4.5 ft




1000kg

310 PHP

Small Pickup

5 x 5 ft x open




1000kg

220 PHP

Light Van

5.5 x 3.8 x 3.8 ft




600kg

225 PHP

MPV/SUV

5 x 3.2 x 2.8 ft




200kg

140 PHP

Sedan

3.5 x 2 x 2.5 ft




200kg

120 PHP
Diverse fleet of vehicles
Many company executives would attest to the fact that logistics is not an easy operation. Even more so in a big metropolitan area like Metro Cebu which is composed of more than seven cities. On top of that, logistics operations come in varying sizes. There are some delivery operations that only involve bringing a single small home appliance item to the customer's address. On the other hand, there are operations wherein an appliance company would resupply its distribution center with new stocks.
Because of the varying logistics needs of each company, it is important for a business to partner up with a third-party logistics company that can accommodate any type of logistics operation. From the first mile to last-mile deliveries, a logistics company must have the different vehicle types that can do fast appliance delivery Cebu operations.

Transportify is an on-demand logistics app that can offer a wide range of vehicle types. Currently, it has sedans, L300/Vans, and Canopy Multicab vehicles in Cebu which customers can book at any time and from anywhere in Cebu. Transportify also has larger trucks such as the closed van, 6w fwd truck, and 10 wheeler wing van for heavier cargo. 
With a diverse fleet of vehicles, Transportify can accommodate the fast appliance delivery needs of the company. In Cebu, the last mile delivery operations using the sedan, L300/Van, and Canopy Multicab. These vehicles are the right choice when delivering small appliance items such as window-type aircon and television sets straight to the home of the customer.  Trucks like the 4 wheeler closed van, 6w fwd truck, and 10 wheeler wing van are best suited for first mile and mid mile logistics transportation. 
Wide service area coverage
The whole island of Cebu is a vast area to cover and many logistics experts acknowledge that it is difficult to cover such an area. With a population of almost 2 million people and about half of which live within the Metro Cebu area, it presents a real challenge when it comes to planning out logistics operations in order to satisfy delivery needs.
If an appliance company chooses to fulfill the logistics operations on its own, it will have to face the challenge of fulfilling delivery requirements all over Cebu. That is why the recommended solution is to outsource the logistics operation to a third-party logistics company such as Transportify that is capable of reaching the entire island of Cebu.
Partnering with a delivery app that has a wide service area coverage has many advantages. First of all, it will enable your company to grow because it will give you access to new places and new markets. If the situation before was that you are unable to deliver goods from Lapu-Lapu City to Danao city because you were limited by the number of delivery trucks you have, then you need not worry about meeting the same challenges when you partner up with a third party logistics company like Transportify. 
By having a wide service area, a logistics company can take your business to new heights by allowing it to receive new customers from different areas. 
24/7 Availability and enhanced flexibility
Every business owner knows that it is difficult to predict market demand in the Philippines. Although there are seasons in the year that would cause a rise or fall in demand, the frequent and unpredictable weather disturbances we experience throughout the year make it difficult to effectively plan out demand and supply. 
That is why many companies look for a delivery service provider that can operate flexibly and can accommodate delivery bookings at any time. Transportify is one such delivery service provider that operates 24/7. It also has customer service personnel that can attend to your booking needs at any time of the day. Thus, there is no need to worry about scheduling deliveries or meeting deadlines. With the Transportify app, you can create a delivery booking at any time.
| | | |
| --- | --- | --- |
| | or | |
Frequently Asked Questions:
What is the best company for fast appliance delivery services?
🚚 When it comes to speed and reliability, Transportify is the best logistics provider to use for appliance delivery services. It is available for use at any time of the day and can deliver your goods anywhere in Cebu. Currently, it offers the sedan, L300/Van, Canopy Multicab, Closed Van, 6w Fwd Truck, and 10w Wing Van in Cebu.
How difficult are appliance delivery Cebu operations?
🚚 Metro Cebu is composed of seven cities which means that an appliance company looking to deliver items all over Cebu will have a hard time. Furthermore, it is also a saturated area with almost 1 million residents. Thus, it can be concluded that appliance delivery in Cebu is difficult to execute which is why many companies choose to use a third-party logistics provider like Transportify.