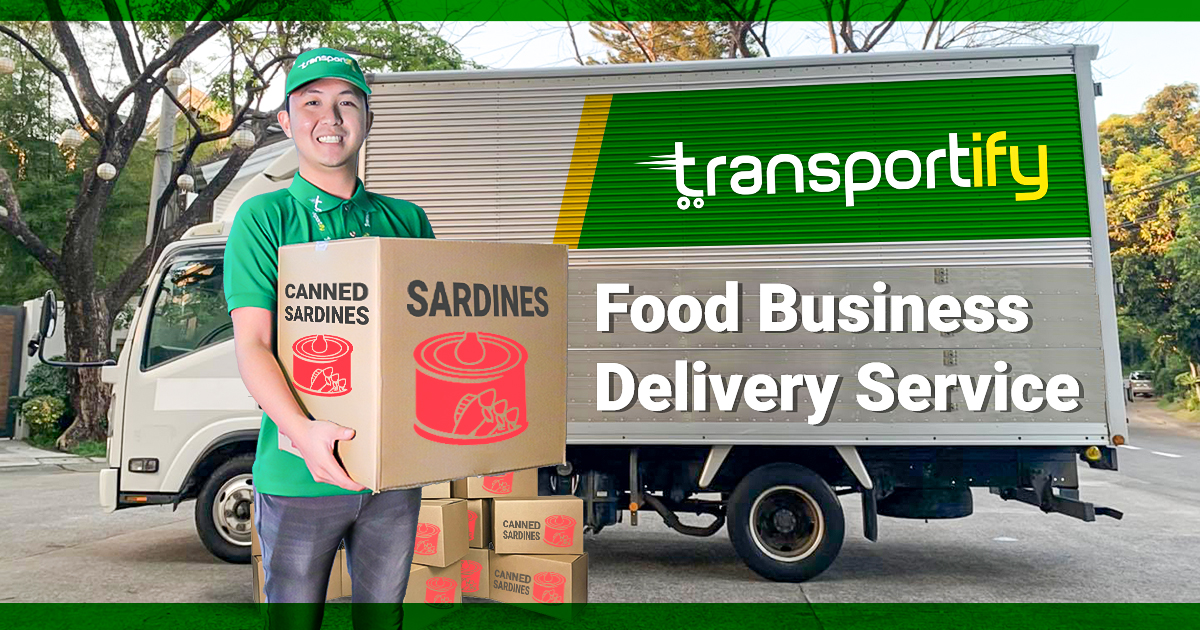 The food business industry in the Philippines is staying strong as ever, as Filipinos are known to love both cooking and eating food. But how about the condition of food logistics services Philippines? Heavy road traffic and other factors may affect the performance of food-related businesses. Good thing Transportify is capable of handling different food delivery needs for different food businesses like the ones below!
Food Businesses that Need Logistics Services
1Catering Services
Filipinos love festivities and celebrations, like baptisms, birthdays, debuts, weddings, anniversaries, and more. That is why running a food catering business in the Philippines is never easy—catering orders for events may come one right after another. So as an owner of a catering business, you must choose a third-party business logistics services partner that is known for its expertise in food delivery services like Transportify. It is best to hire an L300 or Closed van to move your catering materials to the venue.
2Restaurants
Transportify's food delivery capabilities extend beyond delivering cooked food. Small to medium-scale restaurants can hire Transportify delivery vehicles for inventory delivery of raw food ingredients during unexpected inventory emergencies. In cases like this, you may opt to book an economy vehicle of Transportify to transport your raw food ingredients. By doing this, you are securing the freshness of the food while in transit to your location.
Here's a table to give you a quick summary of our pricing and services:
Vehicle Type
Dimensions/
Weight Limits
Base Price
(Metro Manila)
Base Price
(Outside Metro Manila)
Base Price
(Visayas/Mindanao)
Wing Van 
32 to 40 x 7.8 x 7.8 ft
12000kg to 28000kg
7500 PHP
6500 PHP
6500 PHP
6w Fwd Truck
18 x 6 x 7 ft
7000kg
4850 PHP
4850 PHP
4850 PHP
Closed Van
10 to 14 x 6 x 6 ft
2000kg to 4000kg
1800 PHP
1450 PHP
1450 PHP
Open Truck
10 to 21 x 6 ft x open
2000kg and 7000kg
2300 PHP
1950 PHP
N/A
L300/Van
8 x 4.5 x 4.5 ft
1000kg
430 PHP
330 PHP
310 PHP
Small Pickup
5 x 5 ft x open
1000kg
310 PHP
250 PHP
220 PHP
Light Van
5.5 x 3.8 x 3.8 ft
600kg
250 PHP
192 PHP
225 PHP
MPV/SUV
5 x 3.2 x 2.8 ft
200kg
160 PHP
130 PHP
140 PHP
Sedan
3.5 x 2 x 2.5 ft
200kg
140 PHP
110 PHP
120 PHP
3Fast Food Chains
It is given that fast-food chains have fleets of motorcycle riders that deliver food ordered online and by phone. But for cases of shortage in riders due to sudden unfathomable demand of orders, fast food chains can resort to Transportify's same-day food delivery services. Fast food chains may also use sedan/MPV or L300 Van for bulk orders from customers. Not only will hiring Transportify vehicles to take a load off the fast-food chain's delivery riders, but it will also help in finishing the delivery tasks faster.
4Bakeshops
Baked goods like decorated cupcakes and customized multi-tiered cakes are some of Transportify's delivery specialties. For one, we use economy cars instead of motorcycles when delivering baked goods to ensure that road bumps and jolts will not damage their structure and decoration. The vehicles also protect from outside heat, keeping the baked goods as fresh as possible. Additionally, our drivers are trained to handle specialty cakes with care.
5Food Packaging Corporations
Food packaging corporations have their delivery trucks to deliver their finished products to their clients. Their fleets are also often big to accommodate a large number of orders. But even logistic fleets as big as theirs need to outsource food delivery services during instances like truck bans and plate number coding that need to be overcome to meet the delivery deadlines.
Bonus: Personal Food Delivery Requests
Transportify's food business logistics services are not just available for business owners. People who would like to send cooked or baked meals to their loved ones can book a scheduled or same-day delivery with us using our Transportify app.
Being able to boost local food businesses is part of Transportify's goals as a logistics services Philippines in improving the logistics industry and traffic system in the country. Hopefully, our business logistics services company will be able to help a lot more businesses in the future.
SEE ALSO:
Advantages of Food Business Logistics Services Philippines
Almost everything and anything is available right at your fingertips in today's digital era. Most of the on-demand economy started by many logistics services Philippines has spread its news to the restaurant industry.
Simply because consumers preferred convenience in all aspects of their lives, and that's include dining.
With lots of third-party business logistics services that offer cargo delivery services to restaurants and consumers, it's easier for many restaurants to give their customers the convenience they deserve. However, is offering delivery logistics services Philippines worth their investment, time, and resources?
In reality, there are no one-size-fits-all answers. All of these will depend upon the restaurant and consumer needs.
To give you a brief explanation, here are the following factors you need to know to decide whether or not a food business logistics services is the appropriate decision for your food business.
Food Delivery Trends
Based on current statistics, food delivery orders made up 10% of restaurant sales in the Philippines last 2016. And, since this food delivery trend is growing speedily, it's predicted that delivery orders will increase up to 40% of revenue this 2020.
According to a survey, restaurants, and food establishments that offer online ordering or food deliveries see a 20% increase in their sales on average. So, if your restaurant or food business isn't offering online ordering and food logistics services Philippines, then you could be missing a substantial significant profit.
Booming Industry of Ghost Restaurants
Food business logistics services have had a significant effect on the restaurant industry. Because of the overflowing profit that food delivery has given to restaurants over the past few years, it's inspired a new category in the food industry: ghost restaurants.
Ghost restaurants are kinds of restaurants that only offer their food services via delivery. This is most applicable by individuals that baking and cooking are just a hobby that turns into something more profitable.
Unlike traditional restaurants that need a place or an establishment to operate, ghost restaurants don't need brick and mortar locations where you can dine or pick up your orders. They are typically running out of home kitchens, so the focus is more on food preparation and order fulfillment, rather than customer service and dine-in experience.
Most importantly, ghost restaurants benefit the most from lower operational expenses compared to traditional restaurants. Only time and new trends will tell whether ghost restaurants are just a food business logistics services trend or a sustainable restaurant business model.
But of course, you don't have to run a ghost restaurant to benefit from the food business logistics services.
The Pros of Food Delivery Service in the Philippines
There are some captivating reasons to offer food logistics services Philippines:
1More business opportunities
Sometimes customers prefer to have their food right at the comfort of their home. By providing food business logistics services, you'll be able to serve large quantities of customers.
2Exposure to new customers
Third-party logistics services Philippines and online ordering platforms have tied up their services to create a significant impact on consumers. When you sign up for different online ordering platforms, you're putting up your restaurants in front of millions of possible customers.
Moreover, if you choose Transportify as your food business logistics services, you can ensure that your food will be delivered on time and fresh. We offer outstanding and customer-friendly delivery services so your customers will be happy and satisfied. We value the smile of our customers; that's why we won't disappoint you when it comes to business logistics services.
3Less overhead
If delivery becomes eat ups the workforce of your business, you could simply downsize to a smaller space or establishment, or you can require less front-of-house employees. This kind of benefit will add up to your profit because it will lessen the rental and staff expenses.
4Increased check sizes
Restaurants see a 25% increase in check sizes from delivery and online orders compared to dine-in orders. As mentioned earlier, more consumers these days prefer to eat their food right in the comfort of their homes without spending too much. According to some consumers, they don't like to get stuck in a traffic jam or wear fancy clothes to enjoy some restaurant food. They simply get their smartphones, log in to the restaurant's website, and place an order.
As a restaurant owner or a food business entrepreneur, choosing the most reliable and trustworthy logistics services Philippines should be a priority. Not only will it serve as your representative, but it will also become the face of your business.
Choosing a third-party logistics services Philippines provider will also ensure the future reputation of your food business. Remember, a happy and satisfied customer will induce loyalty to your brand.
To know more about the services of Transportify, you may start by downloading our application through the QR code or the buttons below.
| | | |
| --- | --- | --- |
| | or | |
Frequently Asked Questions:
What companies are good to consider in choosing a third-party logistics services the Philippines?
🚚 There are factors to consider before selecting third-party logistics services in the Philippines. Your decision will boil down depending on the type of service you will need. Transportify offers the best logistics service for larger types of deliveries. Their services include from Economy type of vehicles like Sedans and SUVs up to heavy-duty vehicles such as a Open Truck and the Wing Van. If you only have to send small packages and parcels, LBC and JRS Express are your top picks.
What does business logistics mean?
🚚 Business logistics may refer to the process within a business in which the transport of goods and information are involved. This process can begin from raw materials up to the disposal of the customer. Modern logistics now includes disposal of the end product and how it may be used back in the supply chain. It is continuously evolving to be more efficient and incur the least cost it can for the company. SMEs need to have sustainable logistics for their business to keep up with the fast-paced market. Established companies can manage their business logistics. But with companies like Transportify, offer business logistics solutions even to small to medium companies. Providing them the opportunity to enter the market and keep up with tycoons and well-known businesses.