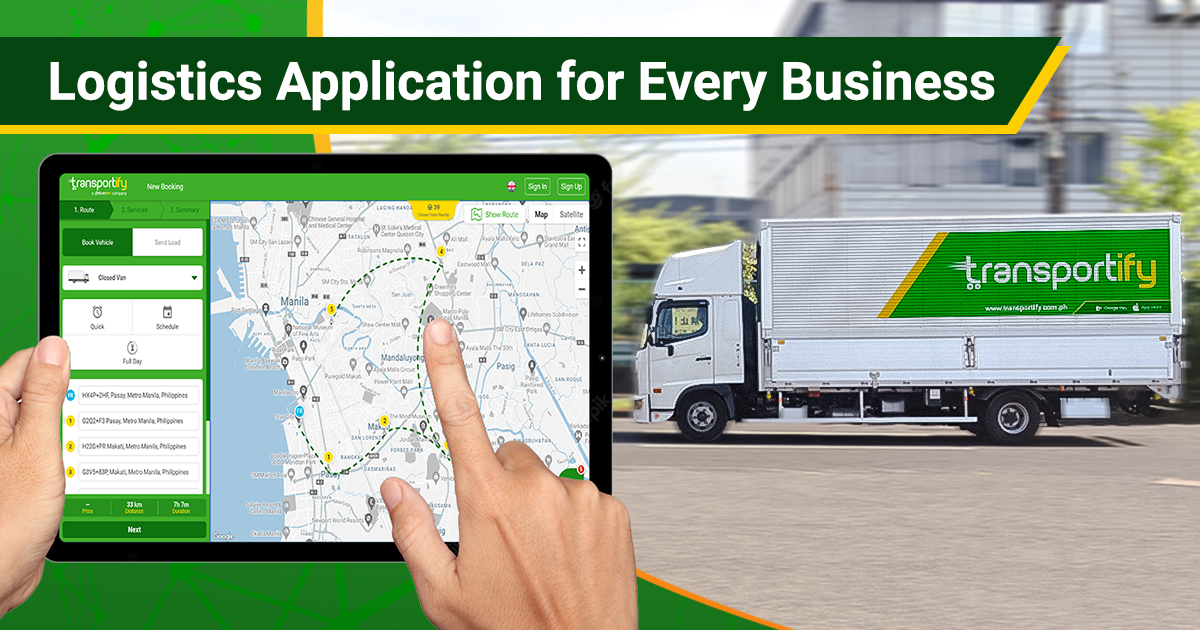 In today's society, most customers and businesses expect quick and easy deliveries. Shoppers who buy things online want to receive their ordered goods as soon as possible. People use online platforms more now than ever, so it's important to have a strong presence there. Grocery stores and supermarket businesses rely on deliveries to keep inventory stocked. Yet, due to increased demand, many are struggling to meet demands with the current situation. How can they maintain their high standards of service while monitoring their delivery activities?
Do not worry because modern logistics technology has got us covered! Many free logistics applications are available to help if you need to scale your operations. Discover how logistics apps can help your business improve delivery fulfillment times by reading this blog.
Why Do You Need a Logistics App?
Logistics nowadays is the term used to describe the safe and efficient movement of raw resources and completed products. According to a Statista analysis, US businesses spent $1.63 trillion on logistics in 2019. From the place of origin to the final customer, moving goods through supply chain network parts. By 2025, freight will move across the nation 5.95 trillion ton-miles.
Businesses in the logistics industry have increased their technological integration. To provide uninterrupted business operations, free logistics applications are used to organize the operation of companies. Logistics apps are increasingly important in speeding up different delivery processes. GPS technology allows customers to follow instructions and keep track of their deliveries by giving real-time shipment updates.
As the number of logistics companies increases demand, they need to level up their skills continuously. E-commerce and online businesses are dependent on logistics suppliers. Quick delivery has become a promising element to enhance logistical operations. These tasks are made easier by logistics apps.
Now, let's discuss the several benefits of logistics apps to SMEs and corporations.
Information is Real-time
Real-time information is important in delivery because it enables businesses to plan and respond fast to customers. It gives companies an up-to-date view of deliveries. As a result, this allows them to manage their resources better and provide faster service. Real-time data can assist businesses in identifying potential issues early on. Businesses can take action before the problem worsens. This ensures that customers get their orders quickly and on time, reducing the chance of customer dissatisfaction.
Automation of Paperwork
Automation is critical in delivery operations because it reduces the amount of manual data entry and speeds up processes. Automating paperwork allows delivery documents to be generated automatically, eliminating the need for manual input. This not only saves time but also increases accuracy. As a result, companies can track orders more accurately and handle customer inquiries faster.
Effective Management of the Warehouse
Logistics apps can help businesses manage their warehouses more effectively by giving them access to real-time data and insights. Companies can use these data to identify areas for improvement. Which in return can help optimize their warehousing processes resulting in faster delivery times and better customer satisfaction rates. Logistics apps also allow managers to monitor inventory levels, ensuring that the right products are available when needed. This makes it easier for companies to respond quickly to customer orders and optimize their supply chain operations.
Process of Flexible Delivery
Logistics apps provide businesses with the flexibility they need to meet customer demands. Companies can configure their delivery systems to accommodate different levels of demand and offer customers multiple delivery options. This allows companies to create a custom delivery experience that meets the needs of each customer. Logistics apps also enable businesses to offer on-demand services, such as same-day delivery, which customers increasingly expect. With the right logistics app, businesses can provide better customer experiences and boost their sales.
Here's how Transportify is using technology to improve deliveries for its customers and clients:
| Icon | Text | Column 3 |
| --- | --- | --- |
| API System Integration | | |
| Get Quote | Create Bookings | Amend Bookings |
| Manage Bookings | Driver Location & ETA | Delivery Confirmation |
Logistics Apps Features You Should Look For When Choosing
Easy Registration
With an app, users can easily register for the app, create an account, and use the various available features. Easy registration is essential when choosing a logistics app because it ensures that businesses can quickly and easily get up and running with their service. It also reduces potential entry barriers for customers and gives them a quick and seamless experience.
According to the Smart Insights Report, social log-in features can increase click-to-registration rates by 50%. Implementing this feature on your website will attract more potential customers and get a high registration rate from the beginning.
Real-Time Tracking
Real-time tracking is essential for businesses that want to keep up with the pace of their operations. With real-time tracking, businesses can track shipments in real-time, which makes it easier to adjust delivery timelines and ensure that goods are delivered on time.
Smooth Payment Process
A smooth payment process is extremely important when selecting a logistics app. Companies using an app with clear and transparent payment processes can better anticipate and budget expenses related to shipping. A secure and reliable payment system also helps protect the company's financial data and customers' information.
Wide Vehicle Selection
When choosing a logistics app for business, it is essential to consider the selection of large trucks and vehicles offered. This will guarantee that companies can find the appropriate type of transportation for their products. Companies frequently need different types of vehicles for their shipments, ranging from vans to trucks. Businesses can easily identify the best option for their needs by having a broad selection of vehicles available. This can also help companies save money by choosing a vehicle well-suited to their particular shipment type and size.
SEE ALSO:
Find The Best Free Logistics Application For Your Fulfillment
In the Philippines, logistics applications already exist and have become popular among businesses, SMEs or corporations. This technology speeds up the process of delivery, pickup, and drop-off. Logistics applications are free in Google Stores or Apple App Store, businesses and individuals download and use in-app features to their benefit.
Transportify is a leading free logistics application in the country that offers nationwide service and a wide selection of trucks, from sedans to trucks. Anyone can access the app through the web or download the app through app stores. The app has many useful features that give extra convenience to shippers.
Transportify can customize features or services under business accounts if you want more features. Visit our website or reach us through our hotline if you want to know more about the free logistics application's services.
| | | |
| --- | --- | --- |
| | or | |
Frequently Asked Questions:
What are the 7 Rs of logistics?
🚚 The 7 Rs of logistics are: Right product, right quantity, right condition, right place, right time, right cost, and the last one is a reverse process which is the return/recycle. These seven concepts can help ensure that a company's supply chain runs efficiently and effectively.
What logistics application features should you look for in an application?
🚚 When choosing a logistics application, there are several features you should consider. Look for an application that offers real-time tracking and visibility across all your shipments, so you can quickly identify delays or problems. You will also want to ensure the app provides multiple vehicle options and supports different shipments. Another important feature is an automated delivery system. This will allow you to create, distribute, and track deliveries easily and quickly. You should also look for apps that provide accurate estimated arrival times so customers can plan accordingly and be informed of the status of their shipment.