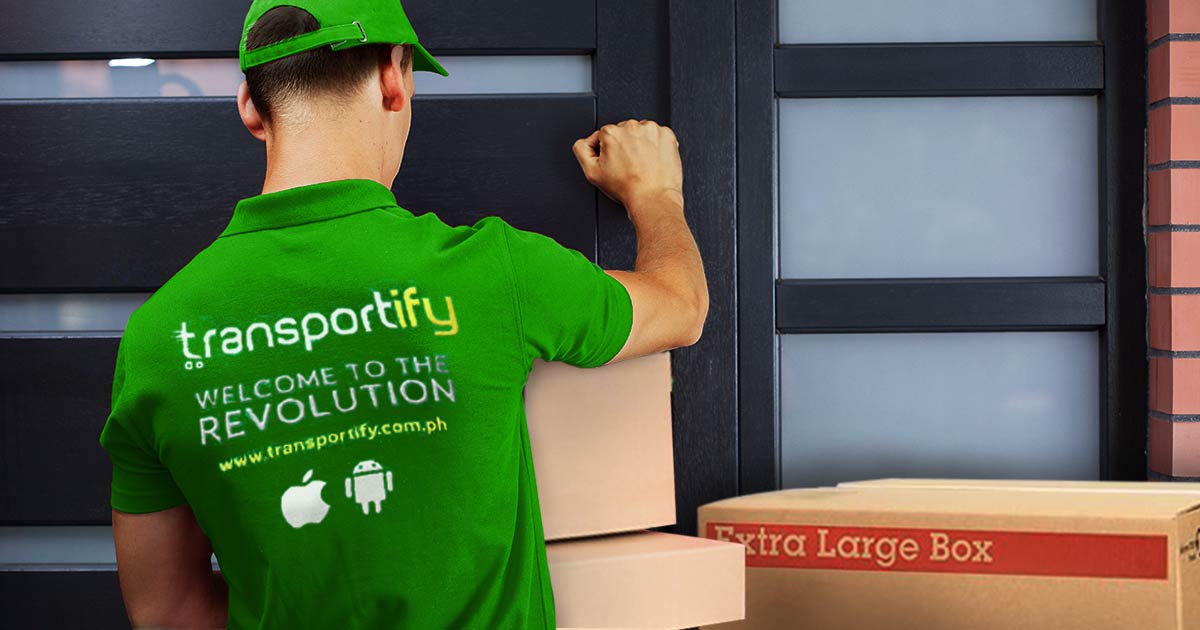 Transportify has the Philippines' largest fleet and most affordable fixed route prices with it's door to door cargo delivery services. Book our L300 / Van or our 4-wheeler to 6-wheeler closed vans for your freight forwarding needs. Transportify has no limits as long as we have everything you need to be delivered.
Transportify brings a modular approach to traditional long-distance truck freight forwarding. Instead of offering prices based on a full day trucking service, we price our services modularly based on the size of the vehicle, the route of your delivery, and other extra service options such as adding the helper to the booking as affordable as possible. The larger the car, the further the distance, and the more additional services you select, the higher the price. Aside from these factors, everything else is free! This includes the toll, parking, and gas. Currently, the available vehicles for the fixed price route are the L300 / Van for delivery of multiple medium cargoes and the Closed Vans for large bulk crates and items like appliances.
Transportify's Wide Range of Delivery Vehicles
Transportify's variety of vehicles, ranging from sedan, vans, closed van, open trucks, and even wing van, for delivery can carry up to a maximum of 1000 kg, which will allow you to load more cargo at once. You will be able to book either an L300, H100, Hiace, or Urvan. Delivery using these vehicles gives more savings and provision for goods than you want to move anywhere in Luzon, Cebu, Davao and to other key cities of Visayas and Mindanao through interisland delivery. You can provide extra services such as up to 2 "extra helpers" or the "special help from the driver" to load/unload bulky goods to the designated location.
See the full list of our door to door cargo delivery vehicles on the table below:
Vehicle Type
Dimensions/
Weight Limits
Base Price
(Metro Manila)
Base Price
(Outside Metro Manila)
Base Price
(Visayas/Mindanao)
Wing Van 
32 to 40 x 7.8 x 7.8 ft
12000kg to 28000kg
7500 PHP
6500 PHP
6500 PHP
6w Fwd Truck
18 x 6 x 7 ft
7000kg
4850 PHP
4850 PHP
4850 PHP
Closed Van
10 to 14 x 6 x 6 ft
2000kg to 4000kg
1800 PHP
1450 PHP
1450 PHP
Open Truck
10 to 21 x 6 ft x open
2000kg and 7000kg
2300 PHP
1950 PHP
N/A
L300/Van
8 x 4.5 x 4.5 ft
1000kg
430 PHP
330 PHP
310 PHP
Small Pickup
5 x 5 ft x open
1000kg
310 PHP
250 PHP
220 PHP
Light Van
5.5 x 3.8 x 3.8 ft
600kg
250 PHP
192 PHP
225 PHP
MPV/SUV
5 x 3.2 x 2.8 ft
200kg
160 PHP
130 PHP
140 PHP
Sedan
3.5 x 2 x 2.5 ft
200kg
140 PHP
110 PHP
120 PHP
Our closed vans cover bulk and large freight forwarding requirements. Our 4W closed vans can load up to 2000kg of cargo, while our 6W can carry up to 7000kg. One extra helper is already included for free to help in the loading/unloading of your goods.
Try calculating how much you'll save on our affordable cargo delivery services for provincial delivery with the price calculator. Check out our media updates from time to time to know the latest freight forwarding services in the Philippines.
SEE ALSO
What Are the Advantages of Using Freight Forwarding Delivery Services?
Freight forwarding is usually heard only in the logistics industry or by people specializing in that field. It was never a common term in a household or some businesses. As time progresses, big and small businesses adapt to different systems. A lot of which integrated their processes with logistics. Logistics is now a vital part of any organization or company. Thus, freight forwarding became a collective term for everyone.
This also resulted in the emergence of delivery services like Cebu to Iloilo cargo delivery service. However, to avail of a service, one must have the right connections and patience to hire one. And if successful, it usually is not immediately ready. Delivery services then introduced the door to door feature in logistics companies. This made deliveries feel more secure and personal around the late 19th century.
Fast forward to today, the logistics industry is continually changing along with the advancement of technology. Less than five years ago, door to door cargo delivery services using mobile apps were introduced in the Philippines. Transportify is one of the pioneers of this service that changed the game for freight forwarding.
People do not have to come to parcel centers to have their door to door cargo and freight delivery services done. Instead, they only had to download the app using their mobile phones. This also resulted in unleashing the potential of SMEs. Having an affordable fleet you can hire anytime makes operating possible despite having minimal capital. At this time, there's no excuse for you to expand your business and reach out to more customers.
Door to door cargo delivery service is a relatively new culture that Filipinos are beginning to embrace. Many and many individuals are starting to realize the convenience it offers. You may be familiar with online shops that deliver right at your doorstep.
Transportify is a service that lets you deliver personalized or business-related cargo directly to your customers. Most of our customers are just like any other that needs large vehicles to help them transport items. Listed below are what convenience offers for personal or business doorstep deliveries.
Increased productivity
This significantly benefits business owners and people who work at home or must always be home. Having deliveries pickup from your doorstep cuts the effort you need to go to delivery centers. This gives you more time to focus on producing your products or allot extra time for other work. Home persons don't need to leave their homes for security, personal space, or just to be at home. This is very important for some Filipino families that have an elderly or ill relative that they need to look out for all the time.
Increased security and convenience of e-commerce
This benefit provides security for you in terms of just having to wait at your home for your delivery. There might be risks in providing too much information since personal data such as addresses can be a massive deal for you. That is why it is just as essential to read more into the company you are availing of their convenient door to door cargo delivery services in the Philippines.
Most mobile transactions also feature modern payment solutions and cash-on-delivery. This gives flexibility to how you are going to pay. Whether you feel secure paying through credit/debit cards or waiting for your delivery, pay through cash. Freight forwarding companies are also starting to provide flexible payment methods. Just remember to secure personal information when availing door to door cargo delivery shipping services.
It is simple
As stated in the item above, having freight forwarding and trucking companies delivering your cargo to your doorstep makes everything simpler. As a result, more and more door to door cargo delivery services is finished before your day ends. The entire transport process at the entrance to door deliveries is now done easier. It cuts the process of going through logistics centers and is processed for days. Instead, the deliverer can do these transactions straight to the receiver. One easy example is small business owners with no fleet to rely on deliveries. Running a business independently is difficult, mainly if your product relies on last-mile delivery.
In conclusion, having a freight forwarding company that offers doorstep delivery is very convenient for anyone. Transportify is open 24/7 and has customer service that supports the drivers for flawless delivery. Not to mention the variety of vehicles available for use in our services. Do not think twice about upgrading your business. If you need help in logistics, Transportify is there to help you grow.
| | | |
| --- | --- | --- |
| | or | |
Frequently Asked Questions:
What are the best cargo delivery services available in Manila?
🚚 There are several free delivery services in Manila. However, choosing the best delivery service providers will depend on the purpose of delivery. Each service provider specializes in delivery in their way. LBC is a household brand for express delivery. Their services are best for small packages that can reach to far ends of the country and even abroad. If you need to deliver within Manila, and you need it fast, Grab express and Lalamove is your best bet. Their motorcycle fleet can reach the destination in no time. And lastly, if you are running a business or you need to deliver products that are too big for motorcycles or cars, you may choose Transportify. The wide variety of vehicles available in the app makes it the best choice for moving items in bulk or large.
What are the advantages of having a door to door delivery?
🚚 There are three things that you can get for having a door to door delivery. These things include but are not limited to saving time, security, and a much simpler process. The convenience of door to door delivery makes it a top choice, either for personal or business needs. Transportify is a mobile application that lets you have your items be delivered to areas in Luzon, Visayas, and Mindanao. This is also an excellent option for companies in need of a logistics fleet.