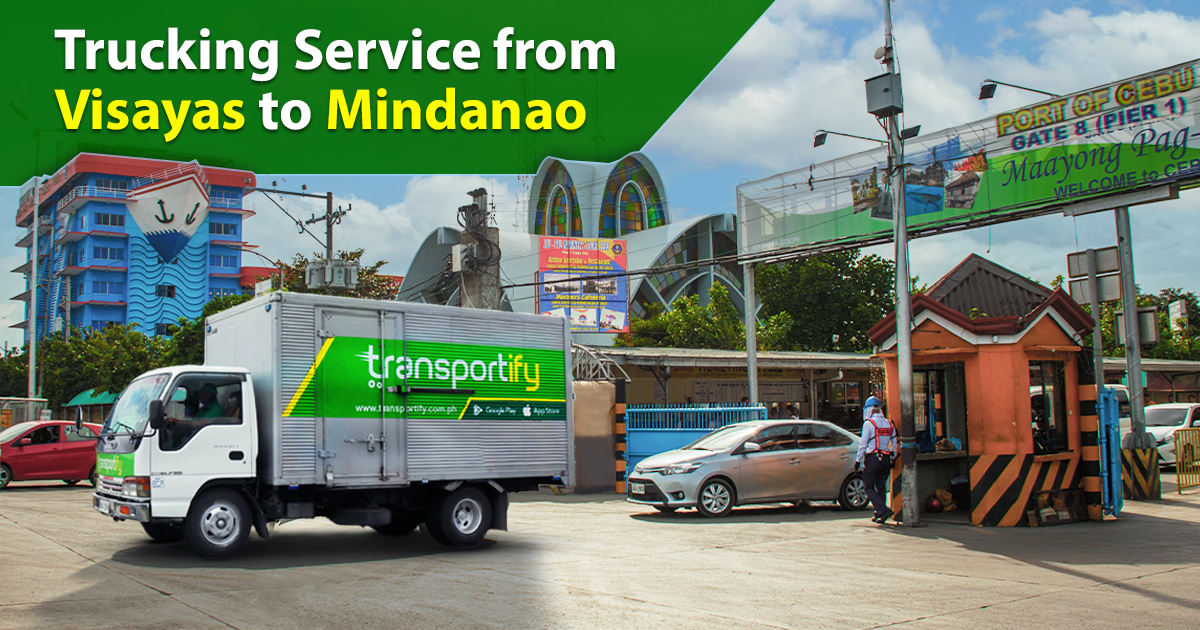 Did you know that there is a nationwide trucking service that can take your items from Visayas to Mindanao? Transportify offers an affordable and reliable way to get your goods from one island to the next. We offer door-to-door service, and we can deliver just about anything. In this article, we will discuss what items are usually delivered via our nationwide trucking service, and explain why Visayas and Mindanao are good markets for expansion.
How Does Cargo Get Transported from Visayas to Mindanao?
Visayas and Mindanao are important island groups in the Philippines because it has some of the biggest and busiest ports in the country. Because of the archipelagic structure of the Philippines, goods and materials are often transported over bodies of water. Therefore, ports situated in these island groups are crucial in ensuring that they are regulated and delivered to the other point. Here are the top ports in Visayas and Mindanao:
Port of Cebu
This port in Cebu is the largest domestic and international port in the Philippines. Positioned at the heart of Visayas, it is one of the busiest ports to servicing other islands of Visayas and Mindanao.
Port of Cagayan De Oro
The port of Cagayan De Oro is a medium-sized port located in Macabalan, Cagayan De Oro. According to the Philippine Ports Authority in 2016, it ranked 3rd among other ports in the country in terms of cargo tonnage. This is mainly due to the fact that this port is connected to Mindanao International Container Port and serves as a gateway to top ports in the world.
Port of Davao
The port of Davao can be found in Barangay Sasa, Buhangin District, Davao and serves the cargo ships of Celebes Sea and Davao Gulf. It primarily handles the transport of raw materials from export industries in the Philippines. Moreover, the port of Davao is one of the busiest ports among others.
Port of General Santos
This port can also be referred to as Makar Wharf located in Barangay Labangal, General Santos. It is a medium-sized port regulated by the Philippine Ports Authority. Aside from serving interisland transport from or to the country, it also has a fish port. The fish port supports high-grade tuna retailing and other local fishing businesses.
Why Are Ports Important?
Ports are important because they are the main gateway for a country's trade and commerce. They are also where most of the imports and exports pass through. A well-functioning port is crucial to a country's economy, as it enables businesses to transport goods and services efficiently. Ports also generate jobs and support industries such as tourism. In short, ports are essential for a country's growth and development. Visayas and Mindanao are two of the most important islands in the Philippines, so it is only natural that there would be nationwide trucking services between these two regions.
Here are the vehicles, trucks, and routes businesses can utilize to deliver from Visayas to Mindanao:
SEE ALSO:
Products Being Transported From Visayas to Mindanao
The Visayas region is known for its diverse culture and beautiful islands. But what many people don't know is that it's also a major producer of agricultural products in the Philippines. In fact, some of the country's best-selling fruits like mangoes and pineapples come from here.
That's why transport companies like Transportify offer interisland nationwide trucking services between Visayas and Mindanao. This way, businesses in both regions can easily access this fresh produce and other goods.
What are some of the items typically transported from Visayas to Mindanao? Here's a list:
1Rice
Rice is a staple food in the Philippines and it is important for nationwide trade. It is grown in many parts of the country and transported to different areas. The rice delivery service via Transportify can help businesses get their supplies quickly and efficiently. Whether you need rice for your restaurant or store, we can help you get what you need.
2Agricultural Products and Equipment
The business of agriculture in Mindanao is quite a profitable one. Some examples are fresh fruits, durian, mangoes, bananas, etc. There's also the need for the delivery of agricultural equipment such as harvesters, tractors, and other machines to be used in farming activities. During harvest time there's an increased demand for deliveries from Visayas to Mindanao through our trucking service.
3Construction Materials
Some examples of these are sand & gravel, boulders, and concrete mix. Due to the booming construction industry in Davao City, General Santos City, and Cagayan De Oro City, there's a need for consistent delivery of these materials. Especially during the rainy season when heavy equipment cannot be used on muddy roads.
Let's say you have ordered bulk pipes for a housing project in Davao City. You can schedule your delivery via Transportify App. Another example is when you are building a house in Cagayan De Oro City and need regular deliveries of concrete mix, sand, gravel, boulders as well as cement sacks. Again, with the help of Transportify cargo nationwide trucking service, your logistics problems regarding construction materials delivery from Visayas to Mindanao are now solved.
4Wood Products
The change in climate condition between Visayas and Mindanao has prompted the need for wood product manufacturers to use Mindanao lumber which is more resistant to termites.
5Raw Materials
Visayas and Mindanao are the major producers of coconuts. The coconut fruit is harvested in these islands but the husks, shells, leaves are also used for making products such as furniture and handicrafts. (coconut shell lampshade) These byproducts need to be shipped to other island groups in order to fulfill demand from consumers across the country. Unlike with fruits that do not last long before they go bad and rot, wood products can usually take a beating during transportation over bumpy roads which happen regularly when traveling through mountain highways between Visayas and Mindanao.
6Medical Supplies
Hospitals in Mindanao need regular delivery of medical supplies from Visayas. Some examples are disposable masks, alcohol wipes, gloves, medicines such as antibiotics, anti-viral drugs for dengue fever cases which are quite common during the rainy season or summer months. These items must arrive on time to ensure that the hospitals can serve their patients well. A delay will mean unnecessary pain and suffering for the sick individuals who have been admitted into those facilities where they're supposed to get better instead of getting worse due to lack of medicine availability caused by logistics problems like transportation delays.
| | | |
| --- | --- | --- |
| | or | |
Frequently Asked Questions:
Where else can Transportify's nationwide trucking deliver?
🚢 Transportify can deliver from areas of Luzon or Cebu to Visayas and Mindanao. If you have a growing business in
Cebu is planning to expand soon, a nationwide trucking service with a wide service area like Transportify can support you to expand your customer reach. If you need inland transport, Transportfy is available anywhere in Luzon, Cebu island, Davao, Cagayan De Oro, General Santos City, Bacolod, Iloilo, Dumguete, and Kalibo for same day delivery.
Can the service of Transportify from Visayas and Mindanao transport bulky items?
🚢 Yes. Transportify specialized in the transport of bulky and heavy items. From Visayas to Mindanao, customers can book light delivery vehicles like L300 or vans. If they need something larger and has more weight capacity, they can book Closed Van trucks, 6w Fwd Trucks, and 10w Wing Vans. Aside from that, unlike other trucking services, Transportify allows a wide range of items to be delivered given that these are not illegally acquired.