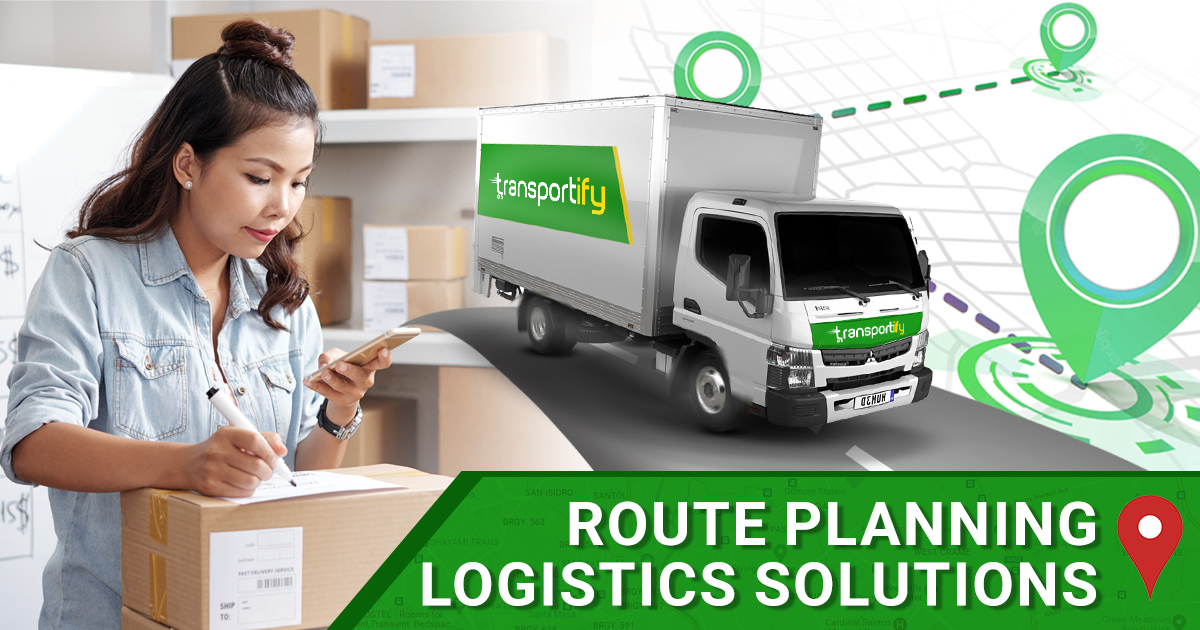 The last-mile delivery of products to customers is usually the most expensive and complicated. There are many ways to reduce the costs and problems that can occur. One of the best is to use route planning logistics solutions to optimize deliveries at the right cost and time. Access to advanced logistics tools such as route planning can help you improve your deliveries. As a result, you may find your business with more satisfied customers.
What Is Route Planning Logistics?
Route planning logistics is the process of determining the best delivery order for more than two destinations. Getting your products into the hands of the customer is critical, especially with last-mile delivery. Route planning arranges destinations while taking into account on-the-ground data such as traffic. Having the ability to avoid traffic results in faster fulfillment and lower fuel consumption.
Good route planning aims to find the quickest and most cost-effective way to get between two places. When it comes to deliveries, far too many businesses focus on the big picture. They tend to ignore on-the-ground factors that can make a big difference in time and cost.
An optimized route will not only be the quickest way for your goods to arrive but also be the most fuel-efficient and cost-effective option. Traffic and road conditions are important, but so are the customers' needs, such as the time and mode of delivery they require.
What Are the Common Problems Associated With Route Planning?
What makes up an optimized and well-planned route is not simply the minimal distance your product has to travel. It includes myriad other factors as well. If your route planners fail to consider everything that might affect it, it can soon lead to greater issues and costs. Here are some of the biggest and most common problems relating to route planning:
The expense
Shipping is expensive, and keeping your business on the right track to good profits means keeping your expenses to the least. To avoid misspending, a business needs to identify the right vehicle that would fit the cargo. A route planning logistics solution can do just that, all you need to do is provide the necessary details, and the system will automatically create bookings for you.
Here are vehicles and trucks of Transportify you can expect to see when you use its route planning feature:
Vehicle Type
Dimensions/
Weight Limits
Base Price


(Metro Manila)

Base Price


(Outside Metro Manila)

Base Price


(Visayas/Mindanao)

Wing Van 

32 to 40 x 7.8 x 7.8 ft




12000kg to 28000kg

7500 PHP

6500 PHP

6500 PHP

6w Fwd Truck

18 x 6 x 7 ft




7000kg

4850 PHP

4850 PHP

4850 PHP

Closed Van

10 to 14 x 6 x 6 ft




2000kg to 4000kg

1800 PHP

1450 PHP

1450 PHP

Open Truck

10 to 21 x 6 ft x open




2000kg and 7000kg

2300 PHP

1950 PHP

N/A

L300/Van

8 x 4.5 x 4.5 ft




1000kg

430 PHP

330 PHP

310 PHP

Small Pickup

5 x 5 ft x open




1000kg

310 PHP

250 PHP

220 PHP

Light Van

5.5 x 3.8 x 3.8 ft




600kg

250 PHP

192 PHP

225 PHP

MPV/SUV

5 x 3.2 x 2.8 ft




200kg

160 PHP

130 PHP

140 PHP

Sedan

3.5 x 2 x 2.5 ft




200kg

140 PHP

110 PHP

120 PHP
Strict time windows and regulations
Governments and private companies often have varying rules and regulations on different products. This may give you a limited window for goods to arrive or get on to the next step in the delivery process. Relying on individuals to keep all this in mind and ensure that your products adhere to everything and arrive on time can be problematic.
Taking customers' wishes into account
You don't only have to consider the rules but also what your customer wants. They may have specific times when they can receive the goods or individual demands that would be difficult for a person to consider and adjust for.
Time
Time is often the enemy. Products that take longer to reach their endpoint will cost you money. Logistics dispatchers who take their time planning the best route will do the same, but an unplanned or poorly planned route may cost even more.
Time itself can have an impact on your delivery planning. From traffic at different times of day to when people are working and around to those previously mentioned windows of opportunity.
Changes of plan
Canceled orders, returns, people not around to accept deliveries, and so many other issues can all lead to the need for a change of plan. It is not always possible for a person to react quickly enough to see what has happened. Applying changes can take time, especially if this process relies heavily on manual intervention.
Last-minute issues
Breakdowns, illness, a lack of drivers, and bad weather are only a few of the many things that can go wrong. With the information and advanced logistics tools available today, you can learn about your route. Remember that circumstances can change in a snap, and you must adapt.
These, and many more, are potential issues for your company. Rather than attempting to solve them on your own, it is easier and more cost-effective to seek alternative solutions, such as route planning logistics.
SEE ALSO:
How Can Route Planning Logistics Solution Help Your Business?
Route planning can optimally connect orders. Using this software can help many businesses in many ways. Here are a few examples to help you see how route planning logistics solutions could help your business:
Saving money
You want to get your goods from point A to point B quickly and cheaply. You can cut down on your expenses through route optimization and find the most cost-effective way to get there.
Happier customers
The ability to track where packages are, and get notified of arrivals and delays. Customers won't mind as much if they can see and understand why something takes so long. It is better than receiving no information and waiting.
They can save you time while getting your products there on time
Using these solutions means saving huge amounts of labor and time. Compared to traditional route planning methods, automated route planning provides the best and most accurate plan in the least amount of time.
Dealing with plan changes
Again, being able to see the route, track packages, and communicate at each stage will assist you in dealing with any changes in the plan. This will make you and your customers more at ease.
For these and other reasons, your company should use route planning to save time and money while at the same time increasing operational efficiency.
What Solutions Are Available?
In the past, logistics employees manually plan routes. Often, experienced operators do their best to find the best solutions for their drivers and deliveries. This worked well for a long time. However, in an age where technology is growing and changing, there are more effective and less time-consuming ways to get the job done in the right way. Route planning app can save time and money across the board. From labor costs to avoiding costly delays and complaints. On top of that, it is simple and ready to use.
Transportify's Smart Load Planner Is Your Cost-Effective Solution
With many more options and advantages, Smart Load Planner can plan out your route for you, saving time and showing the top way to get from point A to B. You can easily see where on the route your product is, and so can the customer. Greater transparency and communication of real-time locations can help keep everyone happy.
Here's how you can use Smart Load Planner to your advantage:
| Steps | Description |
| --- | --- |
| | STEP 1: Customer needs to upload an Excel file that has necessary booking details. (e.g. contact name, contact person, item length, item width, item height, item quantity) |
| | STEP 2: After uploading, the bundling engine will create bookings based on the list of orders in the Excel file. |
| | STEP 3: Bookings are treated as normal full truckload (FTL) and will be pushed to drivers after confirmation of customer. |
With the Smart Load Planner system, customers can enter information and get a list of bundled delivery bookings for their multi-drop shipping needs. The tool doesn't only take what you give. Instead, it uses a proprietary algorithm that considers factors like time and traffic to create an efficient route from one location all way through each stop.
| | | |
| --- | --- | --- |
| | or | |
Frequently Asked Questions:
How can route planning save time and cost on deliveries?
💡 Routing software can help save time and cost on deliveries by optimizing the route between locations. This is done by considering a range of factors, such as traffic conditions, delivery windows, customer preferences, and more. Additionally, route planning software allows for greater transparency and communication around real-time delivery statuses. It helps to keep customers informed and happy. One example of a routing software solution that can help streamline your logistics operations is Transportify's Smart Load Planner. With this tool, you can plan out optimized routes for your multi-drop or single-stop deliveries in a few clicks.
What are the common challenges in route planning logistics?
💡 Many challenges can arise in route planning logistics, including changes of plan, last-minute issues, and more. Some of these challenges can be difficult to anticipate or react to too quickly, leading to increased costs and delays for your company. It is important to seek alternative solutions such as routing software that can help optimize your delivery routes and improve efficiency to overcome these challenges. Transportify's Smart Load Planner uses an advanced algorithm to provide optimized routes for multi-drop deliveries. With this tool, you can swiftly plan out the most efficient routes for your shipments and ensure timely delivery with minimal delays or cost overruns.