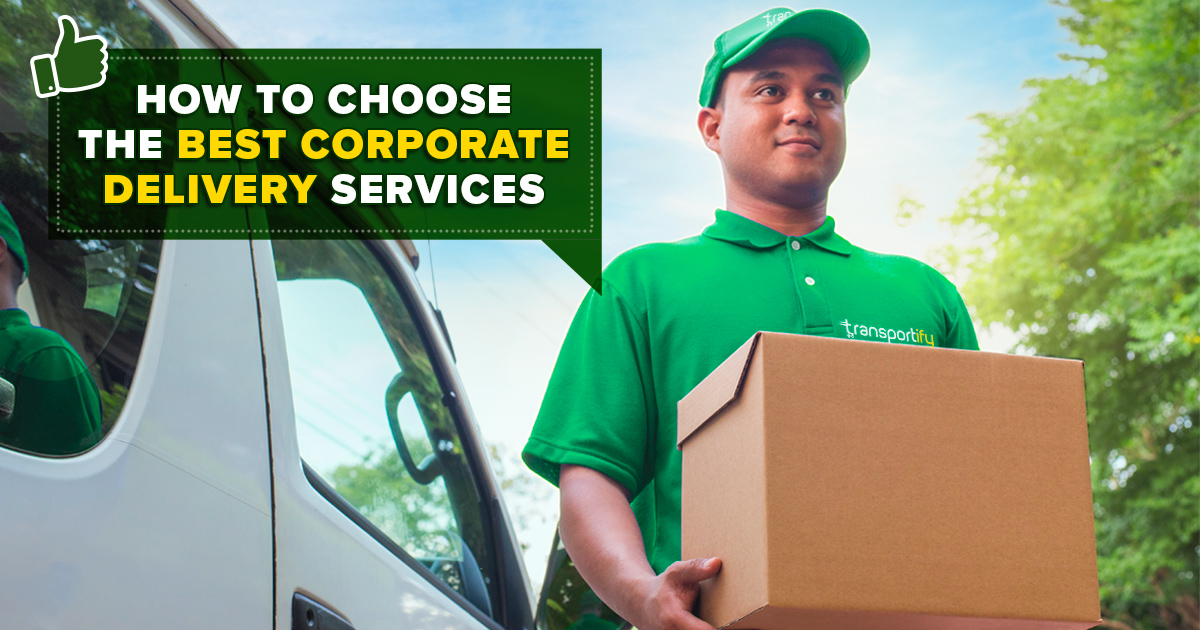 You undoubtedly need dependable corporate delivery services if your company needs to make several deliveries. Either to clients or other organizations. Your business depends on accurate corporate delivery since they enable you to reach wider consumers quickly. Selecting the best service for your company involves art and science. The most crucial decision for any corporate delivery service will be selecting the best company. Why do we say that? The right delivery company will assist you in boosting your company's growth and conversion rates.
What factors must you take into account while picking the best corporate delivery service? This article will cover five things to keep in mind while selecting the best corporate delivery service provider for your company.
What's The Best Type of Corporate Delivery Partner?
A trustworthy corporate delivery service is essential for your shipping and logistics, whether you've just launched a business or are simply seeking to make some modifications. The appropriate corporate delivery services partner can help you save money while improving your reputation and client satisfaction.
However, finding ideal corporate delivery services may be challenging and is not a choice to be made lightly. In response, we are here. We've compiled a list of the criteria you should consider when selecting a delivery partner for your company to assist you in making the proper decision.
Range of Services
We've only mentioned a few of the services you might need. First, however, you must confirm that any corporate delivery services you choose offer all the services you currently use or may require in the future. So pay close attention to the range of services on offer.
And keep in mind that even if your corporate delivery company is tiny and now provides local delivery, if you intend to develop in the future, you'll need a delivery partner who can handle the shipping and logistics associated with that expansion.
Same day shipping
Day after delivery
Express shipping
Shipping of cargo and freight
Professional services (such as warehouse storage and pick and pack)
No surcharges for remote areas
Delivery Speed
Customers anticipate quicker delivery times in a world where same day delivery is feasible. As a result, you should consider the corporate delivery time while selecting a company.
You should pick a delivery service to provide express shipment and expedite orders when necessary. You could also pick a company that offers same day, next day, or overnight delivery because customers love these options.
So, before making a choice, visit their website and talk to logistics consultants. They can provide you with advice on the several delivery alternatives they have available.
Reliability
A company's dependability is one of the most crucial factors you should take into account. An unreliable corporate delivery partner could harm your company's reputation and cost money. The good news is that there are some techniques to determine a company's dependability, including:
The business's website
Testimonials from previous customers
Customer comments and testimonials found online
Website reviews
Therefore, do your homework and thoroughly investigate each company you are considering before deciding on one. Once you have all the information you need, you may choose the most dependable corporate delivery services provider.
Business Program
Services
Program Features
Live Support

Open 24/7

Prepay

Available

Postpay with Monthly Invoicing

Available

Destinations

A total of 16 destinations can be added in every booking

COD/POD
COD + POD
2.50% of invoice
Min of 80 PHP
(Flat Fee/Booking)
POD Only
80 PHP for ≤ 3 destinations
160 PHP for ≤ 10 destinations
200 PHP for ≤ 15 destinations
Insurance and Warranty

Up to 3 million PHP coverage from MAPFRE

Nationwide Service Area

Available




Interisland and Same Day Trucking in Luzon, Visayas, and Mindanao

Business Web Dashboard

Team Account Management Customized Reports
Communication and Professionalism
How professional the service providers are and how well they communicate are two additional crucial factors to consider. Finally, you want your interactions with them to be as simple and fun as possible.
Therefore, when selecting a delivery partner, you should consider crucial factors. This includes how they interact with clients, how they handle billing, and how you go about making bookings with them.
Choose a corporate delivery service that will make the process as simple as possible and be available at all times (within reason) to assist you if you run into any problems.
Security
As people share more data than ever, whether online or offline, we hear much more about security. Therefore, you should also think about safety while selecting a company. Your company can send packages carrying delicate goods or information, depending on the nature of your firm. Therefore, it would help if you had a company that offers several security measures to protect your packages.
Also, you want a service provider who will request identification when necessary to ensure they are not taking unneeded chances with your products. Finding out if a delivery provider is any of the following is an excellent approach to evaluating their level of security:
Tracking GPS in real-time
Safe package deliveries
Complete audit traces
Openness along the entire chain of custody
Employees who have received security-related training
On the business website or by contacting customer service, you ought to be able to learn more or inquire about these.
Does It Make a Difference Who Delivers or Collects Your Goods?
The short answer is yes. Choosing the right delivery or collection service can be important if you hope to get the most out of your logistics experience. Companies offer different levels of customer service, pricing, and efficiency, so it pays to do your research.
For example, if speed is paramount to you when it comes to getting your goods delivered, then the same day delivery may be best for you. However, this type of delivery can come at a premium price, and additional fuel or distance traveled costs may exist. On the other hand, if cost is more important than speed, opting for standard postal services could save you money on the upfront transport fee and any potential fuel charges.
SEE ALSO
Why Is It Important To Compare Delivery Services?
Comparing delivery services is essential for businesses of all sizes. By comparing services, you can understand the features and benefits of each option, determine which one best fits your needs, and make an informed decision on the best service to use for your business.
When considering different delivery services, it is important to look at cost, customer service, speed of delivery, tracking capabilities, and ease of integration with existing systems. Understanding these factors will help you decide which carrier or platform provides the most value to your company.
Additionally, comparing services can help identify areas where you could reduce spending and any potential savings available. This knowledge can then inform future purchases or investments to maximize efficiency.
The Right Delivery Partner Builds Trust And Increases Sales
In conclusion, finding the right corporate delivery service for your business can be a challenge. However, considering factors such as price, convenience, reliability, and customer service, you can decide which company best suits your needs.
Companies can ensure that their goods and services are delivered efficiently and on time by collaborating closely with these third-party providers and strategically choosing ones with high-performance records. With the right corporate delivery service, businesses can optimize their supply chain operations and improve customer satisfaction. This will ultimately result in greater success for the company.
Transportify has been a leading delivery partner for individuals and businesses since 2016. The Transportify app has in-app features built to support businesses challenging operations like batch booking, smart route planner, flexible payment options, and data analytics. Download the app through the buttons below and discover more about what Transportify can do to support you.
| | | |
| --- | --- | --- |
| | or | |
Frequently Asked Questions:
Why is reputation important in choosing a corporate delivery partner?
🚚 Reputation is a critical factor to consider when selecting a corporate delivery partner. It can be difficult to determine the full scope of services and reliability that any company can offer without considering its reputation. A reputable delivery partner will have established relationships with customers, vendors, carriers, and other service providers, enabling them to provide reliable and efficient solutions for your shipping needs. A good reputation also indicates that the company has experience providing quality service and strives to meet customer expectations.
What's the best way to choose a corporate delivery partner that fits your requirements?
🚚 When choosing a corporate delivery partner, it is important to consider all the factors that will affect your experience. First, consider the size and scope of your business operation. Second, review the reputation and reliability of any potential corporate delivery partners before making a final decision. Third, assess their pricing structure and make sure they provide value for money. By doing this analysis upfront, you can find the right corporate delivery partner that meets your needs and fits within your budget.