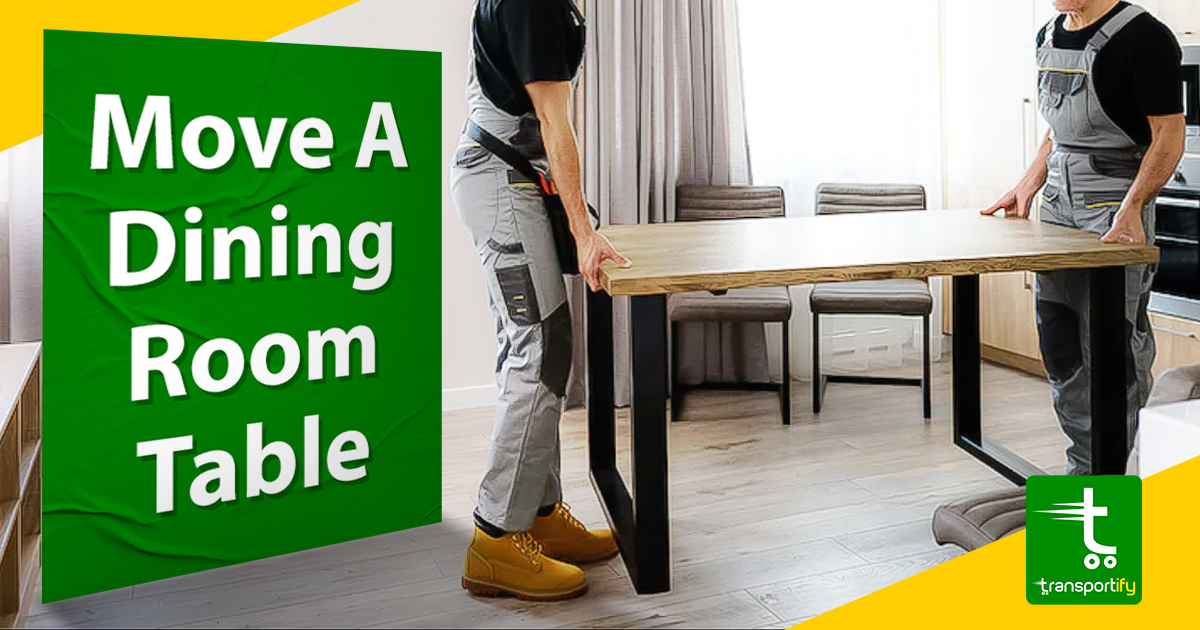 Packing and preparing a dining room table and its chairs for a move can be difficult. It is important to protect the table set during the move, as it is likely to get scratched or damaged. This article will discuss how to ship a dining room table for a move. We will provide moving home tips on protecting the table and ensuring that it arrives at your new home safe and sound.
Whether you're moving long-distance or simply making space for a bigger family, these home items are frequently sentimental, making transporting your heavy dining room furniture difficult. While packing and moving the contents of your dining room furniture, such as dishes, china, and silverware, can be a bit complicated, in most cases, packing and moving the table itself is relatively simple. There are ways how to ship a dining room table to your next home.
What Are The Most Common Damages That Can Happen When Moving A Dining Room Set?
A few things can go wrong when moving a dining room set. The most common damages include:
The table getting scratched
The chairs getting scuffed up
The tablecloth or runner getting ripped
One of the legs on the table breaking off
A chair back breaking off
These are just some of the more common problems during a move. While they may seem minor, they can add to big damages if you're not careful. So, how can you avoid these problems? First, learn how to ship a dining room table by preparing thoroughly.
Tools You Need To Prepare Before Packing Your Dining Set
1Furniture Pads:
Furniture pads are one of the best ways to protect your furniture during a move. They are typically made of quilted fabric or padded material and can be placed over the surface of your furniture to protect it from scratches. You can also use furniture pads to wrap around the legs of chairs and tables to prevent them from getting scuffed up.
2Bubble Wrap:
Bubble wrap is another great way to protect your dining room set during a move. You can use bubble wrap to cover the entire surface of the table or just the top. You can also use bubble wrap to wrap around each chair leg individually. This will help prevent any scratches or scuffs from occurring during the move.
3Packing Paper:
Packing paper is a great way to protect your tablecloth or runner from getting ripped during the move. Place a layer of packing paper over the top of the tablecloth or runner and then smooth it out. This will help prevent any rips or tears from occurring during the move.
4Cardboard Boxes:
Cardboard boxes are essential for moving a dining room set. You can use them to pack up all the plates, bowls, and glasses you will need for your new home. You can also use cardboard boxes to pack up any other items you may need during the move, such as silverware, napkins, and tablecloths.
Moving Home Tips For Heavy and Bigger Items
Find the right logistics company
There are many ways to find a good shipping company. You can ask friends and family for recommendations, read online testimonials from previous clients, or research companies.
Once you have found a few potential shipping companies, reach out to them and get quotes to compare prices and services. Choose the logistics company that best meets your needs in terms of price, service, and insurance. With a little bit of research, you can be confident that your dining room set will arrive safely at its new home.
Vehicle Type
Dimensions/
Weight Limits
Base Price


(Metro Manila)

Base Price


(Outside Metro Manila)

Base Price


(Visayas/Mindanao)

Wing Van 

32 to 40 x 7.8 x 7.8 ft




12000kg to 28000kg

7500 PHP

6500 PHP

6500 PHP

6w Fwd Truck

18 x 6 x 7 ft




7000kg

4850 PHP

4850 PHP

4850 PHP
Closed Van

10 to 14 x 6 x 6 ft




2000kg to 4000kg

1800 PHP

1450 PHP

1450 PHP

Open Truck

10 to 21 x 6 ft x open




2000kg and 7000kg

2300 PHP

1950 PHP

N/A

Mini Dump Truck

10 x 6 ft x open




2000kg

1500 PHP

1200 PHP

N/A

L300/Van

8 x 4.5 x 4.5 ft




1000kg

430 PHP

330 PHP

310 PHP

Small Pickup

5 x 5 ft x open




1000kg

310 PHP

250 PHP

220 PHP

Light Van

5.5 x 3.8 x 3.8 ft




600kg

250 PHP

192 PHP

225 PHP

MPV/SUV

5 x 3.2 x 2.8 ft




200kg

160 PHP

130 PHP

140 PHP

Sedan

3.5 x 2 x 2.5 ft




200kg

140 PHP

110 PHP

120 PHP

Make a list of everything you own in your dining room set
Pick up a measuring tape and your phone to obtain precise measurements and images of the goods to submit to the delivery company. The more information you can provide your movers, the better prepared they will be to pack and transport your table and chairs. These dimensions also assist you in selecting the appropriate packing materials while determining the final shipping costs.
Ensure your shipping company has adequate details for most of the following categories: weight, inventory of pieces, measurements, oddly shaped furniture, glass components, and fabric parts.
Insure your items
You will want to insure your items with your shipping company if something should happen to them during transit. This is especially important when shipping valuable pieces, like a dining room table.
Be sure to get an estimate from your shipping company ahead of time to budget for the cost of shipping and insurance. Transport companies provide coverage for the entire process, such as Transportify. Before you hire, make sure you ask these questions.
SEE ALSO:
Moving Home Tips: Prepare and Pack Your Dining Room Table for Shipment
Depending on the level of service you choose to deliver, you may need to perform some preparation work yourself. This is where your learnings from how to ship a dining room table can be helpful.
Whether you pack your furniture or the transport company takes care of it, you'll want to clean it and prepare for moving day. If you clean the table and chairs now, you'll avoid damage and possible pest infestations in the future.
To prevent scratches, dust and clean the dirt and food off of the surfaces
To enhance surfaces, apply wax to wood pieces.
Vacuum and steam clean your fabric furniture, ensuring it's completely dry before packing.
Do-It-Yourself Packing Preparation: How to Ship A Dining Room Table
If you prefer to pre-package your goods rather than hiring a transport company, follow these steps to ensure successful delivery. Don't forget to put a sheet of packing paper on top of bubble wrap if you use it. The plastic material may harm some wood finishes, especially antiques.
Remove any components that you can for better package protection. Unscrewing legs and removing door panels, knobs, and pulls is part of this stage.
Separately wrap and seal the legs individually.
To make reassembly simpler, attach the hardware bag to the table.
Paint a line of painter's tape or bungee cords down the center of your drop-sides to keep them from swinging open.
If the glass isn't removable, cover it with cardboard. If you can, remove the glass and package it separately with bubble wrap before packing it correctly.
To safeguard corners, use sturdy cardboard or packing material.
To prevent dents, wrap bars with bubble wraps, such as chair backs and table and chair legs.
Cover the table, buffet, cabinet, and sideboard with moving blankets. To keep the carpets in place, wrap them in packing tape before adding a layer of plastic wrap
| | | |
| --- | --- | --- |
| | or | |
Frequently Asked Questions:
Why is insurance important when finding a shipping company?
🏠 When looking for a shipping company, it's essential to make sure they offer insurance. You'll be compensated if anything happens to your dining room table during shipping. Without insurance, you could lose a lot of money if something goes wrong.
What are some moving home tips for packing a dining room table?
🏠 If you're planning on packing your dining room table yourself, here are practical tips on how to ship a dining room table. Few things you should keep in mind. First, make sure the legs are securely attached and wrapped, so they don't get damaged. You'll also want to avoid putting too much weight on the table, so it doesn't collapse during shipping. Finally, ensure the tabletop is appropriately protected, so it doesn't get scratched or damaged. With these moving home tips in mind, you can rest assured that your dining room table will arrive at your new home safely and without any problems. Shipping a dining room table doesn't have to be stressful. Just make sure you're prepared and choose a reputable shipping company.