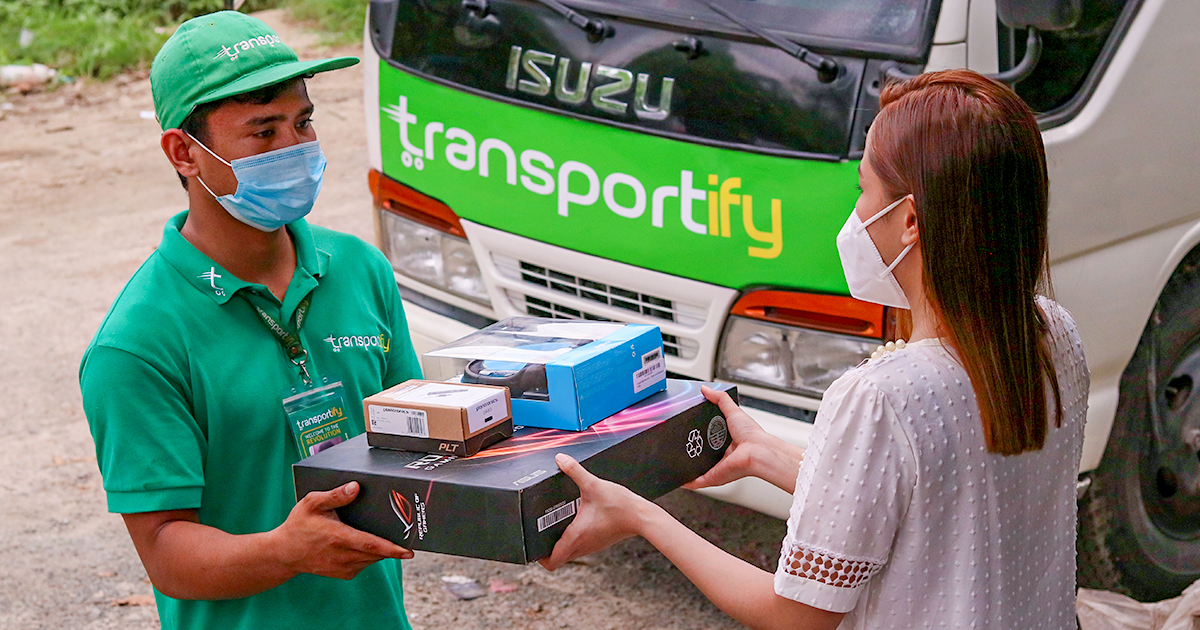 One of the most important aspects of logistics services is the way you do package delivery. It's not something that you should rush or pay little attention to. If you want your items to arrive at their destination safely and undamaged, then ensuring that your freight, package and cargo delivery are wrapped and boxed properly is vital.
What are the Do's and Don'ts of Package Delivery?
Yes, one could argue that it is the logistics services companies' duty to handle package delivery with care. However, that doesn't negate the fact that it is the sender's job to ensure that it is packaged appropriately.
In this blog, we're going to take you through an easy guide to proper cargo and package delivery with some do's and don'ts.
Cargo and Package Delivery Do's:
Do sturdy boxes to package your cargo delivery in. Preferably double-walled and brand-new. That said if you do go for used boxes, you'll have to ensure that they are in a suitable condition.
Do use plenty of internal packaging such as bubble wrap, when packing your items for delivery. The more padding you add inside, the more protected your items will be.
Be sure to measure and weigh your package once it's been wrapped and sealed. This is to ensure that it matches the measurements specified in the order.
Clearly, write the delivery and collection address clearly in marker pen on your box.
Use strong tape on all of the edges of the boxes, including corners. This will ensure that the package or cargo is entirely safe and will not fall open in transit.
Make note of your package appearance and take note of any distinguishing features. That way, if in the highly unlikely event that your package goes missing, it will be much easier to identify.
Be sure to remove all old labels and addresses from the packaging to save confusion with the cargo and package delivery drivers.
Cargo and Package Delivery Don'ts:
Don't tape multiple parcels together. Each individual parcel must be unattached to anything else. If you'd like to deliver them in the same package, consider a larger box perhaps.
Don't bother with "fragile" or "handle with care," when instead you can opt for the appropriate packaging and interior padding.
Don't use standard cello-tape. You must opt for strong and appropriate packaging tape.
Avoid using bags or cloth as a substitute for a cardboard box.
Avoid used and damaged boxes if you can. If you must use second-hand boxes then be certain to wrap it thoroughly with tape, including the corners for extra structural integrity.
You don't have to write what the item is or how much it's worth on the side of the box (you'd be surprised by how many people do this).
Do not use a box that is not strong enough to handle the load. Most new cardboard boxes designed for moving will specify a maximum weight, so abide by it.
Get specific requirements from your logistics services company.
It's important that you speak with your logistics services provider and find out if they have any specific packaging requirements, or if there is anything that they will not accept.
If you're interested in choosing Transportify as logistics partner for your business and would like to be part of our Business Program, then follow the link. There you will find plenty of information about how we can service your cargo and package delivery. Here are some of the benefits of using Transportify as your logistics services provider:
Business Program
Services
Program Features
Live Support

Open 24/7

Prepay

Available

Postpay with Monthly Invoicing

Available

Destinations

A total of 16 destinations can be added in every booking

COD/POD
COD + POD
2.50% of invoice
Min of 80 PHP
(Flat Fee/Booking)
POD Only
80 PHP for ≤ 3 destinations
160 PHP for ≤ 10 destinations
200 PHP for ≤ 15 destinations
Insurance and Warranty

Up to 3 million PHP coverage from OONA Insurance

Nationwide Service Area

Available




Interisland and Same Day Trucking in Luzon, Visayas, and Mindanao

Business Web Dashboard

Team Account Management Customized Reports
SEE ALSO
What are Useful Tips When Choosing the Right Package Delivery Logistics Service?
Now that you have the idea about the do's and don'ts for package delivery, it is now the right time to jump onto the next step: finding the right logistic services provider as your delivery partner.
As a business owner or individual, you are probably aware that logistics plays an essential role in the booming online business when it comes to supply chain management and order fulfillment to deliver orders to its intended customers' destination.
As a result of this, it is ultimately crucial to find a reliable logistics services provider that will help you to uplift your business. It will help to expand your business, lessen risks, and costs with their excellent solutions that involve the following:
Transportation
Distribution
Shipping
Receiving
Warehousing
Selecting the most suitable logistics services is a complicated task, aside from the vast number of logistic entities. There are several factors you need to take into consideration before choosing the right service provider. So, what are they?
In this blog post, we will dig more in-depth on the list and evaluate our excellent tips to select the best reliable and suitable logistics services provider. We hope that you find some useful ideas to begin working with the appropriate logistic partner.
If you have any more questions, you can simply contact us today. One of our friendly representatives will gladly assist you on our 24/7 customer support hotline.
So, let's start.
Steps to Find the Right Logistics Partner
To find the best logistics partner, you need to understand your business requirements and needs, and your expected logistics services first. To make sure about its package delivery effectiveness, you need to find out your current supply chain, logistics services, freight costs, relationships, and performance audit.
You need to know which part of your current business logistics provider is unable to meet your requirements and your demands. Also, you need to figure out some things to expect from your logistic provider. That way, you may able to understand what kind of service level of a logistic provider is perfect for your business.
Moreover, you need to prioritize your business growth in your timeline. We know that it is not easy to find the right logistics partner for your package delivery services. But you need to pick a provider who can help with your business growth.
Here in Transportify, we offer a different kind of package delivery logistics service depending on your current business needs. From the table listed above for the fleets and prices, you can figure out what kind of services will fit your budget.
With your business needs as your number one priority is finding the best courier and logistics partner, here are the following checklist you can follow when choosing the appropriate logistic partner.
1

Expertise

There are several types of logistic providers. It includes services from warehousing, shipping, receiving, transportation, and distribution. However, not all delivery and logistic companies can provide you with everything. Others are experts from one of those services we mentioned above.

Here in Transportify, we are experts when it comes to large shipping and package delivery, cargo and freight transportation, Lipat-Bahay services, and other transportation needs.

To figure out the logistics company's business facilities and expertise, you can ask them some relevant questions so you can have an idea. Also, you should need to know the solutions for your business long-term and short-term needs.
2

Sustainability

The sustainability of your chosen logistic service provider is essential for your business. As a result, it is ideal for you to work with a logistic company with proven sustainability and success. A stable business partner will enable you to help with your business in all possible urgent needs.
3

Credibility

Credibility is vital if you prefer building a long-term logistics partnership. So, make sure that the company can be tested for both of you. In order to find the appropriate and credible logistics partner, you need to research if the provider is focused on their business commitment with integrity. Because a company that provides services without integrity can ruin your business.

Your logistics service provider will act as your business expansion. So, any services they give to your customers will reflect solely on your business reputation.
| | | |
| --- | --- | --- |
| | or | |
Frequently Asked Questions:
What are the benefits of third party package delivery for businesses?
🚚 Multinational companies often have their fleet for their logistics needs. Since it is part of a business's supply chain to have a logistics plan of their own. However, having a fleet is expensive. SMEs often struggle in this part of their business since it is costly and challenging to maintain. Setting the ideal logistics plan for a business requires years of tests and research to find what is optimal. However, there is now a solution for business that needs logistics solution, one of which is the Transportify Business Program. The Transportify Business Program aims to aid businesses with the delivery services they need. Other than the delivery itself, it provides a process mapping, custom service, dedicated fleet, equipment, and different specific needs of a business. The business program serves as an alternative as compared to managing your fleet.
Who do I choose as the fastest logistics services in Manila?
🚚 If there are packages that you need to deliver as fast as possible using a motorcycle delivery, Grab Express and Lalamove is your choice. Their motorcycle fleet can pass through traffic congestion as compared to cars. However, keep in mind that packages can also be larger, like appliances and bulky items. This only means that you have to book a more appropriate vehicle for that delivery. Transportify has SUV to 10-wheeler trucks. This means that there is a variety of cars to choose from depending on the type of package. Lastly, planning and scheduling your deliveries in advance can result in a flawless delivery that can guarantee fast and safe delivery.