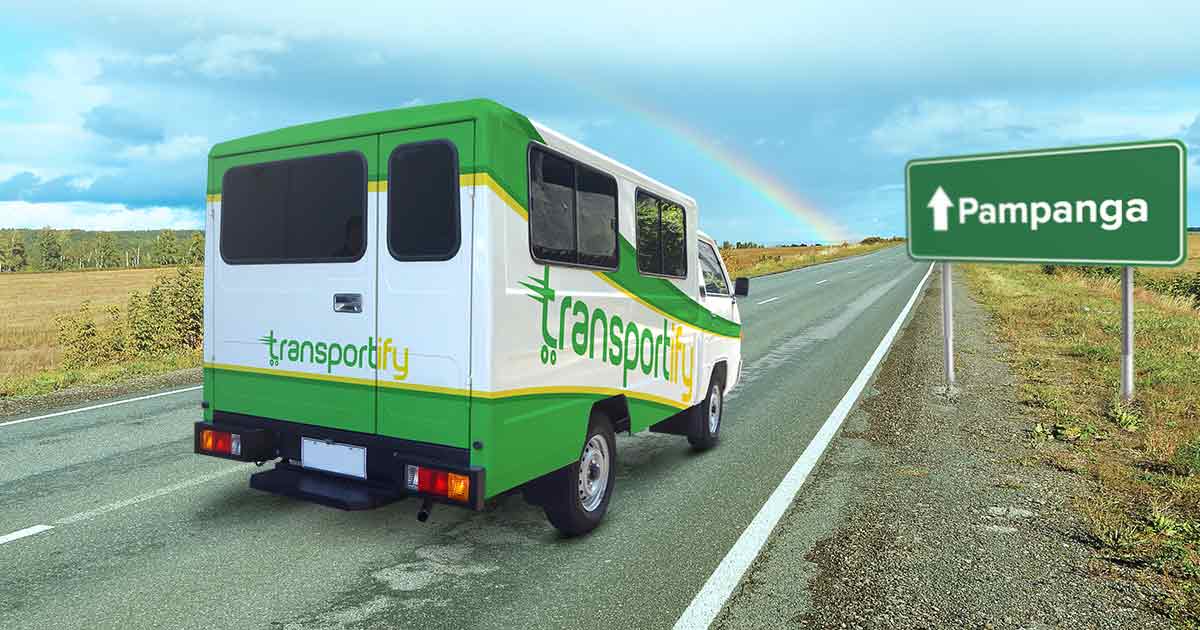 Transportify understands that having 5-star quality logistics is a key factor keeping up with customer
demands and outperforming competitors that's why we offer our business program that provides unique intracity Pampanga delivery service based on what the business needs. Transportify is currently the only cargo trucking company to offer this tailor-suited program to businesses in Pampanga. You can see the full list of vehicles available in Pampanga below.
| Same Day Delivery Services | via L300/Van | via Closed Van |
| --- | --- | --- |
| Standard Rate | ₱430 + ₱30/km | ₱2,150+ ₱50/km |
| Full Day Service | ₱2,600 | ₱6,000 |
| Long Haul to Tarlac | ₱1,000 | ₱3,500 |
| Long Haul to Cabanatuan | ₱1,300 | ₱4,200 |
| Long Haul to Subic/Olongapo | ₱1,300 | ₱3,800 |
| Long Haul to Pangasinan | ₱2,700 | ₱7,000 |
| Long Haul to Manila | ₱3,000 | ₱6,000 |
| Long Haul to Baguio | ₱4,300 | ₱8,500 |
| Long Haul to Balanga | ₱1,300 | ₱3,800 |
| Long Haul to La Union | ₱4,300 | ₱8,500 |
| Long Haul to San Pablo | ₱5,700 | ₱11,800 |
| Long Haul to Lipa | ₱6,300 | ₱12,000 |
| Long Haul to Batangas City | ₱6,600 | ₱12,500 |
| Long Haul to Lucena | ₱7,200 | ₱14,300 |
| Long Haul to Vigan | ₱9,000 | ₱13,500 |
| Long Haul to Laoag | ₱11,000 | ₱16,000 |
The Trucking Company to Revolutionize Pampanga delivery with it's Business Program
Whatever the size of your business, you will want to grow and expand. Expanding business means better logistics management since It's crucial to move products from one point to another at a cost-efficient and fast way. This is possible with the right cargo forwarder. Transportify aims to solve logistic challenges faced by Pampanga companies with the business program. Currently, the benefits that businesses in Pampanga can take advantage of are as follows:
Easy Enrollment, visit our website to sign-up for FREE! You can also contact us for assistance.
Warranty for any item that got lost, damaged, or stolen during pickup, transportation, and delivery during a Transportify booking is covered by insurance of up to P3M.
Customer support to provide support for you 24/7.
Flexible Payment Terms of either through postpay or prepay method. Clients can also pay through bank transfer or check.
Cash on Delivery (COD) and Proof of Delivery (POD) documents and services for business transactions.
5-star Veteran drivers with experience in handling business transactions which includes COD and POD.
Clients are provided with their own business web dashboard, a bonus referral, and your very own account manager.
Our program's customer base includes corporates, SMEs, merchants and shop owners, retailers and sellers, restaurants, individuals, and even other third party logistics and trucking companies. A 3PL firm can utilize Transportify as its fourth-party logistics provider for on-demand situations, last-minute client orders, or when traditional fleet resources are occupied by busy end-of-month and holiday periods. Whether you need a cargo forwarder or cash on delivery courier in Pampanga or in select areas in Asia, Transportify for Business has you covered.
Need more proof why Transportify is rated 5-star and the top Pampanga delivery & trucking company for businesses? You can visit our news or contact us to know more about how we can help ease your logistics management concerns with our logistics solution. You can also view our blog media to know the latest updates on the best Pampanga delivery service provider & trucking company. Transportify also offers same-day delivery & trucking services in Metro Manila and Baguio.